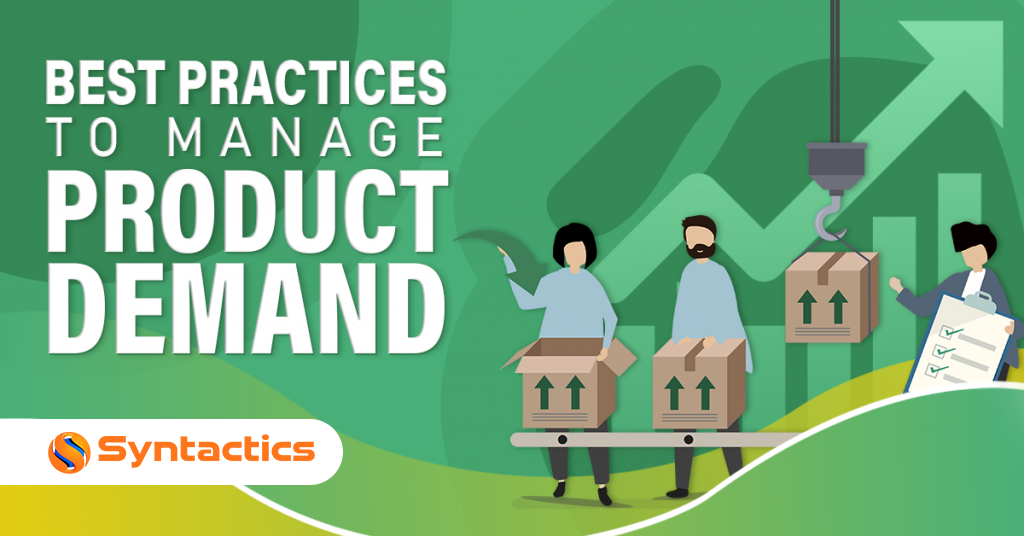 Nov 27, 2019
Manage Product Demand: The Best Practices
When plenty of customers begin buying your products at a certain point, that's a good thing. However, poorly addressing a demand spike can be devastating to your business brand. You'll need to manage product demand. Nobody wants to disappoint these customers with slipping delivery estimates or out-of-stock reports, so you need to plan and execute adequately.
When you intend to cope up with increased orders and take advantage of higher demand, here are a few practices to manage demand and get ready ahead before it happens:
Best practices to manage product demand
Anticipate demand spikes anytime. 
If you want increased sales and higher volumes of visitors, you need to identify where future demand peaks will occur.
That means proper analysis and communication. You will have to be able to monitor demand and predict how the demand will change over time for your goods.
Refer to past sales data. 
Next, use your previous sales figures to identify activity peaks in the past. The statistics will speak volumes of information that you can use as a reference for your forecasting. Also, you can identify patterns in your sales data and identify periods.
You can, for example, select sales spikes for events like Thanksgiving Day or Christmas and use them for next year's event to measure sales volumes. Seasonal trends such as these also show which your stocks are mostly under pressure.
Pay attention to industry trends. 
In comparison to your statistics, market information and patterns are also worth looking at. These can include general trends in sales as well as media attention and product releases. Monitoring reports for media attention in the industry is an excellent way to predict trends. An example of these would be product attention seen on Facebook, Instagram, or Twitter.
Know your manufacturing and product lead times.  
Your inventory management will be affected by lead times. The lead time is the time it takes for a raw material or product to begin and complete an entire production process. It includes the starting location of the order, the purchase of materials from suppliers, the production, and the final product shipment.
With this, long lead times call for advanced purchasing of raw materials on customer demanded products, while short lead times can be managed efficiently. Multiple suppliers are necessary when dealing with long lead times when demands climb fast.
Overall, the objective should be to streamline the processes and reduce the lead time for better inventory control of all your products.
Streamline order fulfillment.  
An inventory management software can help manage the operations, including tracking, order management, and smart, more quick restocking of your products on demand. The visibility of the entire supply chain will streamline any possible challenging aspects of your management controls.
In addition to useful software management tools, improve picking, packing, and shipping methods on the ground. Automation can also be a key to surpassing delivery targets or limits.
Wisely consider automation.  
Speaking of automation, carefully find the potential bottlenecks of the entire operations for analysis and improvement. Adding extra employees, overtime, or even extra shifts to handle demand peaks is not practical or productive. When seasonal demands like Christmas come along, you need to be able to handle the orders efficiently.
Besides, automation should provide the opportunity to produce more numbers for you to deliver even to additional clients. Take a look at how Amazon has embraced automating their boxing process.
Improve demand forecasting. 
Forecasting is complicated since you need to consider so many factors. However, you can start by monitoring customer order data (tail end of the supply chain) and manufacturers' order history (for your inventory buffers). You can use those as a basis for creating short-term forecasts.
Consider also macroeconomic indicators such as gross domestic product, overall local stock market, and more. You can link their movements to any change in end-customer demand. Natural occurrences, weather conditions, and calamities can also affect the sales of a product.
Lastly, always look out for what your competition does, their issues or their offers, and take advantage of every situation to get leverage.
Staffing matters.
Your product is an output of several people working together to piece all raw materials or components into its final form. Not everything is automated, and your staff handles almost all aspects of the production.
If they underperform, the production drags, and the company loses the capacity to deliver required targets on time. A failure to meet the expected outcome results in customer dissatisfaction and opportunity loss for profitability.
Final Advice: Communicate with the management, marketing, inventory teams
To conclude, thorough preparation is the key to manage product demand spikes. Make careful but quick steps to track and manage every aspect of your plan if you are unable to map out the surges.
The goal is to have enough stock available to meet demand but not be left with a post-surge stock surplus that you cannot sell anymore. Follow each recommendation above and schedule implementation at the proper time. Indeed, timing is everything.