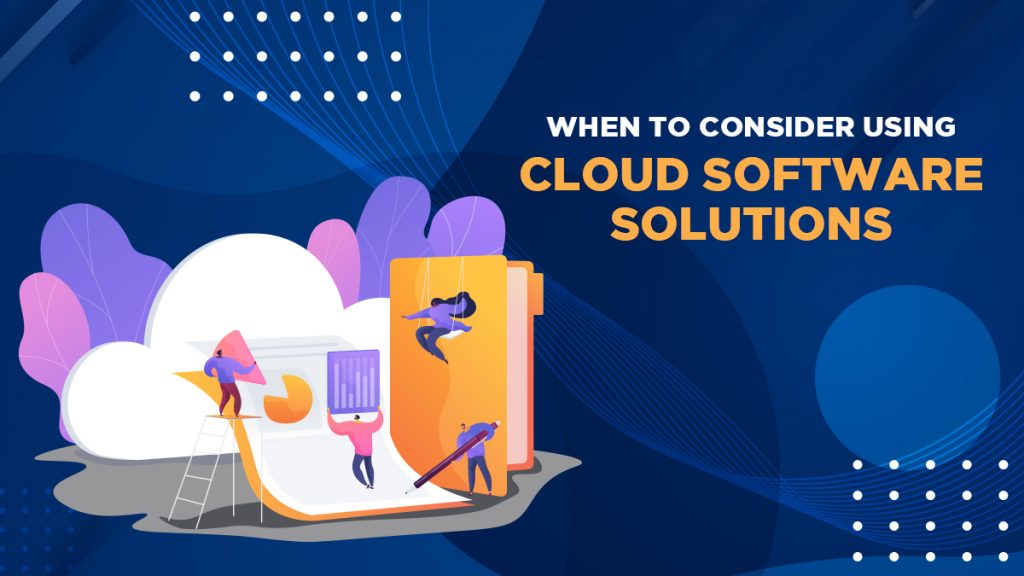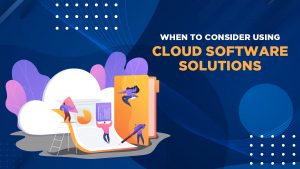 Mar 18, 2021
When to Consider Using Cloud Software Solutions
Custom software development companies provide businesses with innovative solutions to address IT and operational issues and concerns in their workplace. As such, custom software solutions are a must for businesses. These development companies would either suggest business owners use either cloud based software or desktop software. This article will discuss when you should consider using cloud software solutions to answer specific business needs.
What is Cloud Software?
Compared with traditional desktop software, most custom software development companies consider cloud based software (or cloud software) to be a more cost-effective solution for businesses to use. Usually, desktop software may become quite expensive. Part of this is due to the need for an on-site specialist to install the software and update it regularly. Desktop software may also require you to pay licensing fees for every computer where it will be installed.
Because of the reasons mentioned above, cloud software is generally the better option to employ in your work operations. Software development companies provide these software at a more affordable price. Moreover, with the use of the internet and various smart and mobile devices, cloud computing and these types of software provide you more convenient access to your data and information. These types of software also significantly lower your business' need for additional IT expenses.
When to Consider Using Cloud Software
In this section of the article, we will discuss the many benefits of cloud computing. If you think you need these benefits for your business, we believe you should consider using cloud software.
When you need to be Flexible
There will come a time when your business will see some significant growth. When this happens, you will need to scale your business. Through cloud software, businesses can scale their current software services and features and customize them to fit their projected needs. They need to scale their cloud infrastructure to address increasing workload.
Also, depending on the business's security needs, users can select where they want to store their data. They can store it in private, public, or through hybrid storage options. These businesses can also determine their level of control through as-a-service solutions such as software as a service (SaaS), platform as a service (PaaS), or infrastructure as a service (IaaS).
Moreover, software developers build and equip them with the tools and features required for a specific business need. These types of software also implement security features such as encryption and API keys. With these, you are ensured that your data is kept safe and secure.
When you need to be Efficient
Another benefit that should make you consider using cloud software is its efficiency. When using it, you no longer need to worry about additional costs for infrastructure and maintenance. Also, you can access the software and its corresponding data through the use of any smart mobile device. Of course, given that they have internet connection.
Businesses also need to keep all of their information safe, despite hardware failures. With cloud software, you do not have to worry about data loss. You can always back up your data to your preference. In relation, these types of software uses remote resources, which keeps businesses from spending more on servers and additional equipment.
Software developers also create custom software in the cloud. Because of this, they can quickly market their applications to their users. When using cloud software, you only pay for the resources and features you are using. As a result, you pay less when compared to purchasing off-the-shelf software with all of the excess features of no use to your business operations.
When you need Strategic Value
Finally, cloud software provides businesses with an advantage over their competition. Software developers build cloud software that offers the most innovative technology available for its users. For instance, these software allow users to work and collaborate with teams from various locations worldwide.
It would be best if you also considered using cloud software because it streamlines your work operations. Software development companies spend time with businesses to build applications that address their specific needs, goals, and objectives.
Additionally, custom software development companies provide regular updates to cloud software products. With this, businesses get to use the most up-to-date technology in their systems.
Consider Using Cloud Software for Improved Business Operations
As mentioned above, cloud software provides businesses with many benefits. After reading this article, do you think that your business needs to acquire these benefits? If so, you should consider using cloud software solutions in your business operations. Work with a custom software development company and build your cloud software today!