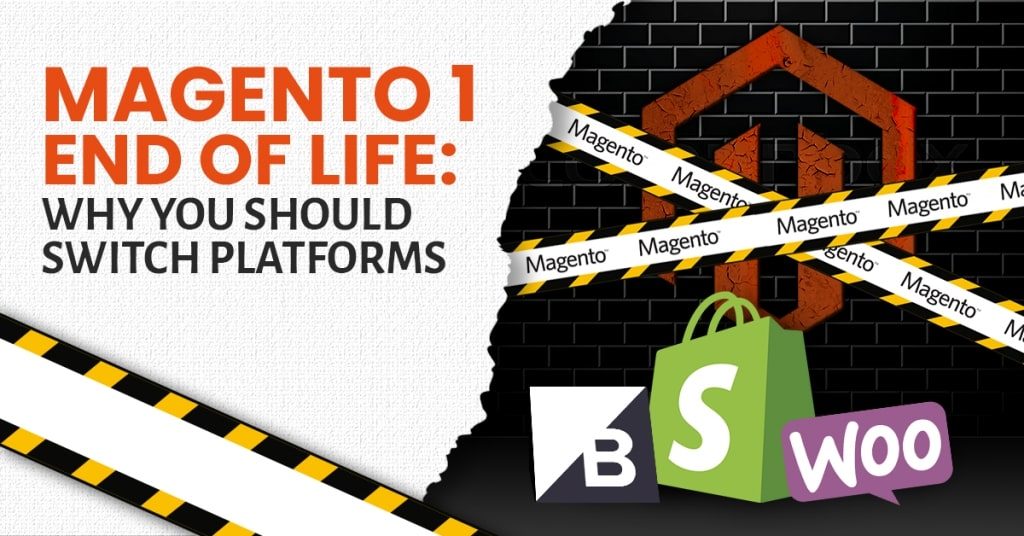 Jul 14, 2020
Magento 1 Reaches EOL: Time to Switch Platforms
After the release of Magento 2 in November 2015, development teams were made aware of Magento 1's forthcoming phase out. Originally, support for the e-commerce platform was due to end in November 2018. However, after acknowledging that not all merchants utilizing the platform can quickly transition before then, its End of Life (EOL) date has been pushed towards June 2020. 
Here's a closer look at why you should migrate away from Magento 1 and a few ways you can do so:
Businesses who have yet to switch out from Magento 1 face various risks, including:
Little To No Developer Support
With Magento 2 becoming a priority, web developers and programmers who are capable of supporting Magento sites may not be able to fully cater Magento 1 concerns. Moreover, given that the platform has reached its EOL, there may even be less web design and development teams who are interested in it. The same is true concerning its themes and extensions (including those from third parties) which have become outdated as well. In reality, any essential extensions you use may even be discontinued. Plus, working with dedicated developers who can create security patches for you will only cost you more time and resources. Therefore, it's safe to say that sticking to Magento 1 only increases your probabilities of encountering these issues.
Security Issues
Without developer support, platforms also lose the appropriate security updates it regularly receives. Thus, refusing to update from Magento 1 places your e-commerce site in a vulnerable state against hackers. Furthermore, this may also mean that your store is no longer compliant with the Payment Card Industry Data Security Standard (PCI). For some payment gateways, this may be a strong reason not to support your business and consequently refuse to work with you. Simply put, not only will you be unable to provide more payment methods for clients, but also risk being fined for non-compliance.

Source: commons.wikipedia
Magento 2
To avoid complications, Adobe suggests that merchants shift from Magento 1 to Magento Commerce 2 with the assistance of development teams or their Customer Success Managers as soon as possible. Currently, the improved e-commerce platform, which is home to more than 2,000 extensions, hosts more than 30,000 existing sites. Still, keep in mind that shifting from one to the other does not only pertain to data migration. In truth, the entire process involves a full replatform. This means that when doing so it's best to identify which platform best fits your business' needs. Generally speaking, there are three versions for Magento 2: Open Source (previously Community Edition), Commerce, and Commerce (on-prem). Nevertheless, make sure you also take into consideration challenges and costs for development and management, hardware, and technical staff.
Alternative Platforms
Like most things, Magento 1 and Magento 2 are not one-size-fits-all solutions. For example, some teams may choose not to use it given its costs, complexity, and speed. Therefore, it may be best to look into a few alternatives. Here are some of them:
Entrepreneurs who run a WordPress e-commerce store have lots of plugins to choose from. Nevertheless, a good number choose WooCommerce over Magento simply because it is one of the most popular options—and for good reasons. First, it provides you with a wide variety of themes that make it fully customizable to suit your branding. Plus, businesses who appeal to a more niche audience also have the ability for local customisation. Simply put, you can easily improve your customers' experiences as it lets them change your shop's currency, unit of measurement, and language to fit their needs. Moreover, it also comes with every online shop's key features like the ability to add product tags, filters, and reviews.

Source: commons.wikipedia
Teams who intend to maximize their store and include as many features as possible will be pleased to learn that BigCommerce, another Magento substitute, offers them that possibility. A few of these go-to features include integrating your shop on Facebook and other social networks, one-click payment methods, and recovering abandoned shopping carts. Additionally, you can integrate it in existing marketplaces such as Amazon and eBay. Moreover, BigCommerce also connects to Google's product search engine and uses purchase and content Really Simple Syndication (RSS) feeds. Both these features, alongside the platform's 24 hour customer service, allows teams to continuously drive traffic to the site.
Merchants who look for cost-effective alternatives to Magento will most likely benefit from opting to go for Shopify. This is especially true if you market high-quality yet affordable products. In fact, this e-commerce platform has its own payment gateway that reduces credit card fees and completely eliminates transaction fees. This is in addition to the dozens of other payment options it offers. Nevertheless, its most beneficial characteristic is that it's easy to set up and operate.
In Conclusion
With Magento 1 no longer receiving support and updates, teams are now forced to migrate to other e-commerce platforms. And while Adobe recommends switching to Magento 2, at the end of the day, entrepreneurs should remember that they do have alternatives to take into consideration. Don't be afraid to explore your options and determine which one may best fit their needs.
Which platform will you choose? Let us know!