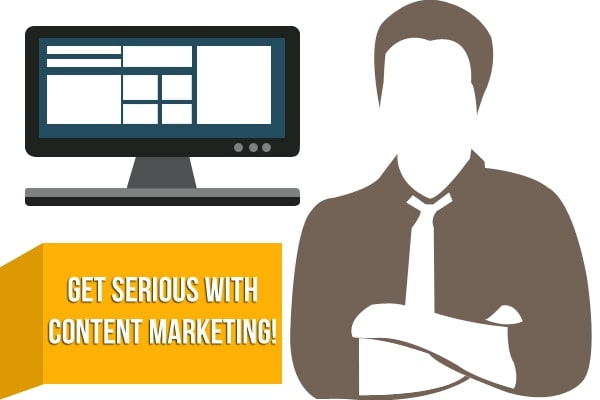 Aug 18, 2014
Let's Get Down To Business! Time To Get Serious With Content Marketing
Some of you might think that all it takes to achieve internet visibility is an awesome web design for computers and mobile phones. Well yeah, that is really important, but you have to do so much more than design a stunning website.
Let me ask you this, what is inside your website? A few images perhaps and maybe a great combination of colors to really catch the attention of customers. However, is that all? There might be something missing, do you have a content?
Now, you might think that those little descriptions at the bottom of your images are your content, but unfortunately, you are going to do more than that. Content marketing is more than writing little descriptions, it's writing blogs, making videos, infographics, etc.
Wait for a second, though.
They say content marketing for businesses is said to be "still much more in its infancy than some may think" according to Daniel Newman, the founder and president of Broadsuite. Despite that, several businesses are still growing more serious about content marketing than ever.
This is probably due to the way content marketing adds more substance to a website, thus adding more "meat" to the brand's identity as well. I think it might be time for you to get a little more serious about your content marketing, so here are some trends to watch out for:
According to Michael Brenner, "Create content people want." Your content has to be centered around the customer and focused on giving them the information they need. Of course you want to inform them about your product. However, do it in a way that helps them, not by practically shoving your product down their throats. Instead of writing about how awesome your product is, write about what benefits they can get, or how they can use your product.
Responsive websites. This might sound like it leans more onto the web design aspect, but the responsiveness of your website can actually affect your content as well. Who likes having to swipe side to side just to read one paragraph? Or to zoom in or out to a perfect size just so the whole article is comfortable to read? Well, I definitely do not. If you want everyone to enjoy your content, the website/webpage it is on has to be comfortably readable on the computer and on mobile devices.
Like, Share, Tweet. 87% of business-to-business content marketers have active social media accounts. Facebook, Twitter, LinkedIn, Google+, you name it! You cannot deny the fact that social media networks have made a big impact on internet users all over the world, so take advantage of that! If you have social media accounts, use them to promote your content. If you do not have any official social media accounts, it is high time for you to create one!
Content marketing may still be in its infancy stage, but hey, like other babies it will continue to grow. You might as well get the hang of it early on while it is still a "harmless baby" compared to dealing with it later on when it has grown into a "rebellious teenager". What are you waiting for? Start your content marketing strategy now!