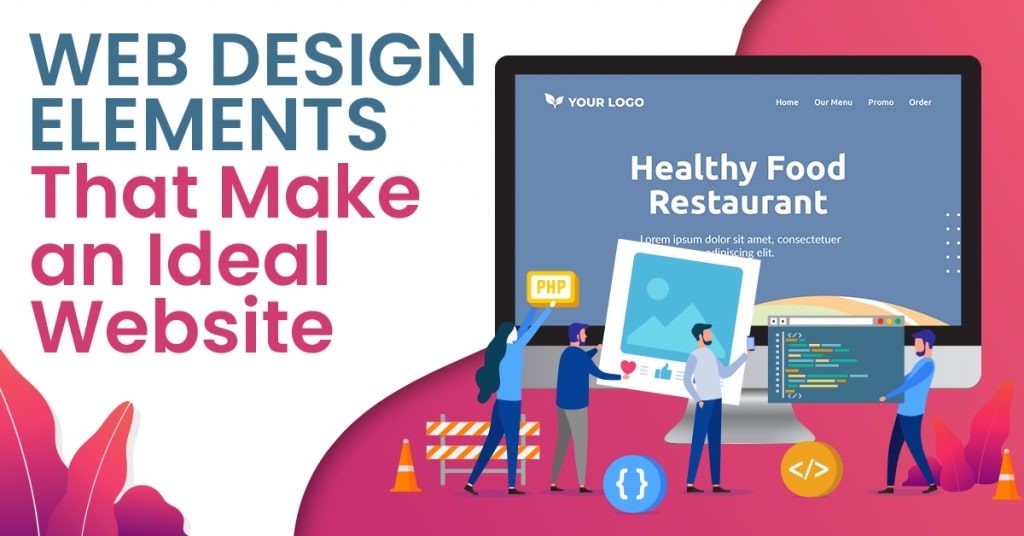 Jul 8, 2020
Web Designing Elements that Make an Ideal Website
Web Design is often not limited to your style alone. On the contrary, it focuses more on how all the elements of each web page are mixed, arranged, and presented. Now, most users no longer expect the flashiest designs. Instead, your prospective clients are looking forward to experiencing convenience, reliability, and utmost usability in your site. Keep in mind that you only have a few seconds to let your visitors know that you can provide them what they need. Thus, it is important to maximize the essential web design elements out there. 
Here are a few ways you can do so:
Creativity
Generally speaking, every website should be visually appealing and true to your branding.  Remember that users will be forming their first impressions based on your website's overall look and feel.  In some cases, this may be the sole reason users may decide whether or not they will work with you.
Furthermore, web design also becomes a more critical design element, given that it plays a vital role in maintaining your visitors' interest in your brand. For this reason, businesses may use creativity to strengthen their identity or tell stories that can evoke certain emotions.
Accessibility
Designing effective websites means making a conscious effort to prioritize the overall accessibility of its web design elements. For example, make it a point to include text beside or on your buttons to avoid confusion, especially for non-standard icons. Moreover, making accessibility a priority also means that development teams should be mindful of visitors who may be disabled and consume content in different ways.
In this case, prospects who navigate your website using screen readers may benefit more from contextual links. Keep in mind that while simply rephrasing "Click Here" with "Contact Us Here" may seem uncommon, the change makes it more helpful and relevant. As a bonus, this subtle improvement can also improve your Search Engine Optimization (SEO) efforts. To take it a step further, have your team add captions and transcripts to your videos, and write accurate alternative (alt) text for your photos.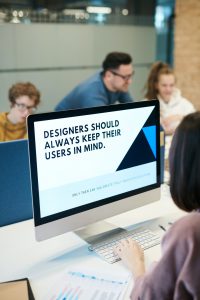 Source: pexels
Usability
The best way to guarantee that you meet the usability web design element's requirements is to continuously strive for as little page loading times as possible. To start off, strategically only include photos that represent your products to avoid unnecessary distractions. Then, clearly state the benefits they offer and highlight their key features using the appropriate subheadings.
Make it a point to clearly state any errors in form fields to avoid further issues. Furthermore, make sure you turn off your media's autoplay and avoid flashing or blinking content that may be highly distracting. In addition to carefully structuring and crafting your individual web pages, it's also important to optimize your site's footer. As a general rule, having a footer on longer pages can keep users on-site longer since your links redirect them to other pages.
Navigability
While this web design element is often an afterthought, it's no secret that your website should be easy to navigate. Simply put, your customers should be able to find what they are looking for in just a few clicks. More often than not, this means that your design team must incorporate the right placement of menu bars and buttons. Additionally, they also need to make sure your fonts are readable and the colors used are pleasing to the eye.
Keep in mind that the more time users need to learn how to navigate your site, the less likely they will do so. Design your website to be responsive and mobile friendly to make it easier for clients. While you're at it, weigh the advantages and disadvantages of having a "hamburger" menu represented by three horizontal lines. This way, you can avoid losing leads, conversions, and sales.
Source: pexels
Interactivity
Make it your goal to create engaging content that encourages site interaction. This can be in the form of comments in blog posts, submissions to contact forms, or surveys. At the same time, craft effective Call to Action (CTA) phrases and buttons, and place strategic opt-in pop ups onsite. Depending on how often you receive inquiries, the interactivity web design element may also benefit from a live-chat feature or chatbot.
Putting Together These Web Design Elements
Websites are powerful tools for generating leads and converting potential clients. But before you launch your business' website, take the time to conduct tests. Thoroughly examine whether each page meets expectations regarding their creativity, accessibility, navigability, and interactivity. Likewise, review your content and its overall relevance and sensibility.
After all, in addition to the web design elements above, making sure you only provide relevant information is an effective, long-term marketing strategy. With enough related details, clients will then be more encouraged to proceed down your sales funnel.
Have you launched your website? Tell us more about your website design experience! If you haven't yet, you can always get Filipino web designers from a web design and development in the Philippines to help you out!