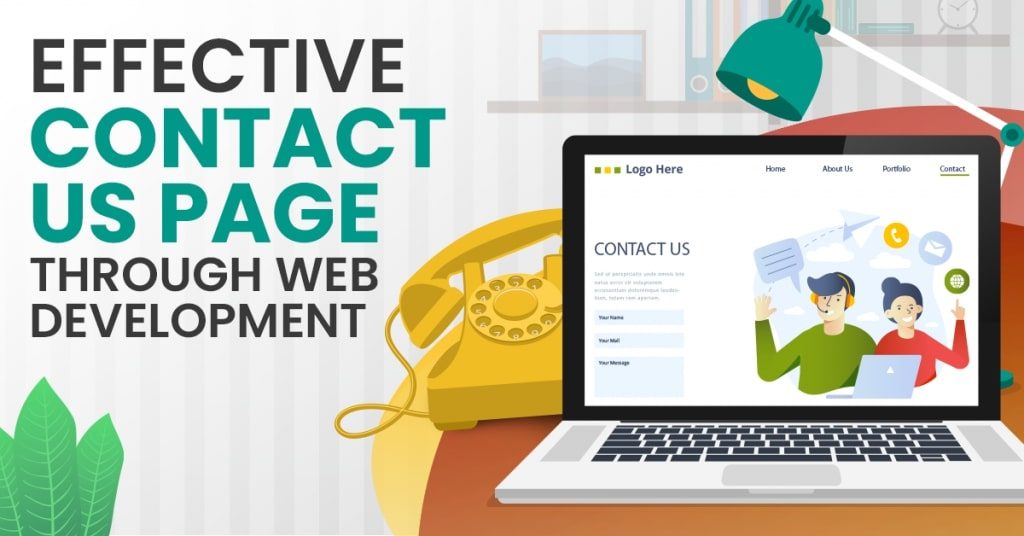 Jul 6, 2020
Effective Contact Us Pages Through Web Development
Leaving the "Contact Us" page as a quick afterthought in creating websites is one colossal mistake that site owners usually make – an error that proper web development could have avoided. However, it is never too late for companies and small businesses to dedicate proper attention and care in cultivating effective "contact us" pages. In this process, availing of web development services in the Philippines can play a vital role.
What is Website Development?
Hubspot defines website development as the process of building a website. In application, it could range from creating a single plain-text web page to developing a complex web application or social network. The process entails web markup and coding. Web development includes all related development tasks such as client-side scripting, server-side scripting, server, and network security configuration. It also covers eCommerce development and content management system (CMS) development.
In web design and development, site owners should include their contact page in their priority list. The "contact us" page's content, design, and layout must be well-thought.
Think back on the many "contact us" pages that you have encountered while browsing the internet. You will realize just how outdated some – if not most – of them looked compared to their other pages and sections.
How to Create Your Amazing "Contact Us" Page
Below, we have provided you with useful tips and reminders to create an impressive and effective"contact us" page for your business.
#1 Tell Them Why They Need You
Through efficient web design and development, an effective "contact us" page must explain why the visitor should contact you. You can describe a bit on how you could help solve their problems. You may do this by showcasing recent blog posts or articles to help them know more about the business.
#2 Provide Company Details
Your "contact us" page should also include your company's email address and phone number. Moreover, it should contain your social media accounts such as Facebook, Twitter, Instagram, and LinkedIn, so they have more means to engage with you. The "contact us" page also helps in maximizing your company's social media marketing.
#3 Make it Easily Accessible
Having your "contact us" page easy to locate would greatly help. Survicate shares that your "contact us" page is made easily accessible by placing it in a prominent place on your website. For this, you should make sure to apply proper web design and development.
#4 Keep Things Straightforward
Provide a short form for a customer to fill in to help you understand who is contacting you. If you put in too many details and elements on your contact page, it may divert your customer's attention. Remember that your goal is to realize their intent in wanting to communicate with you. Keep things straightforward through web design and development that is short, sweet, and simple.
#5 Just Ask For What You Need
Nowadays, the essentials would be the following: the visitor's name, email address, and phone number. You can even ask for their home address but leave that part optional. Asking for too many contact and personal information would significantly turn most site visitors off. Besides, no one has the time to fill out endless contact forms.
#6 Do Grammar Checks
You wouldn't want to discourage your customers just because you weren't careful enough with your grammar. Keep things clear and concise for an effective "contact us" page. Turn on the Grammar Nazi in you, if you must!
#7 Look Stunning
Aside from its content, your "contact us" page's appearance is another factor that you should look into. Here, you evaluate the web design and layout. Your "contact us" page design should be clean and sharp. If you find this difficult to do on your own, then you can get help from web development services in the Philippines. They know best about website design and development. How they see you at first glance will significantly affect their decision to contact you afterward. Make things attractive and memorable.
#8 Show off Your Personality
Your goal is to make personal connections with your customers and site visitors. So, make sure that your "contact us" page reflects your business' identity and personality. Are you casual, comical, serious, light-hearted? Make them want to get to know you more!
#9 Provide Alternatives
To have an effective "contact us" page, you should have a call-to-action button to keep your site visitors from leaving your website. Give them means to explore your website if they choose not to fill out even a simple form for their inquiries. Being able to do this is a sign of applying effective web design and development. To help you accomplish this, avail the services offered by web development companies in the Philippines.
#10 Be Courteous
This one's just a bonus. Once your customers have inquired, you may choose to redirect them to a "thank you" page. Here, you can explain to them about when and how you will be responding to their query. Saying thank you never hurt anybody anyway.
All in all, a well-organized and effective "contact us" page attracts the attention of its customers. Properly executed web design and development motivates its visitors to continue exploring the website, whether they leave a message or not.
Additionally, because times are always changing, you should remember to update your page's web design periodically. Keep things fresh and lively. Website development companies in the Philippines will aid you in providing your "contact us" page with texts, beautiful photos, moving objects, and even interactive elements.
In whatever way you choose to present your "contact us" page, remember that customers appreciate websites that consider user experience as a priority. Show them that you are helpful, informative, and caring, and you will be able to win their attention and even their hearts.
Outsource Web Development Services in the Philippines for your "Contact Us" Page Needs
Web Development in the Philippines has mastered the craft of creating compelling and engaging "contact us" pages using website design and development. Thus, outsourcing web development services from a leading IT and business solutions company in the Philippines just makes sense, don't you think?