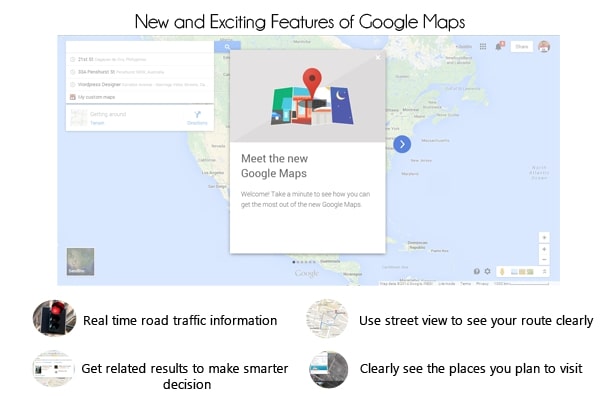 Apr 7, 2014
Check Out the New and Exciting Features of Google Maps
Google just updated Google Maps!
Google maps is one of the many free and useful services that the powerful search engine offers to everyone. As Google continues to improve the quality of the services they offer, they just rolled out a huge update to their desktop Google Maps. A bunch of features has been added to this already great-service, but there are four excellent functions that you would really love.
#1. Real time road traffic information

Commuters will love this specific feature. Google Maps offer a traffic prediction information. Basically, it will tell you how long your drive or walk will take based on the current road traffic patterns. This is really a fantastic tool to plan your route or when trying to determine how early you should leave from your current location to reach your destination on time. With this new feature, you will become a "commuting ninja".

#2. Get related results to make smarter decision

When you visit the Google Maps today, simply search for any coffee shop in your city and you will be surprised to see related results and possible snippets on the upper left hand corner of the map. In short, the map will suggest other coffee shops in your city that you may not have known about.
Furthermore, you will be able to see the reviews of the related results to your search. This way, you can easily compare your chosen coffee shop to the other results that Google gives you. You can base your decision on the number of stars the coffee shops have received. The more stars you can see in a certain establishment, the more credible and popular they are.

#3. Use street view to see your route clearly

This feature is great for travelers and for those who want to roam around an unfamiliar place. You can just go to Google Maps, click on the attraction or the current place you are in where you will start your trip. You can see a little + sign below the search bar, click it and add the next attraction you want to visit.Once you are done adding the place where you want to go, Google will map out the best route for you to tour the place based on the locations that interest you. PLUS! Google Maps allow you to preview the entire routes with sequential "Street View" imagery so that when you finally head out on your journey, every street will be familiar.

#4. Clearly see the places you plan to visit

If you want to see every place in the world in 3D, Google Maps is here for you. The new Rich imagery feature of the map allows you to check the places you want to go. The feature is complete with a 3D view and easy-to-navigate image carousel at the bottom of your desktop screen. Not only that, Google gives you a virtual tour guide, Mr. Pegman, to show you the streets and the destination places of more than 50 countries.
If you have time today try and see for yourself the new offering of Google Maps. You will certainly enjoy it.
Have you tried the new features of Google Maps? How do you find them?
Let us know!