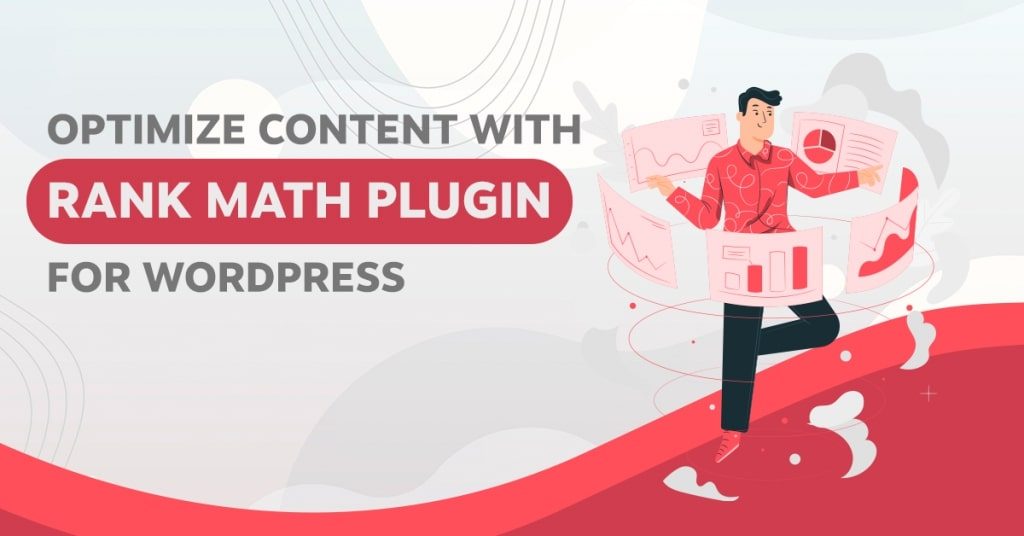 Jan 13, 2021
Optimize Content with Rank Math Plugin for WordPress
Web content services providers help ensure that business website contents are fully optimized. This is so that they can rank higher in search engine results pages (SERPs). One way to achieve this is by optimizing your web content through the use of WordPress plugins. As such, for this article, we will be discussing how you can optimize your content with the use of the Rank Math plugin for WordPress websites.


Image Source: Rank Math
What is Rank Math?
Rank Math is a search engine optimization (SEO) plugin that helps your pages and posts rank high on search engine results pages. It is a WordPress plugin that provides users with a comprehensive framework for all the required and recommended actions they should take whenever they optimize their web blog posts and web pages.
The Rank Math plugin offers its users an easy-to-follow setup wizard. It also uses a modular framework and has a high-performance speed. This gives users a convenient environment to optimize their website's posts and pages. You can try out the Rank Math Plugin demo version here.
Web content services providers also use a similar WordPress plugin named Yoast SEO to improve SEO scores and give their clients a selling advantage in their marketing efforts. As such, both plugins for WordPress websites help business owners reach the most potential viewers for their brand and rank higher on SERPs.
SEO Basics to Remember when Using Rank Math
After you install the Rank Math plugin to your WordPress website, you will notice on the first section of the plugin's dashboard that it contains the basic SEOs, including the focus keyword, keyword density, internal and external linking, content readability, and more.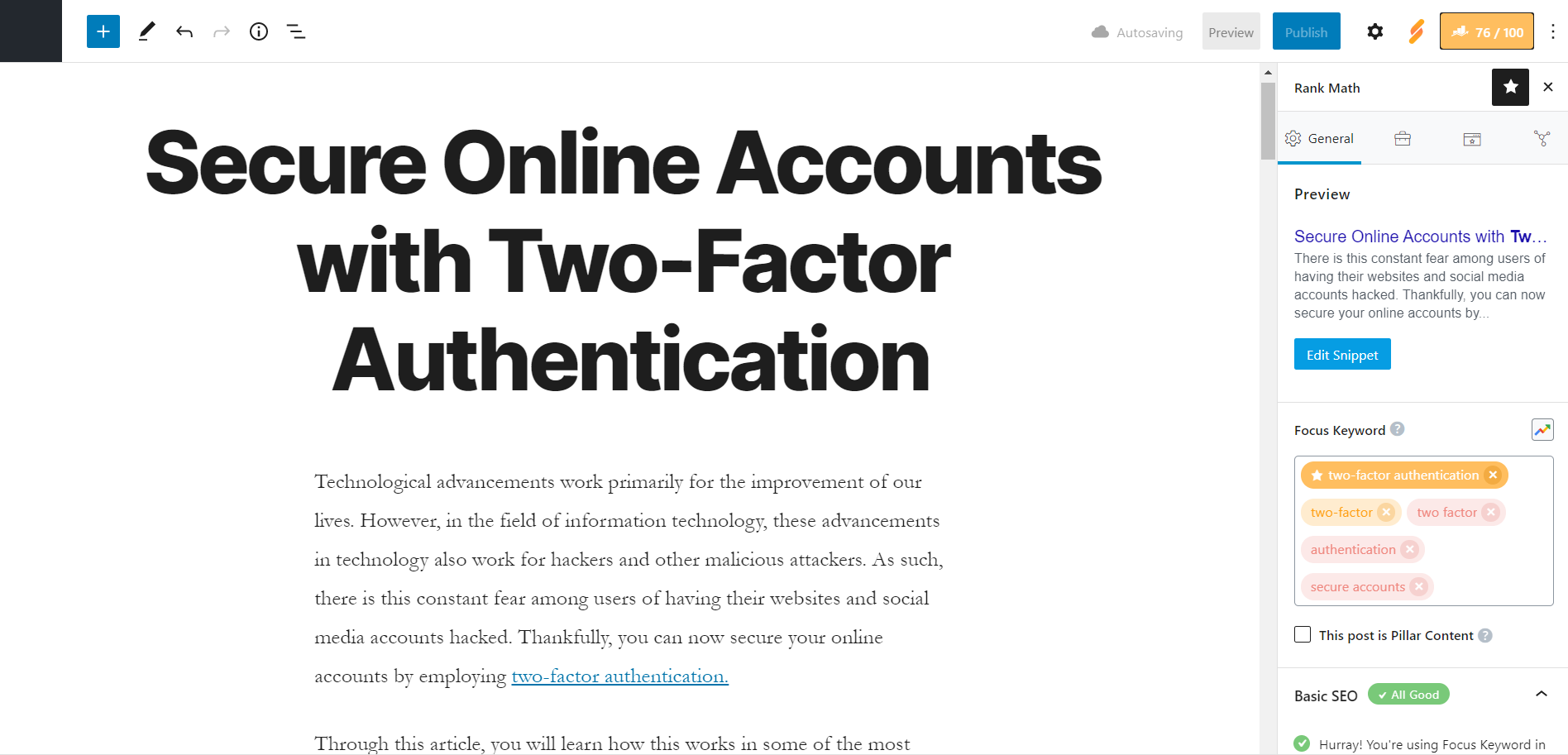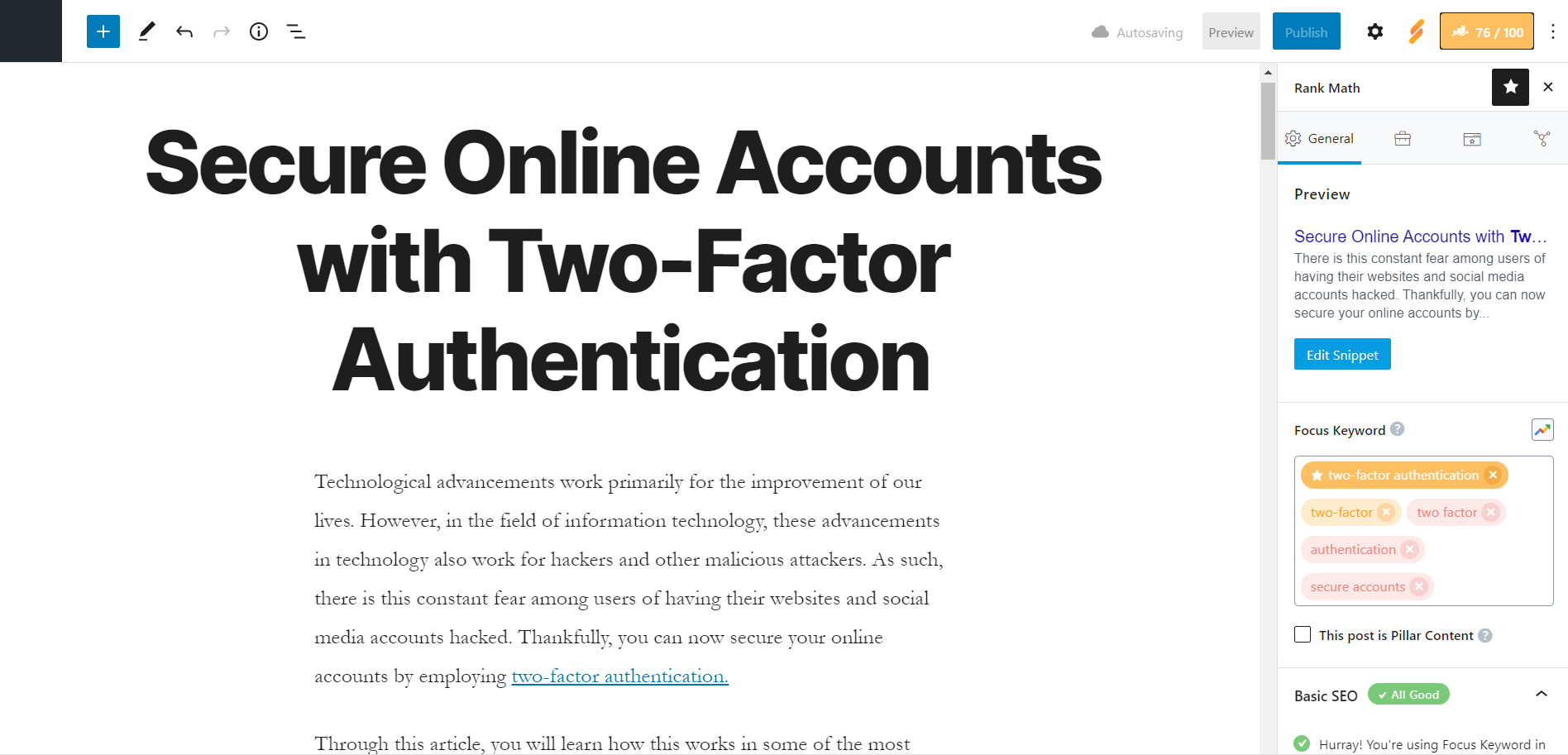 Rank Math Dashboard
On the upper right-hand corner of the Rank Math dashboard, you will see your post's cumulative score based on how well you have optimized it. To guarantee to get a high score in your SEO efforts using the Rank Math plugin, keep in mind the following basic SEO requirements:
Focus Keyword
 Choosing the right focus keyword is vital when optimizing your content for your web page. Indicating the focus keyword would inform the Rank Math plugin of the keyword that you want to rank high for SERPs. Rank Math allows up to 5 focus keywords per post.
Quick Tip: Rank Math also provides you with an efficient way to check keyword trends by clicking the Google Trends icon (highlighted in orange in the image above).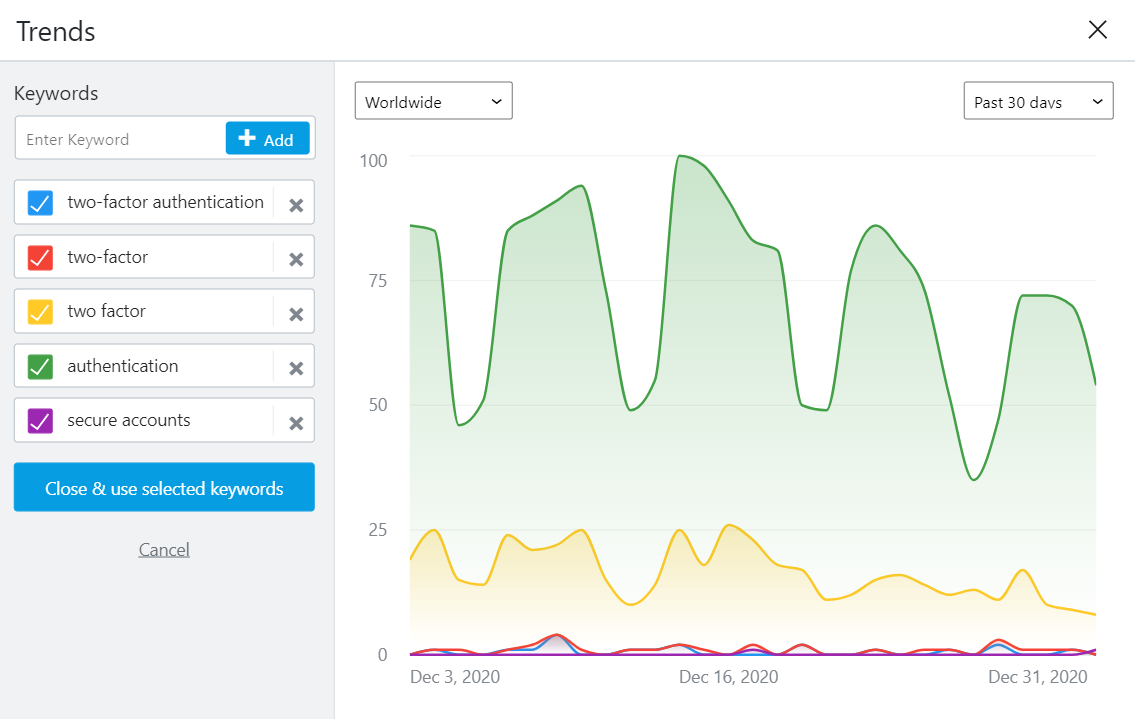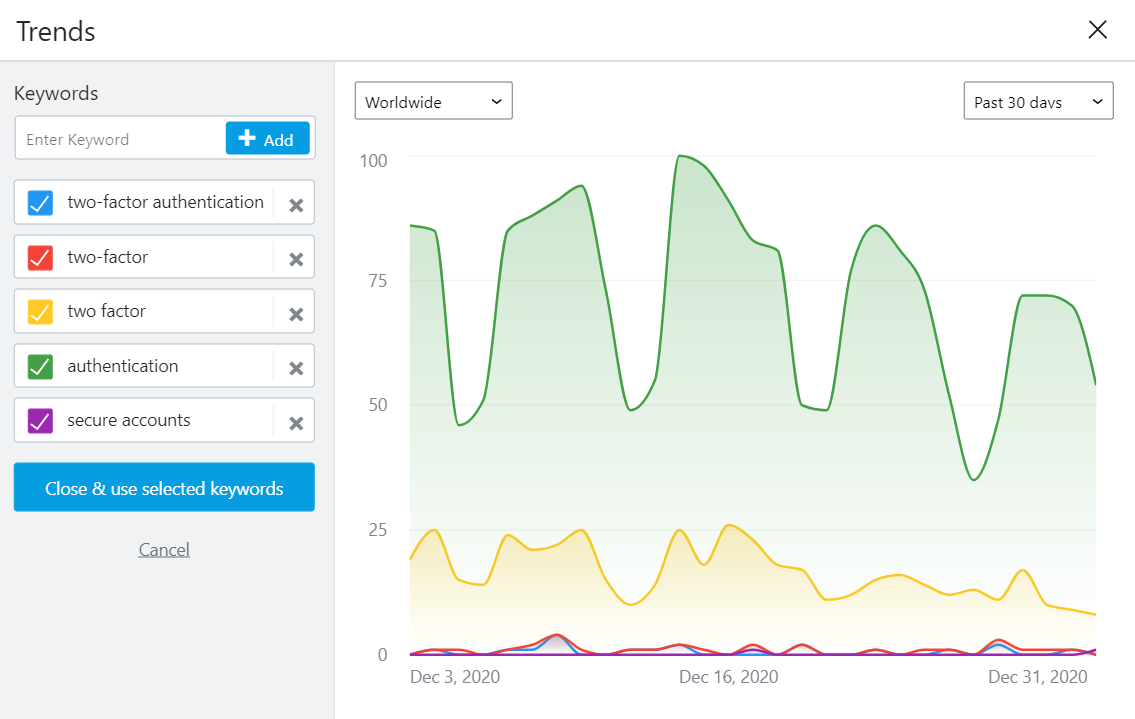 Performance of Keywords on Google Trends
To guarantee that you get a high score in Rank Math, ensure that the focus keyword is present in your post's title, meta description, and URL (Permalink).
Aside from that, you should also ensure that your focus keyword is introduced as early as possible in your content. As such, placing the focus keyword in the first paragraph of your article is highly recommended.
With Rank Math's help, you can also check if your focus keyword is present in an adequate density throughout your content.
An important note to be reminded of is to make sure that your content is at least 600 words long to comply with the necessary threshold for a fair ranking.
Internal and External Links 
Additionally, Rank Math will also ask you to include internal and external links in your content. These links allow search engines such as Google Search and Bing to crawl your content. Search engine algorithms will check these links to look for an indication regarding your web page's authority and credibility regarding a particular keyword.
More than that, when placing external links into your posts, you add a backlink for another website. Doing this allows you to create an SEO network with other similar websites.
Title and Content Readability
 Besides using keywords and internal and external links, you should also consider your content's title and readability. These are also quite crucial to search engine algorithms. Thus, you should place your focus keyword at the beginning of your SERP title as much as possible.
When writing content, you should always keep in mind your reader's experience. Hence, content readability is crucial in optimizing your content. Thus, make sure to create short paragraphs and consider placing relevant pictures, charts, tables, or videos into your content.
Creating and Optimizing Content with Rank Math
There is no definite method or strict rule to follow when creating content for your website. However, with the strategic recommendations that Rank Math can provide based on your content, you can optimize it to get increased traffic into your site.
One way to do this is to optimize the content while writing it. However, this method may distract you from your writing process due to Rank Math's recommendations while you write. Thus, we recommend that you begin the process by writing the page content first and then optimizing it onwards. We find it to be more efficient.
After writing the page content, you should choose the right focus keyword. Rank Math considers the first focus keyword that you add as the Primary Focus Keyword. It shall serve as the main focus of your page or writeup. Rank Math will consider the other focus keywords as secondary focus keywords. These are keywords that you also want to rank for but are not as essential to your content.
To know if you have reached a desirable ranking using the Rank Math plugin, you should take note of the following color codes:
A Green tick (81+ score) is an indication that you have successfully met all criteria. If you see this color, then it means that you are good to go in that particular area.

A Yellow tick (51-80 score) signifies that there are still areas in your post that are not fully optimized. Thus, it would be best to review your content and consider how you can further optimize it regarding that particular criteria.

A Red cross icon (below 50 score) means your content has not met a specific requirement. As such, we highly recommend that you go back to your content and resolve the parts that need attention.
Ultimately, remember to completely optimize your content to get higher rankings on SERPs and drive more traffic to your site.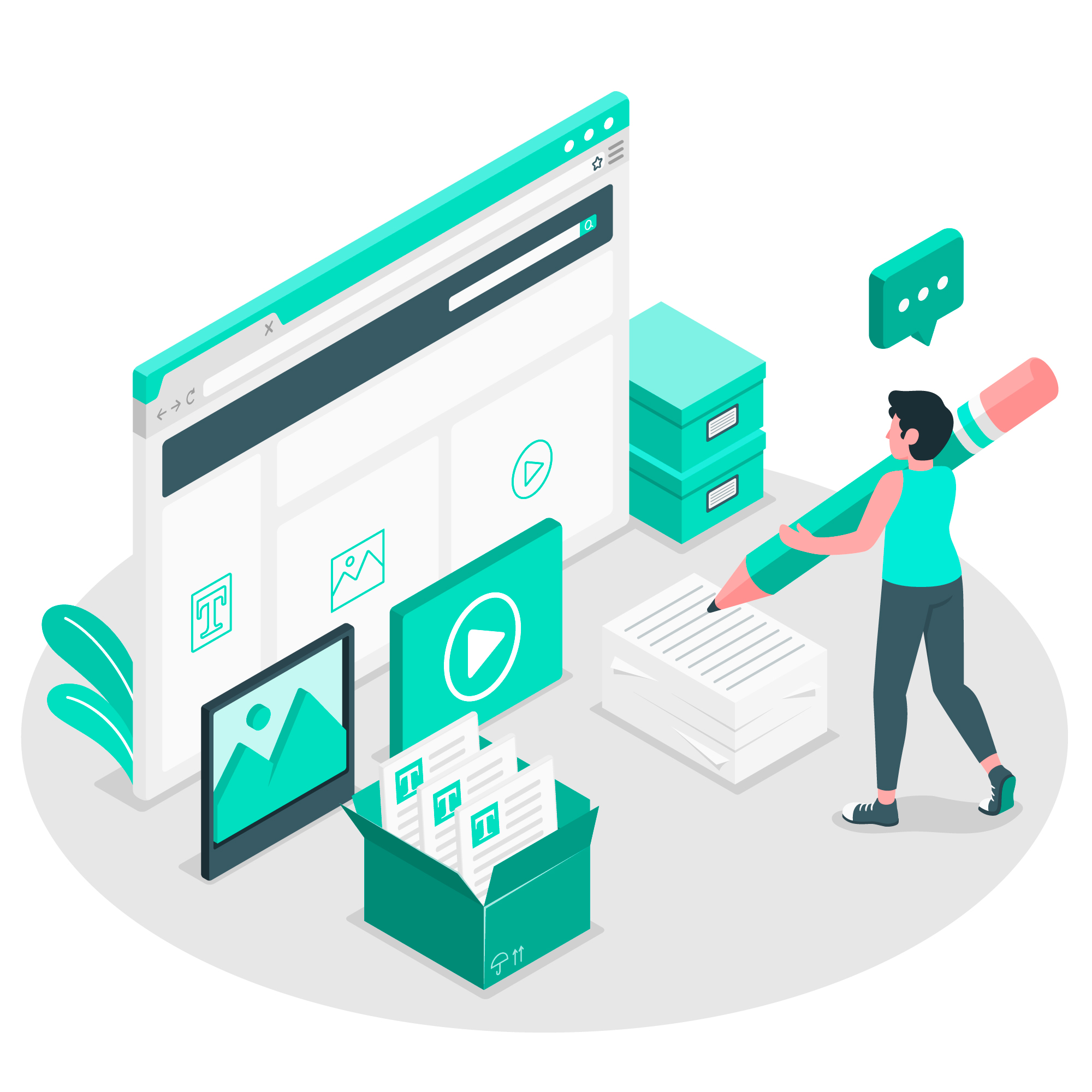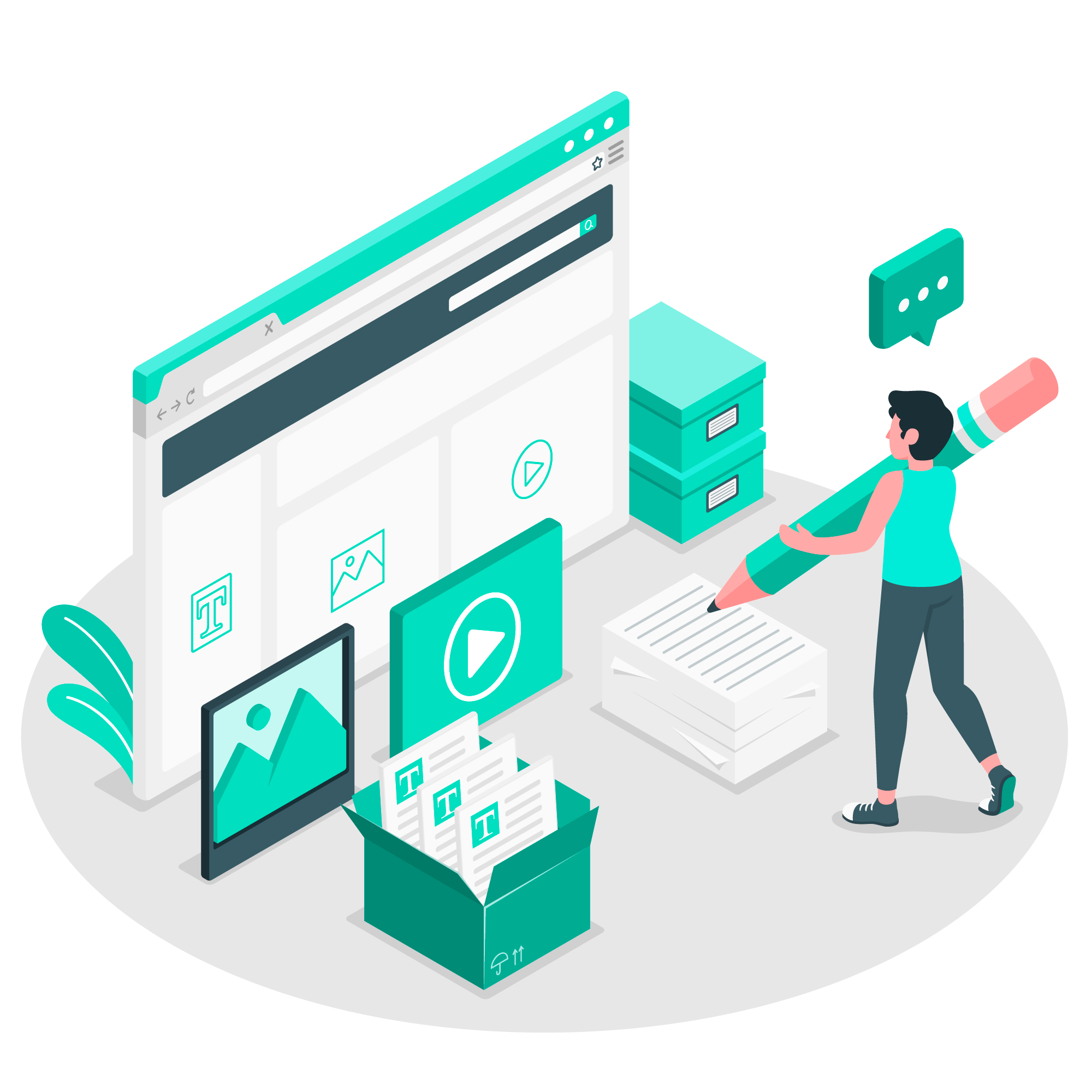 Image Source: Freepik
Optimize Content with the Rank Math Plugin!
Search engine optimization tends to become quite a complicated and challenging task to perform. However, with SEO plugins such as the Rank Math plugin for WordPress websites, you can publish content that drives traffic into your site, reaches potential customers, and ranks you higher on SERPs.
If you still have concerns, you can contact a web content services provider to help you get started with the Rank Math plugin and boost your SEO journey this 2021!