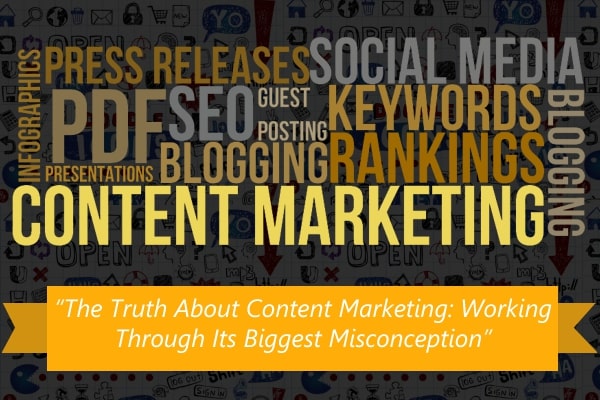 Jul 3, 2014
The Truth About Content Marketing: Working Through Its Biggest Misconception
Some people think that content marketing is all about gathering all the pretty words in the world and turning them into a beautiful "piece of art" that everyone's going to praise and love. Well, we might have all thought that way at first. However, some of the more seasoned SEO specialists and content writers know that is not the case. In short, there's a lot of content marketing misconceptions.
Breaking Content Marketing Misconceptions
Like all other big deal marketing strategies, people think they can immediately grasp its full concept.  Yet what they are really holding onto is simply a misconception. In the case of content marketing misconceptions, here are its three steps:
Step 1.
We create the content. We work our butts off making it the most appealing and the most relevant piece on the internet. Basically, we try to make the content equivalent of pizza because everybody loves pizza. We throw in all the best ingredients, the best graphics, articles, layouts, everything! We are so sure that people are going to want more than just a bite of our "pizza".
Step 2.
We become so proud of what we did that we want the whole world to know that this is the greatest content in the world, the greatest metaphorical pizza there is! Since we have become so proud of our masterpiece we put it everywhere on the internet. On our websites, our social media accounts, we do nothing, but passionate promotion. Then we realize a few things. No one is actually buying our pizza, no one's even giving it a second glance. They can see it, they can "smell" it, but no one's actually buying it.
Then comes the nonexistent…
Step 3.
This is where everyone is supposed to want a whole box of that pizza. This is where they were supposed to go "Oh Gosh! I want that product and I want it NOW!", but that never happens. The reality is, people do not "InstaWant" a product the moment they see it. They do not throw tantrums like a small child because they are so drawn to the content that they will stop at nothing to acquire that product. Everyone loves pizza, but not everyone loves our content.
In the real world of content marketing, Steps 1 and 2 are done over and over again until something actually works. It's like we just keep making different flavors of pizza with different toppings every time until BOOM! What's this? Are people actually buying what we're selling? Do they actually like our content and think it's great? Yes! Yes, they do! All that effort has finally paid off and now you know what they want, you know how to keep up!
Now that you already know what kind of content they really love, it's best to continue writing that way, so that they will keep coming back for more. It's your "best seller" pizza that has everyone craving for more than just a slice!