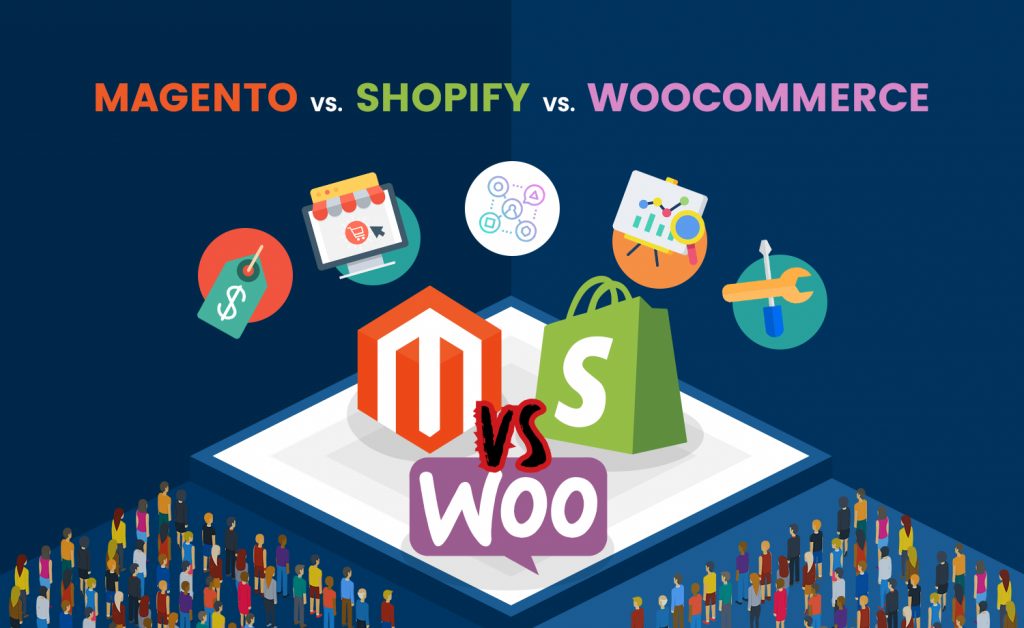 Jan 12, 2019
Magento vs. Shopify vs. WooCommerce
Top eCommerce Platforms for 2019
Having researched, developed, and implemented hundreds of e-commerce sites, we have come up with this list to give you the top choices for your online store.  For this article, we'll focus mainly on the top three eCommerce platforms: WooCommerce, Magento, and Shopify.

Companies of different sizes can be successful using any of these platforms. However, it's still a good practice to understand how these platforms differ from each other, and it can help dedicated web developers get started.
Quick facts about Magento, Shopify, and WooCommerce
Magento has been around since 2008 and developed by Varien, Inc. It is still, by far, the most powerful solution among the three and the best for complex B2B or international websites. There is no doubt that this is something that Magento developers can be proud of.
Next, we have Shopify which started way before Magento around 2006 by Tobias Lütke, Scott Lake, and Daniel Weinand. Originally, it was built to enable its creators to sell snowboarding equipment online but has evolved into a leading SaaS eCommerce platform with a huge user base. Although Shopify is super powerful, it remains user-friendly.
WooCommerce came in 2011. It was developed by WooThemes and was later acquired by Automattic, the operator of WordPress.com. Among the three, WooCommerce is just a WordPress plugin than a standalone eCommerce platform.
All three can be customized with themes and plugins. TemplateMonster is one great source which you can check out.
We have five quick comparisons for you:
Magento – Shopify – WooCommerce: Pricing and Cost

WooCommerce and Magento CE (Community Edition) both are free to download with free updates.

However, WooCommerce offers priced SEO extensions for SEO with official pricing starting from $29 for one platform.

The Magento EE or the Enterprise Edition pricing, on the other hand, depends on the size of your business. Furthermore, you may need to contact their specialists to request for a quotation.

As for Shopify, there is an initial 14-day trial and a monthly subscription afterward with Basic Shopify ($13), and the Advanced Shopify ($107) plans once you decide to proceed with the service.

Conclusion: Magento and WooCommerce tie in this category.

Magento – Shopify – WooCommerce: Popularity and Market Share

It's always good to learn what other competitors of your eCommerce website are using. Based on BuiltWith 2019 statistics for market share, WooCommerce tops the list with almost 23,000+ websites. Shopify then takes second place with nearly 20,000+ websites while Magento secures the 3rd place with 15,000+ websites among the top e-commerce platforms out of one million.

Conclusion: WooCommerce clearly wins this category with a 22% market share.

Magento –  Shopify – WooCommerce: User Experience

Shopify is the easiest among the top eCommerce platforms with its drag-and-drop interface and simple tools. In addition, it can guarantee a seamless user experience even to an eCommerce novice developer.
WooCommerce has its own limitations as a WordPress plugin, which makes it challenging for developers to set up the store. First, your website must already be built with WordPress for you to use WooCommerce. Installing and configuring the plugin may be a little complex for non-techies. Lastly, it doesn't include some advanced options out-of-the-box compared to the other platforms.

Unlike Shopify, Magento is not the best option for those who have limited technical knowledge in developing an eCommerce website using it. Furthermore, the Magento community needs robust web development and programming skills for users to utilize.

To sum it up, Shopify is undoubtedly the best platform to learn because they handle hosting and maintenance. Magento is then the hardest to use among the three, but it certainly has the most flexibility and built-in functionality. Meanwhile, WooCommerce fall in the middle between the complexity of Magento and Shopify.

Conclusion: Shopify easily wins this category.

Magento – Shopify – WooCommerce: SEO Features

Beyond what these three top platforms can offer, the main drivers of an eCommerce website are its marketability and searchability. Almost all internet activity starts with doing a search in a browser. Consequently, you'll have some difficulty running a web store if your customers cannot find or discover your website on the search engine results page.

Based on ecommerce-platforms.com in-depth analysis, below are the factors that should be aced by Magento, Shopify, and WooCommerce.

Navigation Links
Page Titles
Page URLs
Meta Descriptions
Image ALT Tags
H1 Headings
Canonical URLs
Integrated Blogging Platform
Social Sharing buttons
Auto XML Sitemap
Use of own Domain Name
Your IP address
301 redirects
Robots Noindex Capabilities

All factors above were each given a weight based on its relevance to an increase in the Google rankings in the Moz Search Engine Ranking Factors study.

Due to these considerations, the ranks and SEO scores for the top three eCommerce platforms came up as follows:

Shopify – 98%
WooCommerce – 97%
Magento – 95%

Conclusion: Shopify wins this category.

Magento – Shopify – WooCommerce: Community and Support

Automattic, the developer behind WooCommerce, provides limited support. However, they enable you to submit a support ticket to WooCommerce.com for any issue related to the plugin.

There is no such thing as client support in Magento. There is, however, a huge developer community that you can connect with to raise platform-related issues and inquiries. Furthermore, Magento users only have access to the forums, boards, and user community, but not Magento support staff.

This is where Shopify excels among the others. While Shopify offers 24/7 responsive client support for eCommerce customers and developers, you can easily reach their support team through phone, email, or live chat. If any issues arise, you can be sure that somebody can assist your issue anytime.

Conclusion: Shopify wins this category.
Bottomline
In conclusion, we have to say that all the mentioned top three eCommerce platforms above are great tools and provide a lot of similar features which their users have enjoyed so far. It just depends on what you're looking for that suits your eCommerce website and what you are trying to achieve with it.
In case you feel like you need more guidance and a dedicated web development team to help build your eCommerce website, you can always contact a support team who is always here to assist you out.