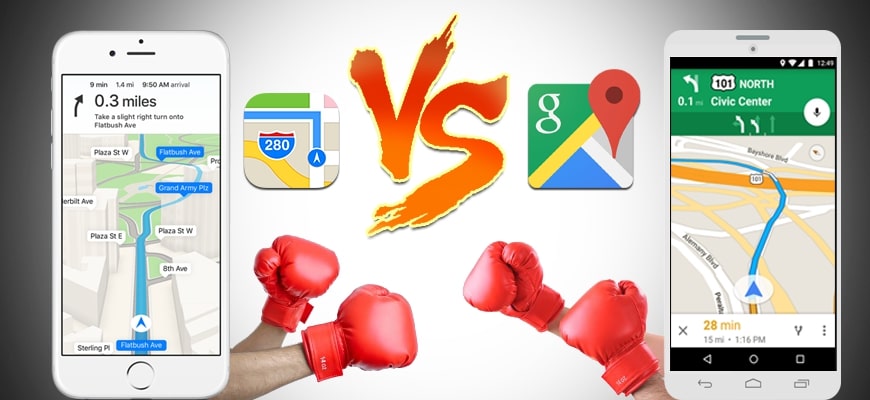 Jan 8, 2016
Apple Maps vs Google Maps: Yet Another Chapter in an Epic Tech Saga
A New Map
Earlier this month, Apple announced that its Maps app is more than three times as popular as its closest competitor – presumably Google Maps – on both iPhones and iPads. It's somewhat surprising, considering the fact that after its launch in 2012, Apple Maps faced embarrassing errors.  Such errors were misplaced roads, bridges, and even world-famous landmarks. This eventually led to Apple CEO Tim Cook apologizing to all customers and promising to bring fixes.
Fast-forward to three years, and all those fixes seem to have paid off.
The iPhone Advantage
Apple has a sizeable advantage over Google in the US with the iPhone. This is based on the number of users in any given month, according to research firm ComScore. Despite this, majority of smartphones in the US still have Google apps. One example being Google Maps. In October, it had twice as many users compared to Apple Maps.
For a long time, Google Maps has been the default navigation app on iPhones. However starting from iOS 6 onwards, Apple developed their own maps app, taking the place of Google's offering.
Apple vs Google
This competition between Apple Maps and Google Maps is yet another phase of the rivalry. But the battle definitely hasn't stopped here. Apple has been steadily steering itself away from the reigns of the Mountain View-based company, particularly evident by the lack of Google apps like Maps and YouTube from brand-new iPhones.
Another example of this is when Microsoft and Yahoo!, Google's main competitors in the highly-lucrative search arena, asked Apple on considering about switching to one of their search engines once Google's contract would expire. Bing is already the default search engine in Siri, after it replaced Google in 2013, though users can still request their search through Google. However, Google still holds a prime position as the default in Safari.
Although Microsoft's Bing is the more likely contender since it's the search engine in Spotlight in the latest iOS versions, Yahoo! CEO Marissa Mayer reportedly expressed hopes that they would be chosen instead. After all, Mozilla only recently replaced Google as the default search provider in Firefox with Yahoo!
Regardless of what search engines will be pre-loaded into Safari or any other web browsers for that matter, users can simply perform a few extra steps to choose their desired default provider.
Looking at this from a wider point of view, only time will tell if Apple's ultimate plan of breaking away from one of their biggest rivals, either by creating their own in-house apps or courting other competitors, will actually work.
There are certainly more chapters expected in this classic tech battle.