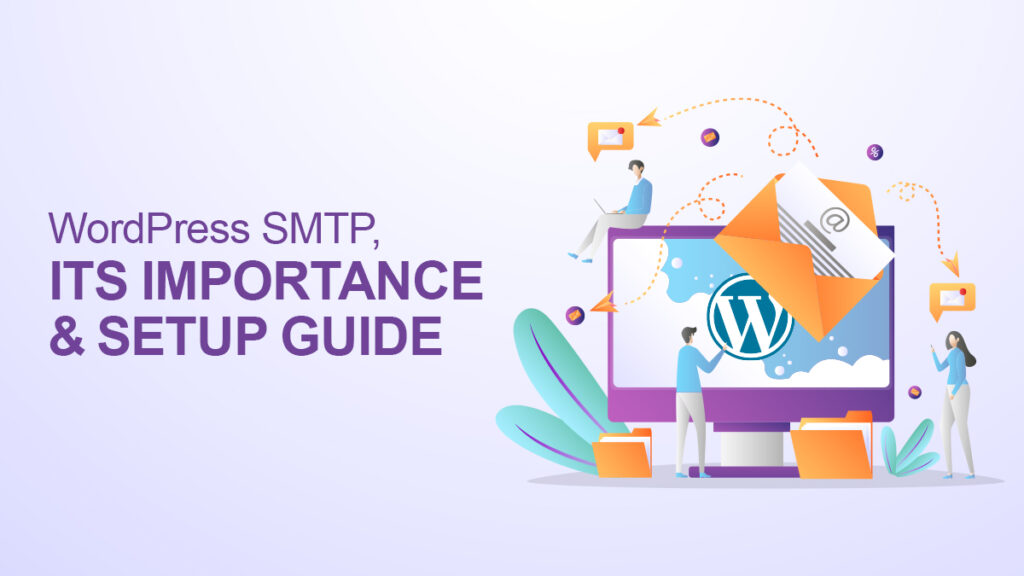 Jul 12, 2023
WordPress SMTP, Its Importance & Setup Guide
A Simple Mail Transfer Protocol is a protocol for sending and receiving emails online. It transmits emails from a sender's email client or server to the recipient's. It can be instrumental in improving the email-sending accuracy of your WordPress website. So, WordPress website owners should learn about WordPress SMTP setup.
Accurate email delivery is crucial for your WordPress site, ensuring more effective communication. Not only that, but it's vital to time your emails to maximize your open rates. This is especially important if you're handling customer support.
Not only that, but accurate deliveries also result in greater user engagement and credibility for your WordPress website. If your site is an eCommerce website, an SMTP can ensure accurate email sending to your online shoppers.
How Simple Mail Transfer Protocol Helps Email Sending Accuracy
Simple Mail Transfer Protocol is vital to email communications. It's crucial for facilitating the exchange of email messages between servers. SMTP ensures that messages are reliably transmitted to and received by the appropriate recipients. Billions of emails are sent every day, and the SMTP can ensure that your emails reach the right consumers.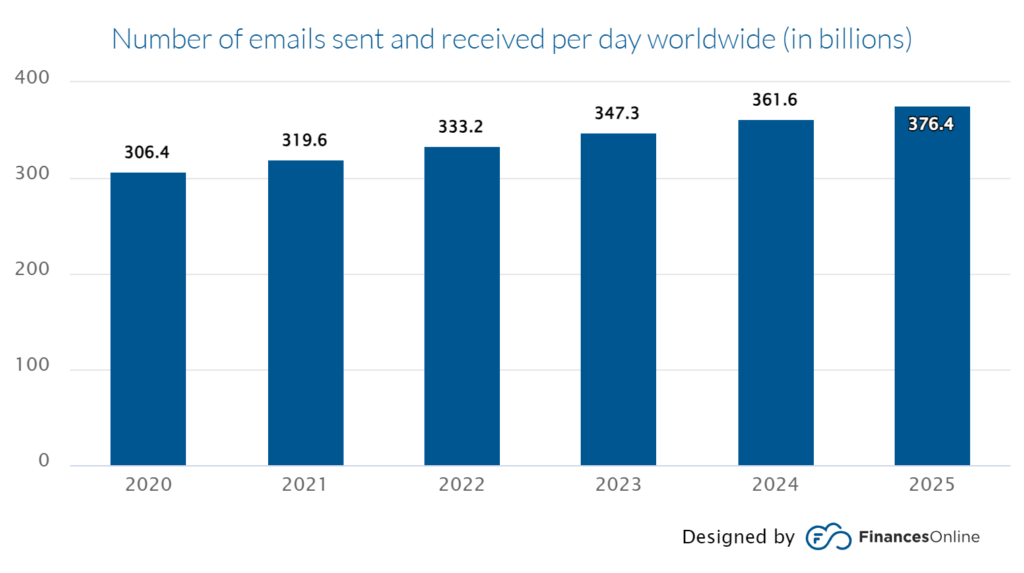 Source: FinancesOnline.
But, it's vital to note that SMTP deals with email delivery rather than email retrieval from a server. Of course, it's worth noting that while you might configure your WordPress SMTP settings correctly, there's still a small chance that some emails may still land in recipients' spam folders.
After all, the mail services will handle the spam filtering process. SMTP doesn't have much of a hold on your messages after delivery. But, you can be sure that a majority will reach your intended recipients.
Configuring WordPress SMTP settings during the setup process can make email delivery from your website more accurate and reliable. 
What Can SMTP Do to Help Your Business?
Email Message Routing
Simple Mail Transfer Protocol routes emails between servers, so it's fundamental to email communication. Let's say you, as a website owner, send an email message to a WordPress user. Afterward, your chosen email client will communicate with your server via SMTP to transfer the email to your recipient's server.
SMTP will transfer an email from the sender's server to the recipient's in a series of steps. It will communicate with the recipient server through commands and responses. As a result, it ensures the proper handover of the email message.
Reliable Delivery
Simple Mail Transfer Protocol handles many aspects of email transmission and ensures reliable delivery of your emails. For instance, it establishes a connection between the sender and recipient servers. Also, it authenticates the sender's identity and deals with delivery errors or issues.
Authentication
SMTP uses authentication measures to verify the email sender's identity. Thus, it prevents unauthorized access and reduces the risk of email spoofing and spam.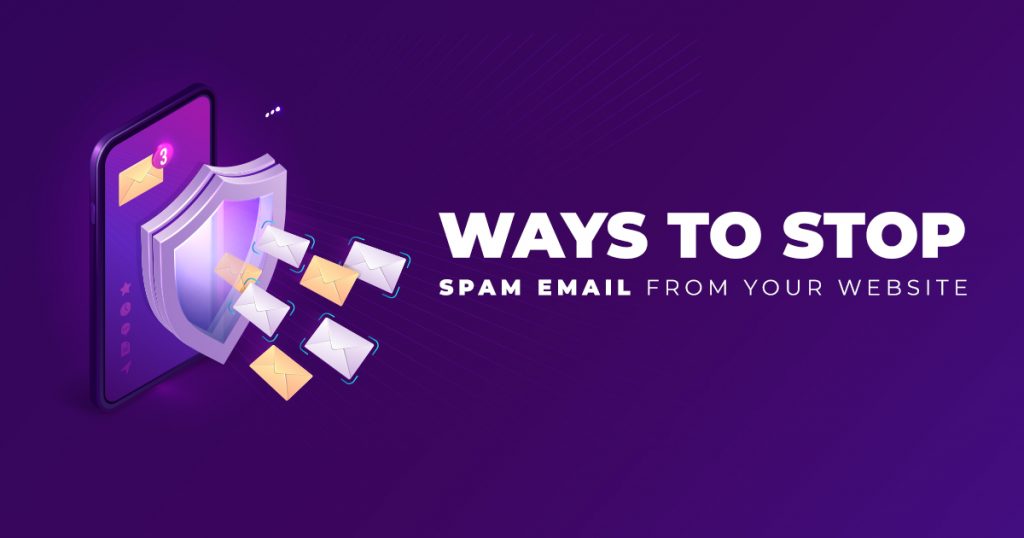 Integration with Email Clients
Email clients or mobile applications connect to the user's email server via SMTP to send outgoing messages. The clients and mobile apps rely on the user-provided SMTP settings to establish a server connection and transmit emails.
Some of the most common email clients include the following:
Microsoft Outlook

Apple Mail

Mozilla Thunderbird

Claws Mail
The Benefits of Setting up WordPress SMTP
Accurate email delivery as a result of using SMTP is vital for the following reasons:
Communication with WordPress Website Users
Firstly, SMTP ensures communication between your WordPress site and its visitors or users. With SMTP, you can promptly send email notifications to the intended receivers. Here are a few examples of common notification emails:
Account activations;

Password resets; 

Subscription updates;

Order confirmations, etc.
Ensures Greater User Engagement
Engaging with your audience is vital for digital marketing endeavors. SMTP ensures that emails from your WordPress site will reach recipients for maximized communication efforts. Some email types you can use to engage with users or subscribers include the following:
Welcome emails;

Promo offers;

Blog updates;

Event updates or invitations, etc.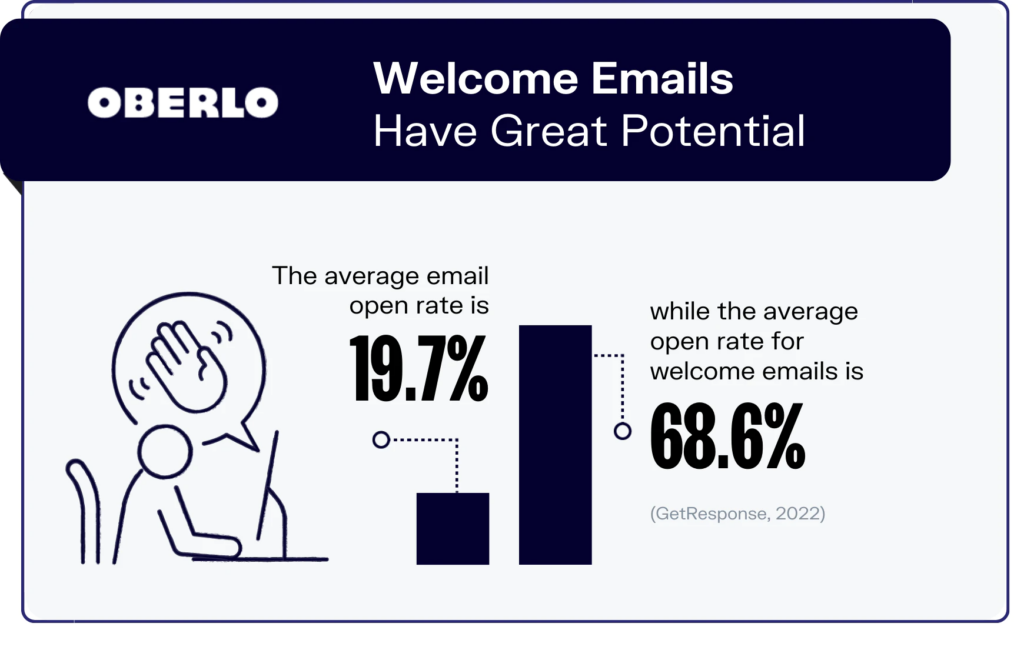 Source: Oberlo. 
Without a proper WordPress SMTP setup, your emails may often go to spam folders or not reach your intended recipients. As a result, you cannot communicate with them and foster greater user engagement.
Establishes Professionalism and Credibility
Accurate delivery can improve your WordPress website's reputation. In particular, prompt email delivery can add to your credibility and make your business more professional. After all, prompt and reliable communications will indicate to consumers that you're a trustworthy brand.  
But if your emails are undelivered or marked as spam, it can cause recipients to doubt your brand's legitimacy.
Ensures Timely Delivery of Transactional Emails
Accurate email sending is especially critical if your WordPress website involves eCommerce or memberships. Transactional emails are necessary for informing and updating customers about their transactions. Of course, such emails can include the following types:
Order confirmations;

Shipping notifications and updates; and

Transaction receipts.
Get eCommerce Website Design and Development Services here!
As a result, Simple Mail Transfer Protocol plays a large part in customer satisfaction and excellent User Experience. 
Avoids Spam Filters
The Simple Mail Transfer Protocol also keeps your emails from being marked as spam. It's helpful since recipients hardly ever open messages in their spam folders. So, you must follow best practices and configure your WordPress SMTP settings. That way, you can improve the chances of your emails landing in recipient inboxes.
Assists with Customer Support
Accurate delivery of email messages is crucial for providing customer support. Website visitors may reach out to your website through email for inquiries about your products or services. Also, they may contact you for assistance or other such concerns.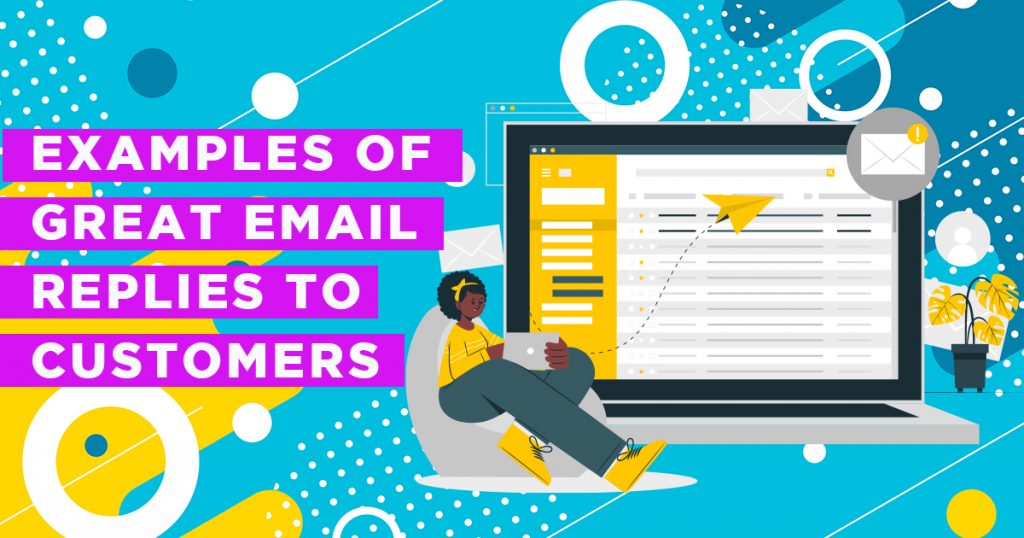 Thus, if users reach out to your website through email, you must reliably receive and promptly respond to the messages. Failing to communicate with visitors or users via support-related emails can lead to frustration and a negative customer experience.
Every WordPress website owner must know how to set up the SMTP and configure its settings.
How to Setup SMTP in WordPress
The best method for SMTP setup involves plugins. Here's how to set up Simple Mail Transfer Protocol in WordPress using the WP Mail SMTP Plugin by WPForms: 
Step 1: Install and Activate Your Desired SMTP Plugin:
First, install and activate the WP SMTP plugin in the WordPress dashboard. You can upload the WP SMTP plugin's files to your server or get it from the plugin repository.
Step 2: Configure your WordPress SMTP Settings
After activating the plugin, you can configure the WP Mail SMTP settings.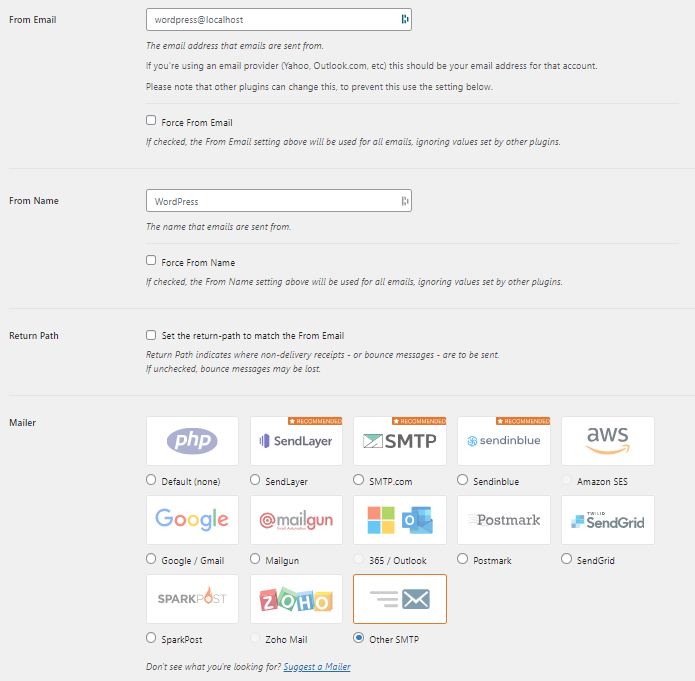 So, click the Settings tab and enter the following details:
"From" Email — the email address used to send your WordPress emails

"From" Name — the name used to send the emails;

Return Path — tick the box to get successful delivery notifications or bounced emails; and

Mailer — select

'Other SMTP'

since you're sending emails using your host's SMTP server. You can also opt to use third-party mailers. 
Step 3: Provide Details About the SMTP Server
After selecting Other SMTP, you must provide the SMTP server details.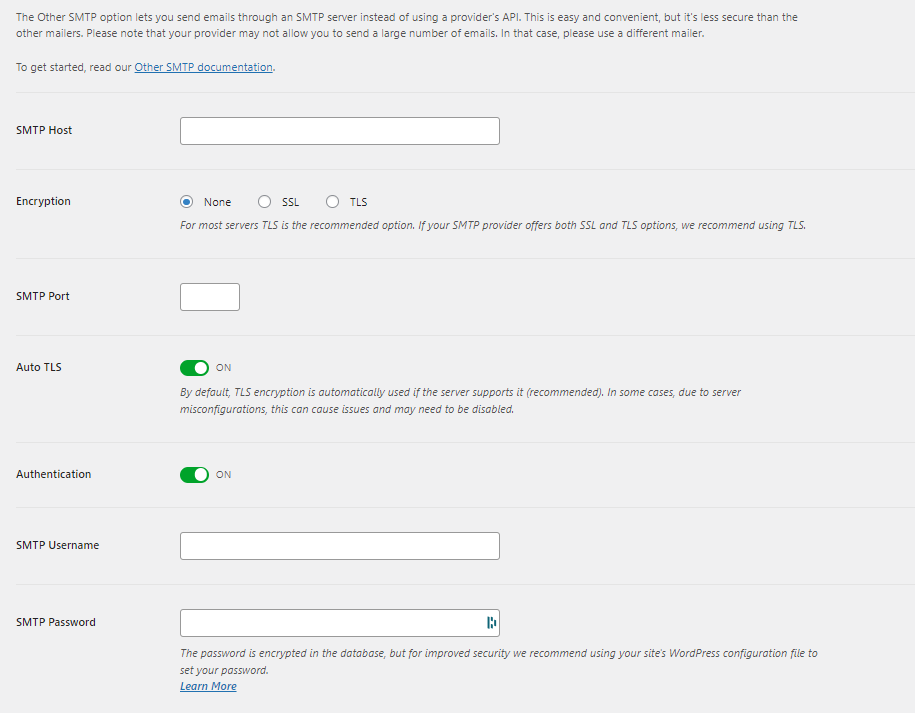 You can get these details from your email service or hosting provider:
SMTP host

— the host address provided by your hosting provider

(common ones include Gmail, Mailgun, SendGrid, etc.);

Encryption method — this will be used by your server to send email messages;

SMTP

Port number —

or the port used by your outgoing mail server. SMTP generally operates on port 25. But, if you're using the encrypted variant, SMTP Secure or SMTPS, you must

use port 587

.

Auto TLS — you should set this to

On

.

Authentication — you must also set this to

On

.

SMTP Username; and

SMTP Password.
Step 4: Enter the Authentication Credentials
After providing SMTP server details, you should enter your authentication credentials. These are the name and password associated with your email, which you can use to log into your email account.

Lastly, don't forget to ensure you previously specified the "From" name and email address for outgoing emails! After all, the name and email will be what your recipients see when they receive your message.
Step 5: Test Email Delivery
Many SMTP plugins have a feature for testing email delivery.

Once you have finished the WordPress SMTP setup process, you can send a test email.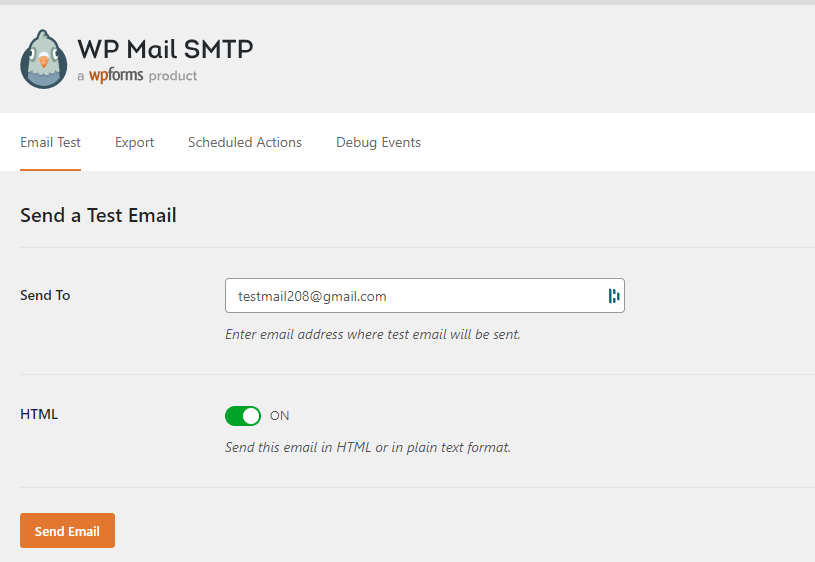 You must verify if it was delivered successfully and the recipient has received the test email in their inbox. Also, you can install the Email Log plugin to test the actual form submission if delivered.
You can save your progress once you've configured all WordPress SMTP settings. 
After going through the WordPress SMTP setup process, your WordPress site can send email messages using the specified server. Thus, if configured perfectly, your WordPress website can improve email delivery accuracy.
Partner Up with Email Marketing Specialists Today!
Final Thoughts
Accurate email delivery is critical for your WordPress website for various reasons, including:
Effective communication with website visitors;

Reduced chances of having emails marked as spam;

Enhanced user engagement and User Experience;

Greater website credibility; and

eCommerce and customer support. 
By configuring WordPress to use SMTP, you can improve the accuracy and reliability of your site's email delivery. To accomplish this, you need to follow this process:
Firstly, install and activate an SMTP plugin;

Next, configure SMTP settings via the WordPress dashboard;

Then, provide SMTP server details like host, port, and encryption;

Authenticate credentials and select the "From" name and address; and

Finally, testing email delivery. 
A website owner can do this process themselves. But, a WordPress Developer in the Philippines can take care of the process for you!