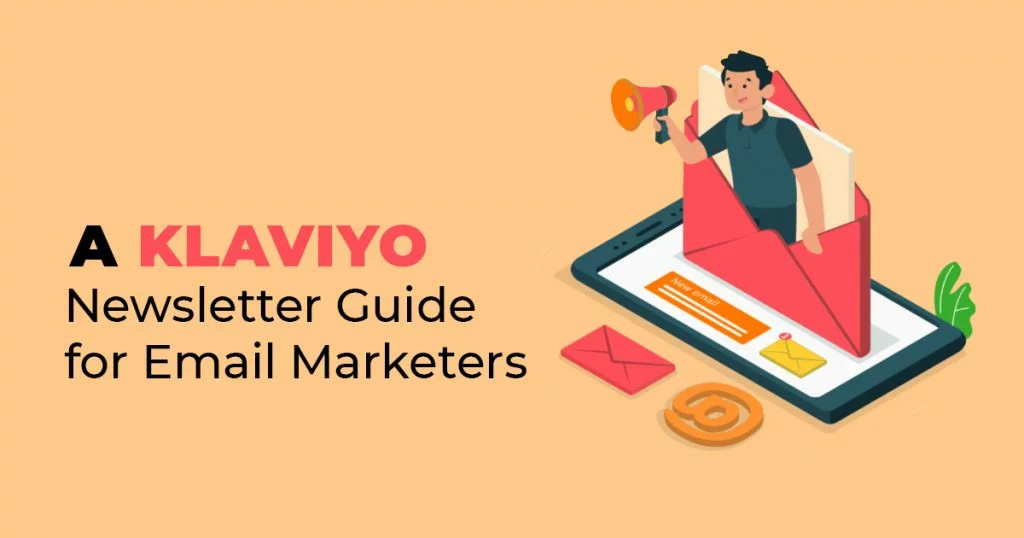 Jan 12, 2022
A Klaviyo Newsletter Guide for Email Marketers
Newsletters are excellent for assisting with your marketing. They make it easy to share information with your audience, regardless of whether they're new or not. Newsletter Marketing is a particular subtype of Email Marketing! In Newsletter Marketing, "companies send informational and product-focused content via an emailed letter to a subscriber list," according to BigCommerce. So, to boost your Email Marketing reach, you'll want to incorporate newsletters. Of course, there are a fair amount of Email Marketing tools for anything an Email Marketing expert needs! Some tools can automate the sending process, create personalized emails, and more! Therefore, it's advisable to find tools that can assist with your Newsletter Marketing endeavors. Enter Klaviyo, the Email & SMS Marketing Automation Platform tool! You can apply Klaviyo to your newsletter creation, and soon you may become an expert in no time at all!
Klaviyo: A Quick Background
There are various tools on the Internet, many of which are free for use! Or at least free until you hit a certain number of recipients or subscribers. Some tools can mail merge or generate email subject lines! Some even help you design Marketing Emails that can tap into psychological tips to boost opens and conversions. Klaviyo is one such email tool! So, Klaviyo is interesting as it's a perfect tool for email and SMS campaigns experts.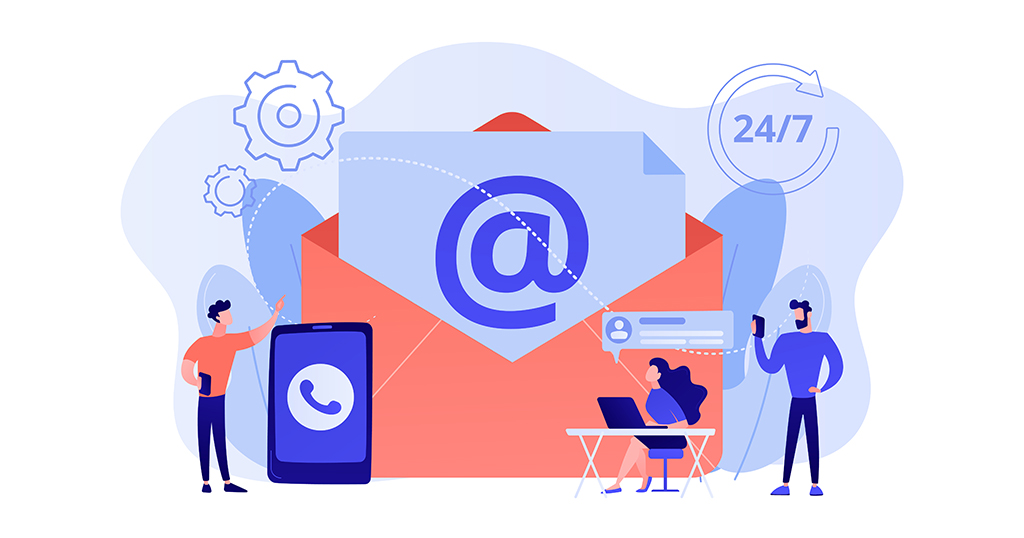 Not only that, Klaviyo supports the intermarriage of data and excellent tool functionality. After all, they say knowing is only half the battle! Having data guide your marketing campaigns ensures that you'll acquire and retain a loyal subscriber base from start to finish. So Klaviyo as a platform has several features going for it. Klaviyo:
Keeps up a database for customer data that updates in real-time;

Boasts predictive analysis that improves performance; and

Reaches your audience on optimal channels with messages that make an impact.
As for its vision, Klaviyo prides itself on "[delivering] amazing experiences across email and other owned channels." This makes the tool a perfect match to boosting attention and conversions with your Email Marketing!
Using newsletters in your Email Marketing
So, Email Marketing experts likely know about newsletters. However, for context, newsletters "share relevant and valuable information with [a business or organization's] network of customers, prospects and subscribers." Thus, they are prime candidates for informing recipients about products or services.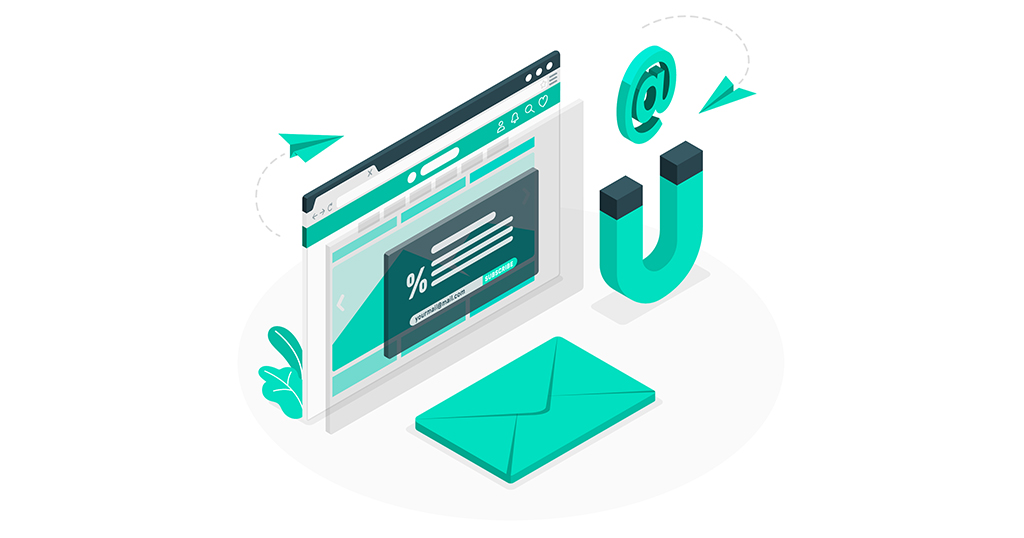 The Content Marketing Institute says that "newsletters are the best way to nurture leads" for 31% of B2B marketers. But though this means you have another strategy for Email Marketing, it's best to keep newsletters to a minimum! Audiences prefer that a business sends five newsletters or less per week.
However, a business can share information in newsletters to increase credibility in the eyes of its audience! So no matter how they're used, newsletters are excellent for marketing either the business or its services.
How to set up a newsletter using the Klaviyo email tool
As an email tool, Klaviyo assists your Email Marketing endeavors. It can collect data to help with your Digital Marketing. Plus, it can personalize and handle both email and SMS campaigns. Additionally, it also enables you to create aesthetically pleasing newsletters!
Whether you're an Email Marketing expert or not, one can find much use in setting up newsletters using the Klaviyo tool!
1. Log in and get on your Dashboard.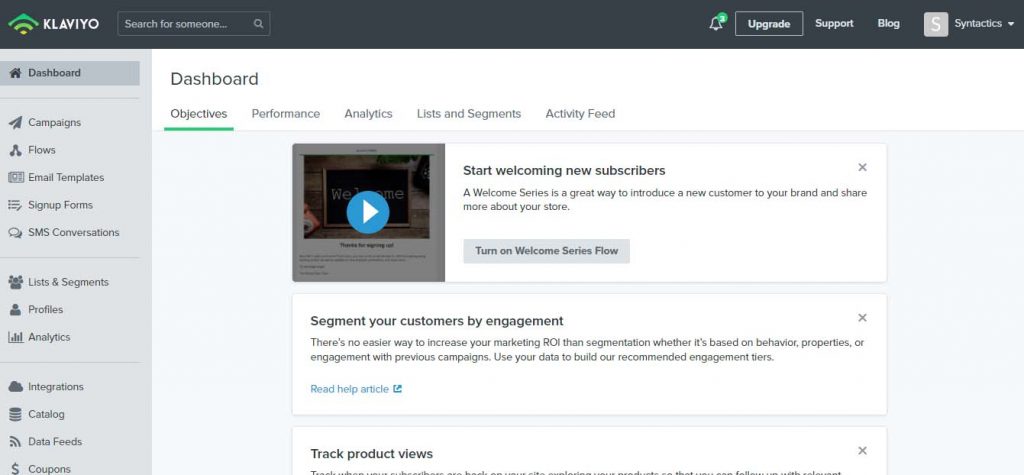 Source: Klaviyo.com.
Before starting with your Newsletter Marketing adventures on Klaviyo, you need to access your account. Upon logging in, check your Dashboard sidebar for the Campaigns option. Go ahead and click on it! 
2. From the Campaigns section, you can Create a new one.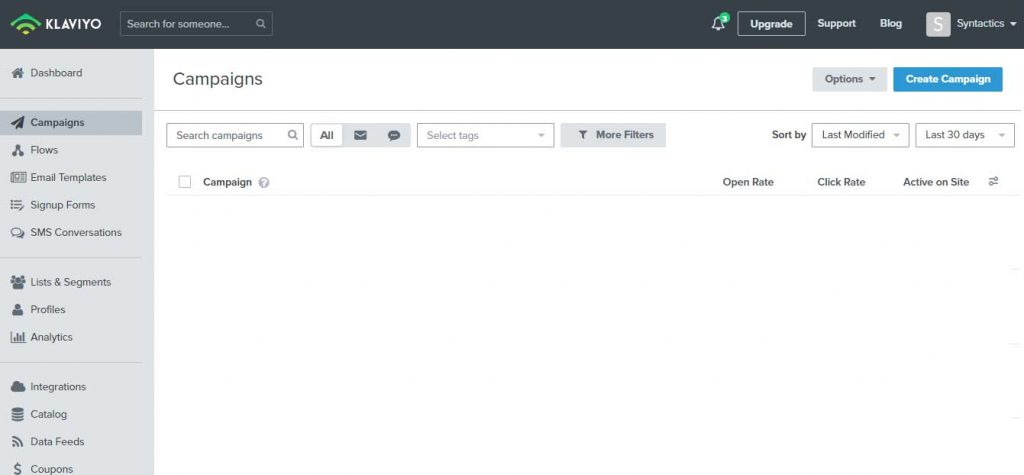 Source: Klaviyo.com.
In Campaigns, the screen will show you a section where you can see a list of current email newsletter campaigns you have on Klaviyo. Then, create your Klaviyo newsletter by clicking on Create Campaign!
3. Choose the campaign type.

Source: Klaviyo.com.
You can choose between Email or SMS. But since this article deals with Email Marketing on Klaviyo, we'll focus on a newsletter email. Once you've made your choice, click Create Campaign to confirm! Then, you'll be sent to another section, where you can fill out the Campaign Information.
4. Add more information about the marketing newsletter campaign.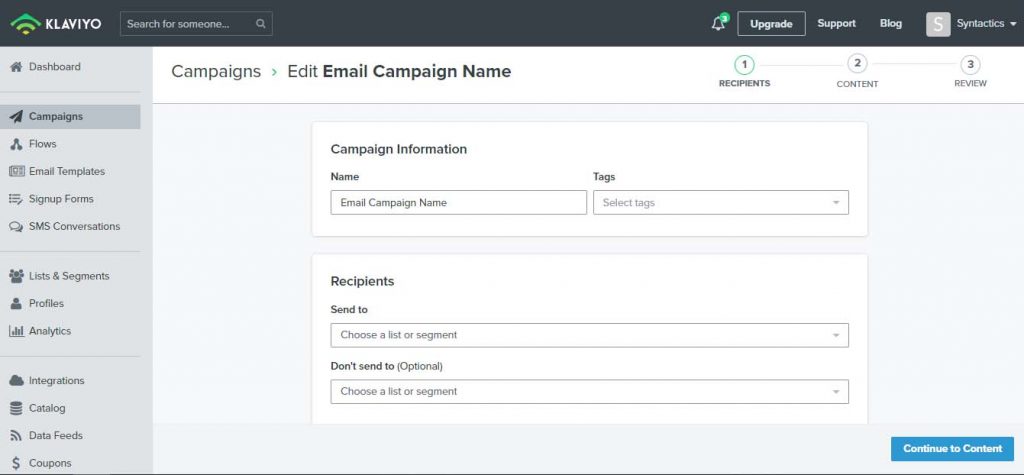 Source: Klaviyo.com.
You need to include info on the campaign Name, Tags, and Recipients for this stage. You can use a mailing list of recipients to save time, especially if you have many of them!
Also, you can edit your mailing list with the Don't Send To option. While your mailing list will fall under Send To, Don't Send To excludes particular recipients from the newsletter. Of course, if you have a manageable number of recipients, you can forego the list and manually input your recipients. Once you're satisfied with your mailing list, you can click Continue to Content.
5. Next, fill out information for the content proper.

Source: Klaviyo.com.
For Campaign Content, you have to fill in the following Klaviyo newsletter elements:
Subject line;

Preview Text;

Sender name; and

Sender email address.
Side note: You can also tick a box that indicates if you want to use the sender's email address as your reply-to address! The next step is also located in this phase.
6. Time to pick out a template!
In the section under How would you like to design your email? you can choose between Drag and Drop, Text Only, or HTML. Drag and Drop will take you to your Library! So here, you can access saved newsletter templates from Klaviyo in this section. You can choose between Themed, Basic, or My Templates.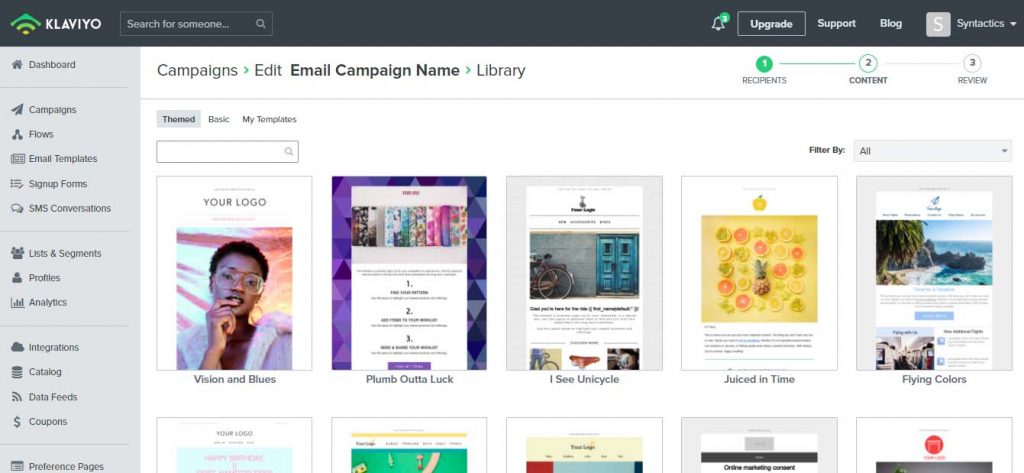 Source: Klaviyo.com.
Once you've chosen your newsletter template, it's time to edit with Klaviyo's Drag-and-Drop email builder! You have several options you can choose to edit the template to your liking. Text, images, buttons, headers, tables, you want it, Klaviyo's got it!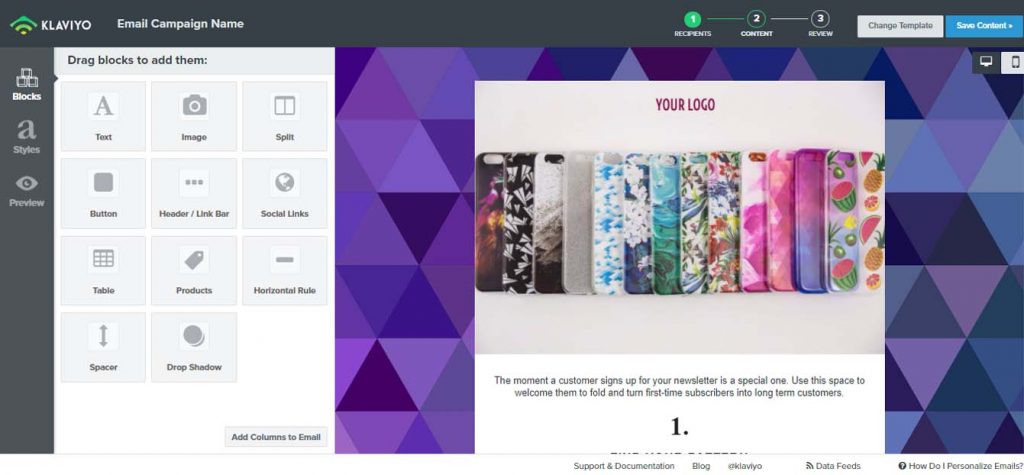 Source: Klaviyo.com.
7. And that's it for building your newsletter content!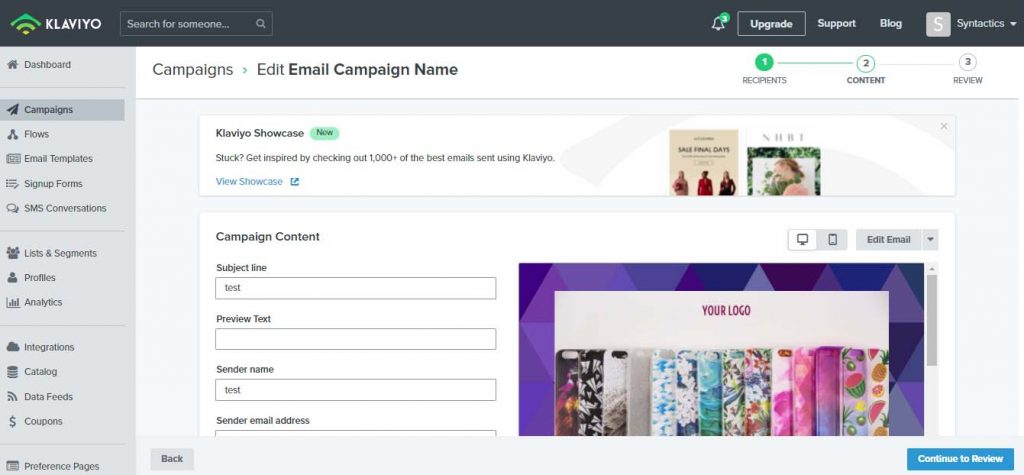 Source: Klaviyo.com.
Once done with your Klaviyo newsletter, you can either Preview it or check how it looks on Desktop or Mobile. Of course, you can always tweak things as needed, especially during the following step! But, if you're happy with what you've got, go ahead and Save Content! Then you'll have to Continue to Review.
8. Then, Continue to Review.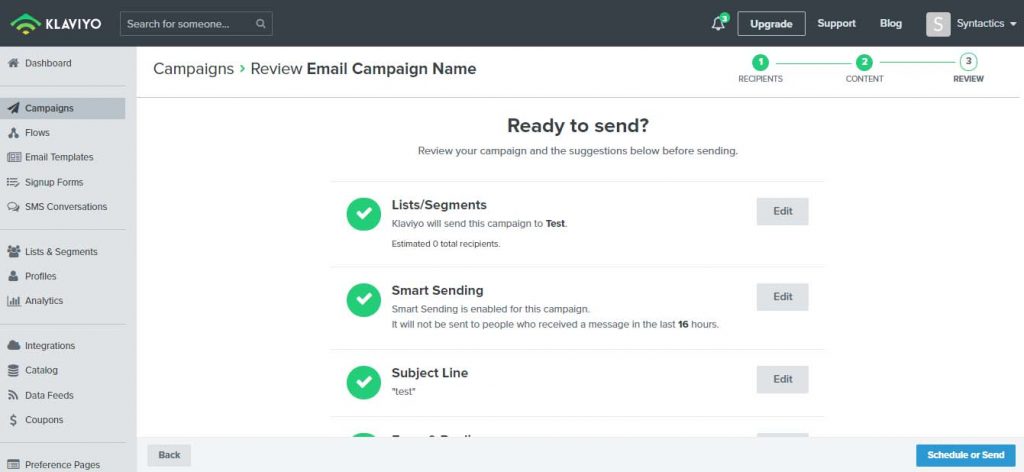 Source: Klaviyo.com.
Before you show everyone your newest Klaviyo newsletter, it's crucial to go over everything before hitting Send (or Schedule)! If you don't, you may find out too late that there are typos or unflattering image alignment! Then, once everything is to your satisfaction, you can finally click Schedule or Send.
After sending, you get to see your newsletter listed in the Campaign section. In addition, Email Marketing Experts can check the email or newsletter's Open Rate, Click Rate, and Active on Site stats!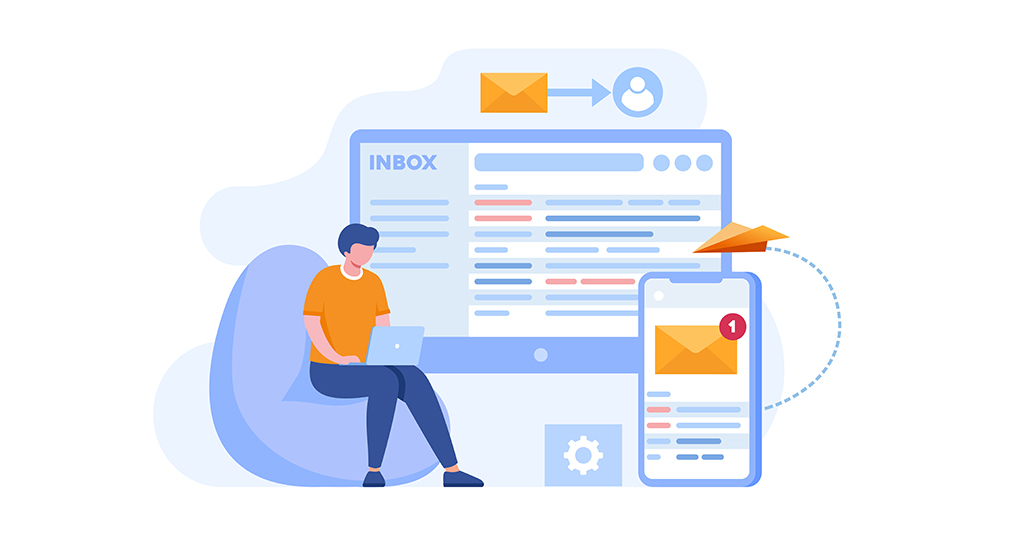 Take on Klaviyo for your Newsletter Marketing efforts!
Email Marketing isn't a walk in the park. It's got its fair share of challenges. As a result, Email Marketing experts are always on the lookout for the best strategies to boost conversions and add to their mailing lists. Any marketer worth their salt will tell you that you don't just need good copy but also excellent graphics! So, a newsletter can help you rake in your audience. After all, Email Marketing has evolved from simply being text-only, so that you might need a tool like Klaviyo!
Of course, there are plenty of experts with knowledge of Klaviyo! Though Klaviyo is a user-friendly tool (and there are more email tools out there), hiring an Email Marketing expert isn't a bad thing, either.