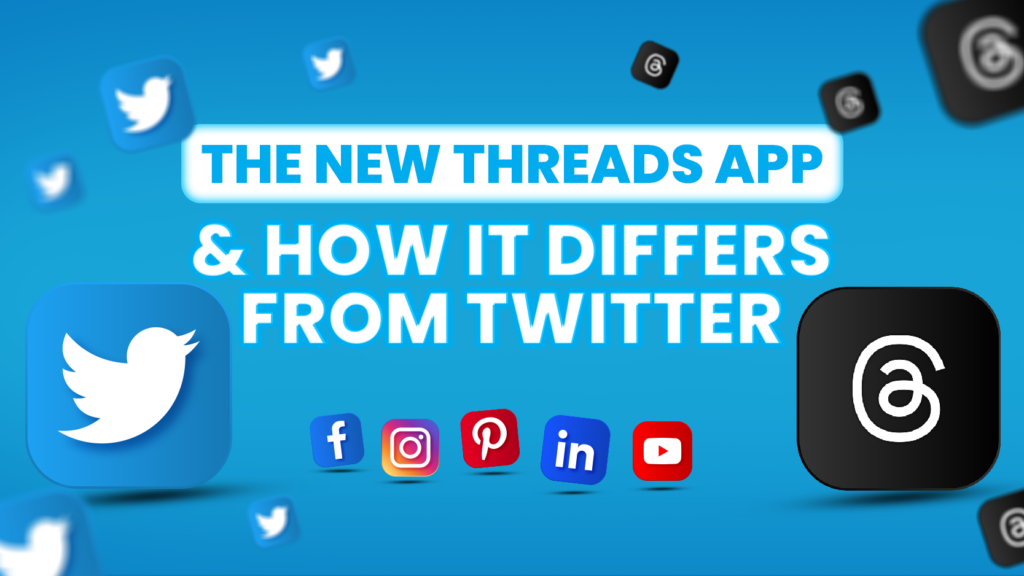 Jul 11, 2023
The New Threads App & How it Differs from Twitter
Marketers have also realized social networks' potential to reach audiences using trusted strategies and tips for success. The newest platform on the block, Threads, has many similarities to its related platform, Instagram… and its competitor, Twitter. But what is the Threads app, and how do you use it?
People use social networks like TikTok and Twitter to connect with people online. But Twitter's user base has been unsatisfied lately, giving competitors a potential opportunity.
Twitter has faced challenges like verification policy changes and limiting the number of posts users can see. These have caused users to become frustrated and join Threads. The app launched last Wednesday, July 5, 2023, and at this point, has gained a staggering 97 million users.
But is this young platform a good contender for a Twitter alternative?
What is the Threads App, and How is It Related to Instagram?
Meta, the makers of Facebook, Instagram, and its desktop version, created a new social media platform called Threads. Threads is separate from the Instagram application, though built on top of it. Like its competitor, Twitter, it allows iPhone and Android users to share text posts and interact.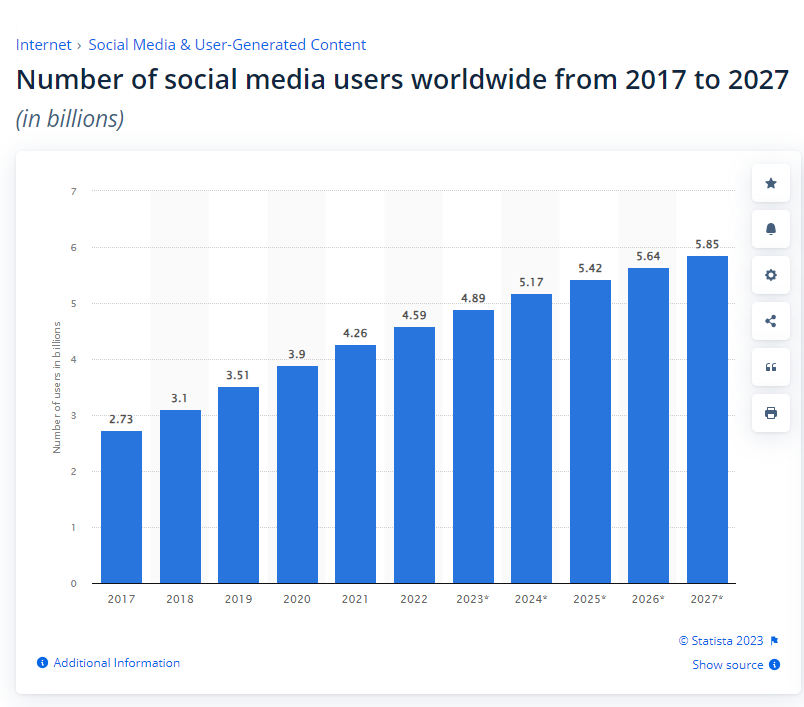 Source: Statista.
Instagram posts have a 2,200-character limit, but the Threads application is made for text-based conversations. Thus, users can engage in conversations on topics and even influence future trends.
The New Threads App and Its Differences and Similarities to Twitter: An Overview
Threads resembles its more established competitor, Twitter. However, it has some excellent features post-launch, and Meta can always make updates according to their user base's needs.
As with Twitter, Threads users can follow the content creators that matter to them. Additionally, users can even communicate with them via threads or posts. Thus, Threads users their ideas and opinions with a global audience and build a loyal follower base.
But, Threads doesn't have direct messaging functionality, unlike Twitter. So here's a guide to the differences and similarities between Threads and Twitter:
Getting an Account
To use Threads, you need an Instagram account. Fortunately, this means you can import existing information and followers from your Instagram profile. But, Threads hasn't been released in countries within the European Union due to the Digital Markets Act.
Also, the Threads application is connected to your Instagram app. So if you want to delete your Threads account, you must delete your Instagram app too. Twitter, on the other hand, is a standalone application and doesn't have this dilemma.
Here are the Top Social Media Marketing Trends of 2023!
User Interface (UI) Design
The interface resembles Twitter but primarily takes after Instagram regarding its User Interface elements. Yet, Threads is mobile-only for now, whereas Twitter is available for both mobile and desktop. 
Much like Instagram, Threads has a navigation bar at the bottom of its screen:
The 

house

 icon will take you to your feed.

The 

magnifying glass

 allows you to search up fellow Threads users (but not for posts — more on that later).

Create a new thread with the 

pen-and-paper

 icon.

Then, you can click on the 

heart

 in the navigation to check your activity. You can see who followed you, replied to your thread, or mentioned you in their threads.

The 

person

 icon will direct you to your profile.
Still, one of Threads' great perks is that it has no ads, unlike its competing platform.
Exploration
Twitter shows you tweets from users you follow or ones that you don't. Threads doesn't rely on hashtags like Instagram or display trending topics like Twitter. This can be a concern for users who look for posts about specific subjects.
Twitter allows its users to check out trending topics and personalized post recommendations. The Threads app doesn't have a feature that sets your feed to show posts only from the accounts you follow. 
So, Threads users get to see various posts on their home feed, even from accounts they haven't followed! With this feature, you see more Threads users than people in your immediate Social Media circle. But it's worth noting that the content is served non-chronologically. Instead, like Instagram, Threads serves content through an algorithm.
The application doesn't allow you to view other users' likes, though Twitter does. Also, Threads doesn't let you view those other profiles' likes in a different tab, unlike Twitter.
Posts
Users can create "threads" or text-based messages on the Threads platform. Threads are the app's answer to Tweets, but unlike tweets, they can reach 500 characters. 
To tag a specific user in your thread, you can type the '@' symbol and simply add their username. In addition, Threads users can restrict replies on a thread to their followers or those they tagged in it.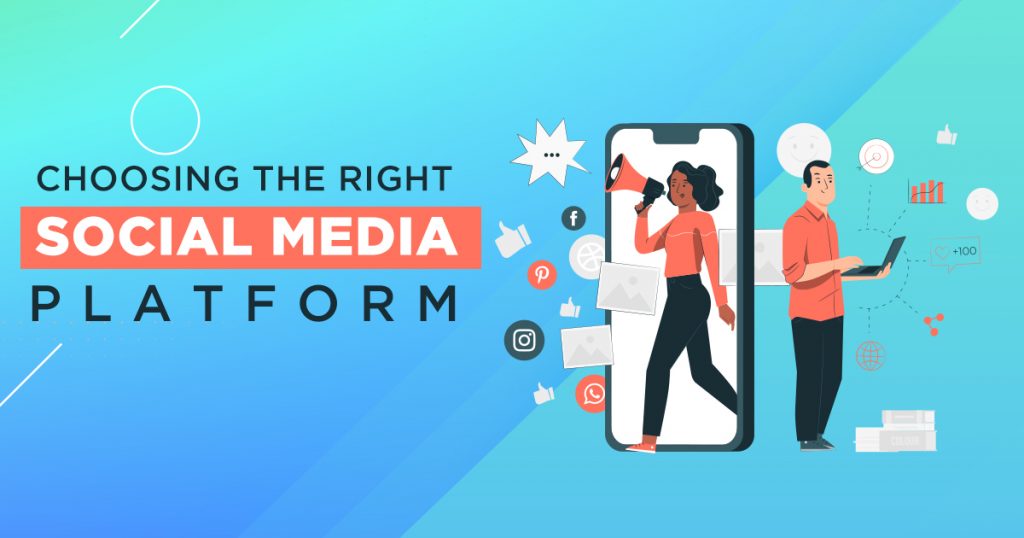 This posting flow is much like other Social Media platforms, so digital marketers can take advantage of it. For instance, you can promote business campaigns using Twitter Ads. So, marketers can also use Threads for sharing promotional, educational, and engaging content with its interactive user base.
One feature of Threads is that users can engage with each other and create website traffic by adding links. As a result, Threads is a huge opportunity for Social Media Advertising.
Search Functionality
Threads doesn't have a search function for posts right now, but you can still find user accounts.
Verification
Twitter has a feature where you pay $8 to verify your account. Threads doesn't have paid verification — of its own, that is. Instead, if you have verification check marks from your Instagram account, they'll be carried over to Threads. 
Character Counts
Meta has stated that Threads' posts or threads have a character count limit of 500. But, unverified Twitter users have a 280-character count limit. (Verified Twitter accounts can create tweets with as many as 25,000 characters.)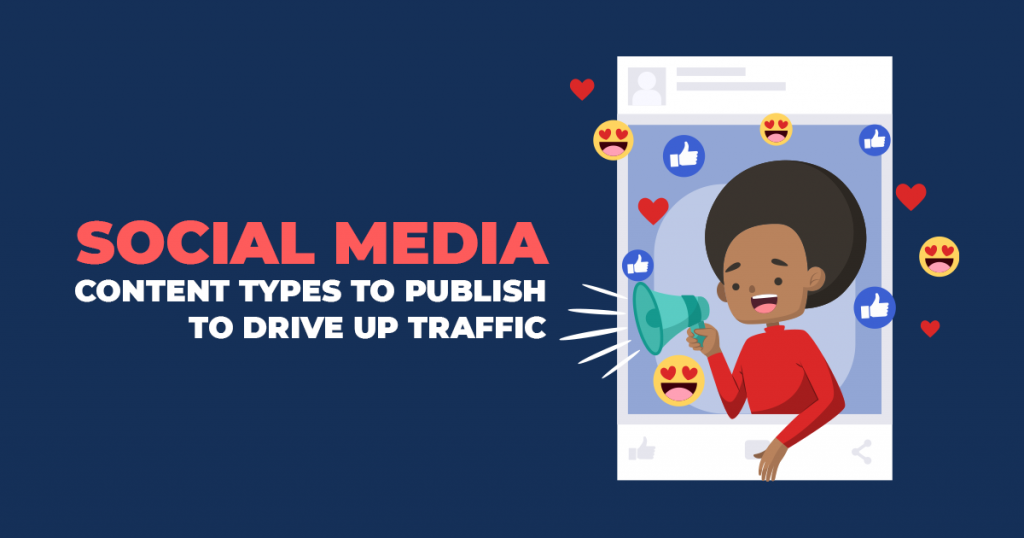 Video Length
Threads allows users, both verified and unverified, to post five-minute-long videos. Unverified Twitter users can post two-minute-and-twenty-second-long videos.
Image Filters
Despite its relationship with Instagram, the Threads app doesn't have photo filters, whereas Twitter has nine.
Post Drafts
Threads doesn't have the option to save posts as drafts, but Twitter does.
How to Use the Threads App
If you're planning on getting your Threads account set up, here's a step-by-step guide:
Set Up Your Profile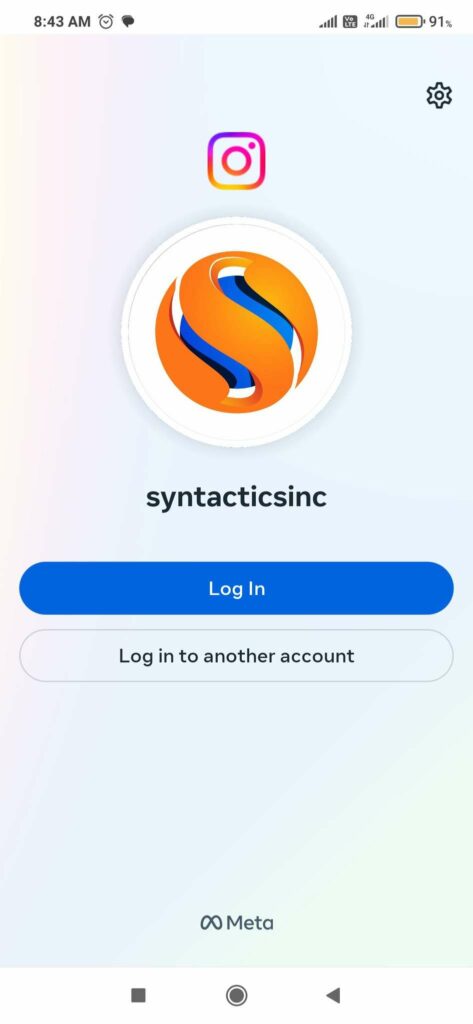 First, download the app. You need an existing Instagram account to sign up for Threads. So if you've already got an Instagram account, you can sign up by logging into it. Then, the Threads application can port your Instagram username while you customize the rest of your public profile.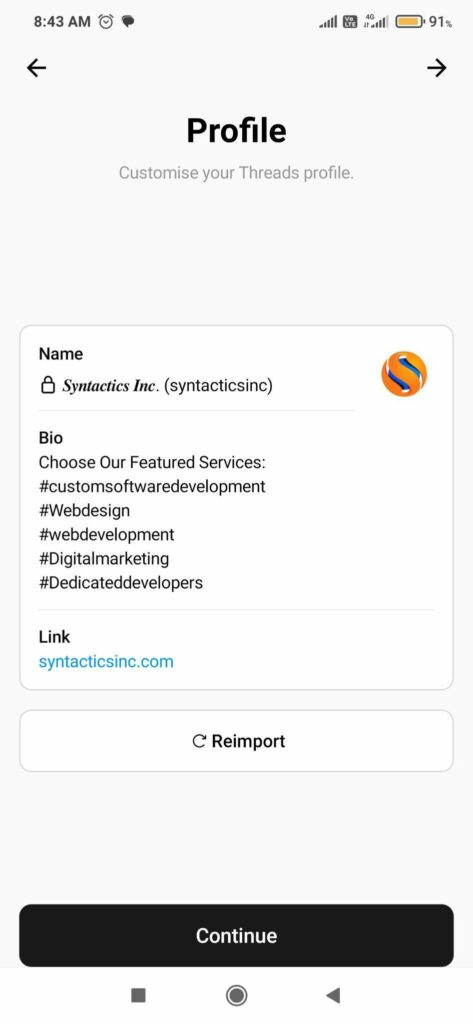 You can add the following details:
Name;

Profile picture or avatar;

Bio; and

Link.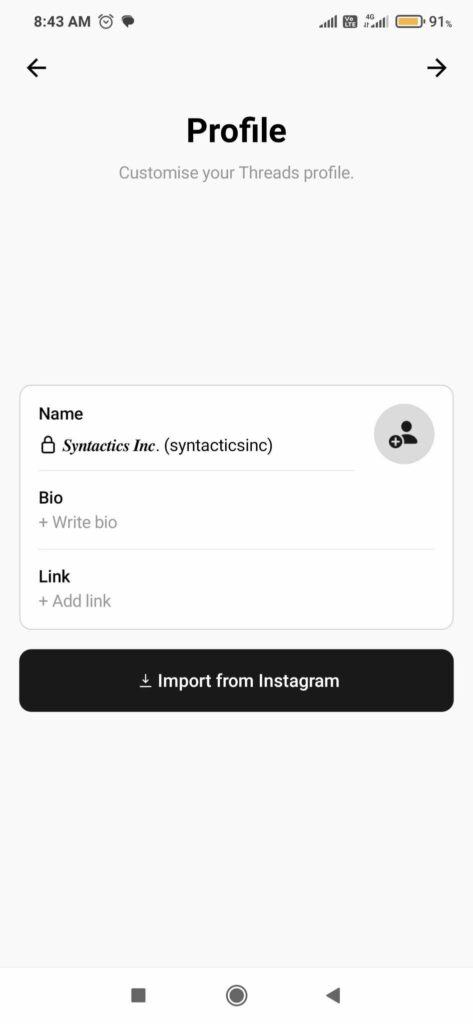 Afterward, you can click Import from Instagram.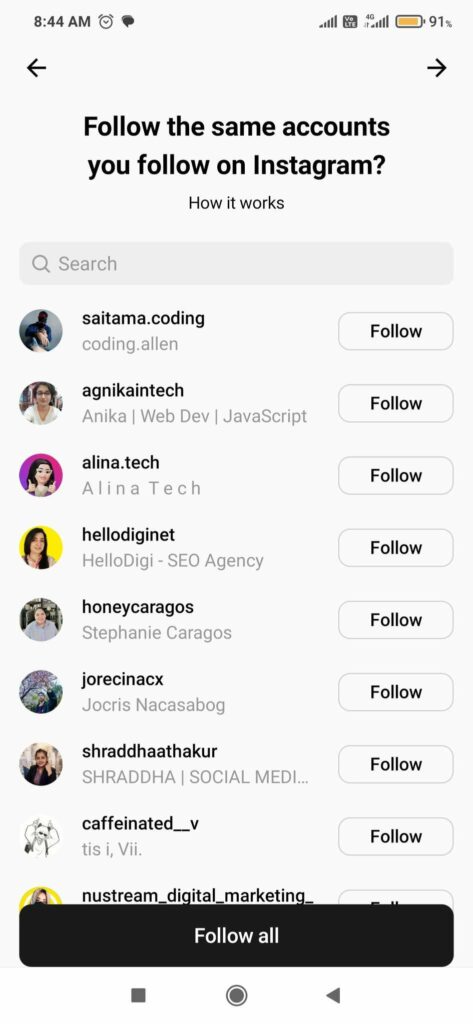 Then, you can start following the same accounts as the ones on your Instagram. You can select certain accounts to follow or click Follow all.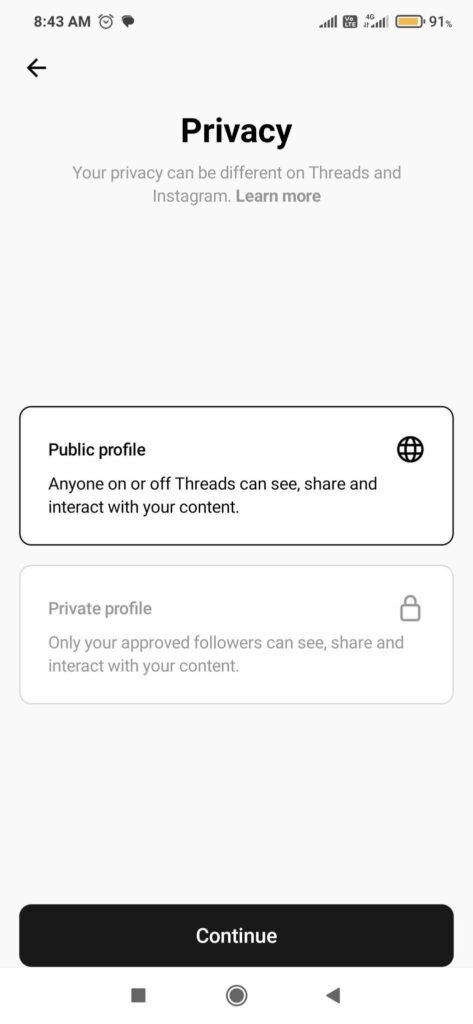 Next, you should configure your Privacy settings. Fortunately, Threads allows you to have different privacy settings from Instagram if needed. You can choose between making your Threads profile public or private.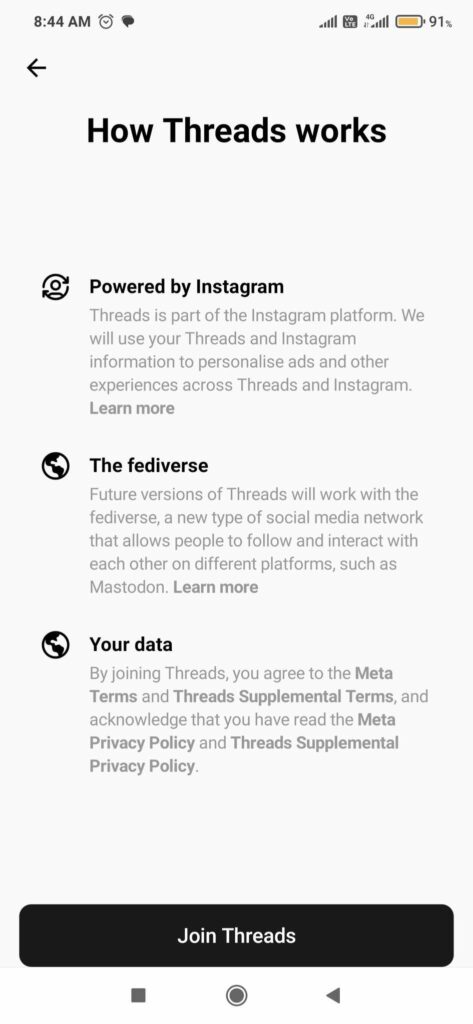 Threads conveniently has a section dedicated to how it works as an application.
Get Started
Once you've accomplished the first stage, you can see your brand-new Threads account!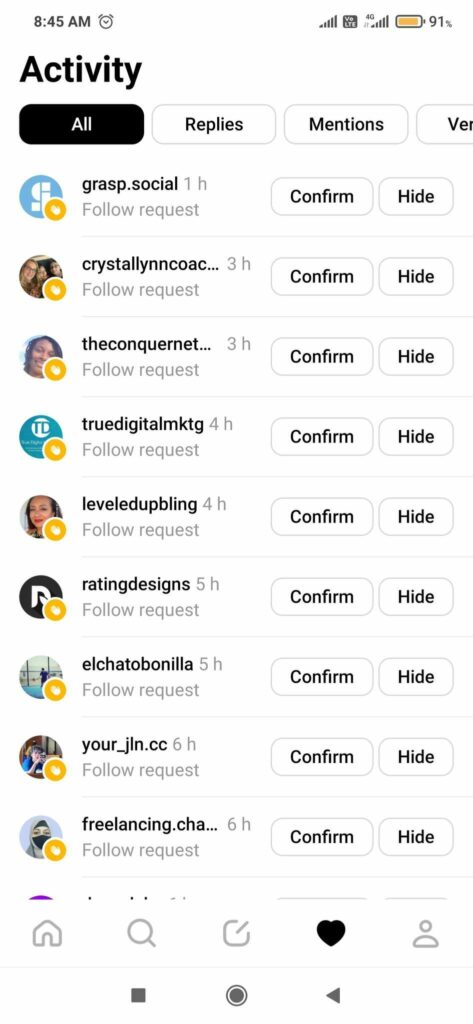 You can start checking out your Activity, where you might find some Follow requests.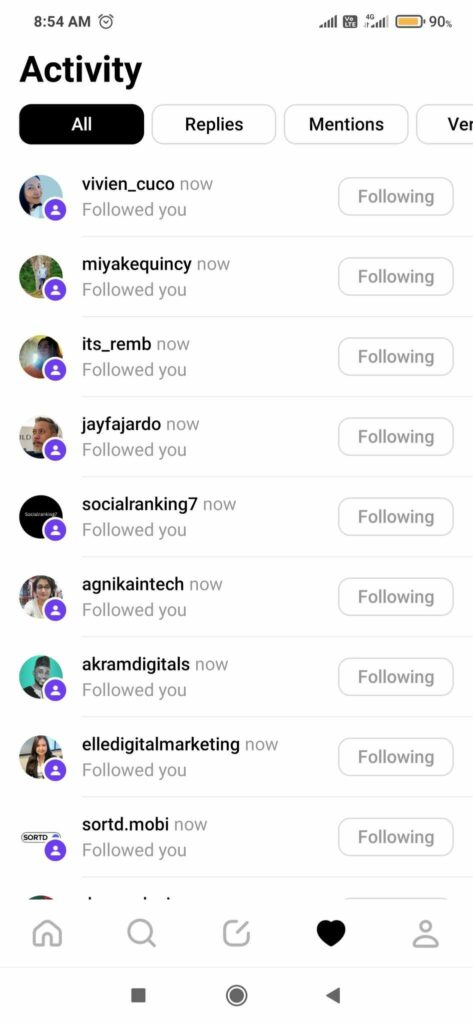 You can also check out who's following you in this section.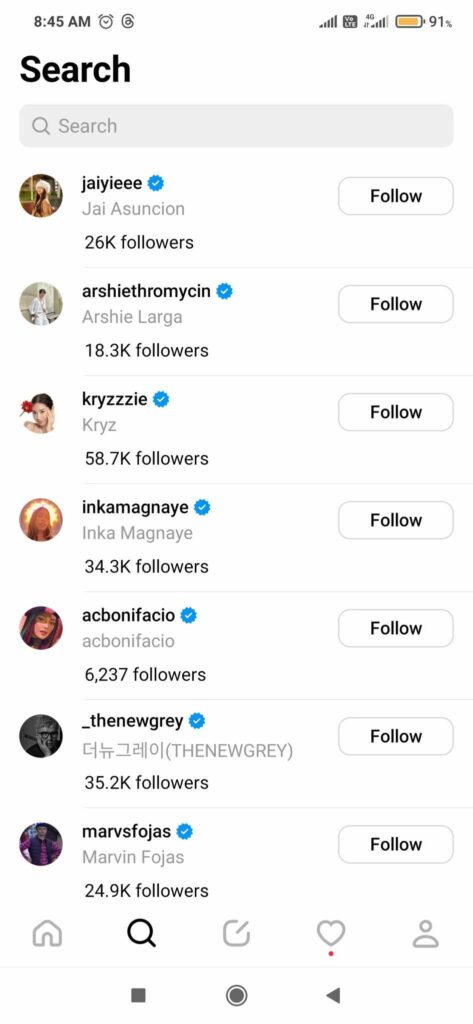 Again, you can find new people to follow through the Search function.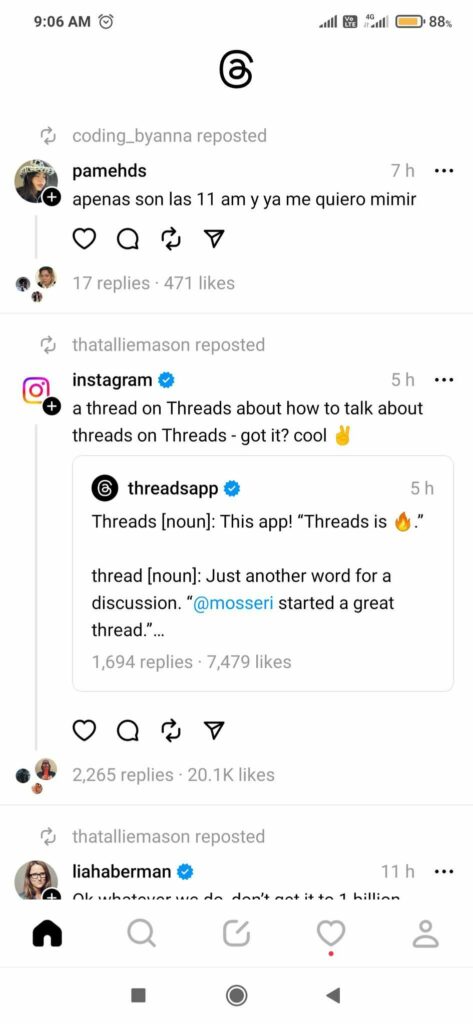 You can treat yourself to a great view of your bustling Threads feed!
Start Posting on Threads
Don't forget to start a thread to celebrate your new Threads account!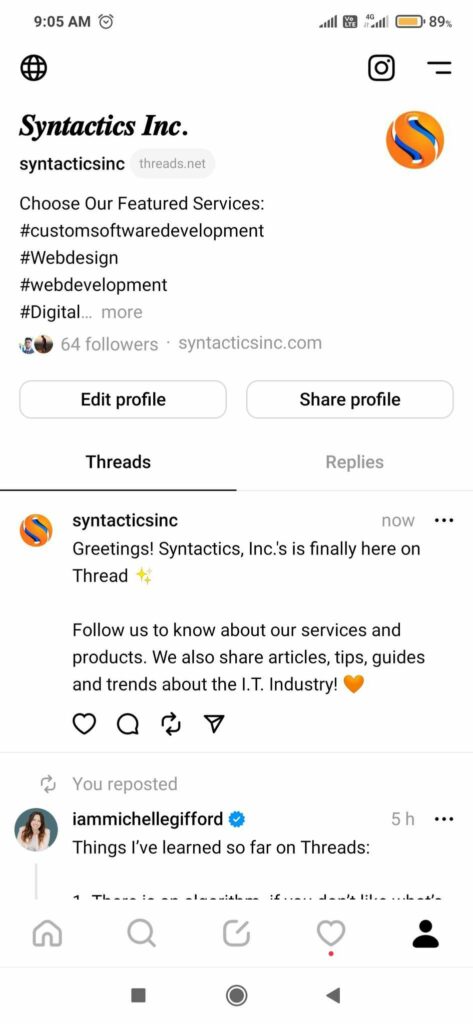 Then, when creating a post on Threads, you can also add an image, GIF, or video.
Once the thread is ready — remember, the Threads app doesn't have a draft feature — you can hit Post.
Happy posting on Threads!
Final Thoughts
Overall, the Threads app is ideal for connecting with like-minded individuals online, like on Instagram and other social networks. Social media marketers can use it to engage in meaningful conversations. Also, they can boost Social Media Conversion Rates.
However, due to that same newness, the platform is missing certain functionalities that are already present in its competitor. Threads offers digital marketers various possibilities and opportunities for growth. However, only time will tell if it will become just as good — or perhaps better — than Twitter.
Meanwhile, Social Media Marketing Services can establish your online presence on more popular platforms.