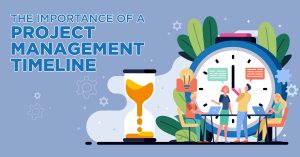 Feb 16, 2021
The Importance of a Project Management Timeline
Managing projects and implementing business operations may be too much work to handle for most business owners. You even have to facilitate your work staff and deal with customers. Fortunately, with an efficient dedicated project manager at your side, you are ensured that quality work is achieved on time and within the pre-specified budget. Read on to know some of the primary reasons why a project management timeline is essential in any business.
A Briefer on Project Management
A dedicated project manager is the one who takes control of a project from its beginning to its end. These dedicated project managers employ particular project management tools for an efficient workflow. Along the way, they are the ones responsible to ensure that strategically-aligned objectives are attained, budget is allocated and spent efficiently, and everyone involved is on the same page so that deadlines are met.
Investopedia defines project management as the project that involves the "planning and organization of a company's resources to move a specific task, event, or duty towards completion." As such, it is a part of the business process that could be a one-time thing or an ongoing activity set. Additionally, it utilizes finances, intellectual property, technology, and work staff or personnel.
The Project Management Lifecycle covers four stages, including initiation, planning, execution, and closure. As such, project management deals with the planning and managing of a particular business project to accomplish a set of goals, objectives, and deliverables.
Moreover, part of the process is the identification and facilitation of risks that may be encountered along the way. You can also expect project managers to know resource management and smart budgeting. Finally, it requires clear communication among the members of the dedicated team and the business stakeholders.
Why Project Management Timeline is Important
One presentable way of clearly and concisely informing the client about the project timeline is through the use of a project management timeline template. The template helps dedicated project managers break down and define the tasks needed for the project. You should make it both understandable for the client and the production end so you would no longer need separate documents for both.
Moreover, setting up a project management timeline helps manage client expectations. They will be able to see the dates and the respective tasks that you are currently executing. With this, they will know when to ask for updates or what to expect at a given time.


Here are some of the reasons why the project timeline is so vital in the project management process:
Easier Project Tracking
 The dedicated project manager is the one responsible for scheduling tasks and deliverables for a specific project. With the timeline from a project management software, you give project managers the means to check a project's progress. So, if the team is falling behind schedule, the project manager can quickly check the timeline from a project management software to see where activities need readjusting or rescheduling to meet the original deadline. The use of a project management timeline template lets dedicated project managers react as needed.
Prioritized Tasks Done First
 You cannot avoid encountering issues along the way. An excellent dedicated project manager should know how to be flexible and immediately respond accordingly to the matter at hand. With this, project managers may need to reorganize their already made plans at the start of the project. As such, priority tasks and deliverables for a given project may inevitably change in the process. With the project management timeline template, you can check which activities you can do later to give way for more critical tasks.
Improved Team Communication
 It would be best if you had clear communication among your dedicated team members. For this reason, you have to implement a project management timeline template into your project management. A project management timeline allows everyone involved in the project to know who is doing a particular task. With this, each member can relay the right information, ask for clarifications, and address particular concerns to the correct team member. As such, project management timelines are essential in improving communication as well as collaboration in your team.
Better Time Allocation
 For any business, organization, or institution, time plays a central role in planning, implementing, and accomplishing tasks, deliverables, and projects. So, with a project management timeline template, you can properly plan out the successive activities needed to meet your project's objectives. A timeline allows team members to see the project's overall progress and focus on which tasks need to be done first. Using a timeline from a project management software, they can see the tasks and responsibilities assigned to them and their respective deadlines.
Enhanced Team Motivation
Motivation is one of the essential factors that drive members to accomplish their tasks. One way to motivate your dedicated team members is to use a timeline from a project management software. So, with a timeline from a project management software that they can see in front of them, dedicated team members can focus and stay on track. Team members can tick off accomplished tasks and deliverables from their list of things-to-do. Motivation may drive them to complete the project on or even before time.
Accomplish Projects On Time and Within Budget
Employ a project management timeline in your business operations today. In doing so, you ensure that you accomplish your project goals, objectives, and deliverables on time and within budget. To help you with this, it would be best to hire a dedicated project manager to have someone streamline and facilitate your projects and guarantee that everything is right on schedule.