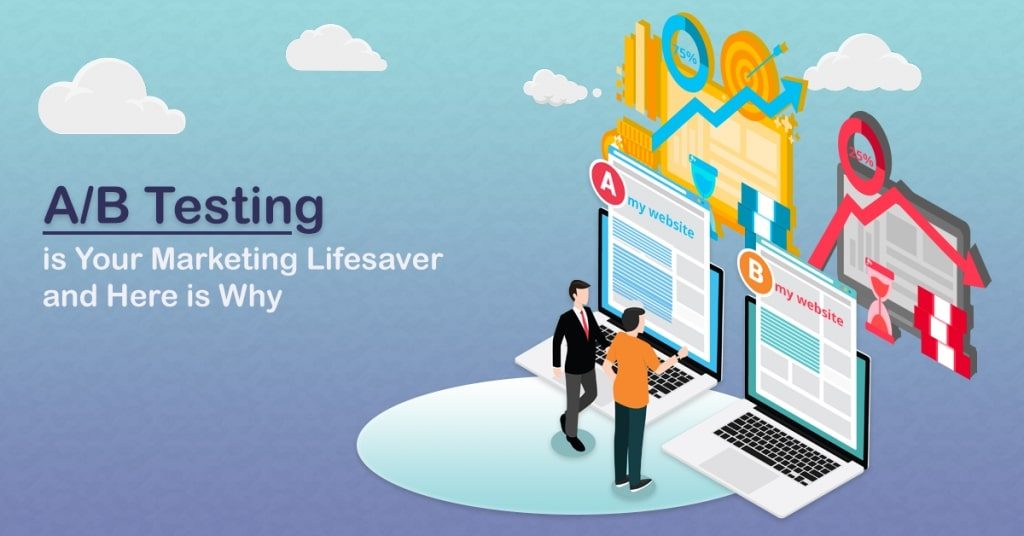 May 9, 2019
A/B Testing is Your Marketing Lifesaver and Here is Why
When it comes to digital marketing, several variables can contribute to the success or the failure of the campaign. It is not as simple as coming up with what is good and then running it for an indefinite time. This is mainly why for most digital marketers, A/B Testing is almost always a prerequisite. 
Sometimes the elements or design you think would work effectively may not turn out as successful as you wanted. This can happen even if you have done your prior market research.
When you are out building your marketing campaigns, never forget the magic of A/B Testing. Popular digital marketing influencer Neil Patel even attests that "accurate A/B tests can make a huge difference to your bottomline."
What is A/B Testing?
For example, marketers can change the color of a call-to-action button or the featured image in an ad. However, there are times where marketers would change the structure or features of a web page. Even so, these would still have a lot of similar elements to its A/B Testing counterpart.
The variations are run together on ads, email marketing campaigns, etc. Digital marketers would then measure which campaign "won" or was more successful, before discarding the losing campaign.
Then from the winning variation, yet another variation is created based on it and run against the existing campaign. This goes on so marketers keep running only successful campaigns or variations.
In more advanced cases of A/B Testing, marketers would run more than two variations.
How A/B Testing Can Improve or Even Save Your Current Marketing Strategy
Not running an A/B Test can be one of the biggest mistakes digital marketers or business owners can make. If your marketing strategy has not been performing up to your expectations, it could be due to the lack of such.
How exactly is this going to help save your marketing strategy, though?
Helps Campaigns Progress Further Towards their Marketing Goals
Running an A/B Test means you are always looking for ways to keep improving your ads or marketing materials. As you keep discarding losing variations and using successful ones, you will be more likely to continue seeing better results with each successful variation.
Eventually, you may be able to see an increase in website traffic, a boost in conversion rates, or see your campaign get closer and closer to its marketing goals.
Boosts Content Engagement
To bring up phone calls, newsletter signups, or product purchases, this strategy can help you determine the best way you can do so. Whether it be changing the font on your web page or mixing up the structure of your content, one variation is bound to get more engagement.
If it's more phone calls you can or more newsletter signups you want, though, make sure you have at least two phone numbers/emails (one for each variation). That way it will be easier to determine which variation prompted the lead to take action.
Makes You More Certain About Your Strategy
There is relatively less guesswork when it comes to A/B Testing since most guesses are answered by the results of running even just one campaign. You will be able to get exact data on which design, color, content, etc. works best with your audience.
Additionally, as you keep running A/B Tests, you will keep discovering new things about your audience and their interests. You may even find a new target audience branching out from the original, thus giving you more marketing potential.
Reduce Bounce Rates
If you are building campaigns and variations that boost content engagement, it only follows that each successful variation brings down the numbers on bounce rates. Successful variations, of course, mean that users find the content or design of such more intriguing, thus encouraging them to stay longer on the page.
Most of the time you do not even need to do a complete content overhaul. Your changes can be as simple as editing headlines or using different images on each variation.
Start A/B Testing Before It Is Too Late!
If you have not already started A/B Testing your digital marketing campaign, when is the best time to start doing so?
The answer: NOW!
Anytime is always the right time to start A/B Testing if you have not yet, since you may already be losing conversions, leads, or even income every moment you are not A/B Testing. Why pass up the opportunity to keep finding improving your campaigns to be more successful?