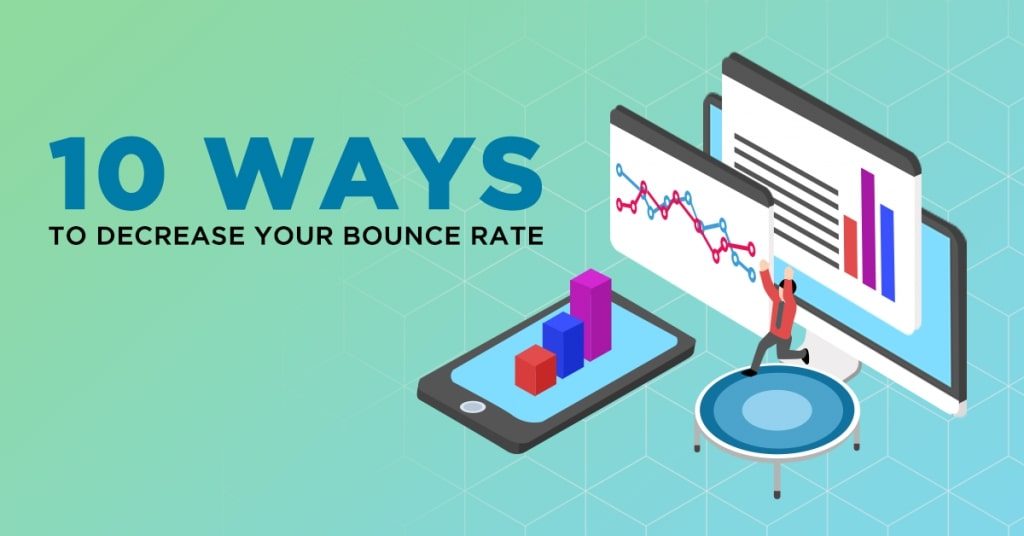 Sep 27, 2018
10 Ways to Decrease Your Bounce Rate
The bounce rate is one of the many ways to determine your website's effectivity. As Google defines it, a bounce is a site's single-page session. Yoast also defines the bounce as a measurement of the percentage of people who open your site but take no action. For instance, they open your landing page but don't click any buttons or other pages. In this case, a high rate is bad news and you certainly need to decrease website bounce rate. 
How Google Analytics Assesses the Website Bounce Rate
The bounce rate is single-page sessions divided with all sessions. In short, it is the percentage of single interaction visits where visitors only viewed a single page and triggered a single request to the Analytics server.
Ways to Decrease Bounce Rate
Here are 10 ways that you can do to decrease bounce rate:
1. Check Your Website's Layout
Firstly, your website's design and layout might not be that appealing and engaging to users. Ensure that its designs are visually and aesthetically pleasing. Backgrounds and texts should have colors that complement each other. Moreover, its navigation bar or menu should also be prominent.
2. The Right Content, The Right Context
Next, content should be placed under the right category and context. For instance, when content is placed in the wrong page, users may end up getting disappointed when opening which can lead them to bounce off your page. Additionally, it is a good idea to use various content aside from plain copy. Try alternating content with videos and images which can grab the attention of viewers. It's important that content stays relevant to their categories in order to decrease website bounce rates.
3. Readability
Additionally, ensure that the language in your website will be easily understood by visitors. Simply put, use simpler and basic vocabulary, write in shorter sentences and separate paragraphs with different topics. Also, use the specific topic as headings and subheadings in the paragraphs. This eases reading for visitors and they can easily scan the content to find what they're looking for.
 4. Avoid Popups and Sidebar Widgets
Try to keep the amount of popups you have on your site to a minimum to decrease bounce rates. Popups have the potential to discourage viewers from going beyond in your page. Similarly, sidebar widgets and ads can also distract and discourage viewers.
5. Call to Action
Ensure that your call to action is enticing and seeable. Also, it should make use of colors, fonts, and the right amount of words too.
There has been a significant increase in the number of mobile browsers. If your site is not mobile-friendly, there is a greater chance that visitors will bounce off the page. Ensuring your site is mobile-ready is one of the best ways to decrease website bounce rates.
7. Load Time
Chiefly, one of the reasons that visitors also bounce off a page is its loading time. If your page takes more time to load, visitors might become frustrated and bounce.
8. Identify Target Audience
Primarily, it's crucial to identify your target audience so you have an idea of what strategies you can use.
9. Internal Links
A helpful way to decrease bounce rates and increase a user's stay on your site is by hyperlinking internal links in relevant keywords in your content. In addition, this also helps users to navigate through your site and easily find what they are looking for.
 10. Links Open In New Tab
Lastly, internal links in your site should open to a new tab instead of redirecting the current tab. Consequently, this can potentially increase the duration of a user's stay on your site since multiple pages will be open at the same time.
If you're in need of an Online Marketing Company in the Philippines to help you and your website decrease bounce rate, we got the team for you!