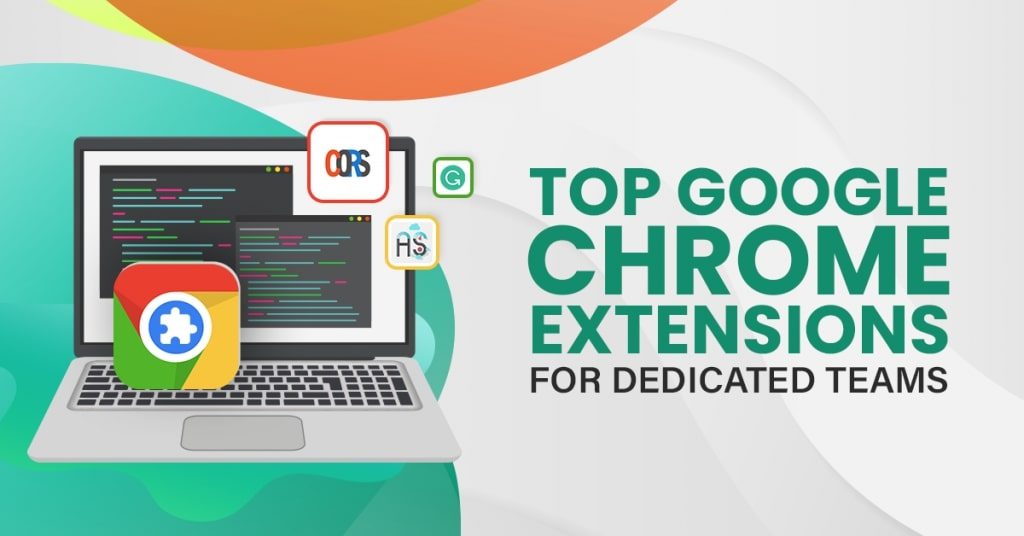 Nov 13, 2020
Google Chrome Extensions for Dedicated Teams
Businesses require the service of dedicated teams to develop well-functioning and pleasant-looking websites and social media pages. To fast-track and smoothen their workflow, dedicated teams utilize browser extensions and other add-ons. Thus, in this article, we will tackle the most commonly used Google Chrome extensions and add-ons utilized by dedicated teams.
Why Work with a Dedicated Team?
Dedicated teams usually include project managers, QA specialists, content writers, virtual assistants, and web developers. When companies find signs it's already time to work with a dedicated development team, they hire professionals for their expertise and experience in accomplishing projects. Hiring a dedicated team means time saved, costs cut down, and deadlines hit efficiently. Also, they help ensure the quality of work. Additionally, they are also capable of keeping websites professionally designed and clients satisfied. More importantly, they provide site visitors with the best customer experience.
Google Chrome Extensions for Web Developers 
Allow CORS: By default, Cross-Origin Resource Sharing (CORS) is often blocked in modern browsers. Thus, this add-on helps a dedicated web developer to unblock this feature and perform cross-domain Ajax requests in web applications.
ColorZilla: It allows you to get a color reading from any pixel on a web page, make adjustments, and paste it into another program. As such, it includes an advanced eyedropper, a color picker, a gradient generator, a palette viewer, and a color history.
Fake Filler: This is an extension which inputs dummy data on a page using randomly generated data (i.e., names, email addresses, phone numbers, etc.). Relatively, it removes the need for web developers in the Philippines to input values in fields manually.
JSON Formatter: It helps make JavaScript Object Notation (JSON) easy to read. As such, its features include JSON and JSONP support, collapsible trees, and syntax highlighting. Also, it includes clickable URLs and a toggle option between raw and parsed JSON.
Wappalyzer: It helps identify web technologies used on a website. It also reveals thousands of these technologies in categories, including the programming language and the marketing tools. Moreover, it shows analytics, payment processors, CRM, CDN, and the like.
Google Chrome Extensions for Dedicated Virtual Assistants
Broken Link Checker: A quick way to identify all broken links (404 errors) on a page. It is capable of scanning a page or an entire website. Within minutes, it will send a report of the functional or broken links on that page or site.
Google Tag Assistant: It ensures that you have successfully and correctly installed Google Tags (such as Analytics, Adwords, Conversion Tracking, Tag Manager, etc.) on your page. Thus, it identifies the tags present on a page and reports errors for improvement.
Hola Free VPN Proxy Unblocker: This extension helps virtual assistants unblock websites which are blocked or censored in their country, institution, or school. Also, it uses split-tunneling technology and is considered as the world's fastest unblocker.
LastPass: A popular password manager which helps save passwords. It provides secure access using any device, wherever and whenever. Thus, it keeps critical information safe, including addresses, credit card details, etc.
Loom: A video messaging add-on used by social media virtual assistants in the Philippines to record their screen, voice, and face, and create instantly shareable videos. So, it reduces the need to type in messages to get ideas across to customers or co-workers.
Google Chrome Extensions for Content Writers
Bulk URL Opener: This extension allows for the quick and easy opening of multiple URLs at once. Depending on your settings, it can open all the pages in separate tabs or windows. Also, if a URL does not have a scheme, it defaults automatically to HTTP.
Grammarly: This grammar, spelling, and plagiarism checker is most useful for content writers. It is a writing assistant that provides real-time feedback and suggestions. Also, it improves your writing on Gmail, Google Docs, LinkedIn, Twitter, and more.
JoyPixels: Content writers utilize this emoji keyboard, especially when writing social media content for clients who prefer to have vibrant and dynamic captions. It conforms to the latest Unicode standards. Just click on an emoji and insert it into any website.
Lightshot: Content writers use this convenient screenshot tool in selecting an area on the screen, editing the screenshot, and uploading it to the server or saving it on a disk. You can also take a screenshot and share it in just a few clicks.
SEO Peek: It checks the on-page SEO factors of a page such as content elements (i.e., page title, meta description, meta keywords, and H1 headings) and robot directives (i.e., HTTP status, meta robots, and canonicalization, pagination, mobile, and international annotations).
Increase Efficiency with Google Chrome Extensions
If you are a part of a dedicated team, then check out the Google Chrome extensions we have discussed above. Otherwise, if you are a business that needs help in the implementation of your marketing campaigns, then perhaps now is the right time to hire a dedicated team.
Which Google Chrome extensions were most helpful for you in the daily delivery of tasks? We'd love to hear from you in the comments section below!