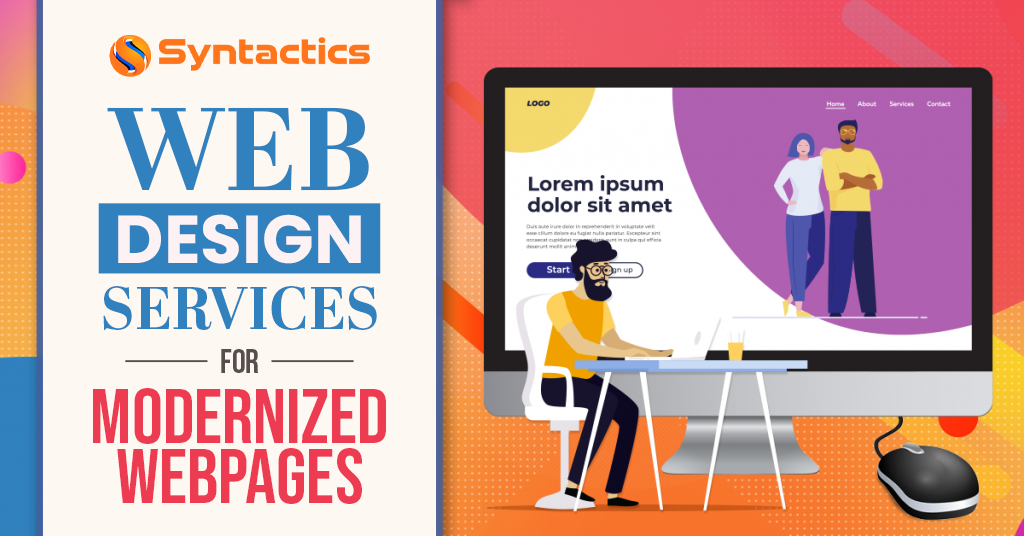 Jul 16, 2020
Web Design Services for Modernized Web Pages
With the changing times, ideas also tend to change along with it. Even in website design, some concepts or strategies have failed to stand against the test of time. Companies and small businesses alike, therefore, should be competent enough to know how to innovate and reinvent their sites to go along with these changes. Thankfully, some companies offer responsive web design services to ensure that good and modern website design does not turn bad.
A good and modern design is a tricky thing to achieve. You should have all the right pieces while keeping out all the wrong parts. Web design companies and their clients have to collaborate and exchange constant feedback before a modern design for a website finally gets approved.
In this article, we will be revisiting essential website design techniques and practices that you should consider when creating a modern design for your business website page.
Sliders and Rotating Banners
Admit it. Do you still click on slider bars? Do you have the patience to view rotating banners? Although these techniques are still often used on web pages, visitor engagement for sliders or rotating banners is remarkably low. Yoast tells us that only 1% of visitors click on a slider, and they present too much information that leads to confusion. Also, sliders slow down your website and, most importantly, they cause visitors to skip relevant website messaging.
So, instead of using sliders, companies with custom web design services create screens using parallax scrolling in presenting the information to have that modern web design look. You can focus on a single and compelling primary call to action. You may also create multiple landing pages to generate different funnels for showing your content.
Aesthetics and Functionality
Not necessarily. While a good and modern design should be aesthetically pleasing, it should also be functional. A modern web design is more than graphics, colors, and fonts. Step into the web users' shoes and consider their experience, interaction, and function. How would your users want to experience your site? Will they be able to connect or interact with the design? Are your visual cues inviting and motivating enough for them to do what they are there to do?
It is important to remember to prepare the content before coming up with a design. Content should always come before design. If you decide to outsource web design services to help you, clean up your brand's message and fix other marketing problems beforehand. In doing so, you ensure that your new and modern design would not carry over the same issues as the old one.
When thinking about your site's design process, you should deliberate beyond a visual perspective. Invest in affordable web design services and they can figure out the most fitting images, the right colors, and the suitable typography to help users find vital information on your page. Altogether, aesthetics should go along with functionality when integrating a modern web design.
Simplistic and Minimalistic Designs
Some clients try to cram as many ideas into their websites as possible. They often think that the more their websites can do, the more interest and value it will give their users. However, they should know that fewer complex websites relay important messages better. A well-designed, straightforward, and modernized website offers a positive and memorable brand experience.
So, when we say minimal, it does not always follow that our design should be simple. While both are great concepts, a simple design is easy to understand without using a lot of complex aspects in the visuals or the interface. On the other hand, minimal design strips away all the unnecessary visuals to produce a sleek and streamlined look. In some cases, companies that offer web design services find using both philosophies to work for their design. Try building your website's mobile version first to achieve that modern web design. Then choose the essential features that you should include on the desktop version.
Scrolling Matters
The rules of scrolling have changed. Back then, we place valuable information above the scroll to avoid users from not seeing it. Nowadays, with desktops that use a horizontal or landscape screen orientation and mobile phones and other gadgets that cater to vertical or portrait screen orientation, we eliminate the need to place all pertinent information above the scroll.
Thus, to ensure that users keep scrolling through your site, you should have highly engaging content placed in multiple locations on each page. For this, you can outsource web design services from companies that also offer web content services. Through a modern web design, you can encourage scrolling through instructions and other visual cues. Ensure also that these content are presented in a visually exciting way to force users to stop and look.
Clean Up Your Navigation Menu
Presenting your users with endless levels of navigation options might overwhelm them and ultimately stop them from browsing through your site. They could leave the website rather than complete an action, which is something that you would not want.
If you avail of web design in the Philippines, they would tell you that a better way to achieve a modern web design would be placing only a handful of the most popular links in the main navigation. With that, provide a search option for users who do not see the content that they are looking for. Place the search bar in or near the main menu for easier access. With lesser options, your navigation menu becomes cleaner and more comfortable to traverse, especially on mobile devices with smaller screens.
Bold Text, Bright Colors, and Stock Photography
The use of sans serifs was encouraged because of low-resolution screens that make reading some typefaces challenging. Thankfully, we now have high-resolution displays that allow us to see and read almost any font on a web page. When you hire web designers in the Philippines, tell them to use the typeface that works most suitably for your project.
Additionally, try to draw your user's eyes to the right features in the proper order to facilitate intuitive user experience. Drive your user's attention to the critical page elements through your design. Do not try to make every section big, bold, and bright. Consider making the most out of stock photography when generating your modern web design.
It's Not All About the Homepage
 This is another example of a fading trend in web designing. Before, websites tend to place all information on the homepage for the fear that users may no longer visit their other pages. However, today, this is only a good idea if you decide to place a limited amount of content.
Moreover, one-page website design can be limiting when you decide to grow your business. Thus, most companies offer advice on  web design services for small businesses on the use of multiple pages and entry points for website users. Users can also access their pages by typing in a URL or by clicking a link. Others use search engines to find their websites.
Social Media Marketing
Much like sliders and rotating banners, placing social media feed on your website is now a fading trend. Why would your users browse through your social media feed on your website when they can do it more comfortably on Facebook, Twitter, or Instagram apps and sites? Instead, you should provide them with a button to easily share content on social media or to follow accounts. Do this without having to show your feed on your improved and modernized website. You must also consider outsourcing professionals to help you manage your business' social media accounts.
Word Count Matters
Try to keep your home page under 75 words. If your home page has a word count of more than 200, your bounce rate will likely tell you that there is a problem with your design. To avoid this, you can use visual cues, video content, and other interactive functions. As they always say, "less is more."
You must ensure that you know the right things to say or present with the least amount of words. When writing content for your website, you can address your customers through a personal message during the planning stage. In the letter, address their wants, needs, fears, and common concerns. Your website content should discuss what they need to know before telling them what you want them to know about your products or services. Take this opportunity to build a strong and lasting relationship with them.
Maximize Customer Feedback
Last but not least: customer feedback. You can ask them about what they want to improve on the site. With this, you can create the right and much more modernized website. In doing so, you may identify the factors that affect your customer's buying decisions. Also, integrating customer feedback into your website shows that you are interested in knowing what they think.
To create a compelling and well-designed website, you can hire a web designer to perform a split test on your home page and landing pages with your target audience. The site feedback and conversion data will help you validate your plan, ensuring that you create an engaging website that assures the highest conversion rate possible.
To sum up, ensuring that your business website's design is modern means that you should stay on top of user research and patterns. It would also greatly help if you monitor your website's analytics. Knowing how your business stands in these fields should help you craft an efficient and customer-friendly web design. So, keep track of the latest web design trends by viewing other websites to determine if your website needs updates.
Hire Web Design Companies Now!
To further help you with web design services such as planning, and development, you can hire web design companies in the Philippines to solve them. Present a design that you would like and the engagement problems you are currently going through. Through web design services, you can guarantee that your modernized website produces fresh and engaging content that is always current and helpful to your visitors..