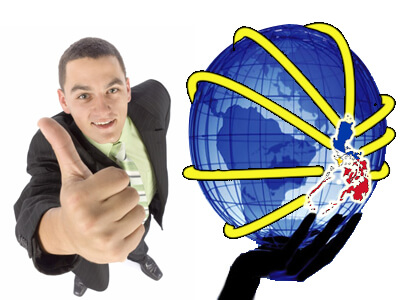 Aug 8, 2011
Outsourcing to the Philippines Can Be the Best Option for Your Business
At present, off-shore and local outsourcing is gaining more and more ground among companies in the USA, Canada, the UK, Australia, New Zealand and even Europe. The advantages are plain and simple. It all boils down to cost. If you are a small or medium sized company and you need to maintain an IT staff of at least 30 employees, then you might want to think twice on the cost of maintaining not only personnel, but expensive equipment as well.
Syntactics, Inc. has been in Business Process Outsourcing for 12 years now and is in a very strong position to point out the great and exciting advantages of outsourcing your business to the Philippines. Syntactics is an established company and investing in this Philippine outsourcing company would be a benefit to you in terms of search engine optimization, software development, web designing and web development.
1. Let's face the real facts. When compared to other outsourcing countries, the Philippines has consistently remained in the global top 3 or 2. This is because the IT industry in the Philippines is at par even with most progressive countries like the USA and UK. Many IT BPO's like Syntactics hire the best IT graduates from the best universities and colleges, thus, the quality and workmanship is quite high and up to international standards.
2. Setting up your own IT department is just too expensive. Per head salaries plus benefits – and not to mention buying and maintaining computers, servers, etc – might be just too much for your company. This makes sense even if you own a large company, and it makes better sense if your company is an SME. The cost of paying outsourcing services is just a fraction of the cost of spending for a whole IT department.
Another factor to consider: if you're company is involved in non-IT industries such as wedding photography, carpets, synthetic grass or even police recruitment, setting up an IT division may not be such a good idea. Again you need to consider:
a) Overhead cost of maintaining IT personnel.
b) Working out the employees benefits from the different government agencies such as tax obligations and social security.
c) Cost of buying and maintaining IT equipment.
d) Spending for at least 2 internet connections.
e) Additional cost of rent in case your office needs to expand due to the IT department.
f) Water and electricity costs.
3. You don't have to worry about following up your IT manager if you outsource. Since the outsourcing company is already filled with experienced outsourcing personnel and their officers are experts in SEO, software applications, web designing and web development, the fees you pay are more than enough for your budget and company needs.
4. An outsourcing company like Syntactics can present you with different SEO plans or web designs or accounting software, and whatever you agree upon, the outsourcing company has to implement. So, all you have to do is receive reports and updates and observe if they're doing the job right.
Another advantage to your credit is that you can adjust or compromise with the outsourcing company's plans or you can present them with a plan of your own that they can simply implement. Whatever process you both agree upon, everyone comes out smelling like roses.
5. Outsourcing companies have their own HR managers or HR departments to maintain their own personnel, something you don't have to worry about. You might not even be aware of the ins and outs of maintaining IT personnel which is far more different in the western hemisphere as contrasted to the Philippines. IT people are a particularly talented but, peculiar lot and a good HR must be able to weed out the just average ones from the highly talented, skilled and knowledgeable ones.
Likewise, IT company policies and rules are somewhat unique due to the shifting duties needed to be implemented.
6. You don't need to give your accountant an additional burden nor do you need to hire a finance manager just to maintain an IT department. In short, what you pay to the outsourcing company can be written off as part of your business or operational expense.
7. The biggest bottom line is not having to worry about other personnel details and costs like company parties, trainings, and seminars. You don't have to worry about the professional and personal growth of your IT employees if you don't have any.
On the other side of the ocean, most IT BPO's in the Philippines know how to care for their personnel and continuously find ways and spend just for the growth of their IT personnel. IT outsourcing companies like Syntactics are very much aware that the better growth their IT people experience, the better quality of work that comes from them.
Another advantage of Philippine outsourcing companies is that they understand the culture of their employees wherein the salary is not the only important factor but, also how the office leaders lead their people and how they handle problems and mete out solutions.
So after all is said and done, the conclusion you can draw here is downright simple. Wherever your company is located, you save a lot of money if you just outsource to the Philippines. Syntactics, Inc. has all the advantages mentioned above at very affordable costs. Your web development, web designing, software and search engine optimization needs are in good hands with one of the best outsourcing Philippines companies.