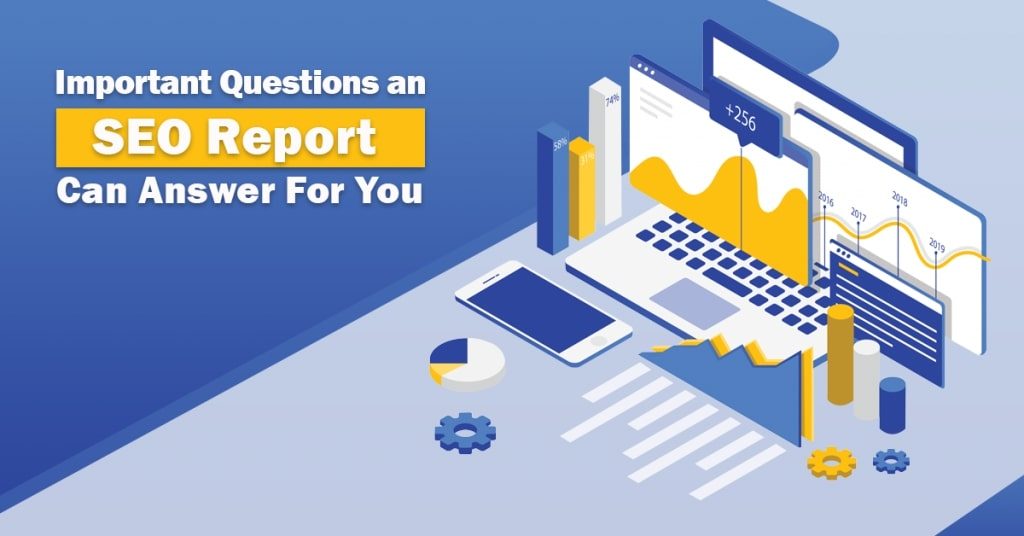 May 23, 2019
Important Questions an SEO Report Can Answer For You
Search Engine Optimization or SEO has a reputation for being an online marketing strategy that can be a bit hard to crack, even for a professional SEO company in the Philippines. However, the key is to understand this; SEO is the kind of strategy that gets results in the long term of consistent activity. Thus, an SEO report is more than necessary to track its performance.
In other words, you will not always see instant results when you are starting to do SEO for your website; all the more if your website is spanking new. On another note, how do you know that your search engine optimization is going the right direction, though?
The SEO Report
This is where SEO reports come in handy; and in every online marketing company offering search engine optimization for their services, this is proper protocol. When an SEO campaign starts, the specialists deliver these reports every month as a standard; and its primary purpose is to give you a visual of what is going on with your website's online presence.
What exactly should you expect to see in an SEO report; or rather, what questions should be answered just by looking at the report? Read on to find out.

Does an SEO report show where is my traffic coming from?
An SEO report from an SEO company in the Philippines provides a broad spectrum of sources – or as we say channels – as to where a website's traffic comes from. These are clustered into five main channels, namely:
Organic Search Traffic, which comes from clicking your website link straight from SERPs or Search Engine Results Page.
Direct Traffic, which is triggered by typing or pasting your website link directly on the browser and hitting Enter to access it.
Referral Traffic which comes from backlinking efforts or when your articles/materials are posted on other websites, and a user clicks on the hyperlinks (leading to your website) placed in such articles/materials.
Paid Traffic which comes from any paid Google Ads or search engine marketing ads you are running as part of your digital marketing strategy.
Social Traffic which comes from any social media posts or profiles containing a link to your website.
Organizing the traffic by channel allows you to understand which part of your strategy is working; and which may need further improvement.
For example, when you start running Google Ads and your traffic spikes up; it almost automatically means most of the traffic is Paid Traffic. Thus, when you suddenly stop running Google Ads, a sudden drop in traffic may also happen.
Can my SEO company in the Philippines show me which page is getting more traffic?
If reports can show you which channel is getting more traffic; it can also show you which of your pages are also doing such. The information from Page Level Insights can tell you which of your products/blogs appealed most to your audience.
As a result, this allows your online marketing company to pivot your marketing focus to such product/topic to test.
What are users doing on my website?
Although only some of the more advanced tools can give you a more exact visual on what users are doing through heatmaps and such; a basic SEO report can still give you an idea on a user's activity on your site. Specifically, the report should tell you how long your users are staying on your site; and the number of pages they are viewing.
An equally as important factor a report should show you is your website's bounce rate. This indicates the percentage of users who leave your site without any interaction whatsoever or who have not spent enough time on your site before exiting. With bounce rates, you'll want to decrease your bounce rate as much as possible since the lower the number, the better.
How is my website's keyword ranking?
Another crucial goal for your hired SEO company in the Philippines is to get your website ranking top pages for your target keywords, and a monthly report will show you the trend of your keyword rankings. Essentially, you should be able to see if your website has gone up, down, or remained in its rank for a certain keyword.
Other SEO reports may even show you some potential new keywords where your site came up in rankings for you to consider if you want to optimize it. They can also show you competitor keyword rankings for you to see how your website fares against your main competition.
How many backlinks have my SEO Company in the Philippines created?
With SEO, it is vital that there are new backlinks every month, ideally from sources with high Domain Authority to help in rankings. Your SEO report should contain the backlinks that have been done in that month and its current status, whether it has been posted and is active or still under approval from the source's webmasters.
Other Things You Can Find in an SEO Report by an SEO Company in the Philippines
Like most other reports, you can also find a summary of the results from the data gathered in the report. This is further supported by an analysis of why this and that happened, and recommendations on activity that can keep improving your SEO campaign.
What else do you think is an important element in an SEO report? Let us know!