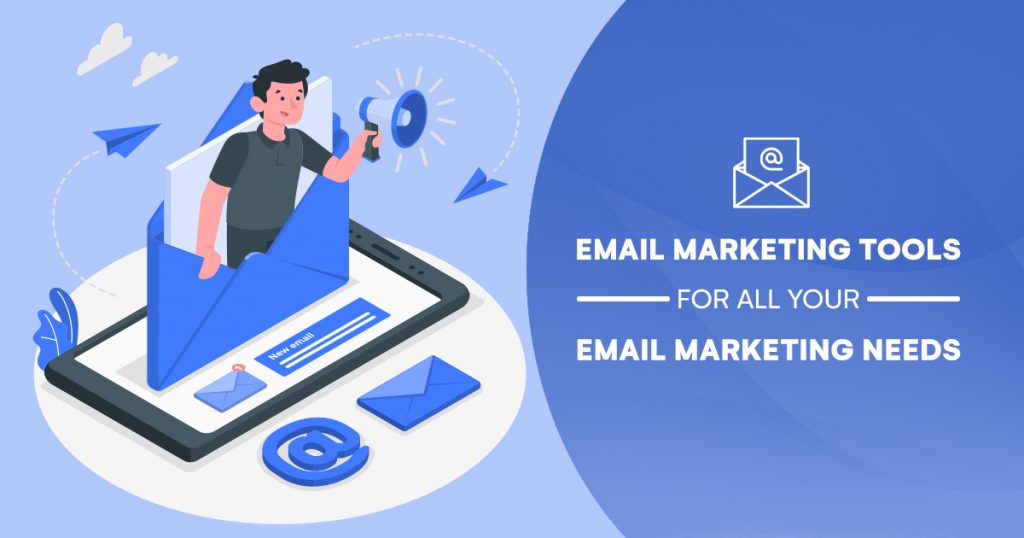 Aug 3, 2021
Email Marketing Tools for All Your Email Marketing Needs
Email is certainly a great way to reach out to more customers, but it's not great when you have to send more than a hundred each day. Some businesses even send as many as a thousand a day! It's admirable, to be sure. But sending one email to multiple people can be a bit unoriginal. You're really just reusing the same email; it's not personalized. You could write the names of people in your emails, but that will take a while for every name. You can get around this dilemma with some choice top email marketing tools from the leading email marketing service providers. We've got you covered.
Today, more and more people have become reliant on emails as a source of information. Oberlo states that there will be 4.3 billion active email users in 2023. With that many people to reach, you have an ample population you can tell your brand about. But it seems like a tall order. Aside from all the other common problems tied to email marketing, one of them is sending many people emails. Moreover, it'll take a while to send each one. So, what's an email marketer to do?
What are email marketing tools, and what do they do?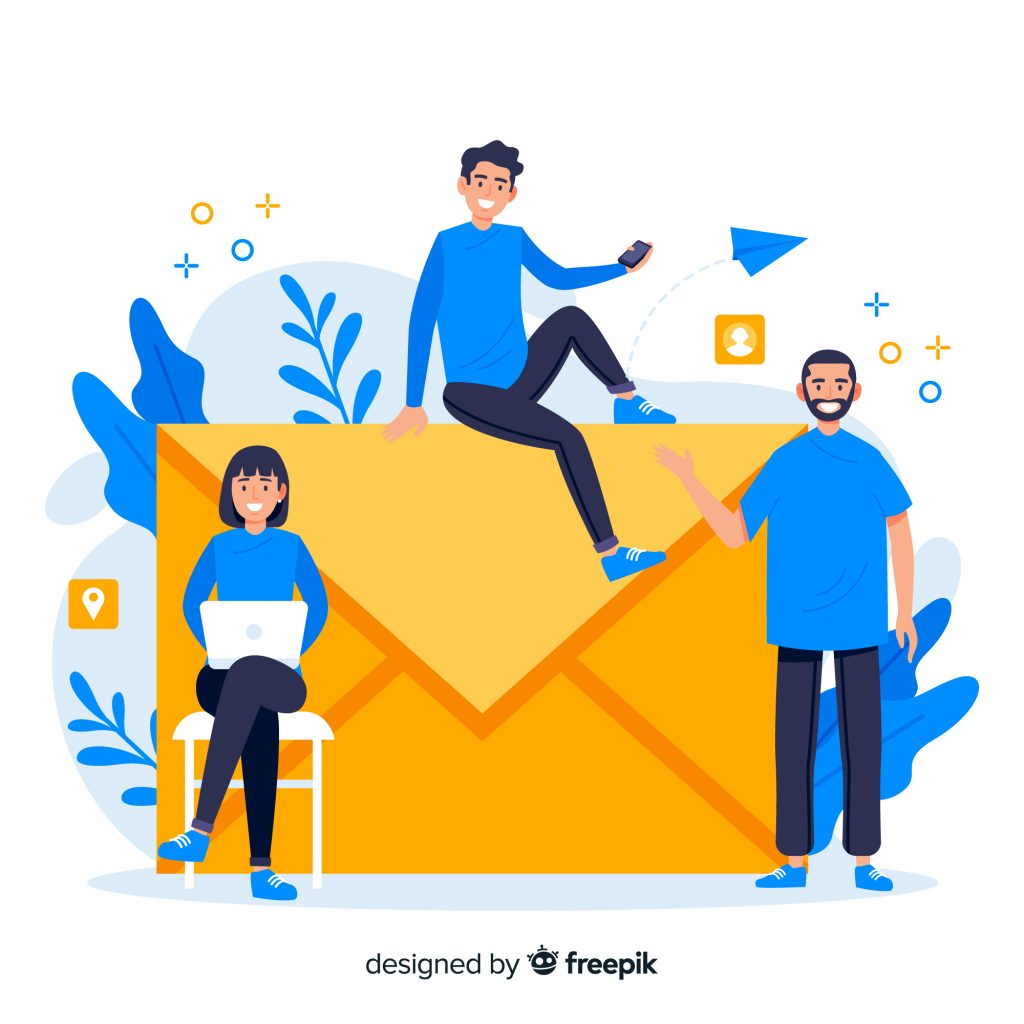 Marketers use email marketing tools "to create, send, test, optimize, and report on their email campaigns," as Campaign Monitor says. One example of an email marketing tool is an email marketing service provider, also known as an ESP. Another example is a subject line generator, which creates subject lines for your emails! The former especially is meant to work alongside software that caters to the needs of your business.
It goes without saying, then, that when choosing an email marketing service provider, one must consider all the provider's features. They should all be relevant to ensure one does not waste money on features that aren't even applicable to the business.
In addition to email marketing tools, you need to know about bulk email verification tools. They remove wrongly typed or invalid email addresses from the list. So, they will help your business grow more via email marketing.
Why get an email marketing tool?
Email campaigns remains one of the top channels for marketing your business, and we have the statistics to prove it. Email campaigns allows for a larger concentration of information than social media posts and is more personal. Email marketing means making your business' mark in customers' minds, both the loyal and potential ones. With email marketing campaigns, you become a constant in their inbox, and therefore a point of interest.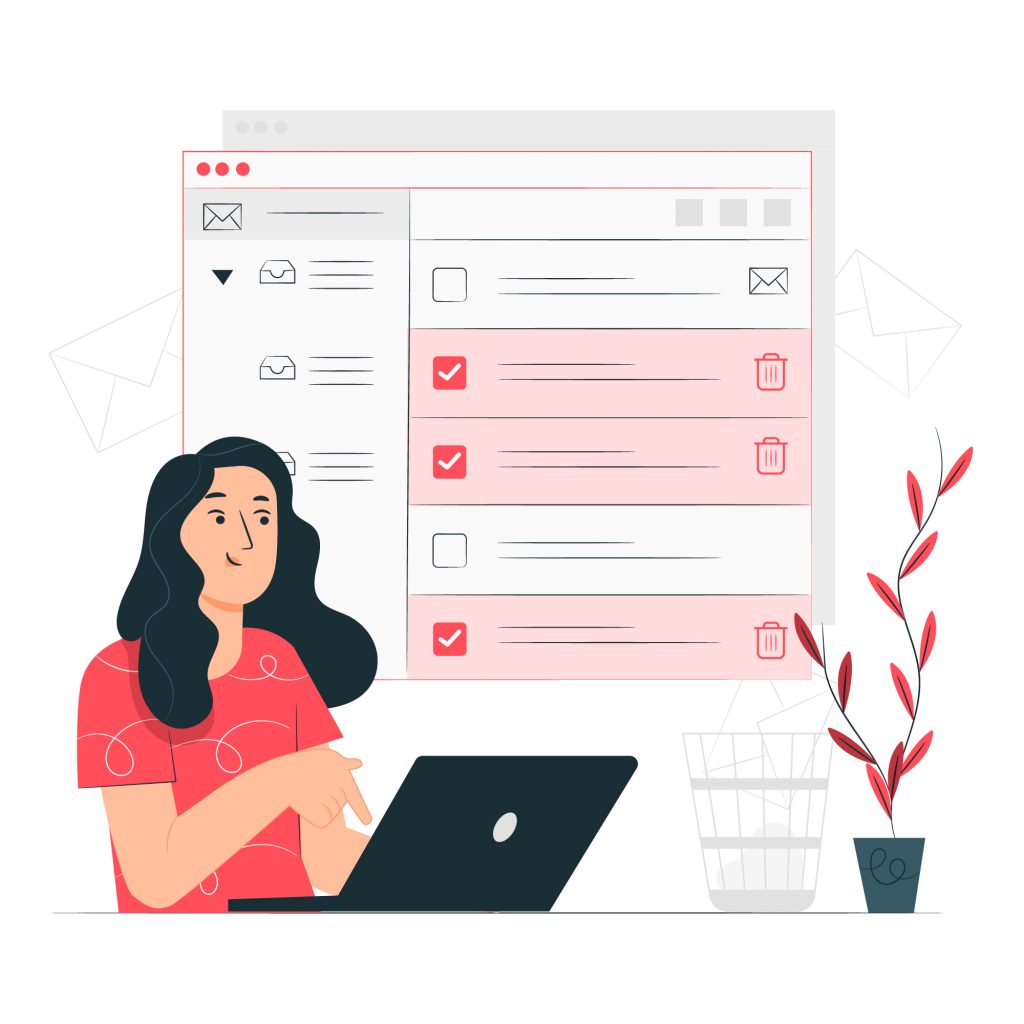 Here is a selection of top email marketing tools that might be the one you're looking for: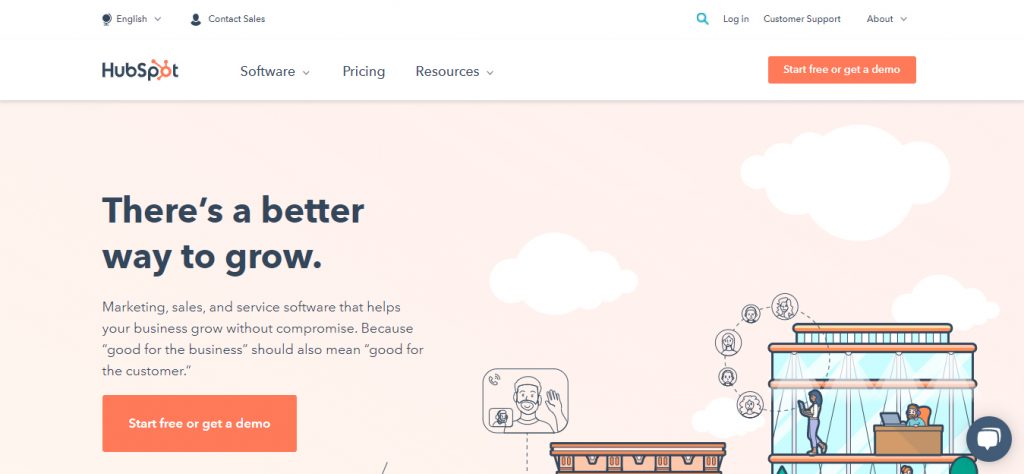 HubSpot
HubSpot is an email marketing service provider with an email marketing tool with a free version that allows users to send email blasts of all kinds. Not only that, its email editor isn't complicated; it's a drag-and-drop tool that has templates ready to go. In addition, the free version also has a CRM tool that allows you to apply relevant and even personalized information to your emails. Its features make it an excellent fit for small or developing businesses.
When you log in for the first time, HubSpot's dashboard looks relatively barebones. However, HubSpot will immediately guide you through the ins and outs. Once done with the tutorial, you can see the drop-down headings of Contacts, Conversations, Marketing, Sales, Service, Automation, and Reports on the top bar. It even has User Guide tabs for concerns about Marketing, Sales, Service, and Operations!
With Hubspot, you can send email blasts for free until you exceed its 2,000 email sending limit. After that, its prices start at $50 per month, then $800 per month for the next tier, and finally, $3,200 a month.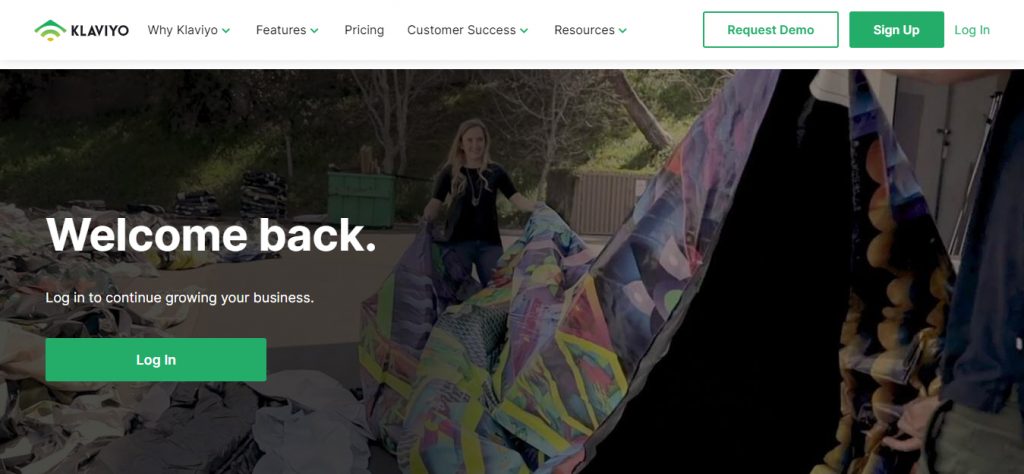 Klaviyo 
According to Capterra, "Klaviyo is a growth marketing platform that helps you deliver more personalized experiences across owned marketing channels like email, SMS, in-app notifications, and web."
The Setup consists of adding your business details. The great thing about Klaviyo is that you can brand your emails right off the bat! Pick the colors, logos, and links that befits your company brand, but if you're in a hurry, just skip this step by pressing 'Continue.'
The left side of the dashboard has a tray with options for Campaigns, Flows, Email Templates, Lists & Segments, and so on. Next to the tray, the Dashboard proper has these tabs:
Objectives: for doing a couple of tasks that can help you get used to your brand-new Klaviyo account.
Performance: gives you the rundown on how everything's going. You can select a particular month to see its progress or check the data from a given number of days, last year, or today. Under those are sections for Flows and Campaigns.
Analytics: a more recent addition! It shows you the statistics for your performance, such as Total Received Email, Total Opened Email, Total Marked Email as Spam, and so much more! Check it out.
Lists and Segments: 

straightforward. It shows you your New Subscribers, Newsletter and Preview list.

Activity Feed:

shows the feed for your metrics, Bounced Email, Clicked Email, Marked Email as Spam, All Metrics, and others.
Klaviyo's free plan maxes out at 500 emails sent to 250 contacts. From there, it'll prompt you to upgrade to the $20 per month plan.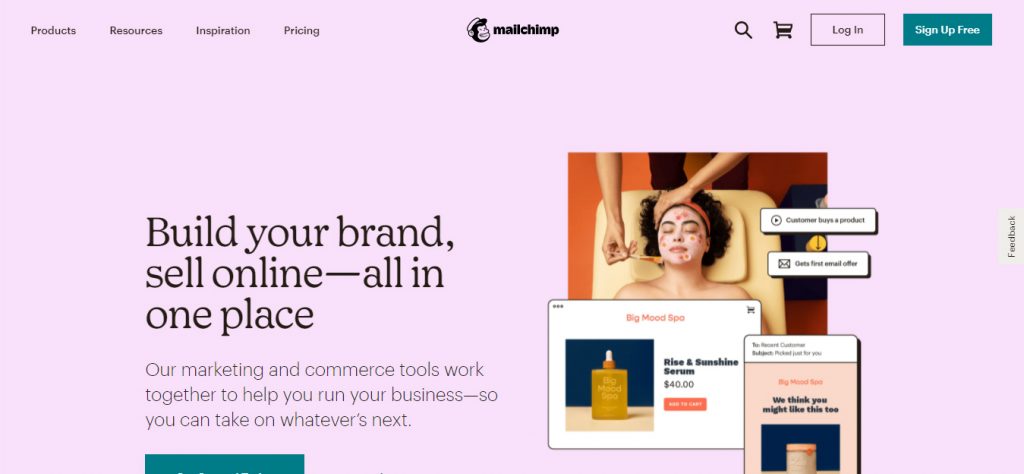 MailChimp
Though MailChimp's blend of business and pleasure leans more towards the former, worry not as it is one of the foremost email marketing tools today. Like LeadPages, MailChimp is a drag-and-drop tool, so you don't have to worry about the little things while writing your emails. Instead, you can focus on sending email blasts while it handles things such as scheduling emails and organizing mailing lists. MailChimp also collects data for email statistics.
It's pretty easy to get MailChimp to work with sites like WordPress, too. Mailchimp puts the fun in functionality! Not only that, it's pretty reasonable: for up to 2000 subscribers or 12,000 emails per month, it offers a free subscription for however long you want. But, if you want to send unlimited email blasts, $10 is the next tier in the pricing plan. After that, the price increases with every 500 subscribers you add on.

Clickfunnels
In its own words, "ClickFunnels allows you to quickly build smart sales funnels that convert. It's the only website builder that doesn't just build pages, but actually builds smart sales funnels! With the click of a button, you can instantly create dozens of different types of sales funnels, including optin funnels, sales funnels, webinar funnels, membership sites, and more!"
You'll need to go to bat with ClickFunnels and input your billing details before you can send unlimited email blasts with a 14-day free trial.
On the right-hand side of the Dashboard is a section on FunnelFlix Traning with options. Its members can access these. Finally, the Quick Links section dominates the middle part of the dashboard, with options to:
Build a Funnel.

Here you pick your goal for your email campaign and its type. You can Collect Emails, Sell Your Product, or Host Webinar. You can even Create a Custom Funnel from a selection on ClickFunnels.

Build a Follow-up Funnel.

 You use this to connect more with your email recipients, or rather, subscribers. You'll need to prepare a Group Tag and a Mailing List!

Send a Broadcast.

 Choose from ClickFunnels' built-in apps or third-party apps. Here you can input Broadcast Name and Type!
ClickFunnels' plans start at $97 per month.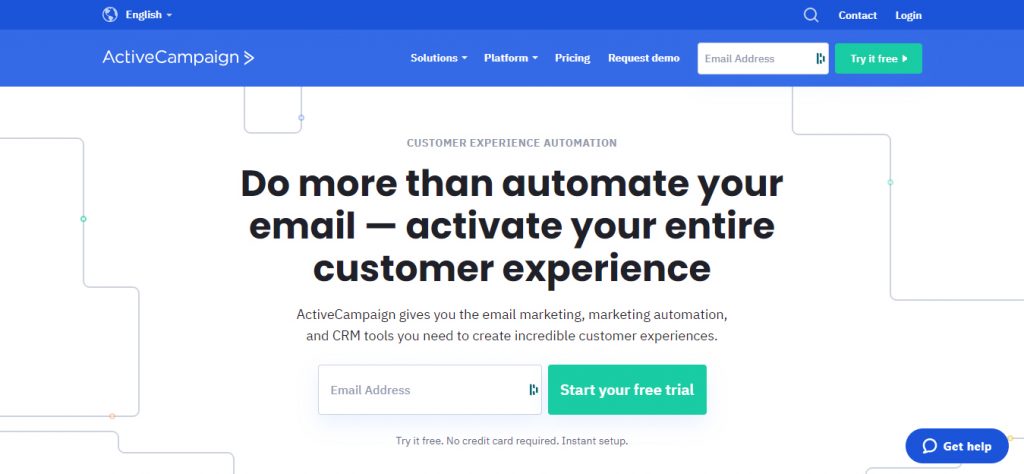 ActiveCampaign
ActiveCampaign is one of the easiest email marketing service tool to navigate yet still practical for use. It certainly is among one of the cheapest compared to other providers. Its full-blown package is an excellent investment if you plan on getting the most out of your money. Though it is easier to understand, you still get a lot of functionality. ActiveCampaign is an excellent all-in-one tool for any company, as it handles CRM, sales automation, and email marketing. 
ActiveCampaign assigns you a personalized domain—note this down for your login credentials. Once you log in, there's a tray of options taking up the left side of the screen on your dashboard. You'll see tabs for things like Contacts, Campaigns, Lists, Reports, and Apps.
This email marketing service tool's pricing plan starts at $9 a month. Subsequent upgrades are priced at $49, $129, and finally, $229 per month.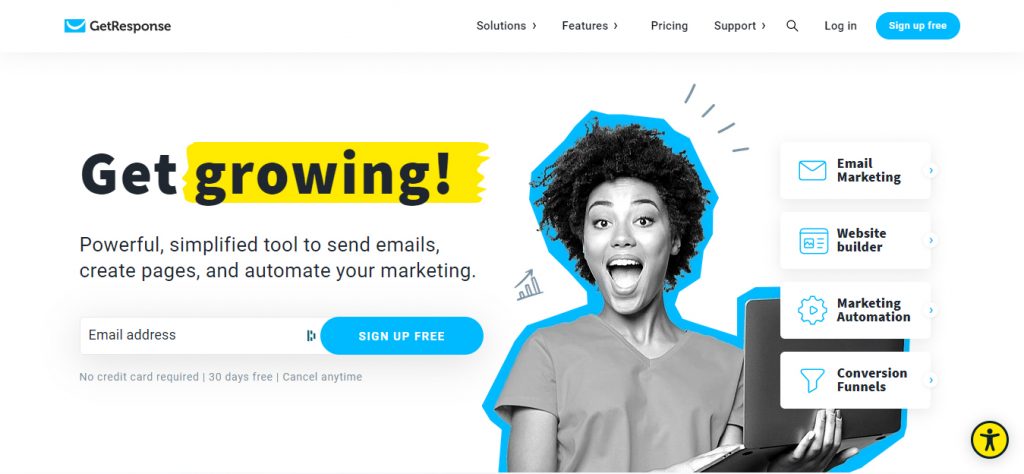 GetResponse
GetResponse is a godsend for small businesses. If you've just started with email marketing, this one's for you! It makes everything look simple. You can create smart automated email campaigns, allocate contacts, and send email blasts as you see fit. In addition, you can use its forms, A/B testing, subscription tracking, and many more! GetResponse also provides support via live chat, phone, and email so that you can get answers posthaste. 
GetResponse boasts a dashboard. A drop-down menu on the top right-hand corner allows you to choose from a list of options, mainly under Communication Tools and Growth Tools. On the far left-hand side is a small tab that opens up the 24/7 chatbox.
Quick Actions are right beside that; from here, you can choose from options:
Create newsletter,

 which is what it says on the tin, but it also includes design, tracking, and scheduling options.

Create form,

 for mailing lists specifically; choose from a collection of editable templates.

Create landing page 

using editable templates.

Add contacts

—you can add them one by one or upload a file or paste contacts.

Create autoresponder,

 which lets you choose dates and times for sending out emails.
Taking up the middle of the screen are widgets, which you can customize however you want. As for pricing, you can work with GetResponse and send email blasts for 30 days. However, it will require $15 a month to continue afterwards.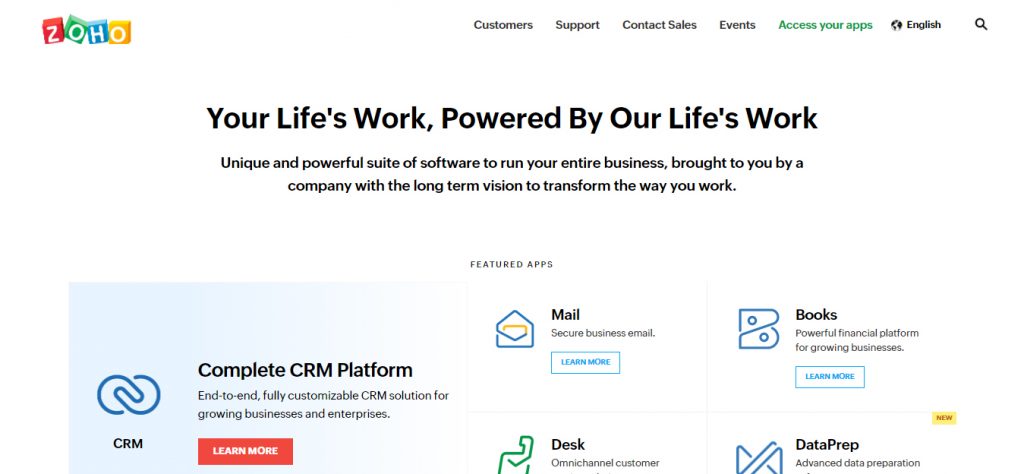 Zoho
Zoho is an email marketing tool that's pretty easy on the layman's eyes. It doesn't need you to slog through HTML; you can do as you please with text and images! And if you like how your email came out so much that you want to keep sending it over and over, Zoho allows you to save it as a template with its Library!
Its featured apps are a Complete CRM (Customer Relationship Management) Platform, which is perfect for a growing business, and a Home Office Toolkit for the responsible work-from-home company.
Other equally important features are:
Mail,

 naturally.

Projects

—

help you with projects or email campaigns.

Creator,

 where you can create applications that can assist your business processes.

Books—

meaning the accounting side of things; it'll help with finances.

Desk

—the customer help desk, that is!
Zoho is free for 12,000 emails and 2,000 subscribers per month. Paid plans start at $5 monthly.
Top picks for email marketing tools
Not counting the ones listed in this article, there's SendInBlue, Omnisend, Drip, and so many more. Of course, it is ultimately up to you to choose the email marketing tool that fits your brand's unique needs.
Email may be the top channel to market your business online, but it isn't the only one. A business' digital marketing strategy should be tailored to your business needs. Therefore, the usefulness of this article depends on what your service is, how you provide it, and other such factors.
Still, if you find yourself wavering on which email marketing tool to rely on, you may benefit from hiring email marketing experts for your email services needs.