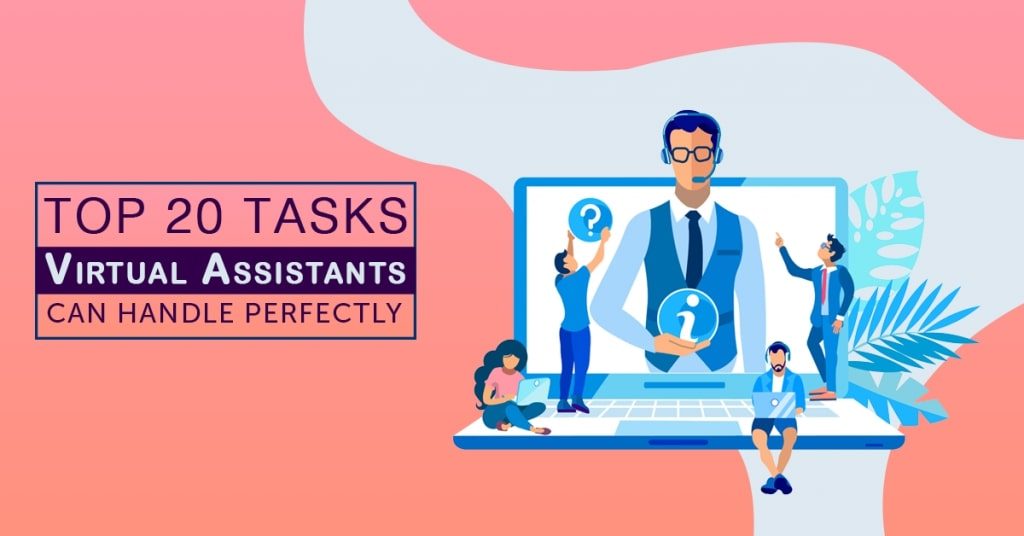 Jun 11, 2019
Top 20 Tasks Virtual Assistants Can Handle Perfectly
The demand for Virtual Assistant or VA tasks is mostly related to the fact that more people are starting their own businesses. For small-medium enterprises; hiring enough staff to help you out can be costly.
As a result, business owners will always grab the chance to cost-effectively get an assistant. In this case, Virtual Assistants or VAs for short are more affordable than hiring an in-house assistant.
By now you might be wondering, what do VAs do exactly?
There is always a different expert that specializes in various Virtual Assistant tasks. However, to give you an idea of what they can do for you; below are 20 of the top tasks VAs do well:
Article/Online Directory Submission Virtual Assistant
There is a large number of what we call "online directories" for articles and business information available online. You can have your VA submit to these resources to build your backlinks and help with off-page and local search optimization.
Administrative Writing VA Tasks
These can include writing and sending out event invitations or greeting cards, audio/video transcription, preparing meeting minutes, etc. Mostly, your Virtual Assistant can do any such writing or activity involved with your admin office.
Basic Bookkeeping Virtual Assistant Tasks
Although there are several available tools online that make bookkeeping more manageable, it may still take some time to learn and master such tools. You can hire a Virtual Assistant who is already experienced with such tools or learn this for you to save time for this task.
Communication Liaison
When you are building a virtual team, it can be tiring and confusing to have to communicate with every single one of them. You can have your Virtual Assistant be your main point person to give you updates on everyone's activities, as well as deliver any message you want to give to them.
Content Virtual Assitant
When running an online business, it is impossible to ignore the importance of regular content creation.  Despite that, the research and writing can eat up a huge chunk of your time. Thus, ask your VA to do this task to take this load off your shoulder, as they can research and write enticing content.
Customer Support Services
When you are a growing business, it is vital to respond to any requests or inquiries from your customers promptly. However, most business owners do not have the time to do this themselves, so they get their Virtual Assistants to respond to customers instead.
Data Entry Virtual Assistant
Gathering information/data or having your own bulk of information organized is essential in every business, despite how time-consuming and painstaking it is. Fortunately, a lot of Virtual Assistants are pretty efficient at this sort of task.
Hosting Server Administration
You can trust a highly technical Virtual Assistant to help you with managing your hosting and the websites within your hosting. Whether you need to park a domain or set up a domain/website in your hosting, your VA can help you.
Management Scheduling Virtual Assistant
In can be hard to keep track of all the appointments, callbacks, meetings, etc. for a busy executive. Hiring a Virtual Assistant for the task of managing and keeping track of your schedule will help you remember everything.
Microsoft Office Administration & Application
Microsoft Office tools like Word, Excel, Outlook, etc. have a lot of handy features that are not always apparent. A skilled Virtual Assistant knows these features like the back of their hand and uses them to their advantage in terms of efficiency.
Operational Streamlining Virtual Assistant
Once a VA is familiar with how your operations or processes work, they can be a crucial member to keep all this in order. They can help you streamline the process, so you do not have to spend too much time monitoring everything now and then. Moreover, VAs can also act as remote employees which can help you persevere during troubling times.
Process Guidelines & SOPs
If you do not have your guidelines and SOPs or Standard Operating Procedures in writing yet, you can leave this to your VA. Additionally, they can help with onboarding new team members.
Process Improvement Virtual Assistant Tasks
Should there be any parts in your normal processes that can be done faster and more effectively, your VA can point it out. Additionally, they can give you recommendations on how to make operations proceed faster and with fewer errors.
Project Management
This is an important role for website development or digital marketing companies who have several projects under their wing. Your VA can act as your Project Manager. They monitor the progress of the project and manage resources like developers, designers, etc.
Promotional Video Creation Virtual Assistant
Any business video should be done in a professional way and adequately represent the business and its image. Most VAs are equipped with basic video editing skills to dish out a simple yet professional video for you.
Reporting
Whether it be a report on your website's analytics or if you need help gathering data for a financial report or presentation, a VA can lend the support you need. That way, you can have your reports done quickly without you having to spend so much time on it.
Research Virtual Assistant Tasks
Regular research is needed for any niche should you want to stay on top of your competitors and stay updated. Thus, take this off your plate and give it to your VA to research statistics, trends, content, etc.
There are several different aspects of SEO or Search Engine Optimization a VA can help you in. These include content creation, backlink building, guest blogging, analysis, reporting, and a lot more.
Social Media Management
If you lack time to keep your social media profiles topped up with posts or to build followers, leave this to your VA. Your VA will be sure to keep your profiles active and engage as necessary to comments and messages.
Web Designing
Many VAs have an eye for design; thus, they can also help you with graphics or basic web designing tasks. For designs that are basic but still fresh and professional, you can rely on a VA to deliver well.
Website Administration
Depending on the kind of CMS your website is on, a VA can have basic or advanced knowledge on working their way through it to update content, upload images, etc. A few examples of CMS VAs are well-versed in are Magento, Kentico, WordPress, and Volusion.
More Benefits of Hiring a Dedicated VA
The sole fact that they are "virtual" thus you do not have to spend on their work station can already save a considerable amount of money. Add to the fact that you pay them only by the hour makes it all the more cost-friendly since you do not pay for work that has not been rendered.
Have you thought of what tasks may require the assistance of a VA? Let us know by commenting below!