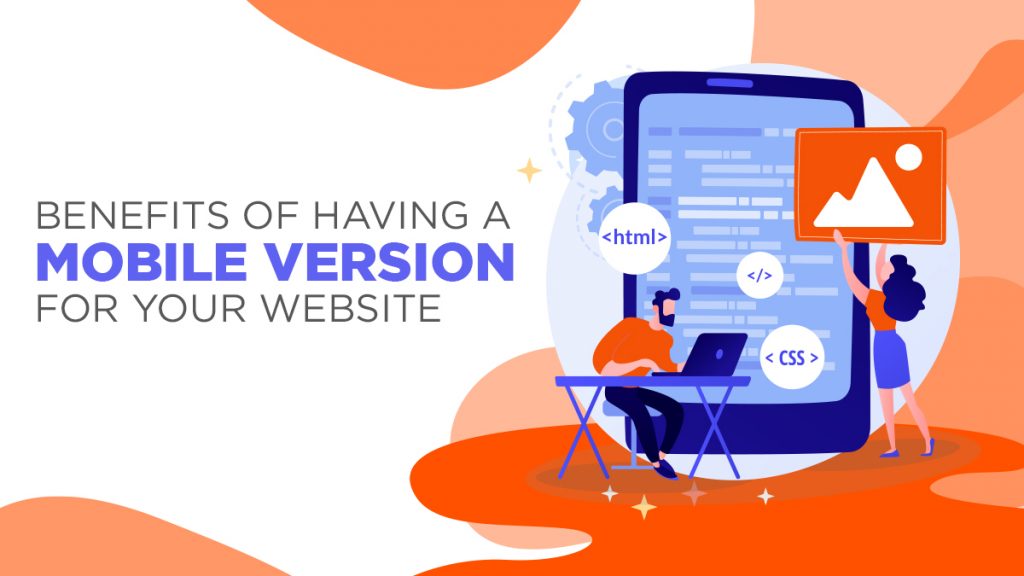 Mar 11, 2021
Benefits of Having a Mobile Version for Your Website
Today, there are about 3.8 billion smartphone users worldwide. Such number is forecast to increase by several hundred million in the following years. As such, business owners and marketing experts must employ mobile website development in building a mobile version of their websites. In this article, we will discuss some of the reasons why you should employ web design services for modernized and optimized mobile websites.
Mobile Website's Competitive Edge
The number of mobile web users in the world grows by the day. However, apart from that, there are many advantages to why you should optimize websites for smartphone display. As such, several dedicated web developers continue to sharpen their skills in mobile website development.
Mobile website development help create mobile websites that put your business in a position where you can stand out among your many competitors. It helps ensure that your business captures the attention of a significant number of mobile web users. Moreover, users are less likely to continue browsing websites that are not mobile-friendly. Thus, if you have an existing business website, you should take advantage of this growing number of mobile web users and build a mobile version of your website.
Benefits of Having a Mobile Website
A mobile website may employ responsive web design. With this mobile website development technique, your website can adapt or resize to the type of screen or monitor that a visitor uses to view your website. Through this, mobile web users can easily read and scroll through your website without zooming in on its content. Having a responsive design also helps you achieve an improved CLS score, which helps you rank higher on SERPs.
However, a mobile user interface should differ from desktop sites because of many factors. These factors include the interaction techniques, mobile web design, how people read, the use of context, and the amount of information that users can grasp at a glance. Thus, it is essential to provide users with simplified content. Doing so encourages them to read the details and what your business has to offer.
Check out some of the benefits of building a mobile version of your website:
Increased Brand Visibility

With a mobile-friendly website, you can reach your target market whenever and wherever they are. Whether they are using their desktop, laptop, or smartphone, they can see your promos, product offers, and other marketing campaigns. Moreover, with a mobile website, you provide your customers with a more convenient way to access and purchase your products and services. As a result, you improve page experience and increase your ranking on search engine results pages (SERPs).

Streamlined Content and Messaging

People today use their mobile devices to connect with their friends, play games, stream music or videos, or purchase products, goods, etc. Thus, a mobile website would be one great way to reach online users quickly. So, make sure that you create compelling web content that is relevant, professional-looking, and easy to digest. You can inform them about your brand, and you can tell them about your products and services. Moreover, your mobile website can also be an excellent way for them to reach you. You can do this by installing a chatbot, such as the FB Messenger chatbot, on your business website.

Improved User Experience

Mobile websites are designed for hand-held devices. For this reason, you can access mobile websites through your smartphone or other mobile devices. A mobile website's ability to serve your customers through such a tiny device improves user experience and increases customer satisfaction. Also, because your customers may already have browsed through your website using their desktop, they would already be familiar with its mobile version. Thus, ensuring that they can navigate through the site with ease.

Excellent Advertising Opportunities

Mobile advertising is growing at a fast pace. It brings about countless opportunities for businesses to reach their target audience and achieve their business goals and objectives. You can advertise through Google Ads to help guarantee that your mobile website appears on mobile listings. Moreover, make sure that your ads lead to mobile-optimized landing pages for optimal results and maximum ROI.

Optimized for Search Engines

As mentioned above, if you optimize your website for mobile users, you help increase your rank on SERPs. When your website ranks higher on SERPs, your website gets more traffic, too. Also, compared to your website's desktop version, a mobile website will have fewer steps for users to take and finish a transaction. Thus, with a streamlined and easy-to-navigate website, your users will keep browsing on your site, reduce your bounce rate, and improve your search engine optimization (SEO) efforts.
Build Your Mobile Website Today
The mobile internet continues to grow and improve and will only set to surge up in the succeeding years. If you do not have plans to have a mobile version of your website, you are risking your site and your business's future success.
Should you require assistance in mobile website development, consider employing web design and development services in the Philippines!