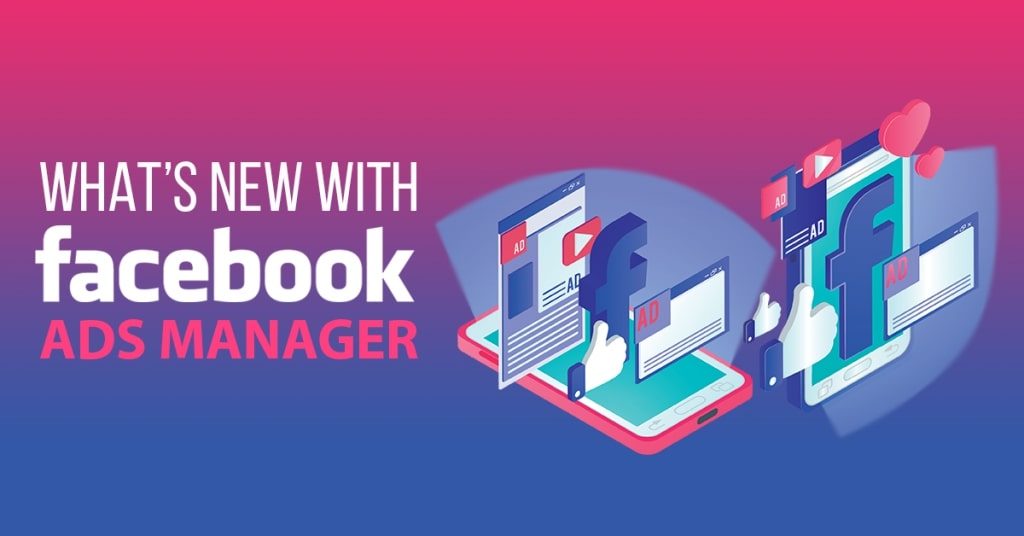 May 2, 2019
The New Facebook Ads Manager Update We've All Been Waiting For
Late last year we experienced a major update in the Google AdWords (now called Google Ads) dashboard. Digital marketers know that these things happen every time. This time, we'll be seeing a new dashboard for the Facebook Ads Manager.
To summarize the updates, here is an overview breakdown of what marketers have observed:
The update reduces the time it takes to do Facebook paid marketing on the ads manager, from setting up the campaign to launching ads.

It has an improved reporting tools to help marketers discover more advertising and target audience opportunities

The improved workflows in the ads creation process help make it easier to create more effective ads
The new features may have already reached your Facebook Ads Manager dashboards. If you have regularly been doing Facebook Ads, you may have already spotted the new changes instantly.
To shed more light for those who want more details on what changed aside from appearance, here is a breakdown:
New Facebook Ads Manager Navigation
The update created a new left sidebar where you can now find the Campaign, Ad Set, and Ad tabs. Pre-update, you could have found these tabs horizontally on the dashboard.


You will also be spending less time switching from tab to tab as per the pre-updated version. This new version will allow you to see campaigns, ad sets, and ads in one table. With this design, you can have a better context overview of your Facebook Ads campaigns.
There is now a side-by-side interface where you can work on a main table and edit or view charts simultaneously. This replaces the former collapsible reporting and editing tray.
Easy Filter Searches and a User-Personalized Action Bar
Facebook Ads digital marketers can have an easier time searching through ads or campaigns. Now you can use search terms or set up filters to find campaigns, ad sets, or ads.

The action bar now also works dynamically, and will only present the actions you use more frequently. However, if you do eventually need to use the actions you do not use too often, you can still access them through a dropdown menu.
You Can Choose To Opt Out of the New Facebook Ads Manager Design Updates
Users have the option to opt out of the new design and go back to the pre-update look, this is in case there may be digital marketers who are more comfortable with the old version. An option to start using the new dashboard, though, is always available whenever you are ready to switch again.
However, know that if you do opt out of the new design, this will only be temporary. Eventually, when all the updates roll out, the Facebook Ads Manager will don on its new interface whether you like it or not.
Duplicating Ads Becomes Easier
Running ads involves a lot of A/B Testing. Thus, Facebook Ads marketers would always find themselves duplicating ads and making slight tweaks.
This is all done to determine which ad performs better. Marketers then give more attention to the performing ad before duplicating it again and repeating the process.
If you wanted to duplicate an ad into multiple campaigns/ad sets, this can be a tedious process since you have to do this one at a time. However, the update breaks down this process or action into one simple step.
New Cost Cap Bidding Option
The two existing bidding strategies on Facebook Ads Manager are the target cost (which covers cost predictability) and bid cap (which covers conversion volume). To add to these two existing bidding strategies, Facebook Ads is introducing a third bidding option, the cost cap bidding strategy.
This option allows marketers to set a maximum Cost Per Action (CPA) or Cost Per Impressions (CPI). Marketers can use the new bidding strategy to maximize both results and cost-efficiency, and it also allows marketers to get the most volume.
Through setting your maximum CPA/CPI, this bidding strategy aims to reduce the complexity of managing bids while still getting the most of your results.
To supplement this, here is an excerpt from a post by Facebook about the new bidding strategy, "We've heard from businesses that in order to achieve certain campaign goals, it would be helpful to have a bid option that both controls cost and drives volume. Cost cap maximizes cost efficiency by getting you the most results, such as purchases or installs, at or below your set maximum cost per optimization event."
Overall New Look
Apart from everything that has been outlined here, Facebook has plans to introduce more new visual and functional updates for Facebook Ads Manage. Expect that over the next few months, you will see these updates roll out.
What updates do you think may be the best thing that ever happened to Facebook Ads Manager? Otherwise, what old features were still worth keeping as opposed to its updated version?