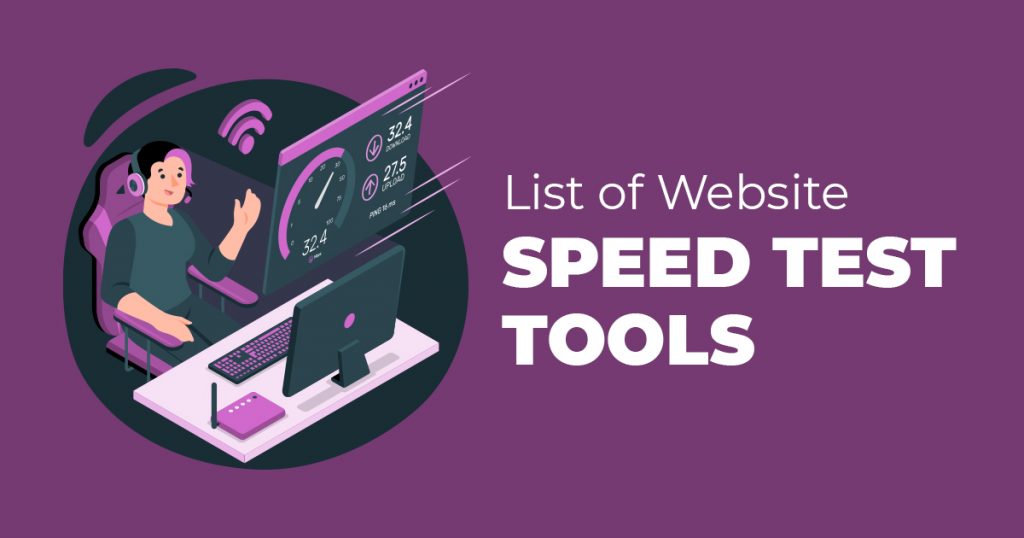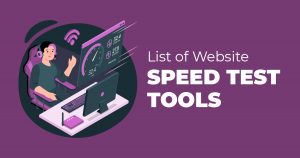 Feb 9, 2022
Website Speed Test Tools to Check Your Page Speed
To boost traffic, you need relevant content. However, retaining traffic means having an accessible site. One way to do that is to ensure the Website Loading Speed is as quick as possible. Bounce rates reach 32% if a page takes three seconds to load. The loading time is a crucial window where your site visitor judges whether they should stick around — to your website in particular. Of course, while a short page loading time is ideal, one should also remember that website devs need to add design elements, content, and features so that the site is navigable. Still, Page Experience is an important SEO Trend for 2022, and a site's components should be optimized while also keeping site loading time short. So, you need tools that can check Page Speed for you! Read on for a list of Website Speed Test Tools.
Website Speed and why it matters
With great skill in creating astounding websites (with CSS!) comes great responsibility. After all, when designing websites, a Web Dev must never forget that they must account for speed, alongside many other features and factors.
A website or web page's Loading Speed is one of the things that should be on a Web Developer's SEO Checklist. User Experience or UX is crucial to keeping potential customers on the site. Of course, Page Speed is a significant factor in ensuring that your Click-Through-Rates don't decline. Your site's loading time needs to stay quick and constant at all times, even if you have to do a website migration process.
Why is Website Loading Speed such a vital factor?
1. It makes a significant, positive first impression.
If a visitor opens your site for the first time and it loads within three seconds, it's smooth sailing from there. However, if it takes four or even five seconds, the visitor will become frustrated at the long site loading time. So if you've poured significant time into designing and building a website, you've got to make sure that its loading speed is manageable too. Your site should take only a few seconds to load. Otherwise, their opinion of your business will suffer. 
2. It helps you rank high on SERPs.
Website Loading Speed is a factor for SEO rankings. It's best to optimize web pages so that they can rank for your chosen keywords and load faster at the same time. Thus, checking your page speed is crucial to stay ahead of your rivals. Likewise, better rankings on results pages mean more traffic. So it's best to balance between quick site loading time and exciting content and design!
3. It retains and boosts conversions.
Not only does Google reward fast site loading times, but it also penalizes too-slow sites. If you haven't checked page speeds and it takes too long to load, potential visitors will bounce or stay away from your websites. Slow loading times pose a problem for e-commerce websites, which thrive on conversions. If a business website isn't optimized, it could lose revenue. 
For all these reasons, it's paramount that you check your page speeds. So, here are some Website Speed Test Tools for that!
A list of reliable Website Speed Test Tools to check loading speeds:
Google PageSpeed Insights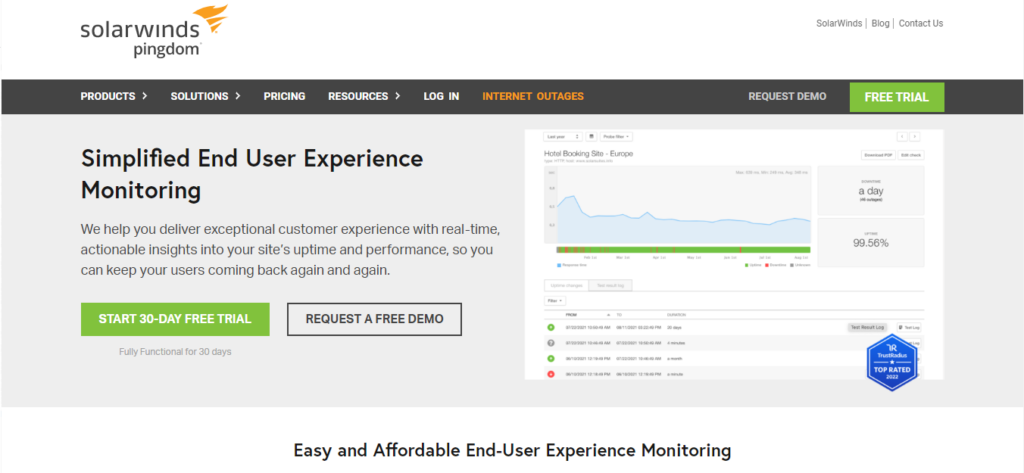 As the name indicates, PageSpeed Insights comes from Google. Thus, it's available from the browser and Analytics. As a result, it's pretty accessible and easy to use. However, this isn't strictly a tool for checking a website or page's loading speed. But, it does allow you to check on how your mobile and desktop versions are doing.
So first off, Google PageSpeed Insights will score your site. In addition, the Website Speed Test Tool provides reports on various aspects, such as how quickly images and text appear and how quickly it takes for a user to interact with the page. Also, PageSpeed Insights even gives suggestions to improve your site and its loading time.
This Website Speed Test Tool is mainly for Web Devs and Webmasters' use. However, PageSpeed Insights gives you, well, insights on how you can rank highly on Google too. Regardless, it's excellent if you just need to check your page speed. 
WebPageTest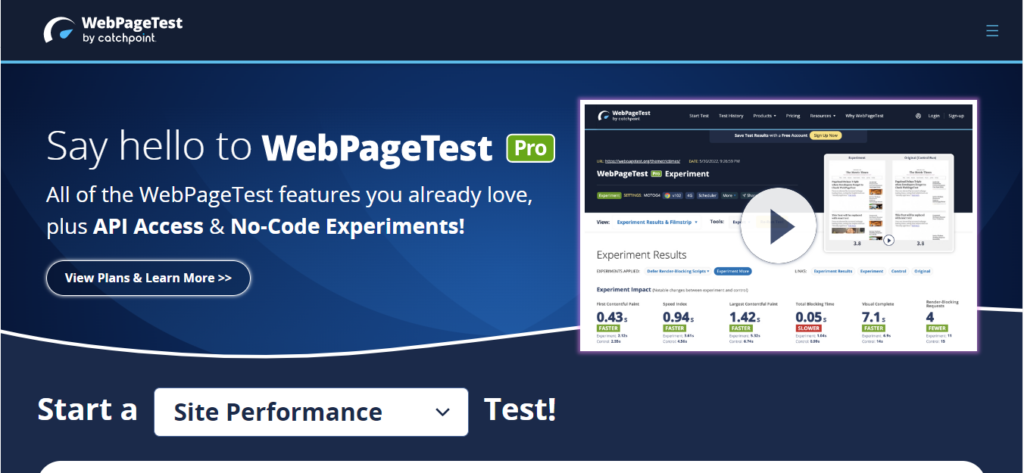 WebPageTest is another fantastic tool for checking page speed due to its reliability. In addition, it's trustworthy, free, and open-source! So, this Website Speed Test Tool can accomplish a lot of things.
WebPage Test allows you to see your site's loading time performance on multiple browsers to analyze website loading speed. So, your site loading times may differ from browser to browser, and WebPageTest can let you know about the discrepancies. This tool also enables you to run several tests to check if the website loading speed stays consistent. Additionally, WebPageTest allows users to create customized settings for each run.
Though this tool for checking page speed is reliable for many things, some of its results metrics may be a bit hard for casual users to understand. Still, if you want to input your website URL, it's got a lot of information for you.
GTmetrix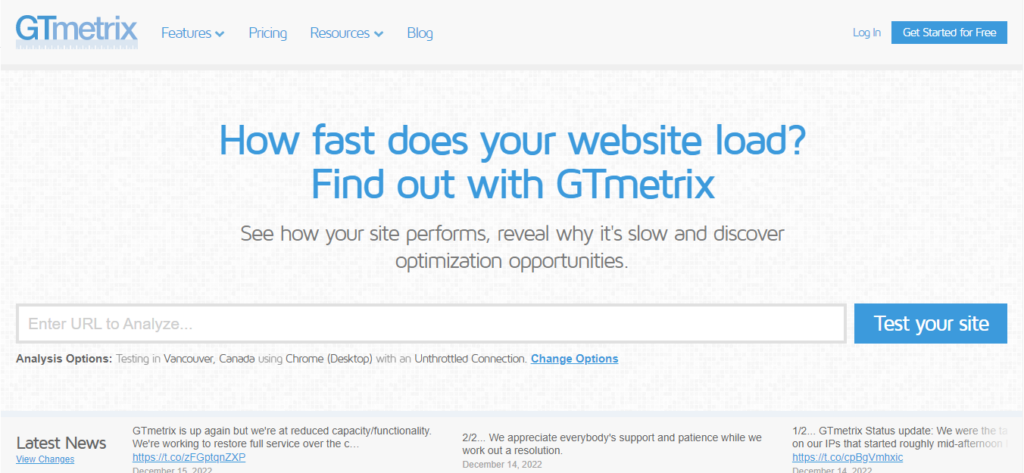 GTmetrix is another free tool to check page speed that's user-friendly and navigable. So, for instance, you get to see your website loading speed compared to the average time for a site. Moreover, GTmetrix giving context to the numbers extends to other metrics. So even if you're not a seasoned Web Developer, this Website Speed Test Tool helps you find out where your issues originate. 
GTmetrix lists down things you need to fix up in its results. Helpfully enough, it ranks and even scores the issues! Plus, GTmetrix lets you see specific examples of the problem files. The results are downloadable, too. If you want to invest in Dareboost a bit more, the tool offers a paid plan with far more options, allowing you to check on more URLs and page settings.
Dareboost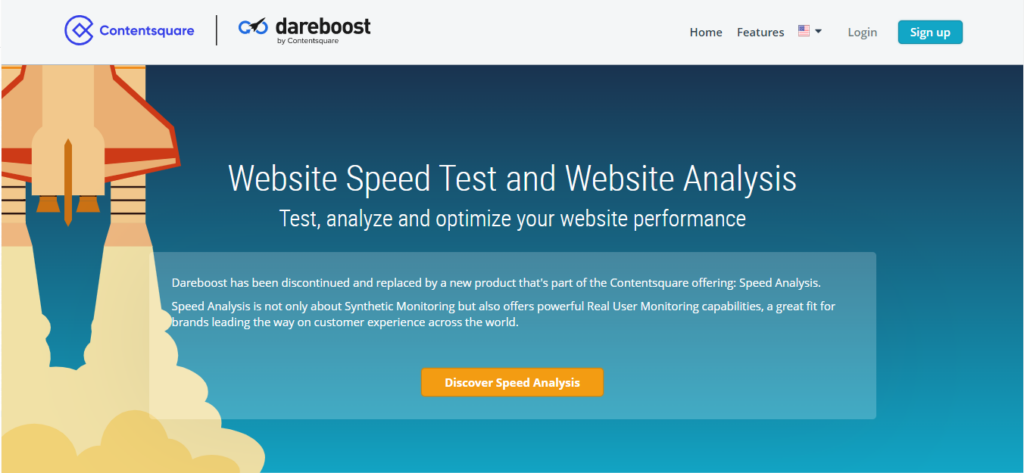 This Website Speed Test Tool breaks down your data while giving you some digestible explanations! With its site loading speed reports, you receive understandable significant insights, whether they're new to Web Development or an old hat at it. Dareboost is an excellent tool for people who favor visual representations in reports. So not only can you see your website's performance for loading speed, but you also get tips and suggestions for improvement. Plus, Dareboost lets you see your loading process in great detail so you can see the load or rendering order.
However, Dareboost only permits one free page speed test. If you want to come back for a second, then you'll have to sign up for an account. (Don't worry, it's free!) However, this tool for checking page speed offers paid plans too, which you can configure as you need.
Solarwinds Pingdom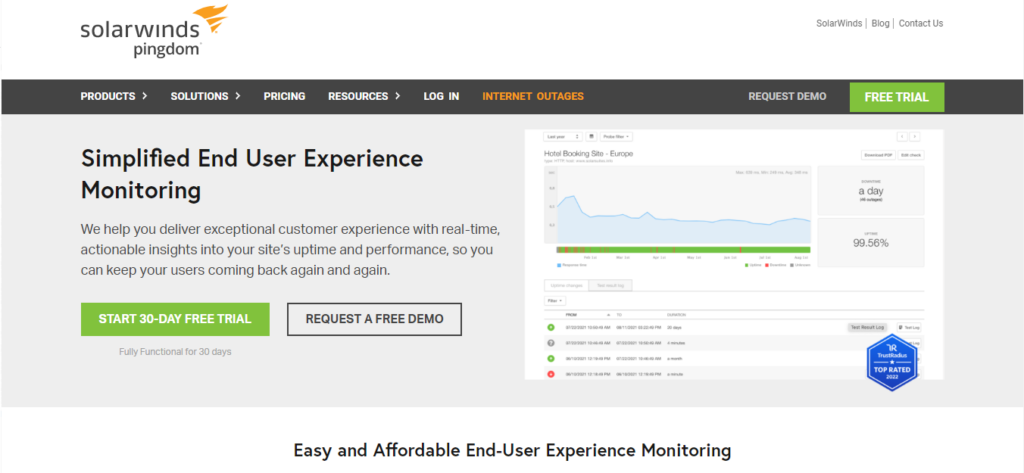 This free Website Speed Test tool allows you to check your website or -page's loading speed from different locations. This way, you can see your site loading time from the viewpoint of various places.
With Pingdom, users see what file types are responsible for slowing the site down! Also, Pingdom portrays data in a way that's easy to read and invites a deeper look at the same time. So, this tool for checking page speed is helpful for both casual users and experienced Web Developers! Plus, Pingdom's results give you grades on your performance metrics! Also, the page speed checking tool gives you a list of site issues that can help your site loading time.
Here are some other Website Speed Tools that can test loading speeds:
Uptrends

Alertra

Cloudinary Website Speed Test (Image Analysis Tool)

KeyCDN Website Speed Test

SEO Site Checkup

Site 24 x 7

Dotcom-Tools.com

Yellow Lab Tools

Google Chrome DevTools
Test your Website Loading Speeds with free tools!
Web Developers need tools that check page speed. Website and web page loading times need to be as speedy as possible. Three seconds is the maximum time for a site to load if you don't want to lose the attention of site visitors. With short page loading times, you can impress site visitors with the quality of your business site. Not only that, but you'll have a better chance of converting visitors if your site is responsive. Lastly, website loading speed can help your search engine rankings. So, using Website Speed Test Tools is incredibly important for Web Developers. However, no two Web Development Companies use the same tools. Check out some Web Design and Development experts in the Philippines to ask what they're using!