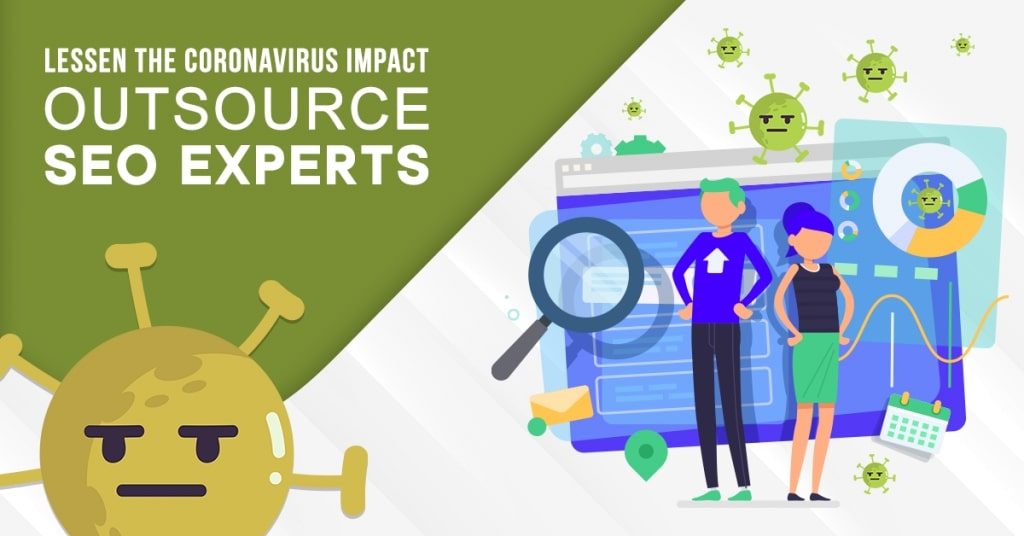 Apr 15, 2020
Outsource SEO Experts to Lessen the Coronavirus Impact
The Novel Coronavirus or COVID-19 has taken its toll on the world. Everyone's daily lives are disrupted, and businesses are struggling to keep themselves afloat. With the crashing of global stock markets, the economy is uncertain and unstable. People's changing habits are also something that should be taken into account. Because of this, various business owners have opted to put a stop to their marketing operations. But this is actually not a suitable option in the long run. What businesses should do in these hard times is to push on and continue their contracts and outsource SEO experts. It is vital to keep carrying on despite the pandemic because there will be consequences if you stop your SEO. Here are reasons why you should continue and boost your SEO services to counter the Coronavirus impact on your business:
Because of the Buying Cycle
When it comes to the research and buying cycle, SEO will always be an important factor. It helps attract potential customers to your website with the help of relevant keywords and phrases. This is important during these times because more people are browsing the internet for the things that they need. The Coronavirus prevents people from going out to the stores. That is why online businesses who outsource SEO experts to get help regarding digital information in their websites are the best options.

source: pexels.com
Because SEO is an Ongoing Process
Even before the pandemic, if you have knowledge about SEO, you know that it is not a short term investment. Although it is a long term strategy, it needs to be continually updated. There are various reasons for this, such as the fact that Google makes thousands of algorithm changes a year. So, with the help of an SEO expert, you will always be on top of the game. Furthermore, with the rapid changes that have been made due to the economic crisis, there must be close monitoring of trends in the market.
Because an SEO Expert is the Solution
You might think that your business will do fine without SEO services, but this might cause you more harm. Every business needs SEO because, in this digital age, there is more reliance on online presence than ever. You can consider your SEO experts as consultants or strategists who can help you navigate through these tough times. As some businesses are closing down, you can take this opportunity to strengthen your SEO strategies. With less competition, you'll have more chances in ranking number one in Google.
Because of Local SEO
Since a lot of people are advised and ordered to stay within their homes, local SEO has never been more necessary. As a business owner, you can maximize this strategy by focusing on keywords and phrases that will attract the right customers. These consumers need services that are within their vicinity. Thus, in this way, you can focus on advertising and marketing with that in mind.
Because of Brand Awareness
This is considered as one of the most common benefits when you outsource an SEO expert. You should never forget to improve your brand's visibility. With people spending their time indoors, more and more of them will prefer to use the internet, be it for entertainment or product search. If you continue boosting and improving your SEO services, then it will give you an edge against your competitors who opted to stop their own. Keep in mind that there will always be competition. By continuing your SEO, you'll have more opportunities and easier chances for a rebound.
Because of the Changing Consumer Behavior
The pandemic has caused quite a stir around the globe and, more so, with consumer behavior. If you take a look at Neil Patel's article, you can see how much of an impact coronavirus has done to marketing. The figure below shows a considerable drop in traffic when it comes to the traveling industry, for example. It comes as no surprise since many countries and cities have been on lockdown to prevent the virus from spreading.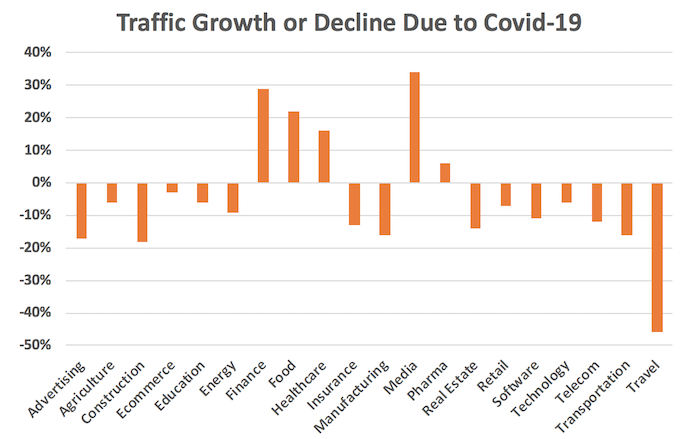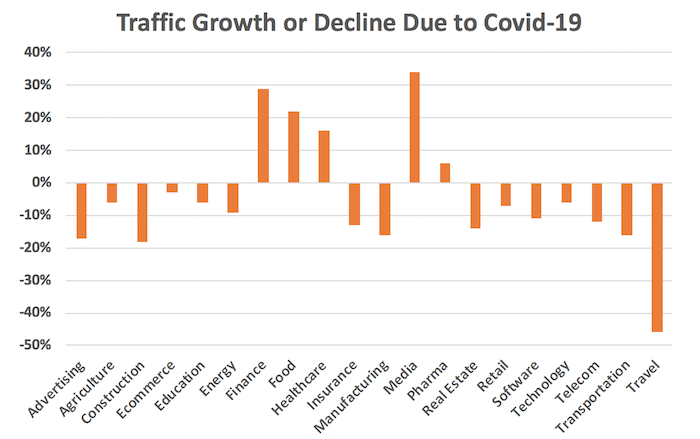 source: Neil Patel
So, if you look at the traffic, the shift in the consumer's behavior means that continuing your SEO services is a must. What you need is to outsource an SEO expert to keep up with the changes. You need to create content that leans more towards the new trends that have come up because of the virus.
Conclusion
The present might be bleak, but the coronavirus will not last forever. Flattening the curve has been the goal, and many countries are slowly improving. That is why you must never give up on your business. You invested in SEO services and outsourced SEO experts, so make the most out of them, especially in times like this. Perseverance is key and having the right SEO experts might just be what your business needs in this struggling economy. As business owners, being strategic and making informed decisions is crucial, and all of these can be achieved with outsourcing SEO services.