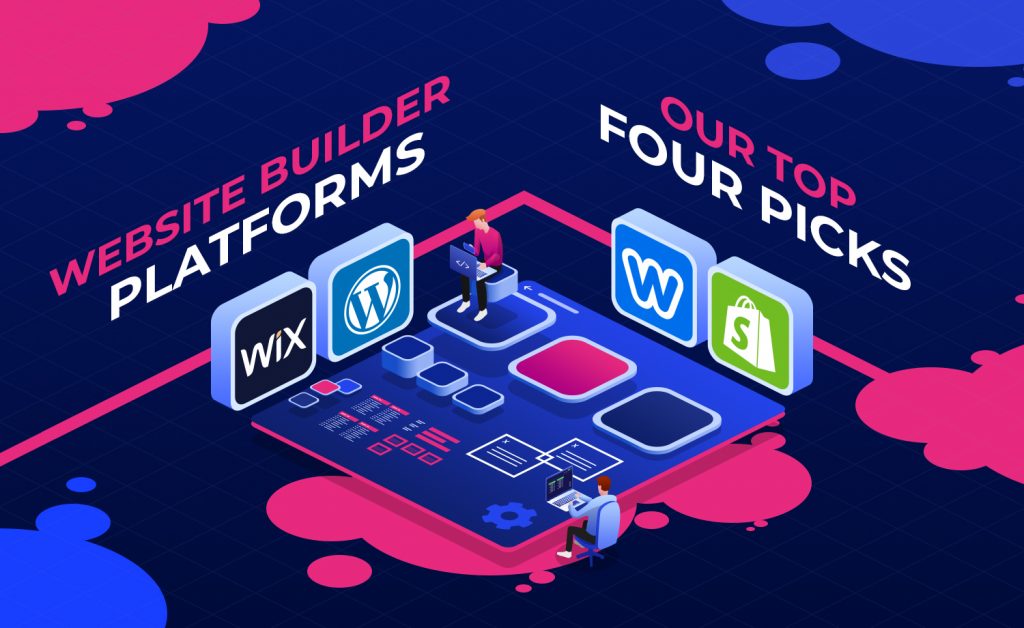 May 21, 2019
Website Builder Platforms: Our Top Four Picks
What You Should Look For in Website Builder Platforms
Website builder platforms offer a lot of solutions to both individuals and businesses when they start to build their websites from the ground up. However, with so many platforms out there on the market, how do you know which one is the right solution?
Before we continue, you may need to examine first the factors that make the best solution the perfect fit for your scenario:
Determine what you need.

Firstly, write down things that matter to you and what you wish to see on your business website such as a blog section, online store, photo gallery, reservation system, contact form, chat feature, etc.  However, if you are not quite certain about what you want, you can first check out your competitors or other websites for inspiration.
Look for growth options in the platform you'll be selecting.

Next, you need to ensure that the website builder you pick is definitely capable of handling what you need as your business expands.  Also, moving to a different platform at that particular time can be costly.
Consider how much you are willing to spend.

Lastly, when you are on a tight or limited budget, make sure to pick the one that provides most of what you need.
Once you are done assessing what you want, we can then proceed with checking out our suggested options.
Top Four Recommended Website Builder Platforms
Here are some of our recommended website builder platforms for you to use:
Evaluating the Platforms
After the quick introductions above, check out the pros and cons, along with the pricing of these platforms below.
Pros
Cons
Pricing
1

WordPress

WordPress gives you complete control on your website's every aspect
Next, there are thousands of premade WordPress themes and also has amazing drag and drop page builders such as Beaver Builder and Divi that will allow you to easily create your own page layouts.

Thirdly, you get access to more than 50,000 WordPress plugins that are completely FREE.

Also, it can be used to create multilingual websites.

If you do build your website on your own, you will need to familiarize with a new system.
Also, the learning curve can feel a bit difficult at the beginning for non-techies.
Next, keeping up with WordPress updates, plugin updates, and create backups
Lastly, you can hire a senior developer or team to take your website further to the next level

Although free, to get your website live, you will need a domain name and web hosting. These typically cost $14.99/year and $7.99 per month, respectively.
2

Wix.com

Wix is a fully hosted builder platform

Next, you can get access to hundreds of customizable templates to choose for your website's design.

Wix Builder, a drag and drop site builder

Additionally, you get dozens of free and paid apps

Lastly, they offer a free plan, but with limited bandwidth and storage

Issues with browser responsiveness

Additionally, lower plans show Wix branded ads

Also, moving your website away from Wix will be complicated

Lastly, Connect Domain plan only lets you connect a custom domain name

Provides a limited free plan with a Wix branded subdomain.

Also, for $9.16/month, you can connect a domain.

Then, Combo plan starts at $14.95/month with free domain name.

Lastly, the e-commerce plan starts at $26.25/month.

3

Shopify

Shopify is an all-in-one fully hosted solution

Offers an integrated payment solution called Shopify Payments

Ability to add third-party payment gateways to accept payments.

Includes full inventory management, unlimited products, powerful stats, easy marketing solutions, all in one package.

Easy to create a full-fledged e-commerce store

Offer in-store POS

Can integrate into the WordPress builder

Pricing a bit higher for those who are just starting out

Additionally, moving your website away from Shopify will be difficult

The basic plan starts at $29/month.

Next, you can upgrade to Shopify at $79/month; or

Then, Advanced Shopify at $299/month.

Lastly,  a Lite plan is available for $9 per month

4

Weebly

Weebly is a fully hosted builder platform

Secondly, it has plenty of website designs which you can use as a starting point for your website.

Also, it comes with built-in support for e-commerce.

In addition, it has built-in features for photo galleries, contact forms, sliders, etc.

Limited only to the features they offer.

Furthermore, you cannot hire a developer, designer, or team to add new functionality or features on your site.

Then, there are charges of 3% transaction fees per purchase made via your e-commerce store.

Comes with a basic free plan. Then their paid plans start from $8/month billed annually.

Next, pro plan costs $12/month, and

Lastly, the Business plan starts at $25/month.
What We Recommend As The Best Website Builder Platform
Accordingly, we believe that WordPress gets our top pick after carefully evaluating these website builder platforms due to what it can offer overall. In addition, you can also hire a developer to expand the website functionality on WordPress as your business grows.
So in conclusion, WordPress is an excellent choice for beginners as well as small business websites. Considering that some of the world's top brands are using WordPress on their websites gives it a thumbs up too. Therefore, we recommend getting started with WordPress as our #1 choice once you start to build your website.