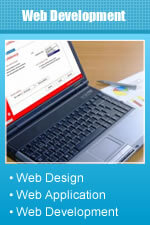 Aug 8, 2011
Syntactics Web Applications Development : What We Can Do For Our Clients and How We Do It
In the years of developing and implementing IT solutions, Syntactics have come up with strategies and measures to ensure that the applications designed and developed for our clients will suit the client's process and needs.
The time and cost it takes for us to develop a web application depends on the size and complexity of the application. Before we begin working with you, we spend time to determine the overall concept of your new system. From there, we will provide you with a detailed proposal outlining the functionality of your new system including costs associated with the project and the working timeline. At this point, we work as IT consultants, reviewing workflows and finding ways to streamline and improve processes. After this stage, we create the design for development and implementation. In all the stages in the process of coming up with the right application and solution, we make sure that the client is involved and sees the output for each stage prior to moving on the next phase.
Our Web application projects include the latest advancement of technology tools such as PHP, MYSQL, Smarty Template Engine, Adodb, PHP mailer and EXTJS. Our developers are constantly given trainings to update their IT knowledgebase to ensure that our clients always get the latest and best option in the development of their project.
Syntactics is at the forefront in the Philippine outsourcing industry when it comes to developing and implementing the right online application for small to large scale business. Contact us today and let our web consultants help you come up with right solution.