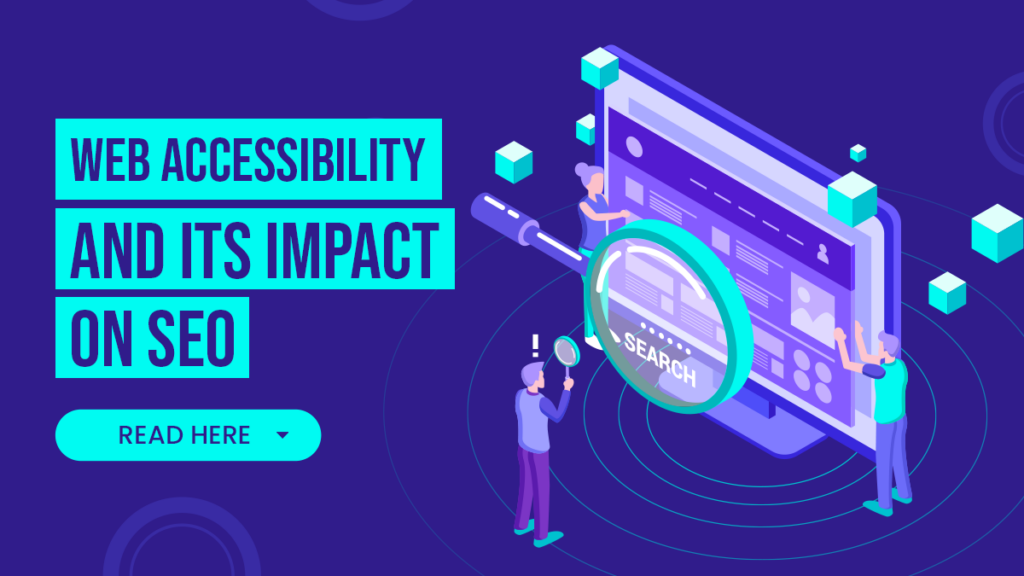 Jun 13, 2023
Web Accessibility and Its Impact on SEO
Web Accessibility and SEO complement each for the benefit of your website. Accessibility can result in improved Search Engine Results Page rankings for your site. To make your website accessible to all users, you should comply with the ADA or Americans with Disabilities Act.
In terms of business websites, it requires your page designs and functionalities to accommodate people with disabilities and impairments.
These impairments include the following:
Auditory;

Physical;

Cognitive;

Neurological; and

Visual.
If your website is ADA-Compliant, individuals with impairments or disabilities can access your web pages, and so can non-disabled users!
Being ADA-Compliant is also a crucial part of Website Accessibility. Following accessibility principles can also improve your overall site structure, integral to higher page rankings and more organic traffic. 
As a website owner, it's vital to follow Web Content Accessibility Guidelines when designing your sites to be more attractive to visitors. Not only that, but accessibility helps your target audience find your website.
It can be challenging to apply accessibility in website design. But it's still vital to ensure your website is accessible to users with disabilities.
Web Accessibility and Its Importance
Web accessibility is necessary for many High-Quality Websites. Following accessibility guidelines makes your pages more user-friendly for all people, including those with disabilities. As a result of following accessibility principles, websites will enjoy the following benefits:
Improved search results rankings;

Lower maintenance costs; and

Broader audience reach.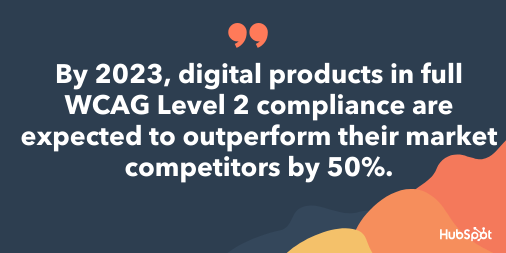 Source: HubSpot.
Improved User-friendliness
Accessibility is a crucial concern for aspects like Mobile-friendly Website design, Cross-Browser Compatibility, and of course, SEO.
But accessibility guidelines can also help people experiencing environmental impairments, like being in brightly lit areas. Also, an accessible website makes it easier for visitors with situational impairments — like limited Internet connection — to engage with your pages!
So, by complying with accessibility standards, your website will become accessible to all users regardless of their circumstances. A pleasant experience with an accessible site entices visitors into spending more time on your pages!
As a result of these features, compliant websites can be indexed more efficiently, thus achieving high SERP rankings. Also, they protect you from any legal consequences due to accessibility issues. If your website embodies these attributes, don't be shocked if your Engagement Rates go up!
How Web Accessibility Connects to SEO
Accessibility ensures all website visitors can readily perceive, navigate, and interact with your pages.
However, accessibility isn't one of the 200 Ranking Factors that have a say in page rankings. Even without this distinction, accessibility can still contribute to human users' and search engine crawler bots' perceptions of your website.
Accessible design can contribute to your website's Search Engine Optimization. In addition to improved online visibility, Website Accessibility can contribute to User Experience. Distinct color contrasts, alt text, and responsiveness are crucial to UX.
After all, customer satisfaction is a critical component of creating a quality website. Thus, an accessible site will gain more favorable SEO rankings from search engines.
Critical Elements for an ADA-Compliant Website
During your Web Design Process, you must consider the ADA to ensure equal access and usability. ADA-compliant websites are characterized by the following:
Accessible to people with disabilities, particularly the vision-impaired;

Navigable;

Properly-contrasting design;

Images have alt text; and

Keyboard-friendliness.
There are many considerations for Website Accessibility and ADA Compliance. Site owners need to perform several checks or tests, such as:
Verifying color contrast in website design;

Ensuring keyboard compatibility;

Inspecting videos for Closed Captions or transcripts;

Examining alt text for image or video content; and

Investigating the site's responsiveness.
Here are the critical elements to ensure your website is accessible and compliant with the ADA:
Clear Navigational Structure
A straightforward website structure allows human users to navigate the site's main pages. Additionally, search engine crawlers can better understand your site architecture for indexing purposes. Thus, website owners need to ensure their structure is optimized for accessibility.
To accomplish this, you must include the primary pages rather than the entire website in your structure. This keeps users from getting overwhelmed by the large volume of links to your content.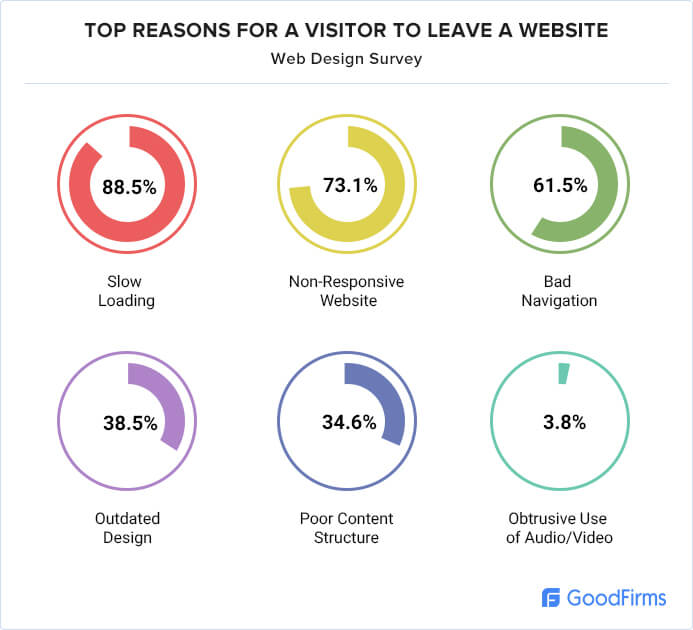 Source: GoodFirms.
Site owners should consider sitemaps, which provide an overview of vital pages and content. So, they offer transparent access to human users searching for content that interests them.
Sitemaps are also necessary to get the attention of crawler bots searching for links on other web pages.
Proper Usage of Header Tags
Incorporating keywords in headings can contribute to SEO, but they don't impact your SEO standing. In addition to making your content more organized, header tags make the page layout more readable and visually appealing.
However, header tag structures are vital for improved navigation — especially for screens that utilize assistive technologies. These technologies allow users with disabilities to navigate pages and locate desired content sections.
In particular, the H1 header tag will provide the main context of your content, usually accompanied by your primary keyword. This can give site visitors, both human and bot alike, an idea of what the page is about. The H2 and H3 headings can give them an idea of the page's structure.
Descriptive Link Anchor Text and Breadcrumb Links
As you add links to your website content, you must use relevant Anchor Text. Of course, human visitors, crawler bots, and screen readers can use anchor text to understand the page you're linking to.
So, avoid using generic phrases as anchor text, such as 'Click here!' Instead, it's best to utilize targeted anchor text that indicates the context of the linked page.
Additionally, breadcrumb links allow website visitors to trace their browsing journey back to the page they're currently on. So, these links should be descriptive and consistently placed so screen readers can easily find them.
Image Alt Text
Alongside most Image Optimization practices is adding alternative text to ensure your website is ADA-Compliant. Alt text offers an alternative to text regarding non-text content, especially for visually-impaired individuals. Screen readers will read the alternative text aloud as a user browses a webpage.
The text can also help when a site visitor is experiencing a slow Internet connection. Thus, it can interactively display information while improving searchability and organic traffic.
So alt text must be relevant and accurate to the media it's describing. But, you also can optimize image alt text using keywords or -phrases. Relevant descriptions in the alternative text will allow crawlers to understand image context, especially for image search.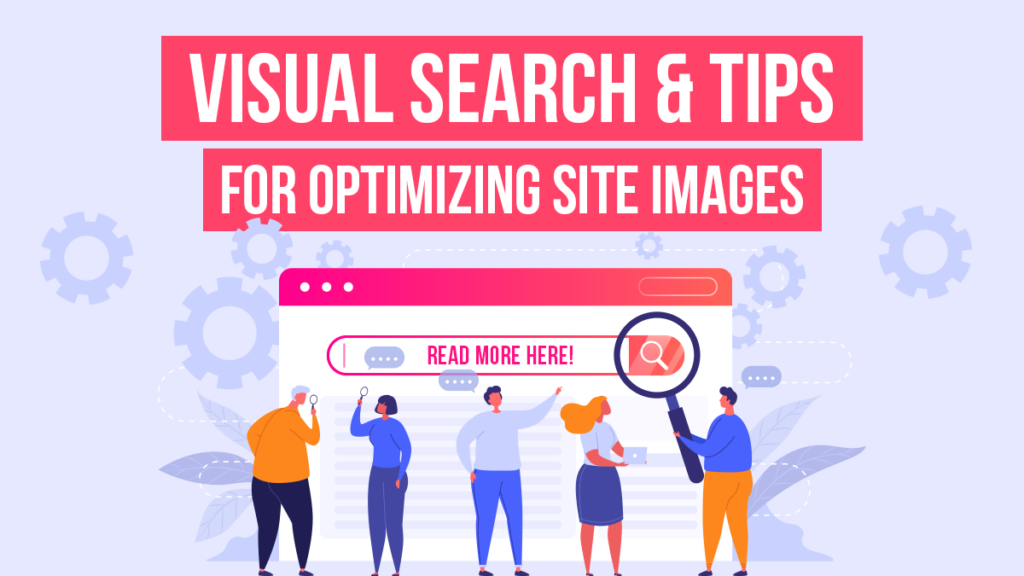 Still, it's best to avoid keyword stuffing, so balancing the descriptions with naturally-placed keywords is necessary.
Video Transcripts or Closed Captions
Images have alt text, so your ADA-Compliant Website's videos must have transcriptions or closed captions. This ensures that website content is accessible to users, according to Web Accessibility Guidelines. Thus, visual or hearing-impaired users watch a video without interruptions.
In terms of SEO, closed captions can allow search engines to better understand the content. As a result, they can more easily index the video content, boosting your SERP rankings.
Keyboard Accessibility
Keyboard accessibility is another vital aspect of Web Accessibility. Some website visitors who browse your site may have motor or visual impairments. Thus, they rely on their keyboards to navigate through web pages.
Thus, it's vital to keep your pages accessible to all keyboard users. You can make buttons, links, and form controls interactive to keyboards whenever possible. In addition, you shouldn't make a keyboard focus on non-interactive page elements to avoid causing confusion.
Contrast and Readability
Color contrast is crucial for Web Accessibility, particularly for visually-impaired users. The website contrast must allow users to perceive page content.
In addition, you must use simplified language rather than jargon to ensure all users can understand your content. Additionally, you must utilize more lists and left-aligned text in your text content.
URL readability is also vital to accessibility for your website. Site owners must use dashes to separate words to create understandable URLs. That way, both bots and humans can understand the page context.
Reduced User Interactions
To improve Website Accessibility for your users, you must limit the physical interactions on your site. After all, Googlebot and screen readers can't perform such actions.
Source: Planit Testing.
So, text should be added to your accordions and drop-down menus in the source code. That way, screen readers and bots can read content without interacting with the page.
Additionally, you should avoid having a hover feature to reveal content unless it's added to the code. Lastly, avoid keyword stuffing and use relevant language for the page content!
Final Thoughts
Website owners should consider Website Accessibility during the design and development process. That way, you can ensure that all users, including those with impairments or disabilities, can have a smooth User Experience.
In addition to improving the UX, following Web Accessibility guidelines means complying with the Americans with Disabilities Act. Doing so can improve your SEO standing on search results pages.
However, accomplishing SEO and accessibility at the same time can be challenging. So, consider talking to Dedicated Web Designers and SEO Services in the Philippines. Improve your usability by following accessibility and SEO best practices today!