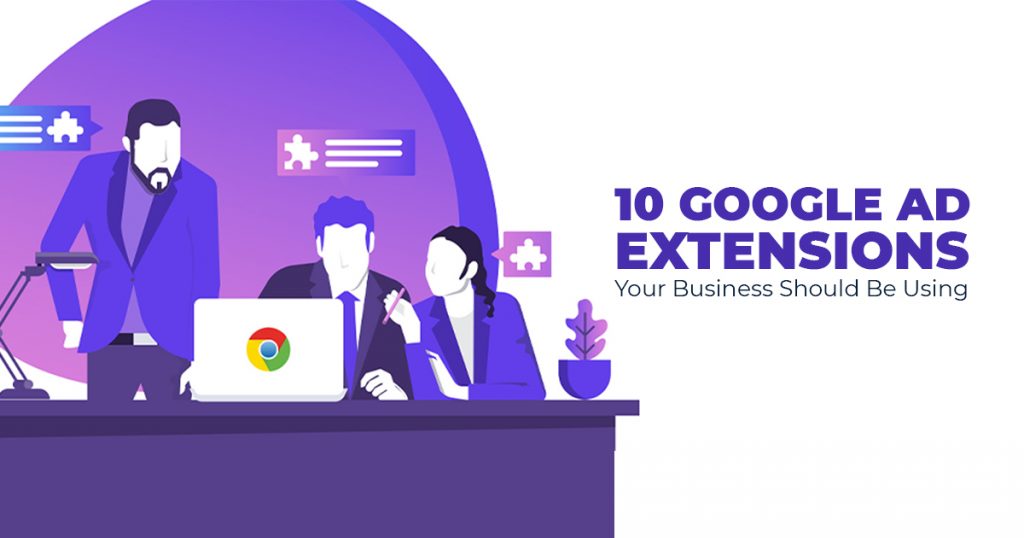 Mar 1, 2022
10 Google Ad Extensions Your Business Should Be Using
Wordstream reports that the "average conversion rate across Google Ads is 4.40% on the search network and 0.57% on the display network." It seems pretty low, right? However, did you know that you can still improve the effectiveness of your marketing ad campaigns? Yes! Aside from employing PPC strategies, you can also do it with the help of Google Ad Extensions!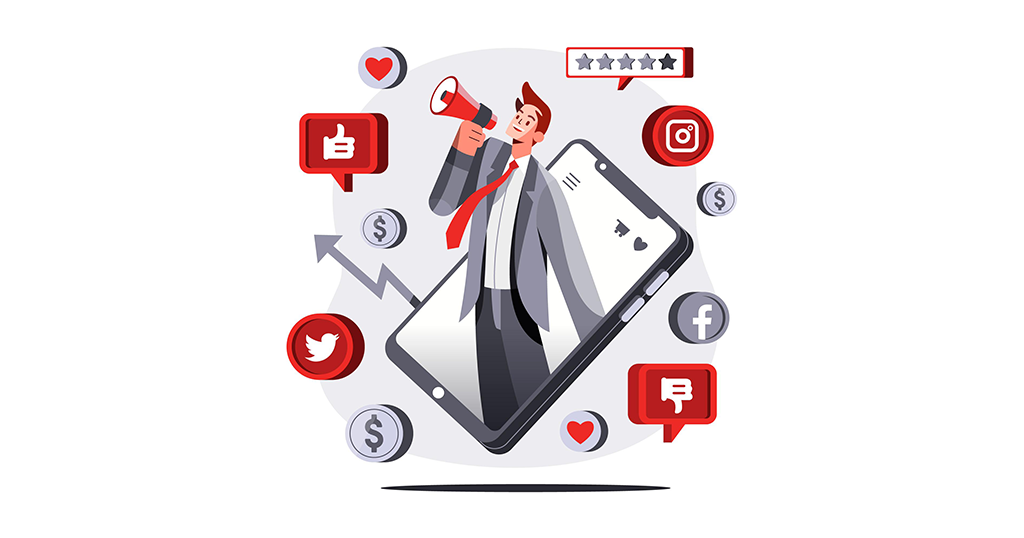 Why You Should Use Google Ad Extensions
A Google Ad Extension is a "feature that shows extra business information with your ad." These extra business information may include an address, a phone number, a store rating, or more webpage links. Did you know that you can achieve a 10 to 15 percent uplift in your clickthrough rate (CTR) if you implement a new ad extension?
Moreover, if you use Google ad extensions, you can get more ad space. Observe the example shown in the image below. The first ad displays more content and call-to-action (CTA) buttons. In comparison, the second ad only shows one line of information. Now, you can probably already guess which ad used an ad extension.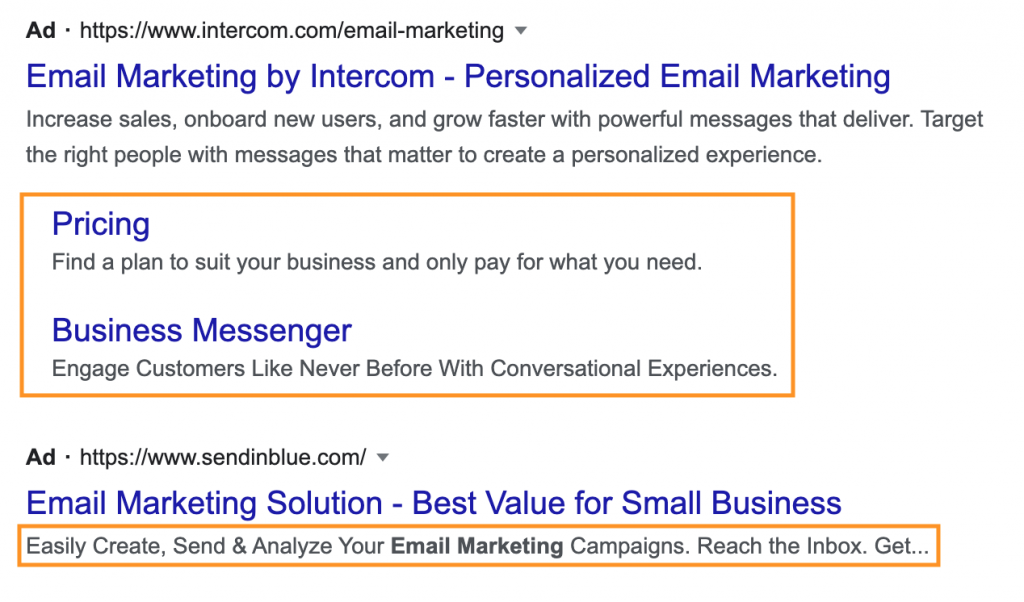 Aside from getting more ad space, you can also get more high-quality leads using Google ad extensions. You can provide more information to your target audience with more ad space. The use of ad extensions makes it ideal for filtering leads. In the end, you increase the chances of customer conversion.
How You Can Set Up Google Ad Extensions
You can easily create Google Ad extensions. Here are the steps:
First,

sign in

to your Google ads account.

Next, click on the "Ads and Extensions" tab, which you can find on the left side of the page.

After that, you should click on the "Extensions" button.

Then, hit the + button in the top left corner of the page.

Finally, select the appropriate option from the dropdown menu.
The Best Google Ad Extensions You Should Use
There are various Google ad extensions, and they perform different things. So, it would be best if you used the right ad extensions for your campaign and business. Here are the best Google Ad extensions that you can use to improve your marketing ad campaigns:
Sitelinks
The Sitelinks ad extension allows you to place different links in your ad. With this extension, you can provide users with additional options on where they would like to go on your site (see image below).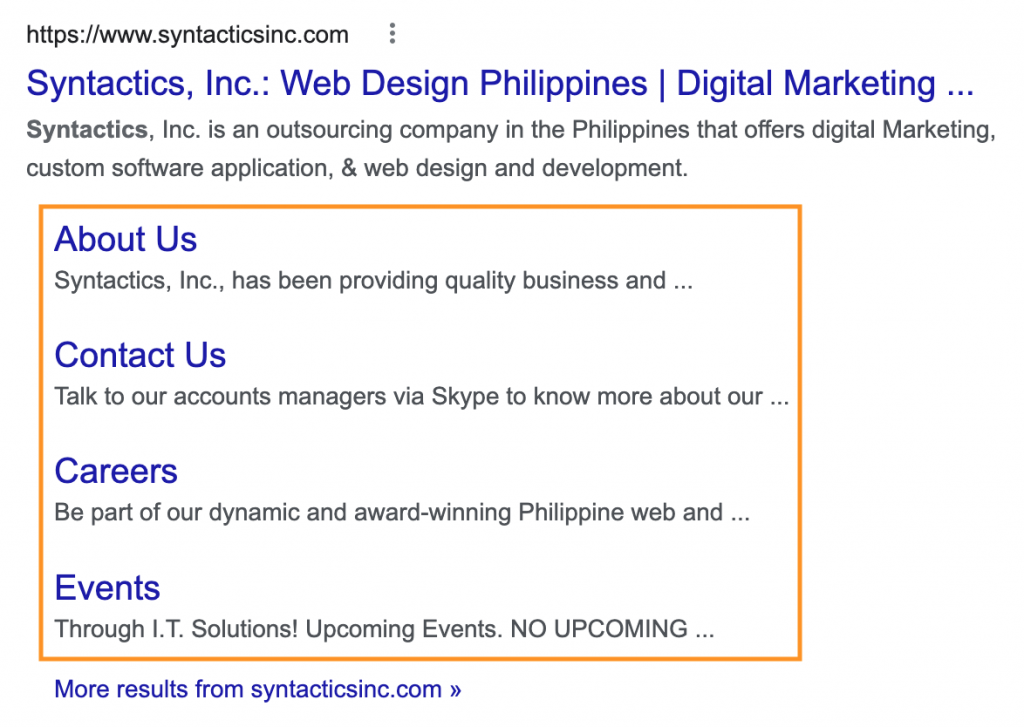 Thus, they no longer have to drop by your landing page or home page. They can immediately head to their desired web page instead. Note that you can only use four links at a time. As such, you must display the links that would help achieve your goals.
Call Extensions
As the name suggests, the Call Extension enables you to provide customers with a direct way to call you on their phones. As such, this type of Google ad extension works best on mobile devices.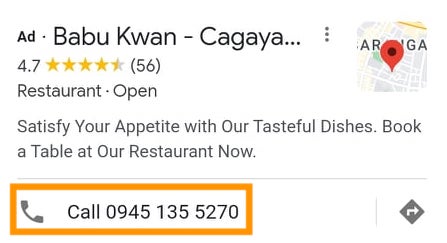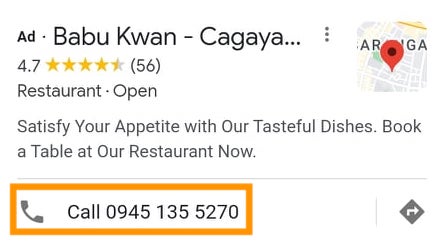 With this, users can easily click on the number and give you a call directly from the search engine result page.
Structured Snippets
You can highlight your products, services, and other features through the use of Structured Snippet ad extensions. With this type of ad extension, you can list various options visitors can get if they click through your site. Consider the example below showing what products a customer can expect if they click on the ad.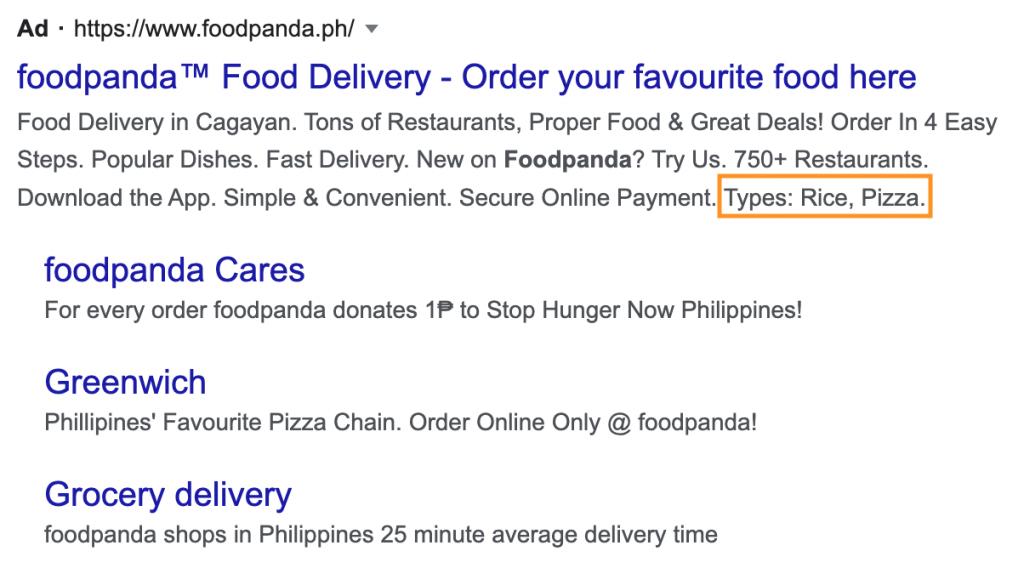 Therefore, the structured snippet ad extension helps inform users of your business and your offerings even before they land on your site. Structured snippets, thus, help filter the right ad clicks.
Note that you need a minimum of three values for your structured snippet. You also have a maximum of 25 characters per snippet. Lastly, try to aim for less than 12 characters for mobile users.
Location Extensions
The Location Extension allows you to place the physical address of your business in the ad. So, if your business needs physical visits for transactions, you can use this type of Google ad extension.
With the location extension, you can direct your target market to find you should they need your products or services.
Affiliate Location Extensions
You can use the Affiliate Location ad extensions if you sell products through retail outlets. This type of ad extension can help reach customers looking for your products. 
If you use this extension, Google will display as an address or on a map the nearest location where your product is sold.
Lead Form Extensions
With Lead Form extensions, you can insert a form in the ad to collect important customer information. Using this ad extension will help you collect feedback, answer customer queries, or gauge user interest.
Note that you can use the lead form ad extension in your search, video, discovery, and display ad campaigns. You can then better plan your marketing funnels using the data you collect through these forms.
Price Extensions
Yes, you guessed it right! The Price Extension is a type of Google ad extension that allows you to put a price on your products or services in the ad. 
So, if a customer clicks on a particular price in your ad, Google will lead them straight to that product's web page.
Promotion Extensions
With the Promotion Extension, you can highlight any offers of discounts or vouchers that you may have. Doing so will encourage your target audience to purchase a product or avail of your services.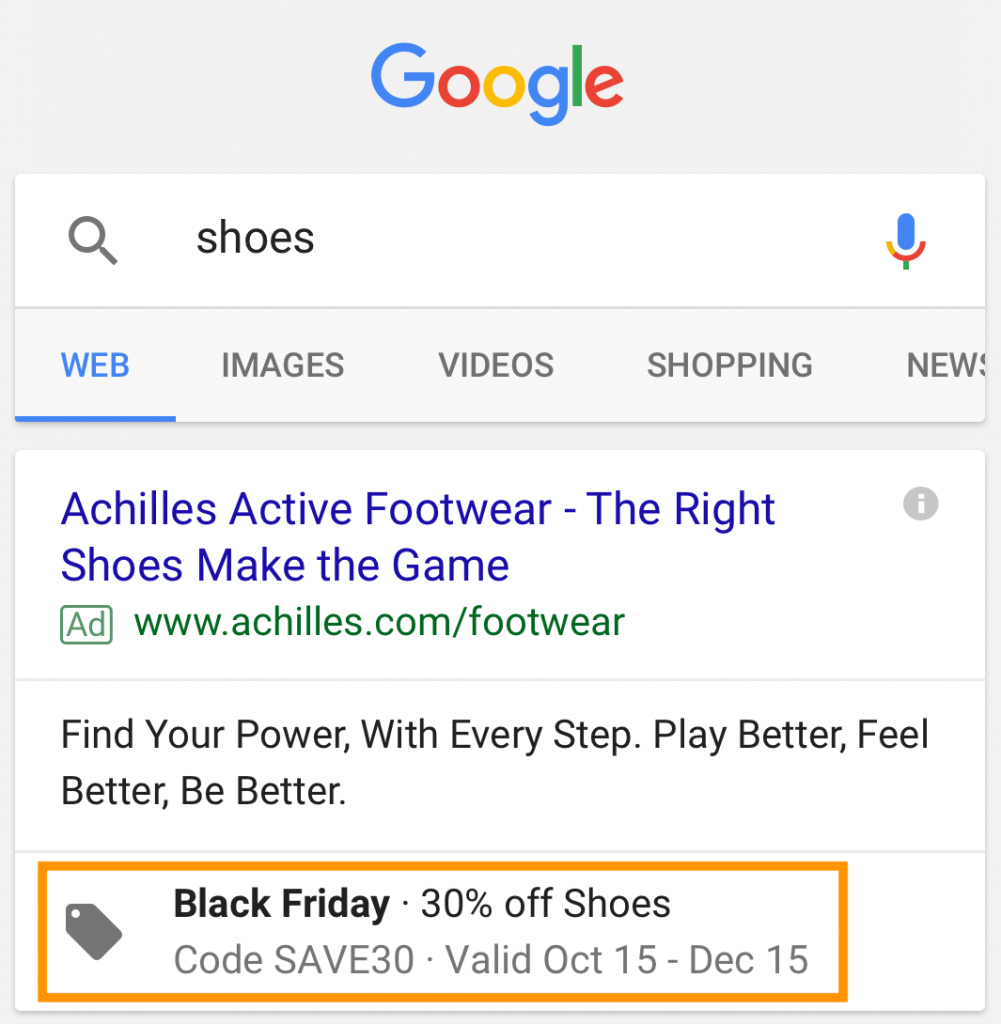 Image Source: Search Engine LandIf you use this Google ad extension, you can display the price, discount percentage, promos, vouchers, and other information to help attract your customers.
Callout Extensions
In general, you can use the Callout Extensions to say anything. For example, you can talk about your products and services. You can even discuss upcoming events or special promos. Thus, this Google ad extension attracts customer attention by "calling out" to them.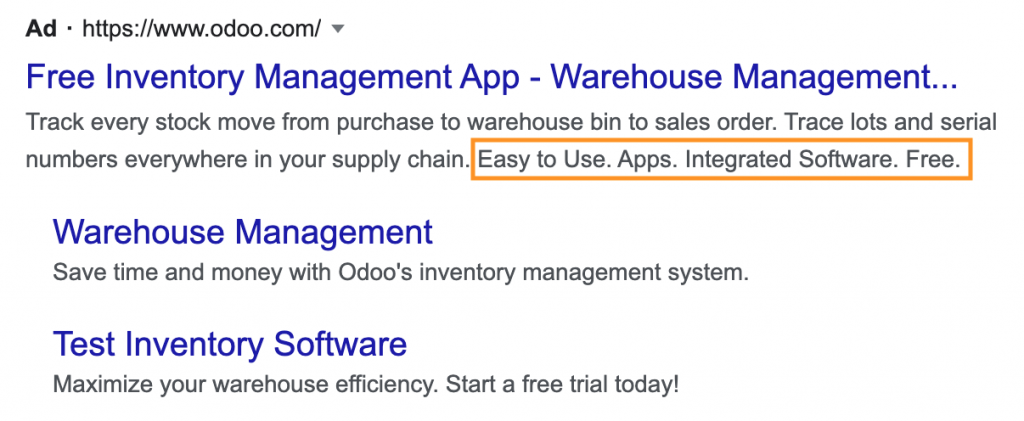 Common callout examples include the following: "free delivery," "pick-up service," "free shipping," "24/7 support," and more.
App Extensions
If your business has an app, the App Extension will be great for you! What this extension does is encourage your target audience to download your app.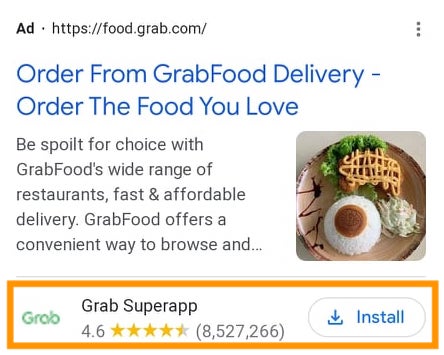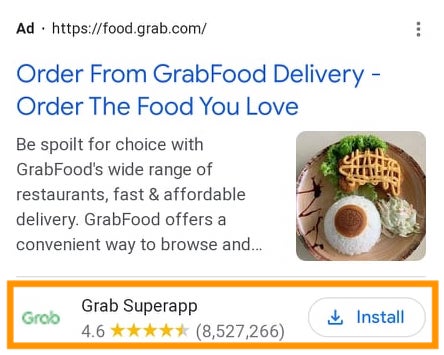 Thus, they can use their mobile phones to interact with your business using the app. They no longer have to use a desktop computer or a laptop to access your products and offerings.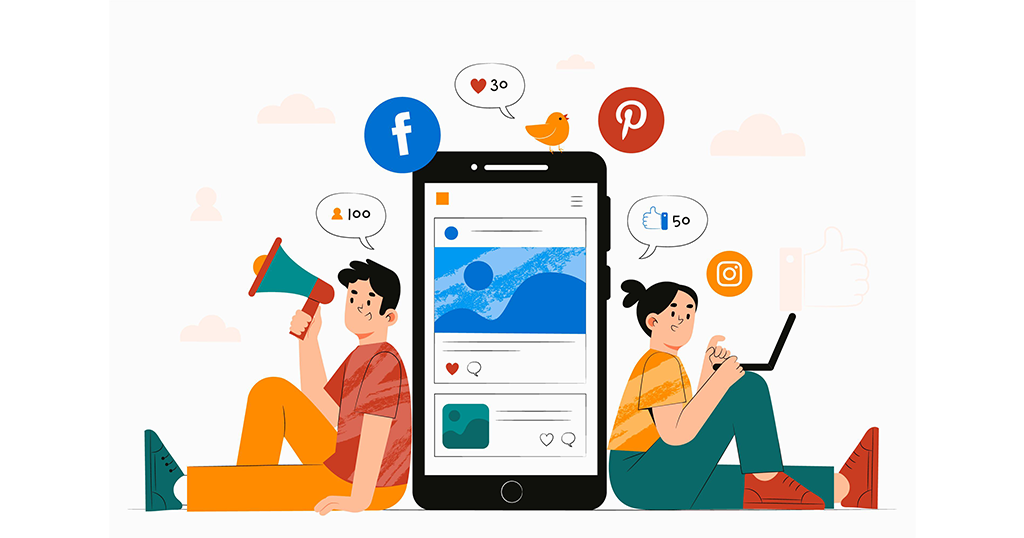 Do you still need more help determining which Google Ad Extension to use for your marketing campaigns? Then, seek help from a digital marketing company that provides PPC management services now!