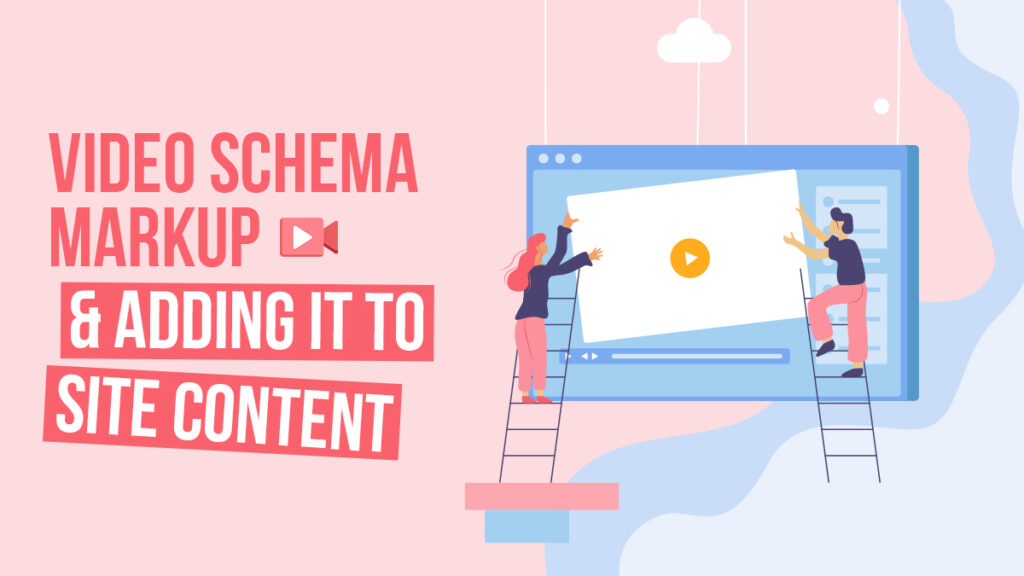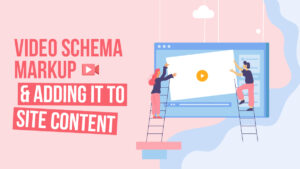 Jan 12, 2023
Video Schema Markup & Adding It to Site Content
All companies with an online presence are vying for the top spots of desirable Search Engine Results Pages, using a variety of Digital Marketing Strategies. One effective strategy is using Video Schema Markups to provide better content visibility on SERPs.
Video is an excellent media type for engaging with your intended audience. Some videos, such as 'How-To' videos or product demos, can rank on SERPs even higher than websites. Thus, optimizing your business' videos is a valuable Marketing Strategy, as it can spread your reach.
Schema Markup lets you speak the language of several search engines — including Google. Thus, you can make essential information for website content clearer to them. In addition to video, you can use schema on blogs and other website pages.
Because of Video Search Engine Optimization, Google users will sometimes find videos on the first page of particular SERPs. In addition, Google shows Rich Snippets of web pages, particularly for pages containing video content.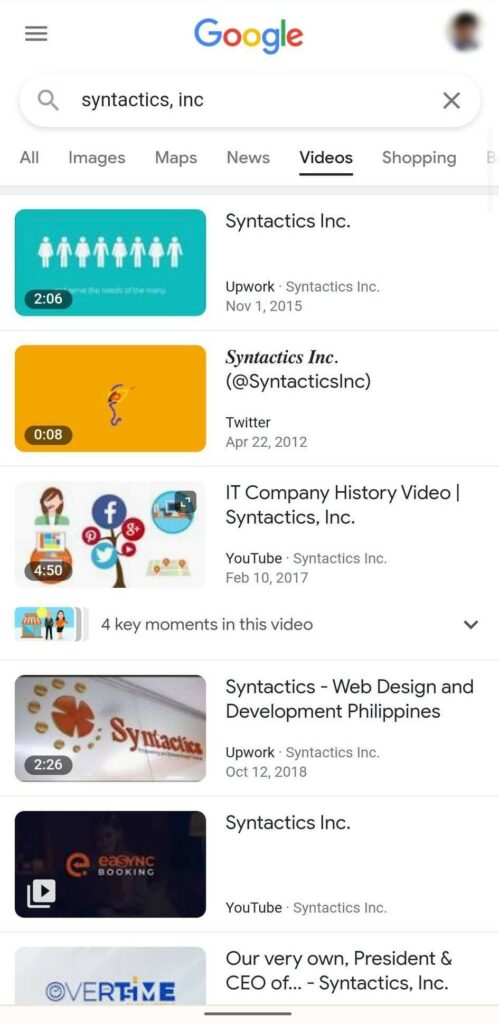 Using Structured Data for Better Site Content Visibility
54% of consumers enjoy seeing video content from companies or brands they support. To make your content more visible on search results, you must use Schema Markup. A direct consequence of this is boosted rankings and more organic traffic to your site.
You can always use Competitor Keyword Research to target your rivals' keywords and use them to your advantage. However, Structured Data allows search engines to understand information on your website. Information on your site has to be decoded and interpreted by search engines before they can rank them on SERPs.
Thus, SEO Specialists should direct organic traffic to high-converting pages. For instance, a Landing Page with an embedded video is critical to drawing attention to your products or services. Then, Schema Markup for such Landing Page Videos can display details about your content on SERPs.
So, you must utilize the best practices for marking up your video.
Best Practices for Creating Video Schema for Google
Website owners must ensure that their video content is as understandable as possible. Also, SEO Ranking Tips, when used to optimize your video content, will ensure that your videos appear on the right SERPs. Not only that, but your videos may also appear in the Google Images and Discover sections.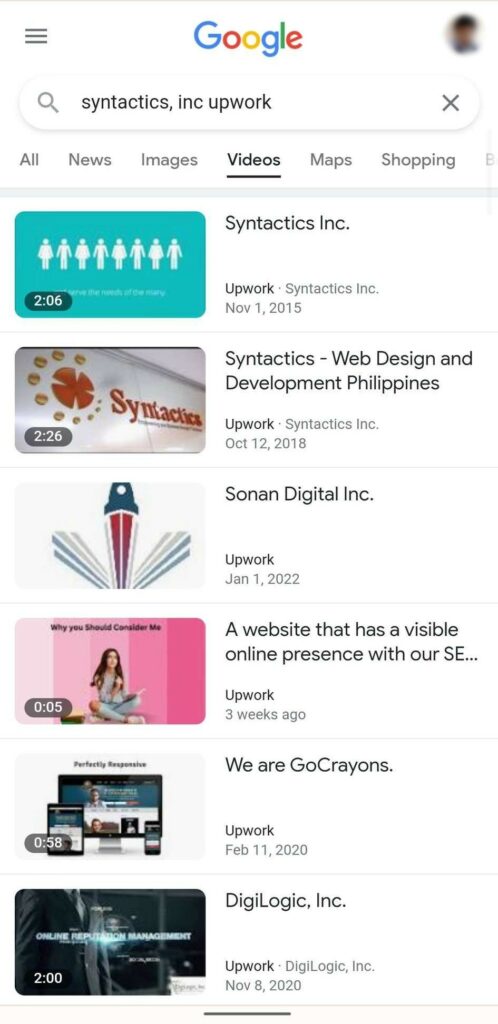 Schema Markup lets you speed up the Google indexing and ranking process. However, knowing the best practices for implementing Video Schema Markup, whether YouTube or otherwise, is essential:
Determine the video content you want to rank.
Include your keywords in the video title and description.
Keywords should also be added to the pages you embed the video content.
Update the Schema Markup code often as your videos change.
Avoid Video Schema stuffing or adding too many keywords to your code.
Use the preferred video schema format for your desired search engine — for Google, it's JSON-LD.
Test codes with validation tools.
Also, you can use a tool to keep an eye on your schema results.
Add information to all necessary fields.
Be descriptive with your titles and descriptions.
Tag and categorize your video content properly.
Add description thumbnails to video content.
Adding Schema to Videos Embedded in Website Pages
Several properties must be in your YouTube Video Schema Markup to avoid any issues with Google. If you've added this information to your code, your videos will be more accessible for indexing. As a result, Video Marketers must be sure to optimize content for search results!
But before you implement Video Schema, you must check if your intended page supports Rich Results. Fortunately, Google Search Console offers an excellent Rich Results Test you can use to accomplish this. You're ready to add your schema if the Rich Result page displays this: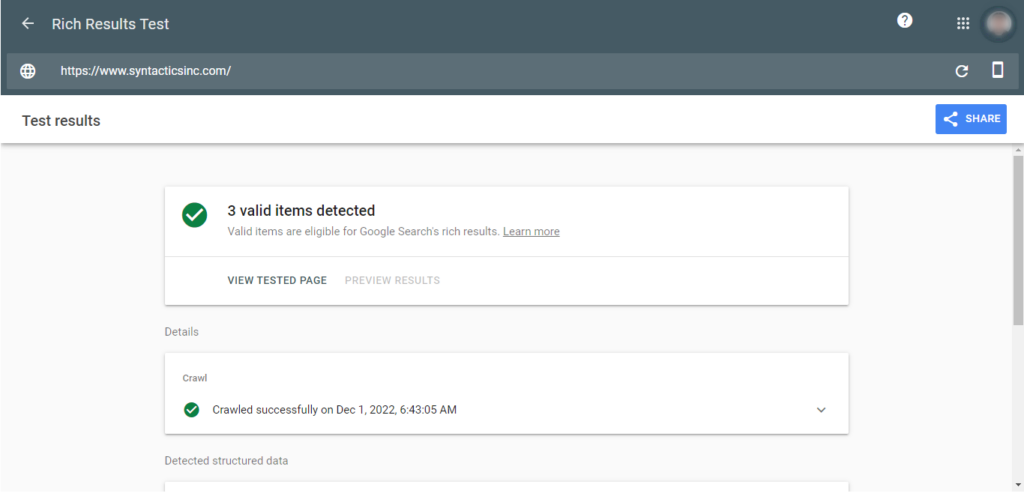 So, here's what you need to include in your Schema Markup code:
An understandable video description;
The video's title, which should include your desired keywords;
A URL that can redirect from your video's thumbnail image;
The upload date, specifically the date of the video's first publishing;
A URL navigating to your video;
A URL navigating to a video media player;
The video duration;
The video's expiration date (if applicable); and
How many views the video has (if applicable).
Manually Adding Video Schema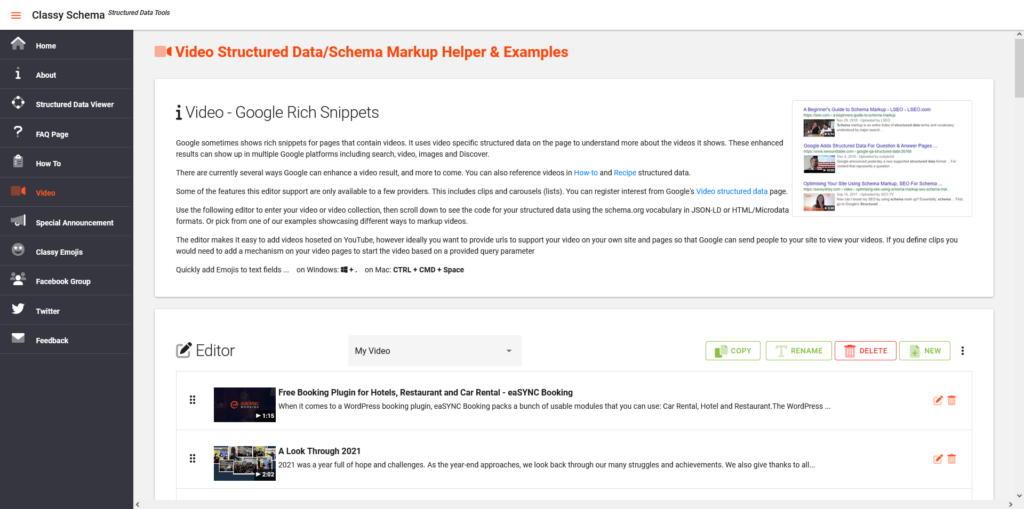 Source: Classy Schema Structured Data Tools.
To manually add your Schema Markup for Video Content, you'll need the Classy Schema Video Schema Markup Generator. You can use it to manually generate your schema in either JSON-LD or HTML.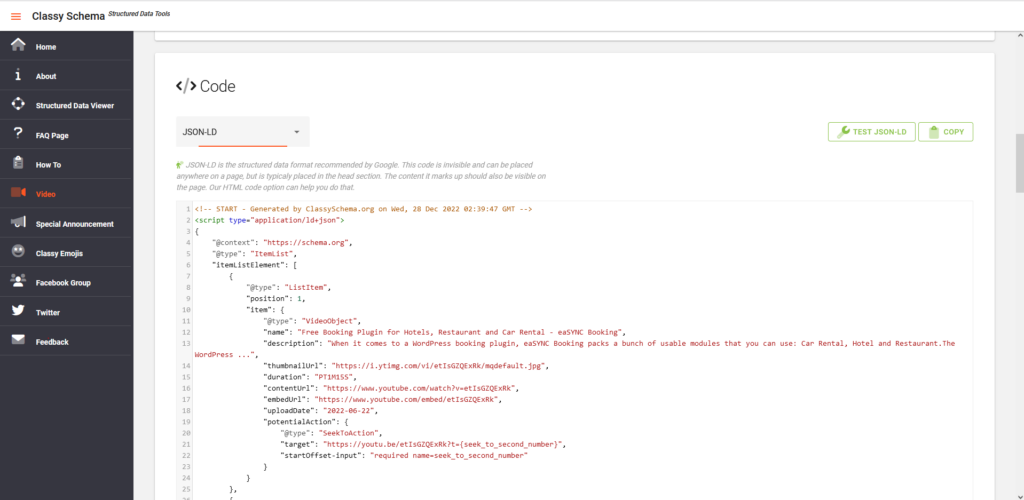 Source: Classy Schema Structured Data Tools.
Then, you can add the code to your website, usually via your Content Management System of choice.

Source: Classy Schema Structured Data Tools.
Automating Video Schema With Tools
If you don't want to create a markup code from scratch, you can check out the following WordPress plugins.
Yoast;
All in one Schema Rich Snippets; and
Schema Pro.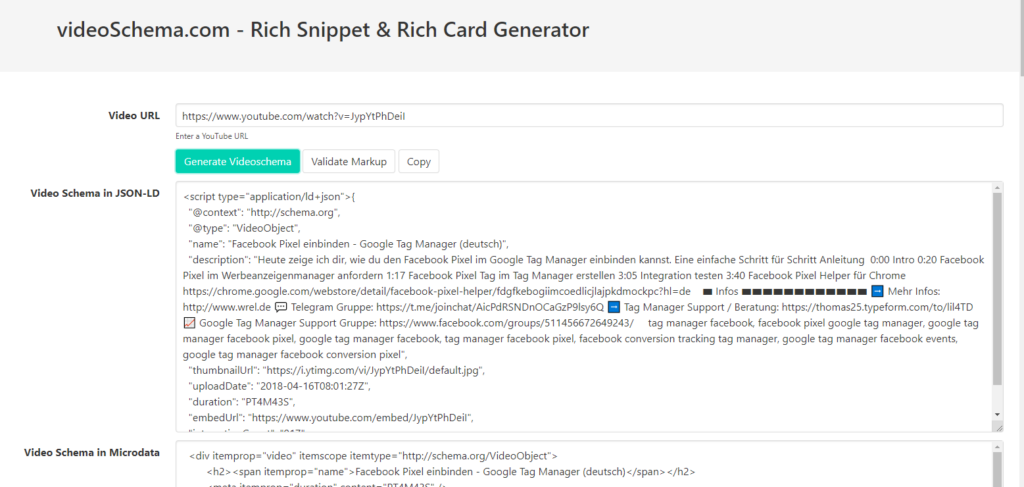 The Videoschema.com Tool can help you generate Rich Snippets for YouTube videos.
Adding Video Schema via Tag Manager
Now that you've prepared your Google Video Schema Markup code, it's time to add it to your website. If you have previous experience with Google Tag Manager, then you're on the right track. Tag Manager can verify your Search Console account, but it also allows you to add Video Schema.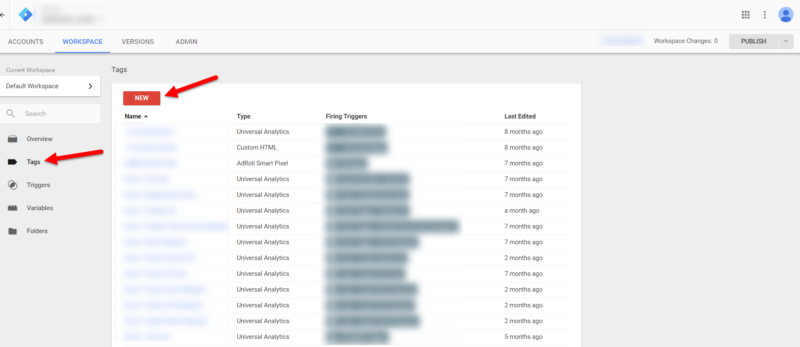 Source: Search Engine Land.
From your Tag Manager dashboard, go to your 'Tags' and click 'New.'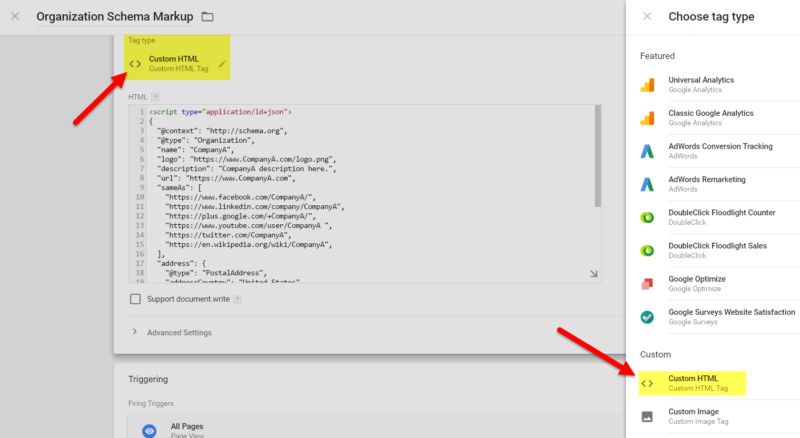 Source: Search Engine Land.
Afterward, name the tag the same name as your page and video, such as 'Organization Schema Markup.' Next, select 'Tag Configuration,' then click 'Custom HTML.'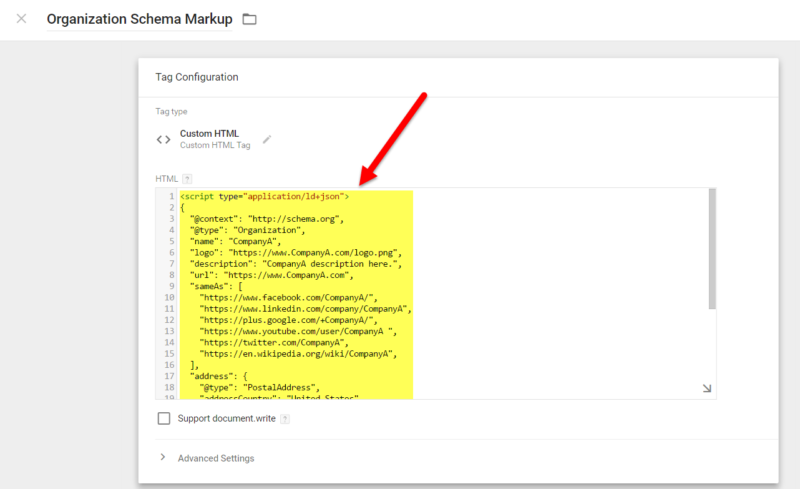 Source: Search Engine Land.
Next, you must paste the schema in the provided area. The Rich Results Test allows Tag Manager users to examine if the code is correctly formatted.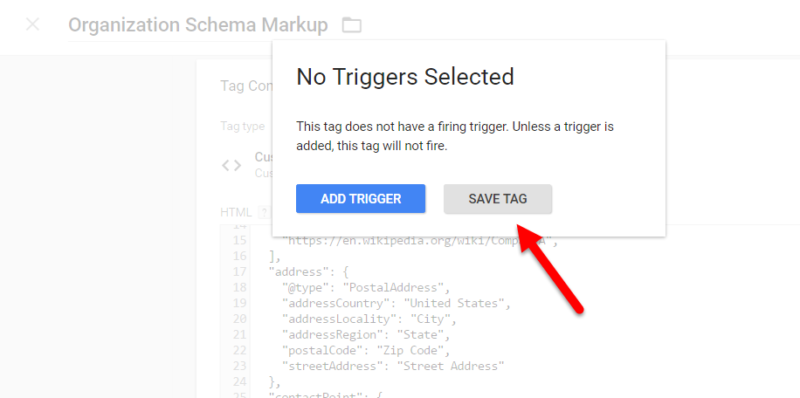 Source: Search Engine Land.
Then, Video Marketers must click the 'Trigger' section and the '+' symbol to add a trigger. So, you must change the name and add trigger settings.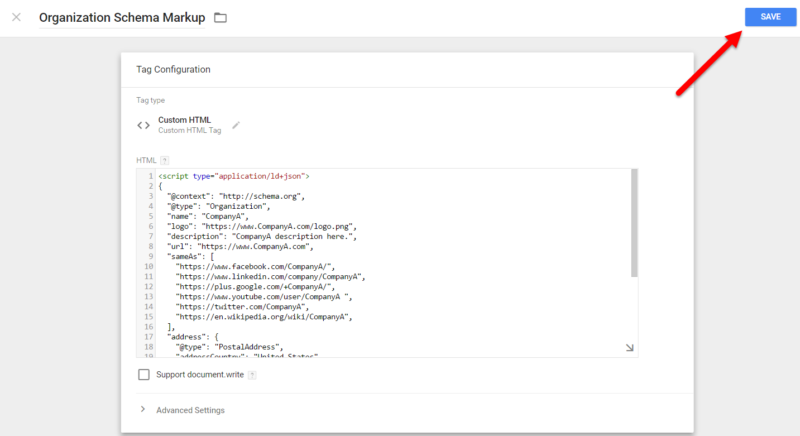 Source: Search Engine Land.
You can save them once you're satisfied with the settings.
Before publishing your video schema, check on the tag via the Preview and Debug feature.

Source: Search Engine Land.
Once everything is to your liking, Video Marketers can publish the tag to add the schema.
Final Thoughts
Google crawls and indexes pages and gains information on content. However, Video Structured Data or Schema Markup code can benefit your website content and YouTube videos. It can ensure that information on website content is accurate. Video Schema assists search engines in understanding the content on the Internet.
Structured data on a page will provide information about a video embedded into it, which search engines can easily read. So, you can find more potential customers with the help of Schema Video Markup.
Google will decide if and when it will add your video to SERPs. But with the right code, you can boost your chances of getting noticed. However, Video Marketing Specialists still need to use it properly to avoid errors and get a better Google SERP standing. Fortunately, Web Developers in the Philippines can help your Video SEO Strategies by adding Schema Markup.