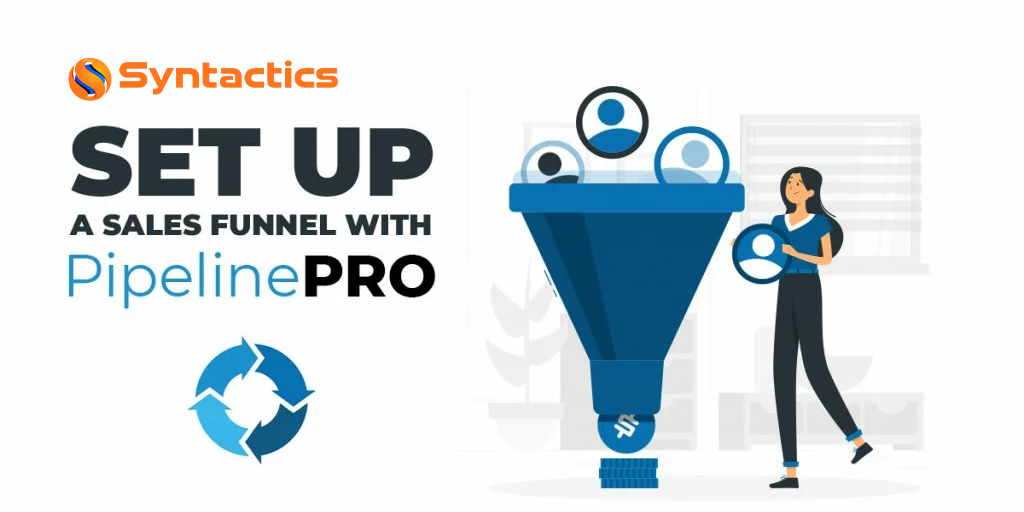 Oct 23, 2023
PipelinePRO Funnel Setup: A Step-by-Step Guide
A sales funnel, or a digital marketing funnel, is a tool that helps marketers lead people through the customer journey. Fortunately, you can set up a sales funnel with PipelinePRO.
Customer behavior data allows businesses to devise better strategies and make informed decisions. In particular, a large number of marketers used customer data during decision-making.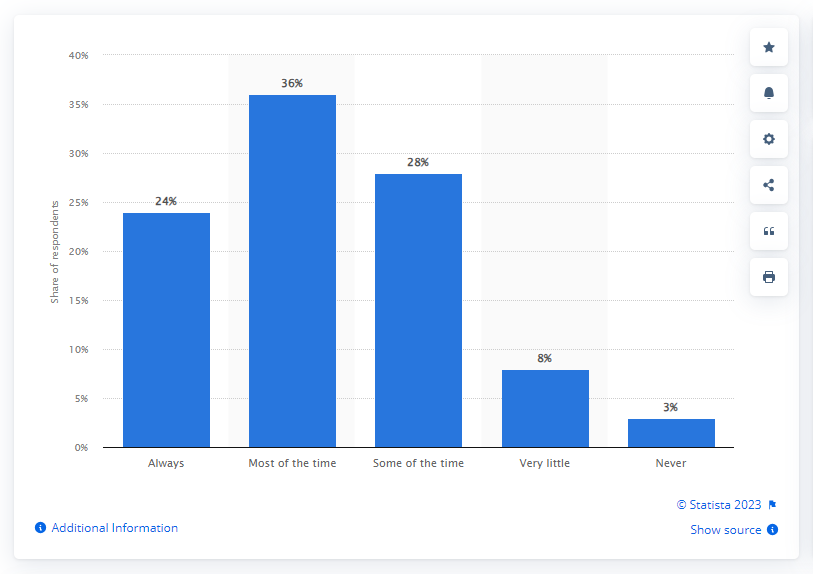 Source: Statista.
Thus, consider the sales processes that provide a polished customer experience, enticing them into patronizing your business. You can entice customers to become loyal customers by setting up a sales funnel. 
One sales funnel tool that businesses use is PipelinePRO.
Or, Find a Skilled Virtual Assistant
to Set One Up for You! Click Here.
What is PipelinePRO?
Over 570,000 websites use "at least one" sales funnel builder tool, and among these, PipelinePRO stands out as an all-in-one solution. This versatile funnel builder enables people without coding training to set up a funnel. Also, it's easy for someone to create a funnel using a prepared template or from the ground up.
PipelinePRO advertises itself as a sales tracking dashboard that gives users an overview of the complete sales pipeline. Though it can build marketing funnels, it mainly focuses on pipelines.

Source: Pipeline PRO.
So, in addition to funnel setup, PipelinePRO's features include displaying calendars and analytics and website creation.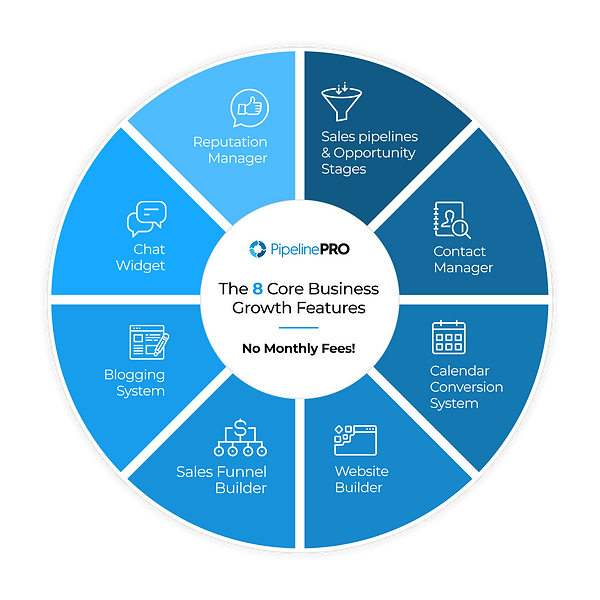 Source: Pipeline PRO.
Usually, the price is around $497, but if you buy now, you can avail of a special offer at $37. In addition, customers don't pay the amount monthly — they only pay once, and the service lasts a lifetime.
How Do You Set Up a Funnel with PipelinePRO?
With PipelinePRO, your funnel builder data is all in one place. Thus, you don't have to move your leads or prospects from one platform to another through any integrations.
Of course, PipelinePRO has a Sales Tracking Dashboard that gives you a comprehensive view of your funnels. For instance, users can evaluate how customer engagement is coming along. 
There are multiple ways to create a Digital Marketing Funnel. But the next section will teach you how to set up a PipelinePRO funnel from scratch.
When making a digital marketing funnel, you can make it yourself (you can watch the PipelinePro funnel builder demo on YouTube)! Otherwise, you can ask a website technician to create it for you.
Contact Our IT Support Services for Assistance Today!
You must optimize your conversion rates to convert site visitors into customers while building your funnel.
Step 1: Go to the Dashboard
PipelinePRO's funnel builder is powerful yet easy to handle. Firstly, you'll set up the sales funnel from the PipelinePRO Dashboard after you log in. You can see the Dashboard and many other options in the sidebar menu, including the Launch Pad, Conversations, and more.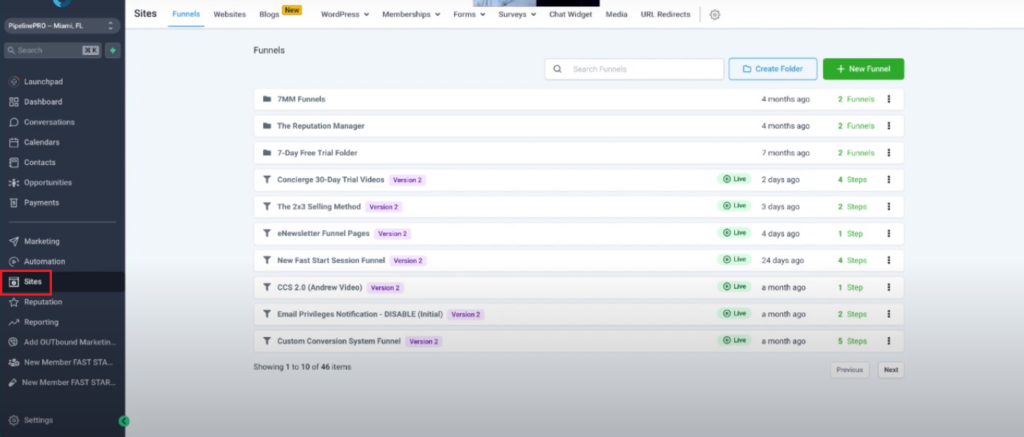 Source: PipelinePRO via YouTube.
Go to the left-hand menu on the Dashboard with all the essential options. Next, click the Sites option to see the menu bar for funnel creation. The Funnels tab contains a list of sales funnels you've set up if you've made some before. It even has a search feature that helps you navigate past funnels. 
Creating funnels or sites isn't an add-on but comes with PipelinePRO's one-time license purchase.
Step 2: Click  + New Funnel
Next, you'll want to click the green button that says + New Funnel near the top right-hand side. 

Source: PipelinePRO via YouTube.
Click it, and a popup box will appear, prompting you to name the marketing funnel.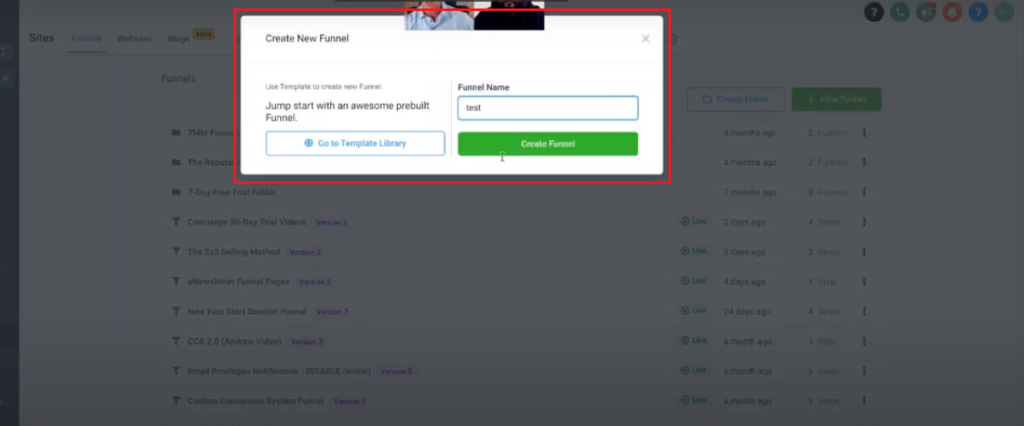 Source: PipelinePRO via YouTube.
The left side of the popup will allow you to make a funnel from a template. But this article will go with the latter option: building it from the ground up. Once that's done, you can move on to the next step.
Step 4: Set Up Your PipelinePRO Funnel
Once you've selected the option to create a funnel, you'll find yourself on a specialized page.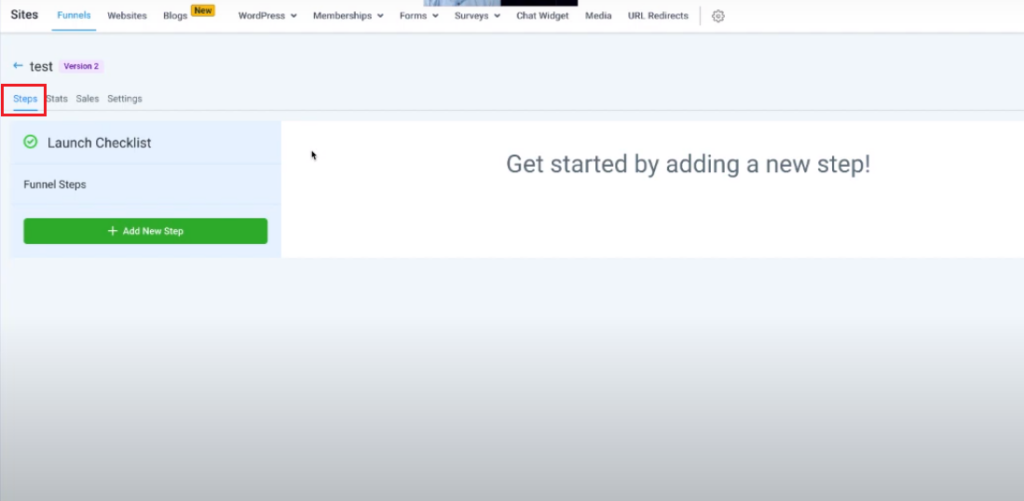 Source: PipelinePRO via YouTube.
Beneath the title you inputted during the last step, you can see the Four S's: Steps, Stats, Sales, and Settings. (The last three aren't necessary for the building process.) 

Source: PipelinePRO via YouTube.
Under the Steps heading, you'll see the Launch Checklist and Funnel Steps.
Step 5: Click  + Add New Step
PipelinePRO is a drag-and-drop builder, so you can input additional items, such as a funnel from ClickFunnels. Once you click the + Add New Step button, another popup will ask for several details.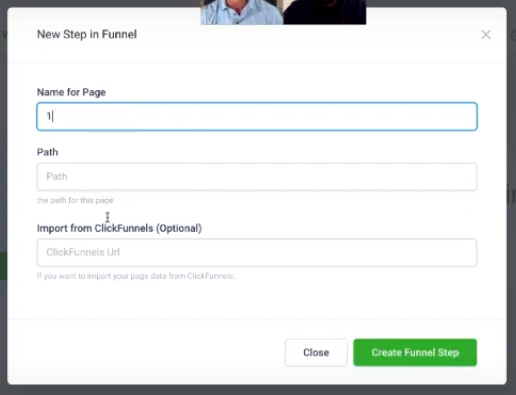 Source: PipelinePRO via YouTube.
These include Name for Page, Path, and an option to Import from ClickFunnels. (But you only need the name to click Create Funnel Step.)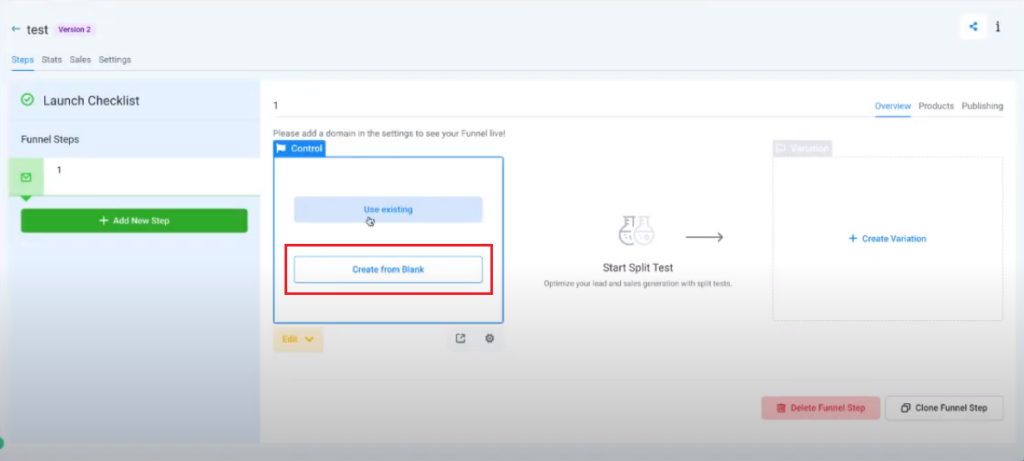 Source: PipelinePRO via YouTube.
After that, you'll notice that your PipelinePRO sales funnel page has new features. For this article, you need to select Create from Blank.
Step 6: Go to the Builder and Start Building!
In this step, you'll be sent to the builder, a drag-and-drop tool! Everyone can make a funnel with the many settings and options PipelinePRO has to offer.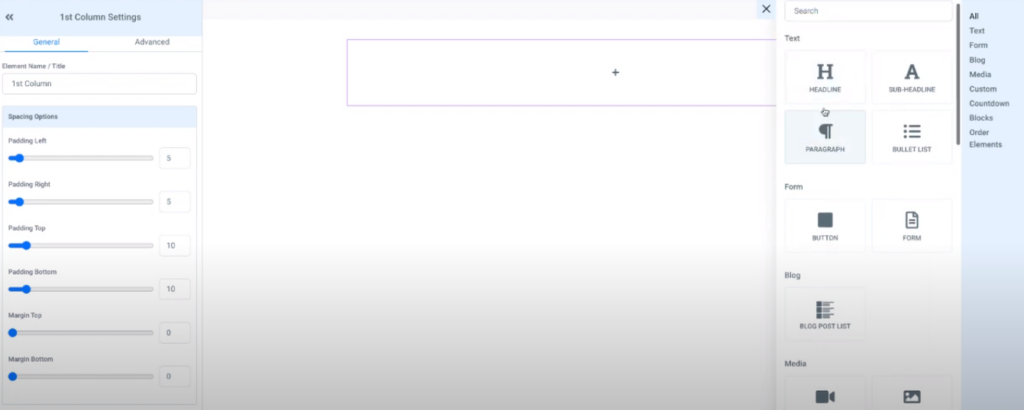 Source: PipelinePRO via YouTube.
You have control over how each page in your funnel looks, as there are options for customization everywhere. As a result, you'll be able to map out your dream funnel in no time.
Need Professional Graphic Design Expertise?
Contact Us Today!
Bonus: What You'll Find in the PipelinePro Funnel Builder
On the left-hand side of the Dashboard are options under the heading Section Settings. Under General options are padding, shadowing, and imagery.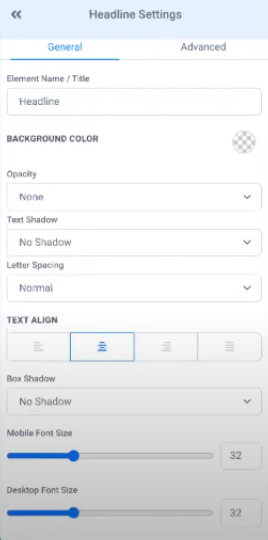 Source: PipelinePRO via YouTube.
This section also contains Advanced options.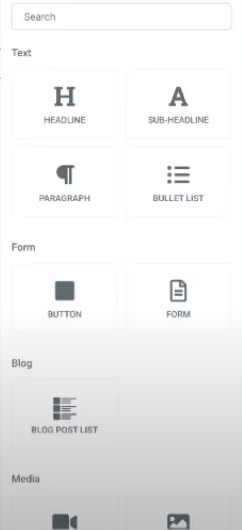 Source: PipelinePRO via YouTube.
But on the right-hand side, one can input more noticeable elements, including the following:
Text

, where you can change headlines, sub-headlines, paragraphs, and bullet lists.

Secondly, the

Form

section allows you to add buttons or forms.

Blog

lets you create a blog post list.

Media

lets you add images and videos, which increase conversion rates by

at least 60-80%

.

Custom

includes options for adding custom JS or HTML, surveys, calendars, maps, etc. are also within the right-hand tray

Also, you can create a

Countdown

, minute timer, or day timer!

The

Blocks

section contains options for a navigation menu, divider, progress bar, and image feature.

Additionally, you can check the

Order Elements

, which have 1- or 2-step orders and order confirmation options.
Set Up a Sales Funnel to Boost Your Digital Marketing Success
When looking for a product or service to satisfy a current need, customers consider its features, efficacy, and pricing. And this is where the power of a sales funnel comes into play. Marketing sales funnels help businesses map out the course of the customer journey. Also, it allows you to optimize your online marketing strategies and targeted messaging for maximum impact.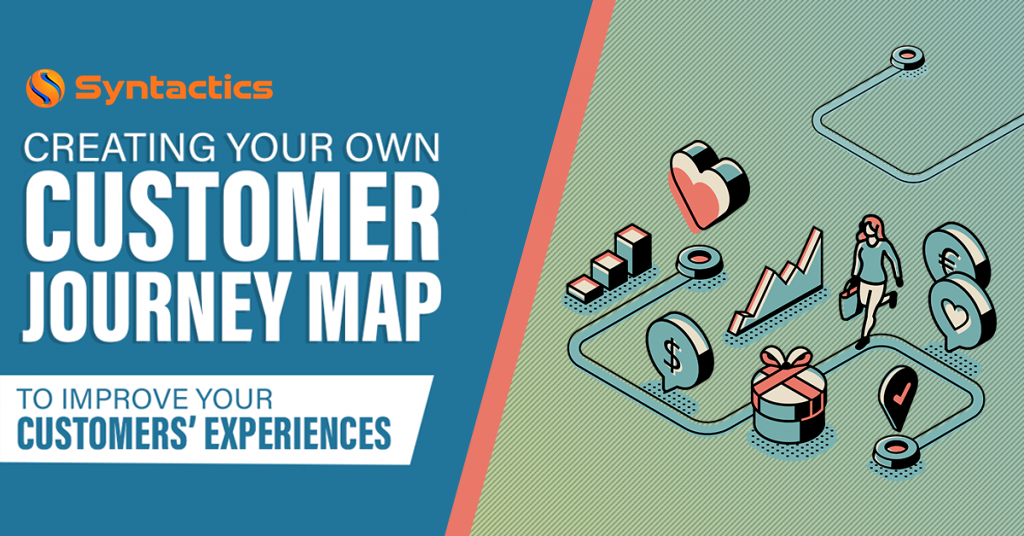 Sales funnels are scalable and can vary in complexity, so marketers can adapt them to suit their campaigns. Businesses can even utilize the Marketing Flywheel rather than the traditional funnels!
You cannot understate the importance of a sales funnel. It's a way for customers to know more about your services or products while giving them a memorable experience.
Setting up a PipelinePRO sales funnel for your business is something you can handle on your own. Alternatively, you can seek the expertise of a Digital Marketing Company from the Philippines to enhance and improve the customer journey.