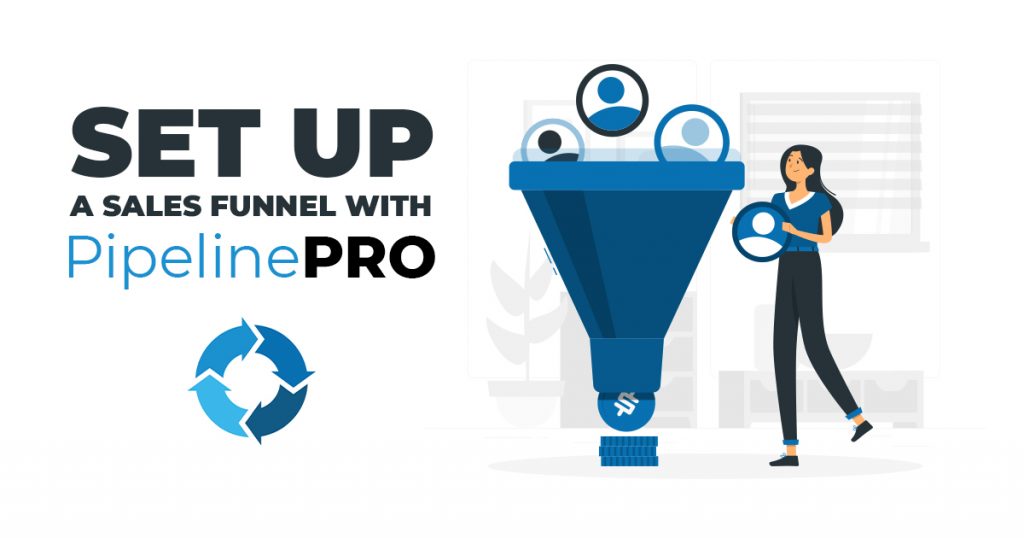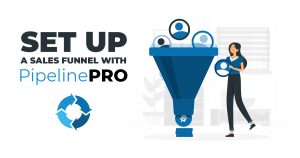 Aug 27, 2021
PipelinePRO Funnel Setup: A Step-by-Step Guide
A sales funnel, or a digital marketing funnel is a marketing tool that can net you deals with customers. Text, graphics, and coding work together to create an appealing trail of pages that lead to a customer-business experience that lasts a lifetime. Read further to learn how to set up a sales funnel on PipelinePRO.
Harvard Business Review stated that 68% of sales representatives believed in the idea that "more information generally helps customers make better decisions." When looking for a product or service to satisfy a current need, you have several considerations to make: its features, its efficacy, and its pricing chief among them all. Of course, your rivals are also vying for your customer's favor, but you want the customer to choose your business in the end.
You have to consider the sales processes that provide a polished experience for your customers, which will entice them into patronizing your business. One way to do that is: set up a sales funnel using PipelinePRO.
What is PipelinePRO?
PipelinePRO advertises itself as "the one-and-only Sales Tracking Dashboard built for elite Business Owners who want to SEE their entire Sales Pipeline from front to back and hold EVERY stage of it (and everybody involved) accountable."
As one may infer, PipelinePRO isn't specifically a funnel builder—it mainly offers sales pipelines that enable you to view analytics on the Dashboard. Plus, PipelinePRO displays contact information, calendars and analytics. Finally and most importantly, it allows you to create websites and funnels. But, PipelinePRO isn't the only tool that can make digital marketing funnels.
Usually, the price is around $497, but if you buy now, you have a special offer priced at $37. In addition, customers don't pay the amount monthly—they only pay once, and the service lasts for a lifetime.
How do you set up a funnel with PipelinePRO?
Andrew Cass, PipelinePRO's Strategic Sales Advisor, adds that "the uniqueness of having a funnel builder live inside your CRM, or live inside your Sales Tracking Dashboard, is the fact that the data all stays in one place—your leads, your prospects, your customers, all come into your funnel and we don't have to try to move them from one platform to the other via an API, or via a Zapier integration."
PipelinePRO has a Sales Tracking Dashboard of its own; it gives you a comprehensive view of what's going on with your funnels, such as how engagement is coming along. There are multiple ways to create a digital marketing funnel, but the next section will teach you how to set up a PipelinePRO funnel from scratch.
Here's how you can set up a sales funnel:
When making a digital marketing funnel, you can either make the funnel yourself (you can watch a couple of tutorials before you start) or pay one of the site's technicians to do the job for you. Keep in mind that you want to convert as many site visitors into customers as possible; optimize your conversion rates as you build your funnel.
Step 1: Go to the Dashboard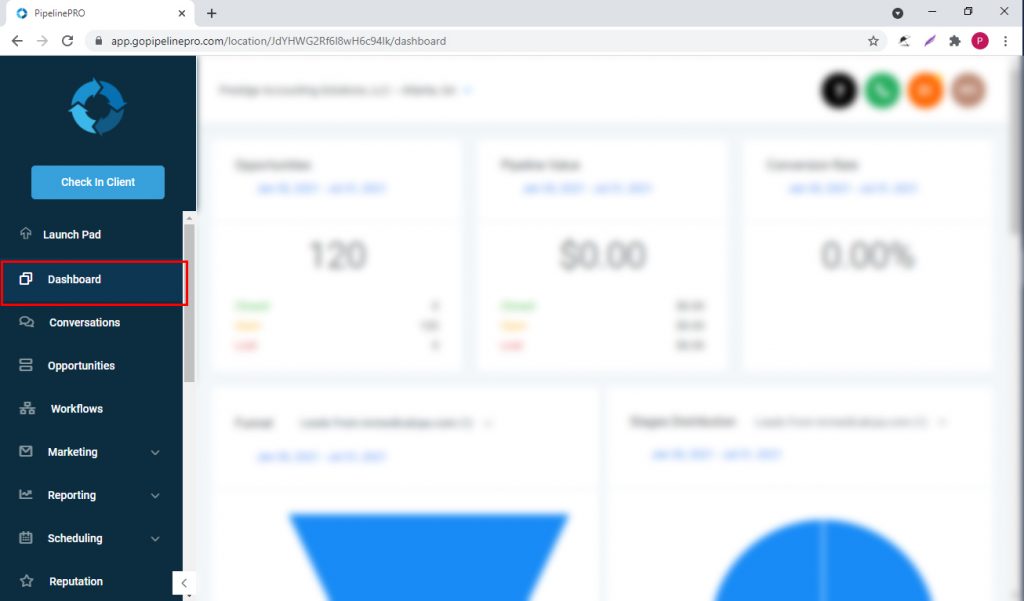 PipelinePRO's funnel builder is excellent yet easy to handle. So, you'll set up the sales funnel from the Dashboard after you log in. You can see the Dashboard and the many options on the Sitemap.
Step 2: Go to Funnels and Websites on the Sitemap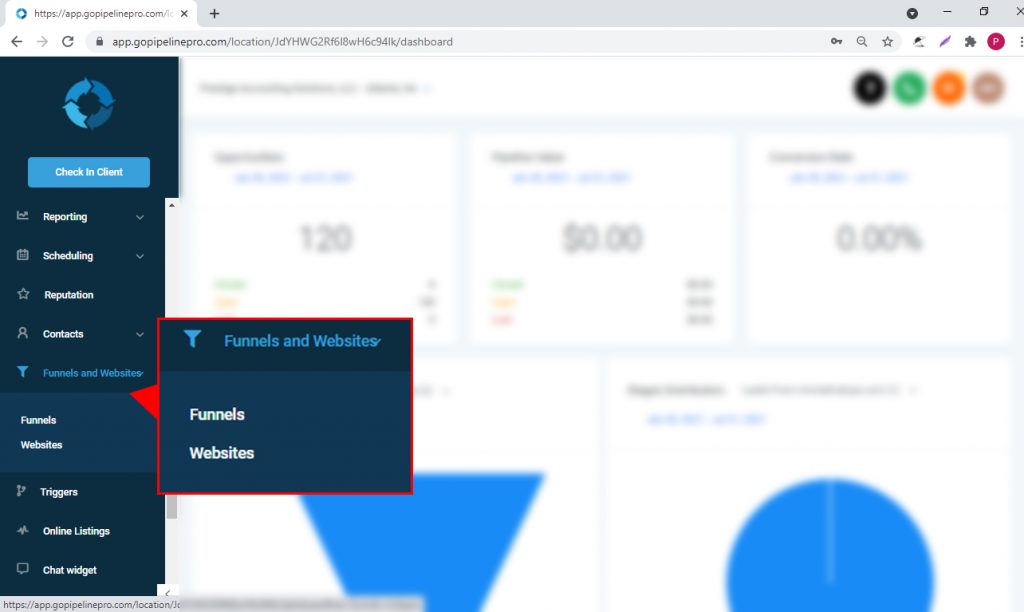 On the Dashboard, you'll have to check the left-hand tray with all the essential options. Here, search for Funnels and Websites. Creating funnels or sites isn't an add-on; instead, it comes with PipelinePRO's one-time license purchase. Click the option, and it'll send you to the next step.
Step 3: Click  + New Funnel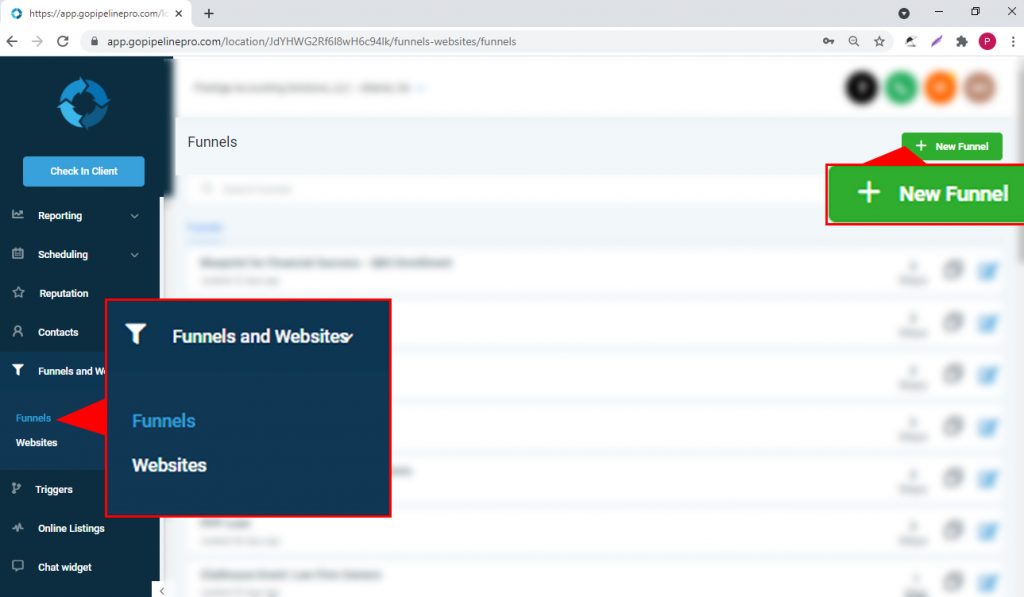 The Funnels and Websites page contains a list of funnels you've already built and a search feature in case you've got a lot under your belt. What's most important is the green button that says + New Funnel, near the top right-hand side. Click this, and you'll get a popup box that will prompt you to name the marketing funnel. One side of the popup will give you the option to make a funnel from a template, and the other to build it from the ground up. This article will go with the latter. Once that's done—
Step 4: Click Create Funnel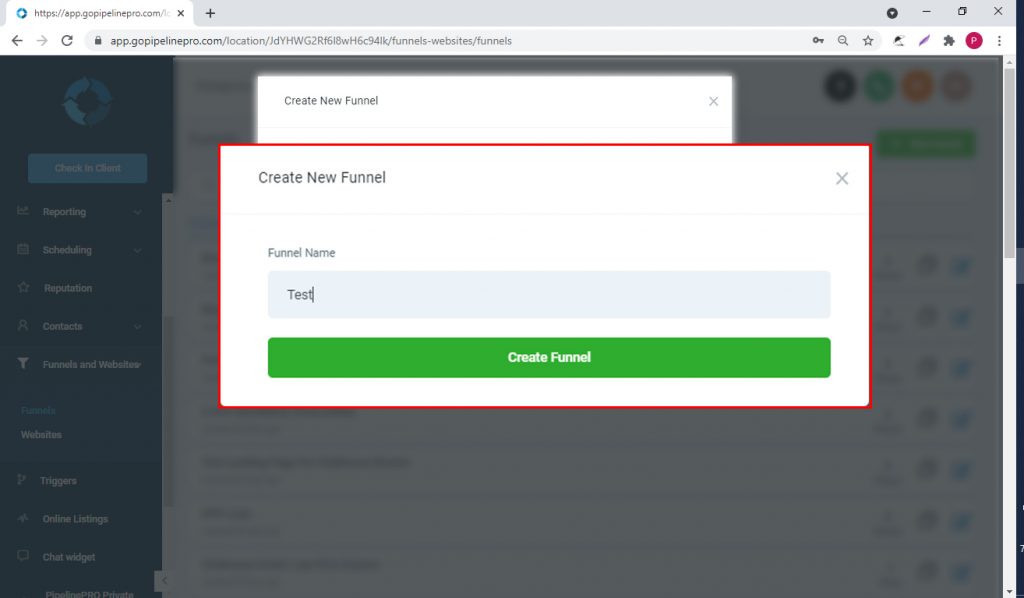 And it'll send you to a specialized page for the funnel. Beneath the title you inputted during the last step, you can see the Four S's: Steps, Stats, Sales, and Settings. (The last three aren't necessary for the building process.) Under the Steps heading, you'll see the Launch Checklist and Funnel Steps.
Step 5: Click  + Add New Step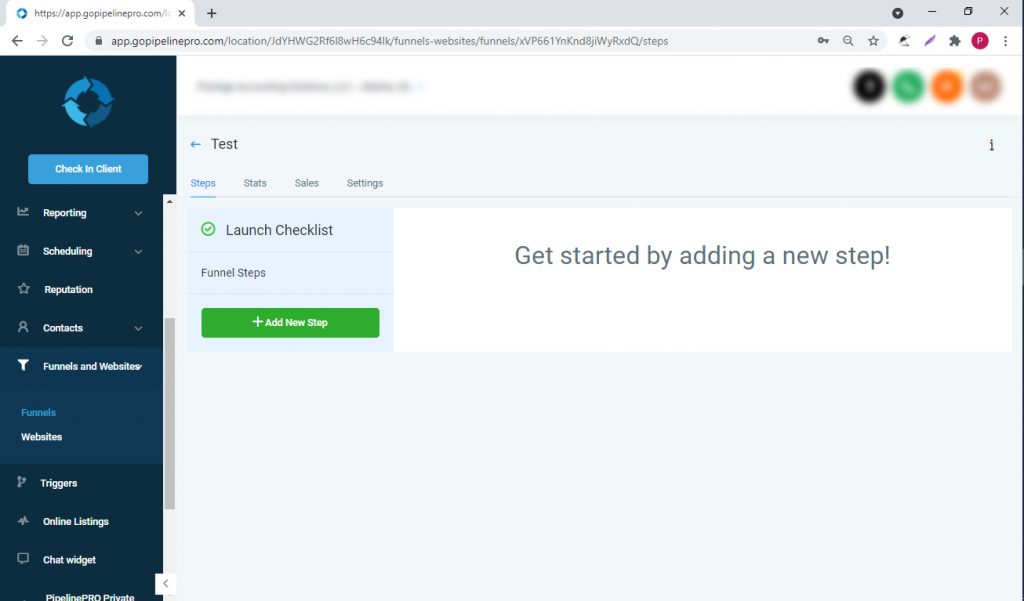 Here you can input additional items, such as a funnel from ClickFunnels. Once you click the + Add New Step button, another popup will ask for things like Name for Page, Path, and an option to Import from ClickFunnels. You only need the name to click Create Funnel Step. After that, you'll notice that the page for your sales funnel has new features. You now have Step 1.
Step 6: Once done, click Edit Page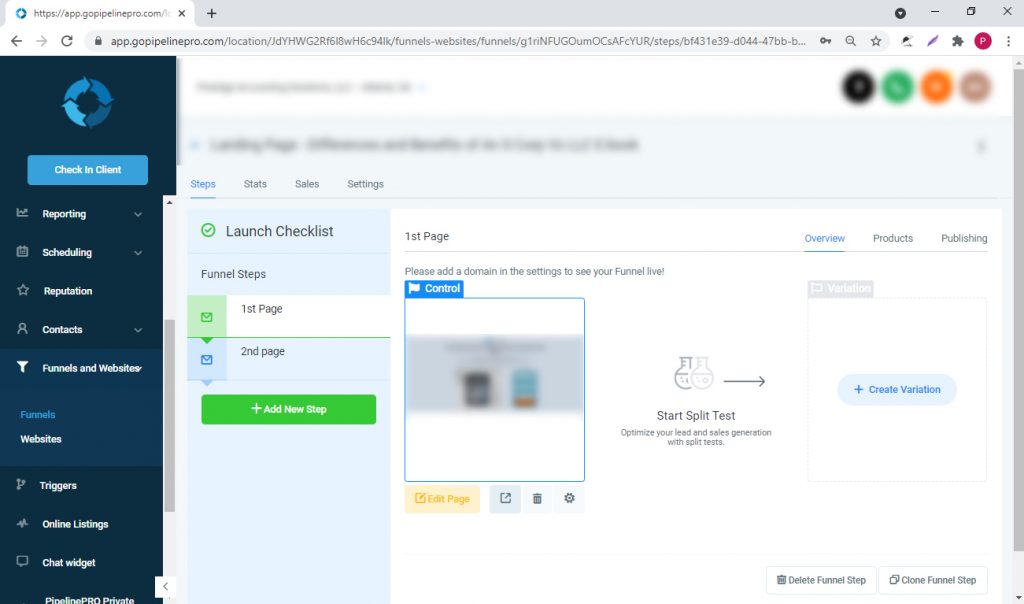 Edit Page will send you to the builder, which is a drag-and-drop tool! There's no need to make your marketing funnel while looking over the shoulder of your IT staff—everyone can make a funnel with the many settings and options PipelinePRO has to offer. The best part is there are choices everywhere you look! You'll be able to map out your dream funnel in no time.
Step 7: Start building!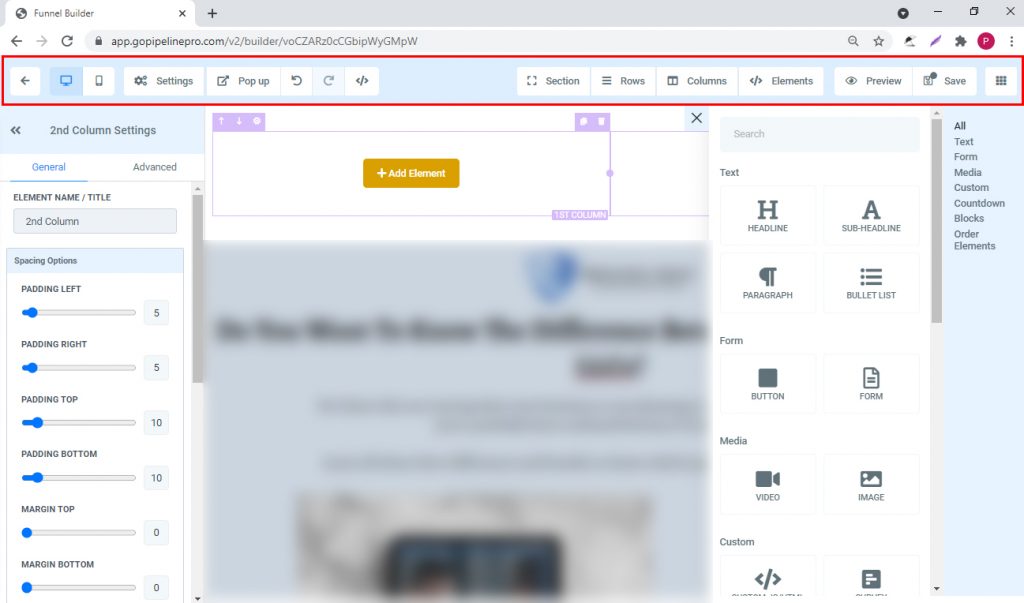 On the left-hand side of the Dashboard are options under the heading Section Settings. Under General options are padding, shadowing, and imagery. This section also contains Advanced options. On the right-hand side, one can input more noticeable elements like Text and Media. These elements are crucial; OnlinebizBooster reported that videos increase conversion rates by at least 60-80%. Continuing the right-hand tray, you can also see Forms and Custom, which refers to Custom Javascript/HTML, surveys, and calendars. You can also input a Countdown in your funnel!
Overview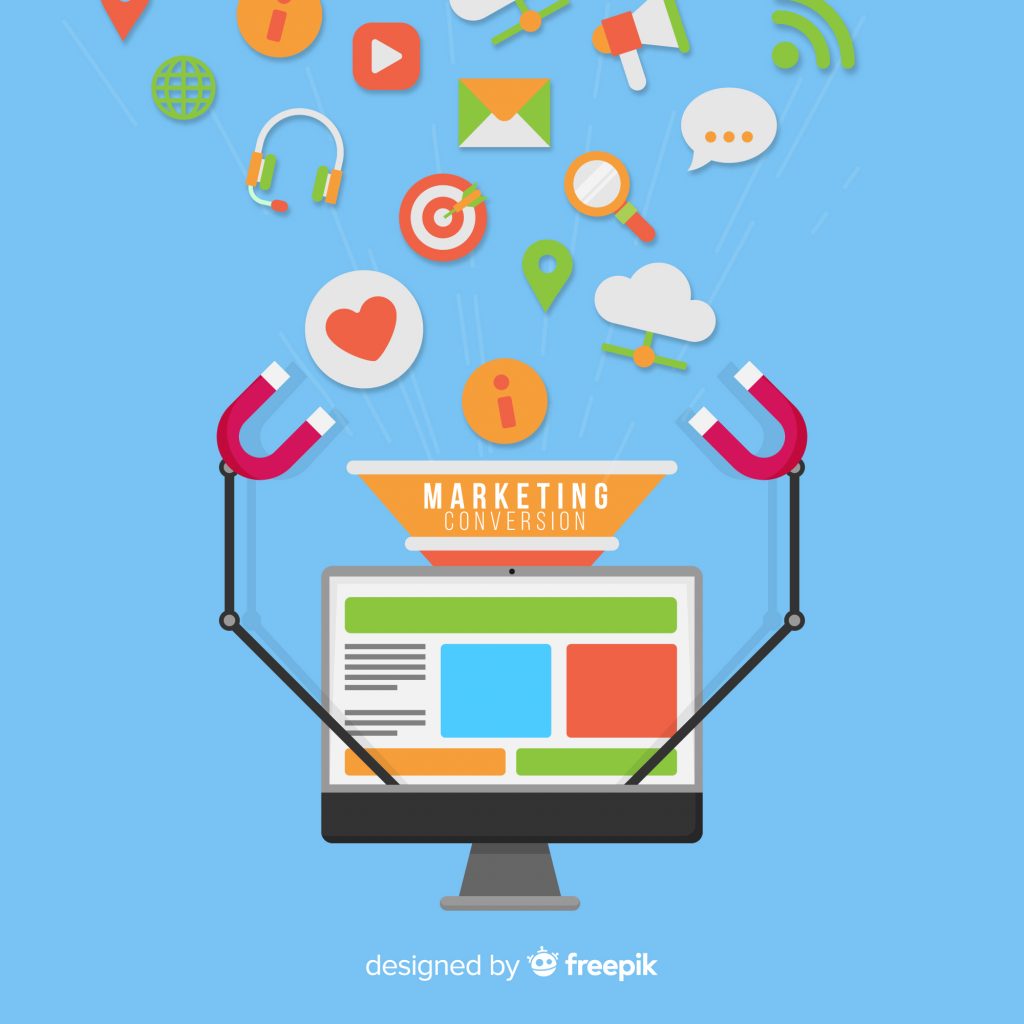 There are many ways to build a sales or digital marketing funnel—you can make yours in-house or make them through a tool. You can pay for the software needed to create it or find a tool that makes it for free. You can do the building all by yourself, or you can get someone else to do it for you. However, the importance of a sales funnel cannot be understated. It's a way for customers to know more about your service while giving them a memorable experience.
An excellent example of a tool that has it all is PipelinePRO. Of course, it is a drag-and-drop builder, meaning even people who aren't inclined to coding can set up a functional and expertly designed funnel. It is also easy for someone to create a funnel by using a prepared template or scratch.
Using and setting up a sales funnel for your business is ultimately up to you. Still, if you're not sure, ask some digital marketing companies in the Philippines.