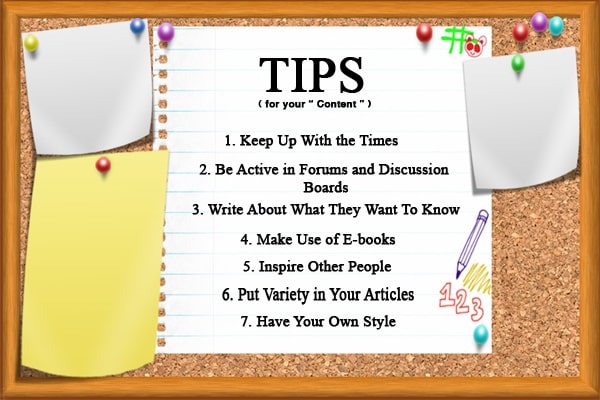 May 22, 2014
7 Tips to Make Your Content Go Viral
If I were to describe our world today in one word I'd say "online". Why? Because people can get anything they need online. They can get endless information, buy products, keep in touch with friends and family, mostly anything can be done online.
This goes the same for marketing products, services and even ideas. Yes, you can do all of these online as well. In fact, online marketing can be done in many ways, but one in particular is considered the core of online marketing, and that is content marketing.
Content marketing is the art of engaging your customer without straightforwardly selling your product or services. You aren't one of those door-to-door salesmen who knock on a stranger's door and figuratively push your product to their faces in order for you to sell it.
The role of content marketing is to give the customer important information, all the while making it relatable and enticing. You're not pushing them towards your product. Instead you're gently swaying them towards it themselves with the magic of your words.
However, content marketing is only effective if it has reached the ideal audience, most preferably a large audience. Since there are so many other content marketers online, it might be hard to get yourself known. Well, for that to happen you might want to read these tips below on how to make your content go viral:
1. Keep Up With the Times
That means keep yourself updated with what's trending and what news stories have been spreading all over the media channels like a virus. However, don't just write about the latest news like you're working for a news company, rather you should create your own strong opinion on it.
That way people will find your content very relatable and might even pitch in their own opinions if you provide a comment section below your article.
2. Be Active in Forums and Discussion Boards
It might be in these places where you have the most opportunity to get your content go viral. A lot of internet surfers visit forums and discussion boards to find others' reviews and opinions on a certain product or topic.
When you find a forum or discussion board about the stuff that's in your content marketing article, join in by posting important lines or quotes that are from your article. Don't forget to also leave a link to your full article and your full name.
3. Write About What They Want To Know
You should research about what the online audience has been searching up nowadays and write about it. Give them all the information they need and if they're satisfied with it, they might even start sending links to your article to friends who are also looking for the same kind of information.
4. Make Use of E-books
Let's say you hold cooking classes and you want more people going to your cooking classes. You can compile all your articles and recipes into an e-book and post it on your website, making it available for download. You can also email them to readers and encourage them to share with their friends so in the near future, they might want to take your cooking classes too.
5. Inspire Other People
You may not know it, but what you write can actually influence how a person acts or feels towards a certain topic once it has been read. Making a positive influence will also have positive results for your content. It would lead them to get the word out that there's this great article that inspired them to "have a happier disposition at work" or something else useful.
That's why it's important that you're aware of just who is reading your article and how they're using the information in their everyday lives. Your content should also be consistent by sticking to one idea, not swaying from one to another.
6. Put Variety in Your Articles
Be creative and colorful with what kind of information you're giving. From "how tos" to "tips", there are many ways for you to write about one topic, but be able to branch it off to different and informative sub-topics.
7. Have Your Own Style
Of course when we write content we search the internet for reliable sources since we can't just make things up as we go. However, that doesn't mean you should copy exactly what you see, content marketing isn't a "monkey see, monkey do" business. Having your own style can get your readers to differentiate you from other content writers, and it also makes your content more personal.
I'm sure there are many other ways to get your content to go viral. It's not going to be an easy walk at the park, but once you find internet surfers actively talking about your content, you're going to feel pretty good about yourself.