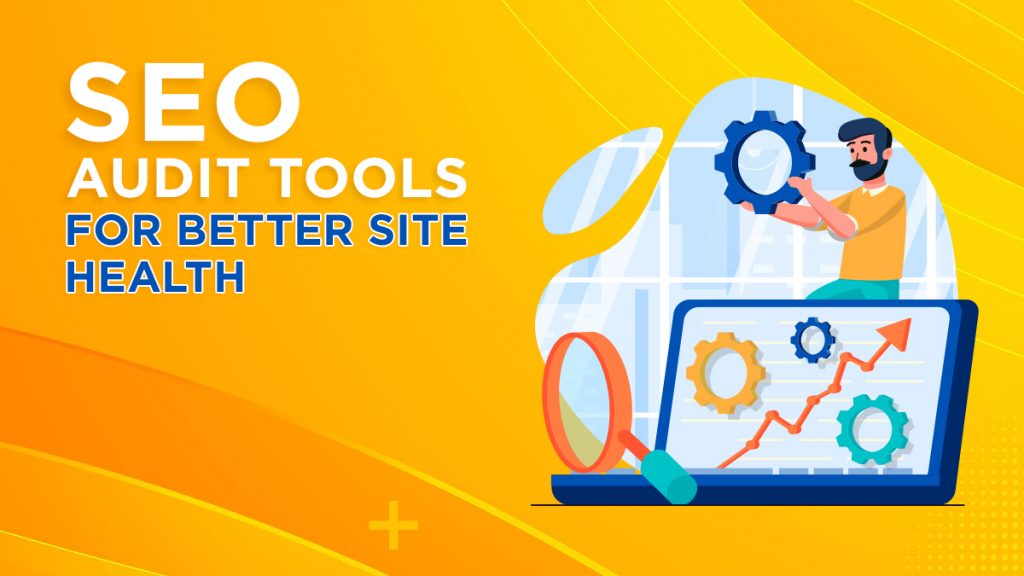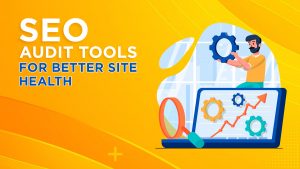 Aug 23, 2021
SEO Audit Tools For Better Site Health
If you've achieved massive success and your business website is ranking consistently, you might think that you no longer need to continue evolving. But just as essential machinery needs maintenance to work well, your website needs audits to look for issues. Also, you must prepare it for new trends. SEO audit tools can help you achieve site optimization.
That you don't have to do anything more except do what you did to achieve success is incorrect. This is especially true for your company website.
Why Do An Audit?
A website audit can help you take a look into its inner workings. It's important to review how your business site is doing! Checking strengths, weaknesses, possible problems and more is key to SEO success. 
Now, one conducts an SEO Audit to check on a site's performance. Your website may be doing well now. But, on the flip side, your website may not be bringing in the numbers you envisioned. This is the reason you need site optimization! And the sooner, the better; with every hour your site goes unaltered, you lose out on more and more traffic!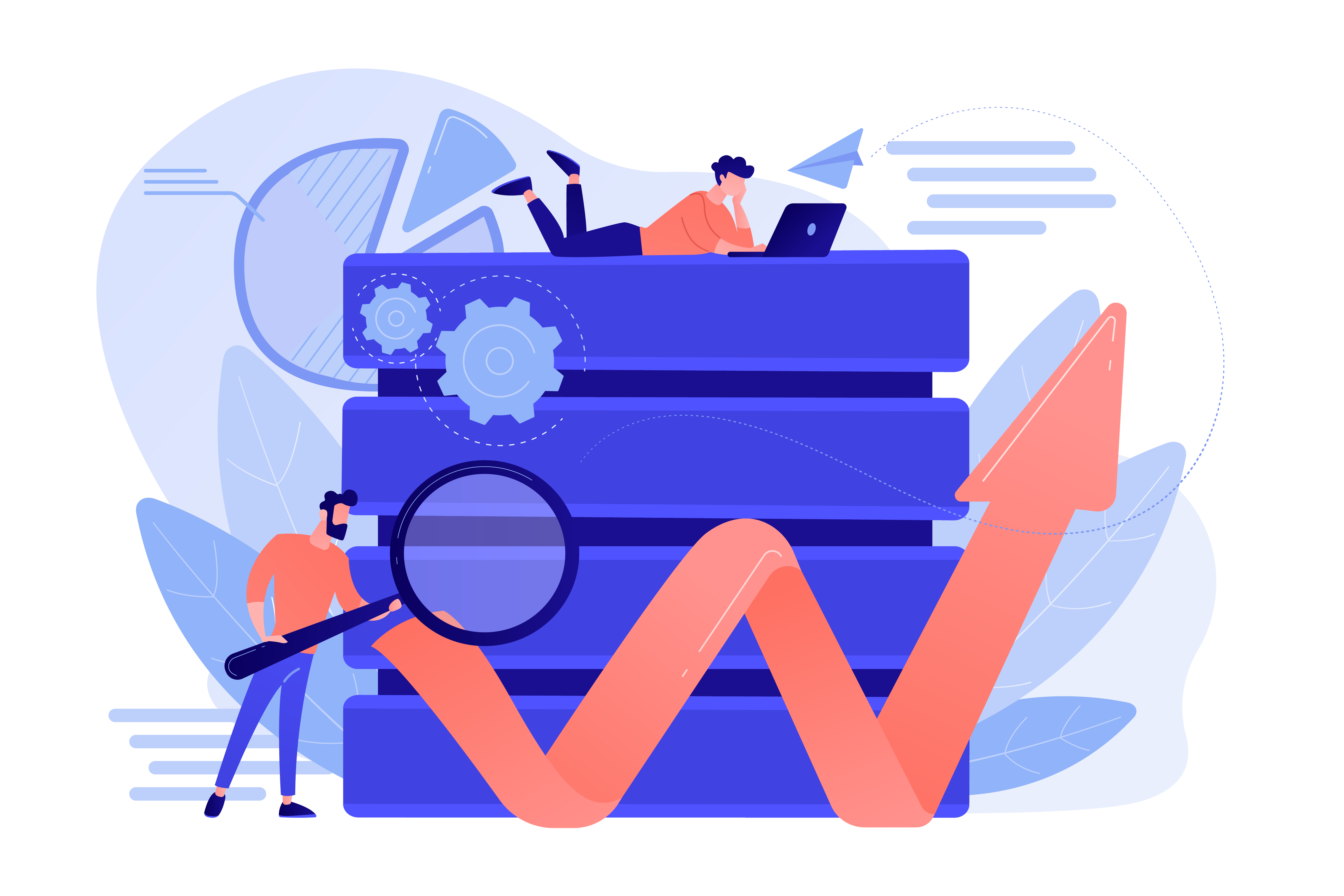 What sort of problems can an SEO audit solve?
Key Performance Indicators are crucial to site optimization. If your site isn't reaching your KPIs, then it's an obvious sign that there's a problem. It could be that something is wrong with the site itself—for example, faulty links. Of course, you could check it yourself, but that might take time. If you do a website audit, you can check on links, images, and content! 
Your site will be updated every so often—whether it's in terms of layout, new pages, bug fixes, or what have you. So, you need a tool to monitor and make sure nothing's wrong with your web pages. SEO audit tools can also track real-time visitor engagement! It'll show you what parts of the site people are interacting with. Also, they track not only your site but also your competitors'.
Dropping in website rankings.
Nothing's quite so irritating than losing your spot on website rankings. A tool can note any changes to your site that have made this issue possible! Backlinks are no joke, people! But also, you may have to consider that your competition just outranked you.
Nothing's quite so irritating than losing your spot on website rankings. A tool can note any changes to your site that have made this issue possible! Backlinks are no joke, people! But also, you may have to consider that your competition just outranked you. A tool can help with that, too.
Reports are necessary to keep growing and improving your site, and keeping your spot in rankings. So naturally, website auditing can help you with this. In addition, some SEO audit tools allow for more than one user account! That means a handful of people can help monitor the site along with you. So, don't let your links fall to the wayside, and keep your site dynamic yet reliable!
 Your site should have improvements, but they should be easy on the eyes, as well. When upgrading or updating your site, make sure you don't end up disorganizing it. Just like with the last issue, your website audit tools can save you time by giving regular reports on monitored web pages. You can check on your site wholesale or by its parts such as content, images, links, and so on.
Website Audit Tools
You can't just create a website and leave it alone afterward. Just as everything is good in one's life, your site has to be continuously cared for. There are several quality assurance tools one can use. However, here are a couple of the best tools for site optimization.
SEMrush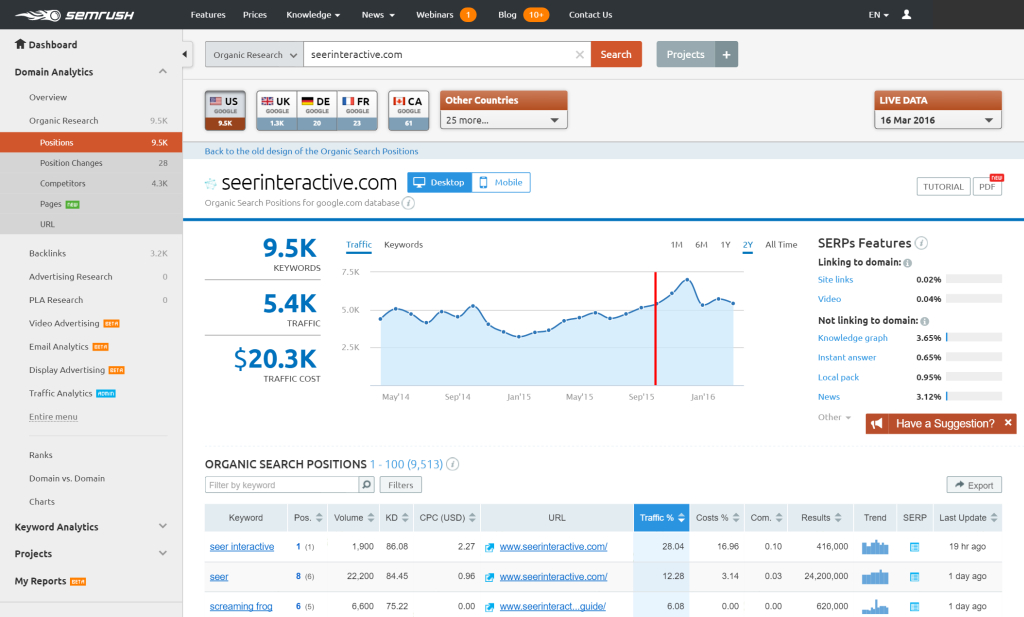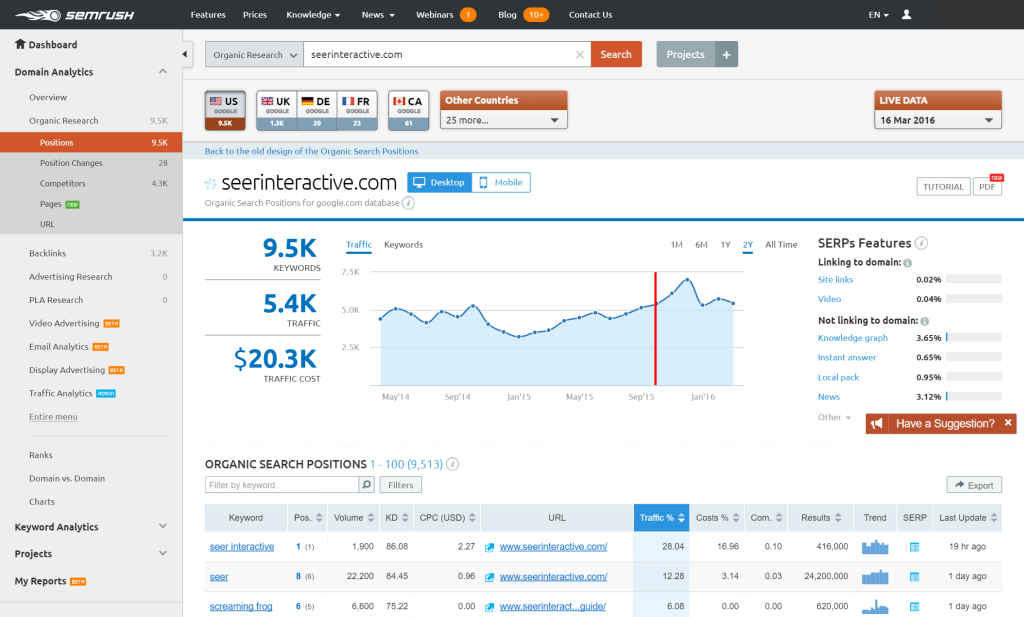 Source: SEMrush.
SEMrush has over 40 intel tools, but its primary specialty is keywords. This website audit tool gives you reports on the keywords you've utilized for your site already; not only that, but it also suggests better keywords that would better fit your site content! Another great feature of this tool is that it monitors the keywords your business rivals are using and making comparisons.
It also allows for competitor monitoring, page ranking, and more! It can oversee and report on your social media postings. SEMrush also boasts a Site Health Score feature. According to SEMrush's Site Audit Overview Report, here are the Health Score headings: 
Errors

are colored red and bring attention to significant problems;

Warnings

are orange, and its issues aren't that bad, but they aren't that good, either;

Notices

are blue. They're not going to affect your overall score, but they do have great tips!


Source: SEMrush via Syntactics Inc.
Its Backlink Audit page can help your overall site health by ensuring your site hasn't gone toxic. That is, it'll audit your backlinks by rooting out bad backlinks.
Overall Toxicity Score:

overall, it shows you how many toxic backlinks are on your site.

Referring Domains:

shows you their total number, which points to the source domain.

Analyzed Backlinks:

gives you a comprehensive look at your site links.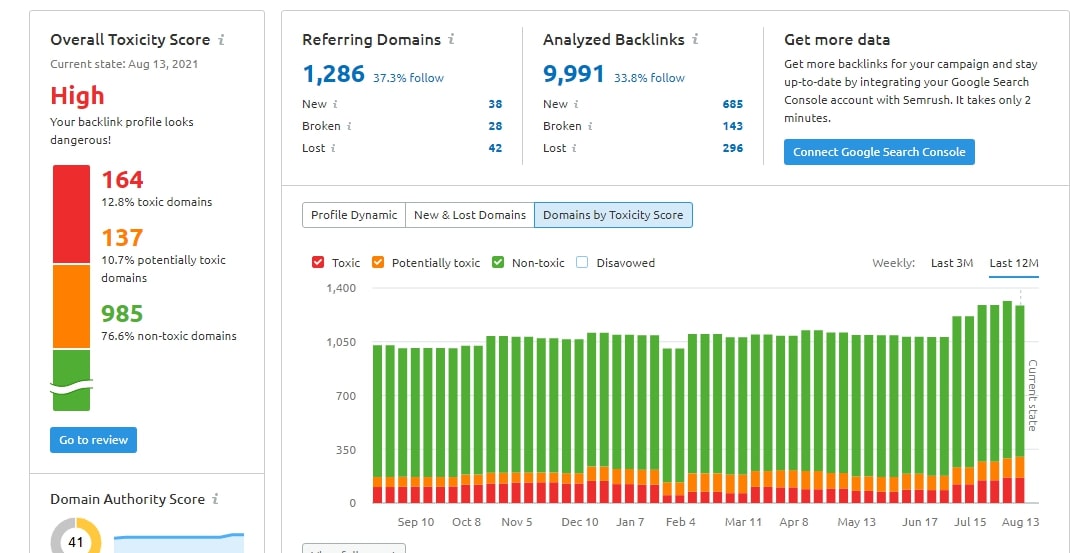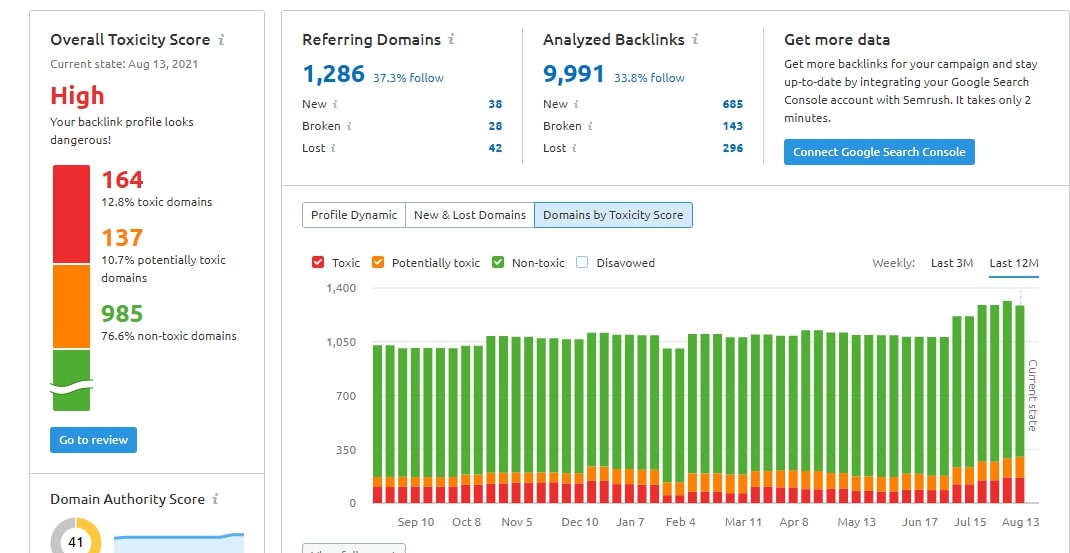 Source: SEMrush via Syntactics Inc.
Ahrefs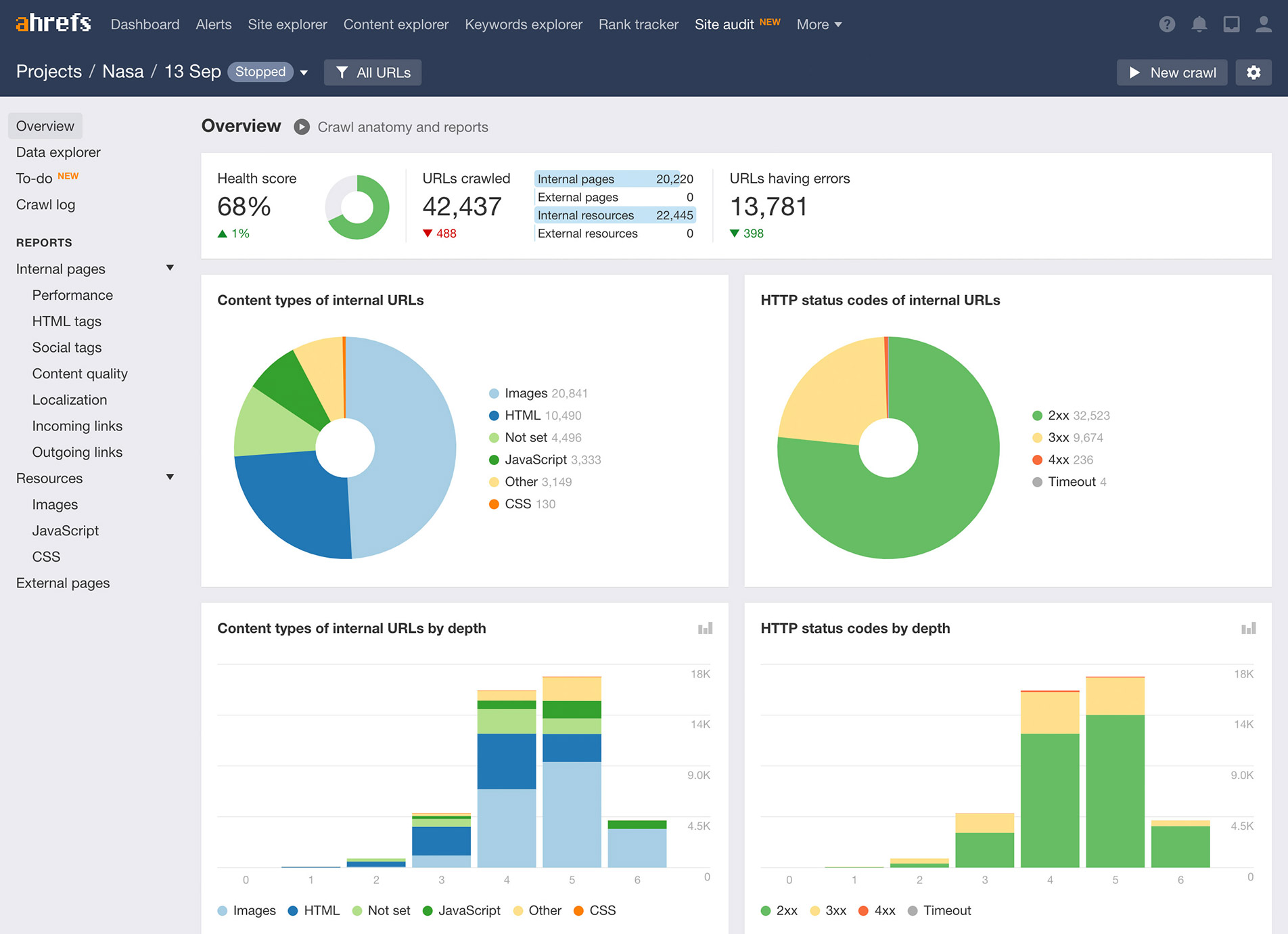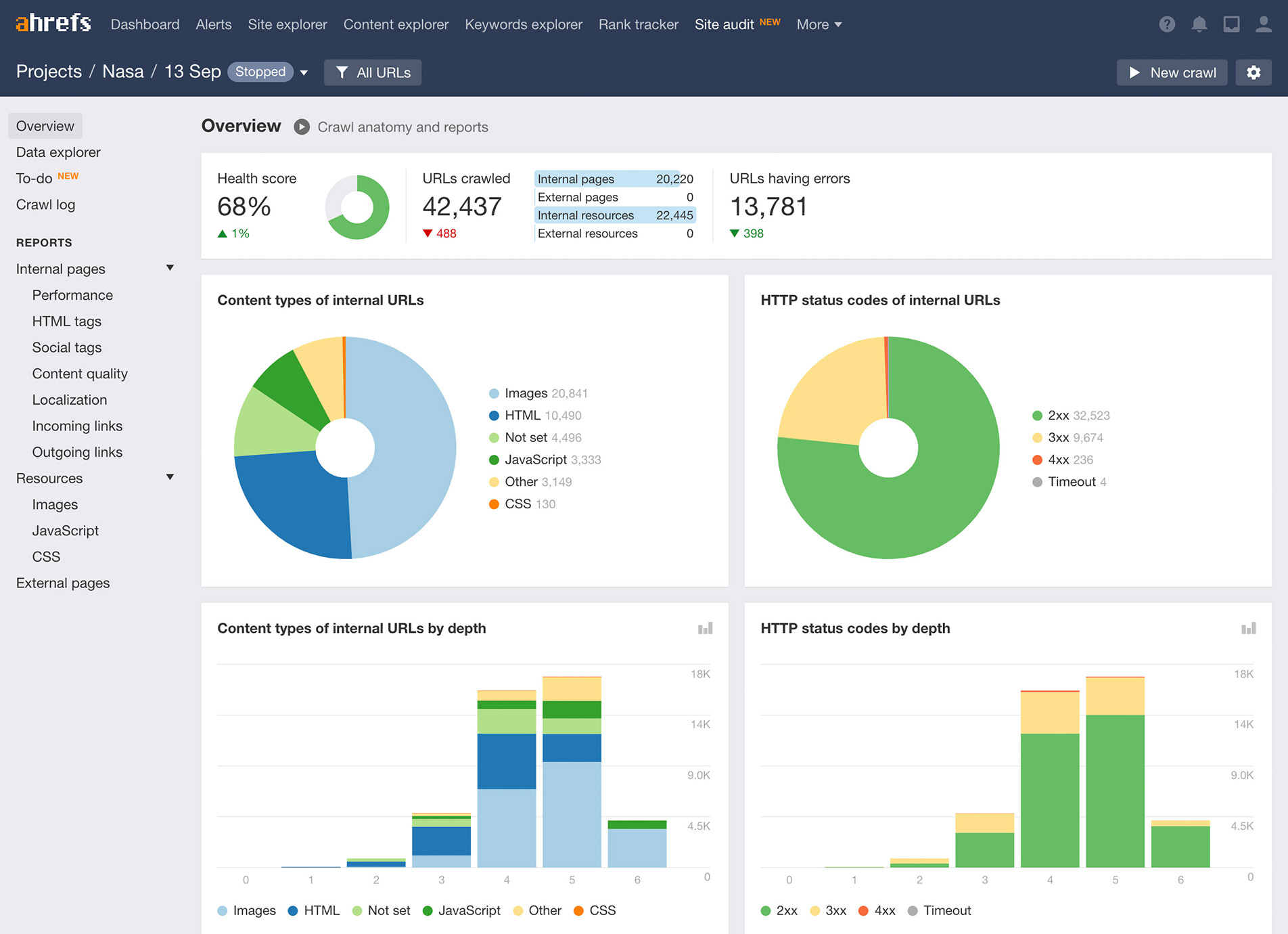 Source: Ahrefs.
"See under the hood of your website's on-page SEO performance," states Ahrefs' Site Audit page. Like SEMrush, Ahrefs handles keywords, but it also oversees links and makes performance comparisons, particularly your business' sites against other competitors' sites.
Ahrefs Site Audit monitors how well your site is doing. If there are any problems such as redirects, links that have gone bad, or faulty files, Ahrefs diagnoses it and points it out for you. As a result, this website audit tool gives excellent diagnostic reports about your site's health.
Site Explorer

checks on specific pages on your website.

Content Explorer

lets you find top-performing web pages with keywords.

Keywords Explorer

gives you monthly reports on keywords as well as their click-through rates.

Site Audit

crawls your site domain and reports on issues with your page.
SpyFu
Source: SpyFu.
SpyFu is pretty reliable for spying on competitors (it's all in the name).
According to its homepage: "SpyFu exposes the search marketing secret formula of your most successful competitors." Its notable feature is that it gives you a good look at keywords and ads—both the organic and paid ones! Additionally, it can also find irrelevant keywords that you're better off without. 
Not only that, SpyFu takes care of SEO competitive research and custom domains. It can track backlinks and rankings; it can even research your rivals' weaknesses.
Screaming Frog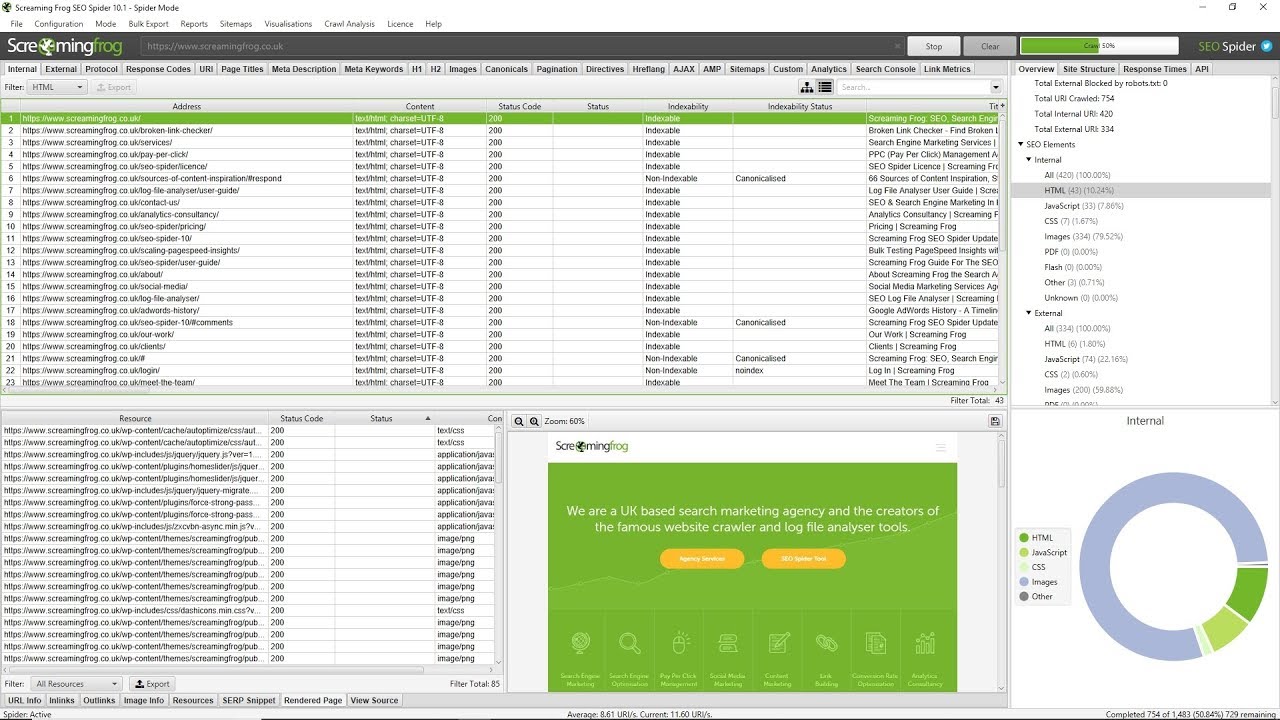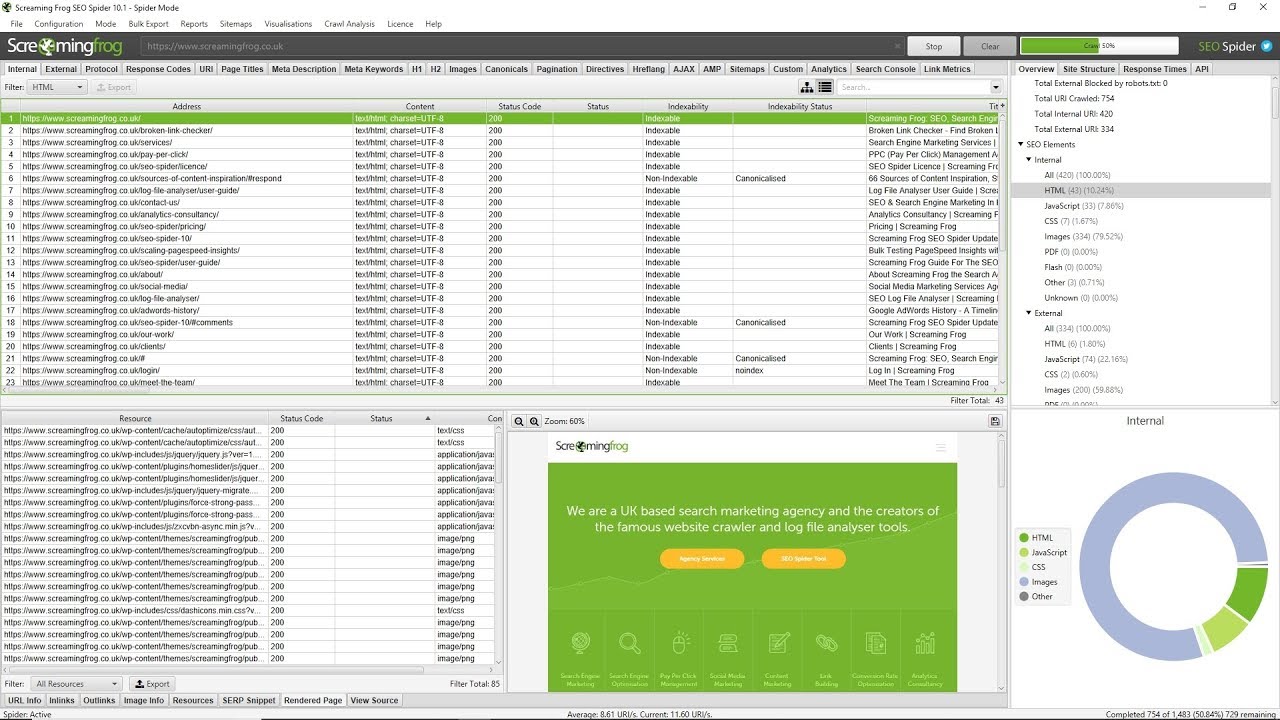 Source: Screaming Frog.
This SEO audit tool is the most popular choice for website audits, even though it's actually a crawling tool. In its own words: "The Screaming Frog SEO Spider is a website crawler that helps you improve onsite SEO, by extracting data & auditing for common SEO issues."
It's one of the best choices for having a comprehensive look at your website, as it looks at more than 30 site parameters — things like security, meta descriptions, and outbound links. You can do site optimization, no problem!
Moz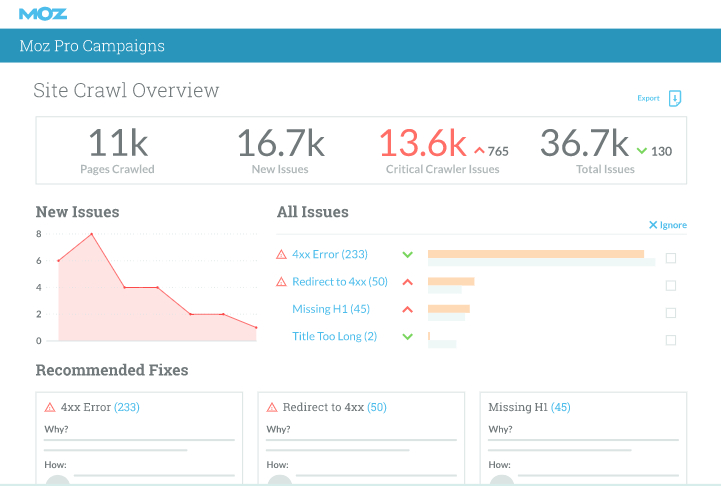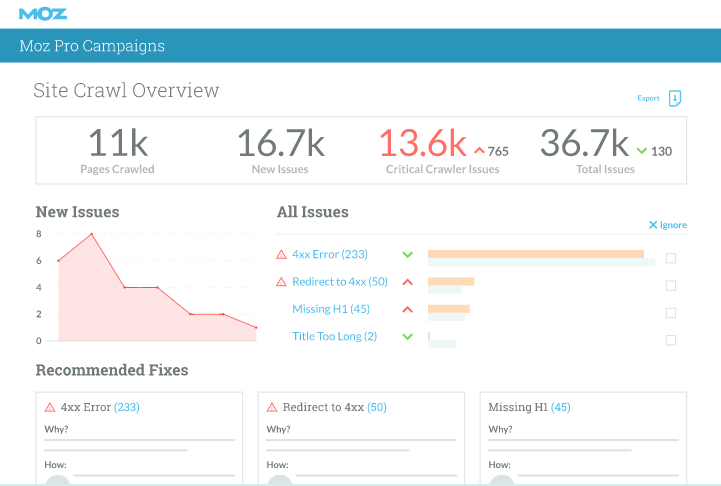 Source: Moz.
Moz is another example of a crawling tool. Its Moz Pro's Site Crawl page says it can "find and learn how to fix common technical SEO issues that may impede your site's ability to receive high-quality traffic, rank, or be indexed by search engines."  
Now, Moz Pro has a site crawler that can monitor your links. With Moz Crawl Test, one can have weekly crawls — there, it can find and provide reports on issues like errors and redirects, duplicate content, and HTTP status codes.
Additionally, it can "monitor a wide range of site issues like broken redirects, missing title tags, and many more. Then prioritize which issues to fix first for maximum effectiveness." 
WooRank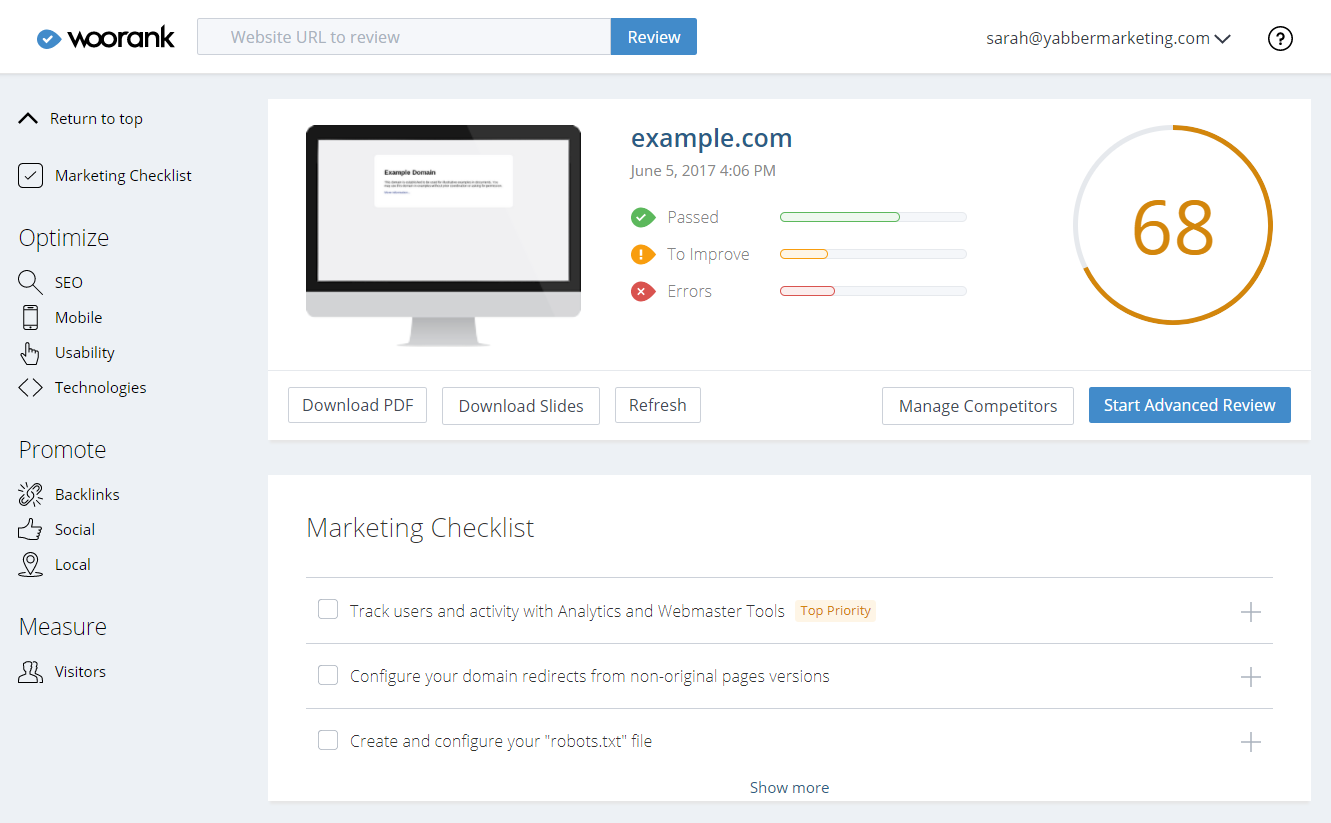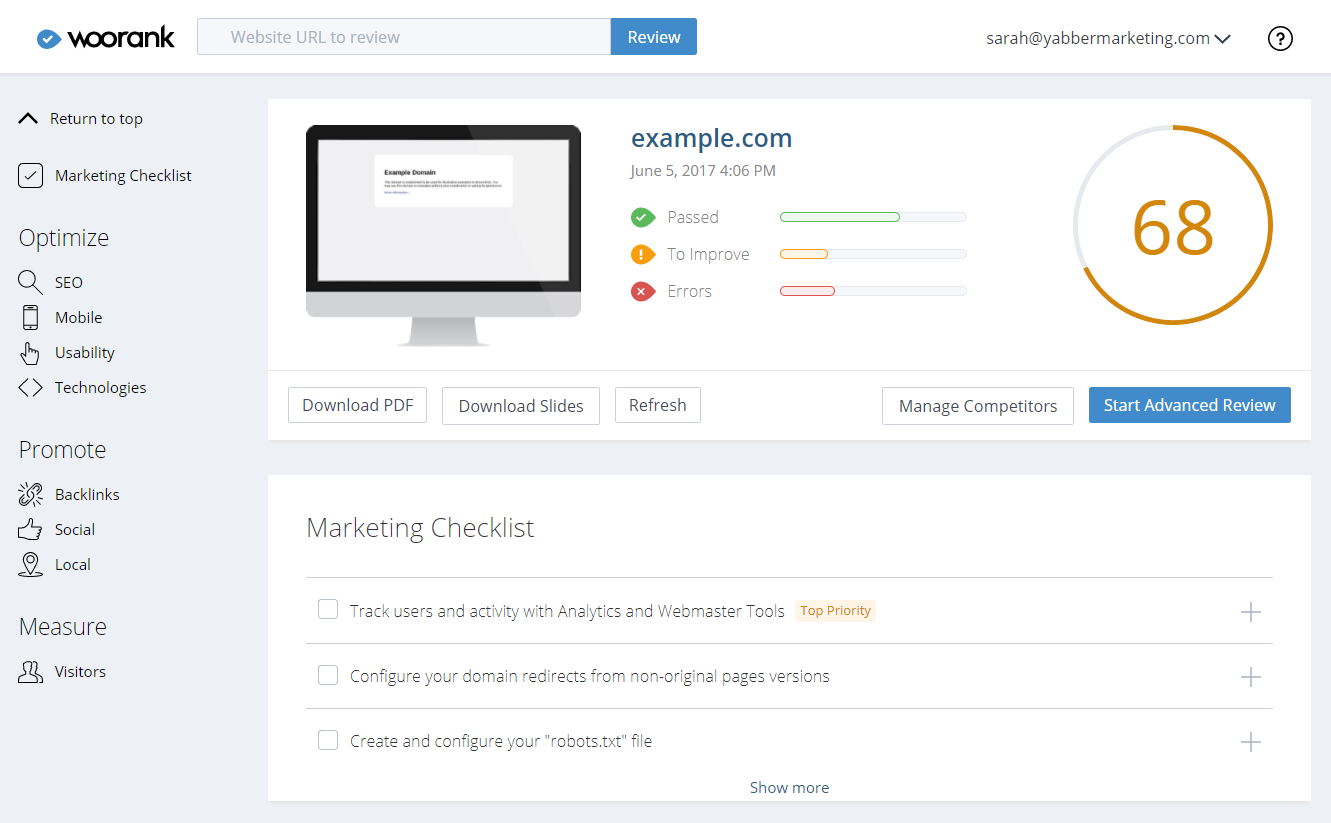 Source: Woorank.
Woorank advertises itself as giving "actionable insight to help you optimize your online sales and marketing efforts." This SEO audit tool can check out existing SEO initiatives—namely, it analyzes your SEO's impact. 
It also checks on site performance, and page and keyword rankings. Not to mention, it looks at backlinks and even your socials as well! Its detailed analysis reports mean that you don't miss a thing! Moreover, it handles backlinks while keeping up your site visibility.
Woorank also gives you a look into your competitors' websites—and SEO—as well as your own.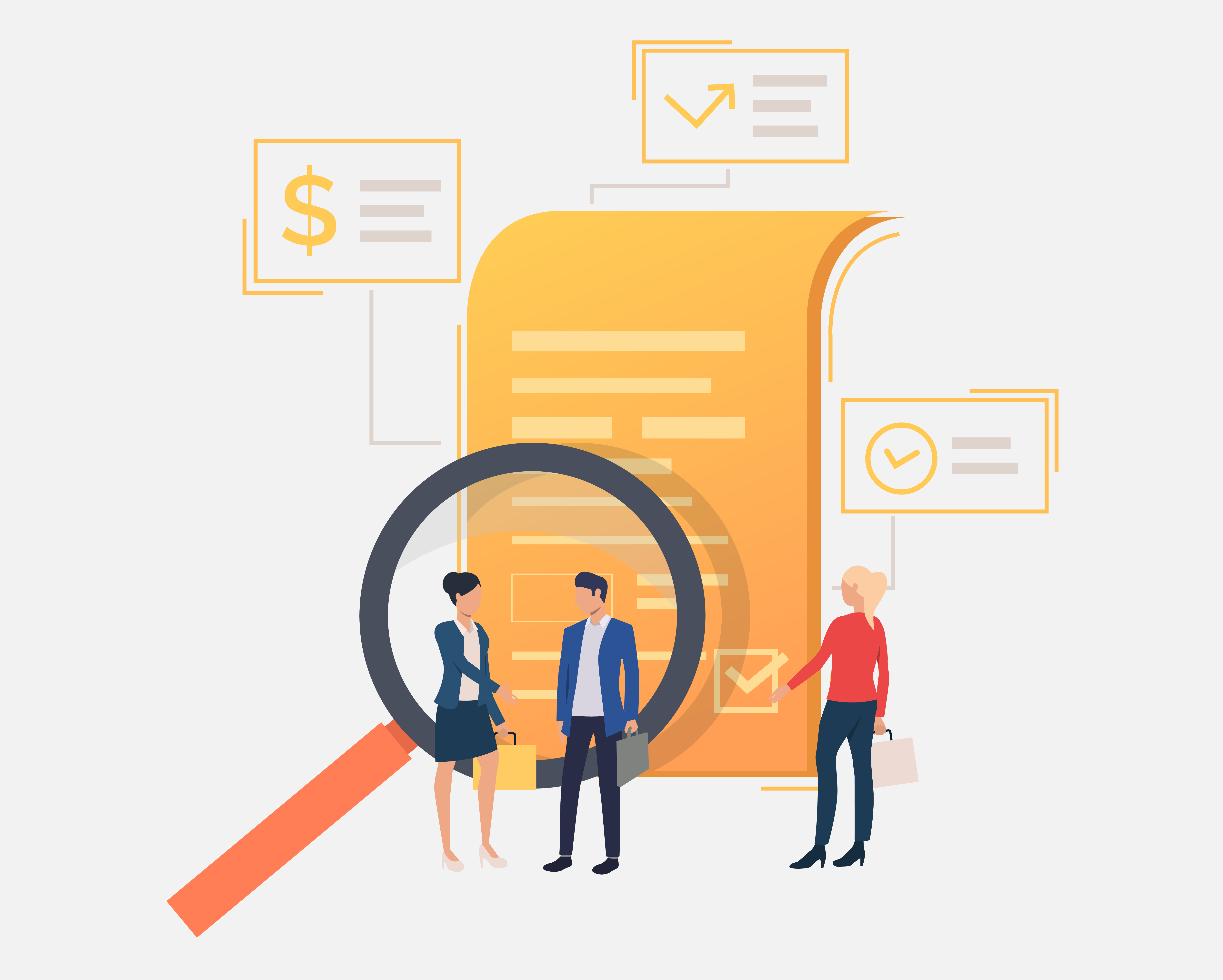 SEO Audits Mean Site Optimization
There is no such thing as resting on your laurels in business—and the same is true for Search Engine Optimization. One's company site must be relevant at all times, which is tricky as keywords are important when attracting traffic. There are only so many spots for the first page of Google search results; you have to stay relevant. So keep your site optimized to stay ahead of your rivals. 
Website audits are needed to do so. One must constantly monitor the health of its site to be a strong force on the internet, and a great way to automate it is to use SEO audit tools. An SEO Company in the Philippines will tell you how best to put your site on the map and keep it there, but it's up to you how to go about it.