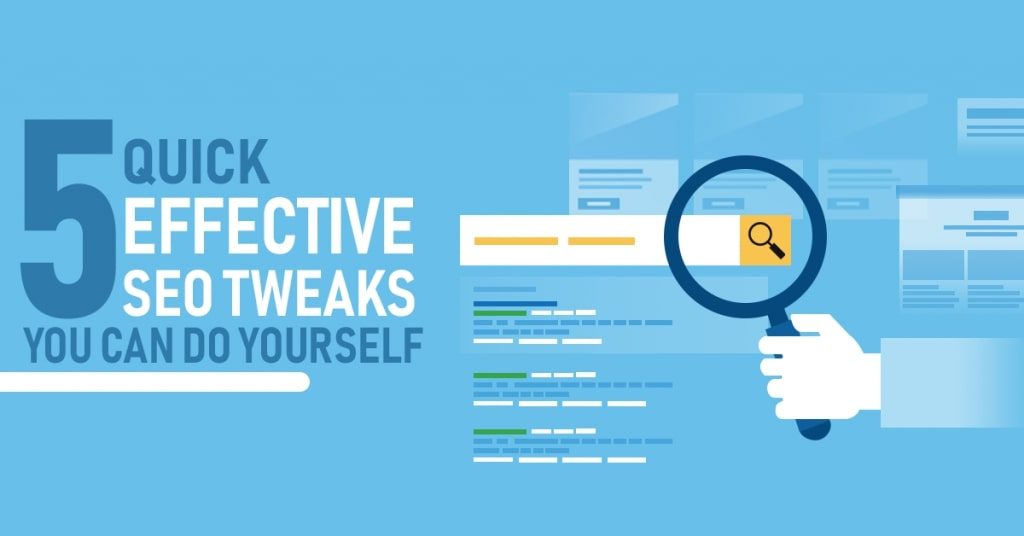 Jul 29, 2019
Five Quick But Effective SEO Tweaks You Can Do Yourself
We have all heard how search engine optimization or SEO is a strategy with a lot of tweaks, requiring patience and integrity. Patience because you do not get instant results; and integrity because dishonest techniques can land you in Google's dark and desolate trash bin.
We also know that SEO involves several seemingly complicated elements; all are intertwining with the end goal of bringing up search engine rankings and traffic. Content, social media, ads – these are only some of the things we all do for the sake of good SEO.
At first, it may seem that SEO is super hard and all these things are big and complicated; which can lead you to think that making changes to your SEO strategy seem like a daunting task. However, knowing that SEO is a long-term strategy, it is necessary that you make changes and updates from time to time to get better results.
Fortunately, not all changes have to result in a complete overhaul in your strategy. Here are a few small but useful tweaks you can do to your SEO; by yourself or with the help of your team members:
SEO Tweak #1 Update to a Mobile-Friendly Theme for Search Engine Optimization
You have probably heard this so much it sounds like a broken record; but ask any search engine optimization expert how vital a mobile-friendly site is, and they will tell you it is 100% important. A big red warning to any site that is (somehow) still not mobile-friendly, you do not stand a chance against websites that are. 
If you are using a CMS like WordPress; switching or updating to a mobile-friendly theme should be done at the click of a button. However, if you want to be safe about this SEO tweak for a more seamless process with fewer bugs; you can ask your developer to take care of this. Take the necessary steps to be mobile-friendly for a better search engine optimization strategy.
Tweak #2 Make Sure You Have a Sitemap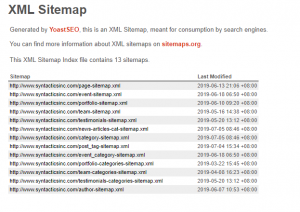 Sitemaps help search engines determine the structure of your site; and allows them to index and crawl important pages thus boosting rankings. Knowing you have a sitemap is not enough though; as you also need to make sure it is registered on your Google Search Console.
Google Search Console also comes in handy when checking for errors or indexing blocks by regularly testing your sitemap. It is also essential to keep your sitemap updated every time you have a new page; and that it is short and concise with only links that are crucial to your site. Make sure to add this as a regular task in your SEO strategy.
SEO Tweak #3 Write Meta Tags For All Your Pages (Highly Important in Search Engine Optimization)
Meta tags get easily overlooked; since it is not like the content on the actual pages, you can immediately see when you open up the site. However, keyword-optimized meta tags are one of the leading search engine optimization contributors to rankings and traffic for websites. It's also one of the easiest SEO tweaks you can apply.
You see meta tags every day when you search on Google; as these are the snippets of content you see for every result. When you do not have your own set of custom-written meta tags, Google takes random content from that page to put it on there, and most of the time these do not resonate well with the page's message. Thus, it is always better to write your own.
Tweak #4 Use Keywords in Your Title Tags and Headings
Title tags are the clickable parts of the meta tags in search engine results pages, headings or H1 tags are usually the title of the page written on the page content itself. Another one of the easiest SEO tweaks, slide in a relevant keyword in these tags for better SEO when you have the chance to.
Try to avoid making it look as if you just forced a keyword in there, though, which will be evident if the sentence seems like a fragment or it just does not make too much sense. You are free to create variations of your main keywords so it flows seamlessly and naturally in your title and H1 tags. 
SEO Tweak #5 Shorten Your Page URLs
Aside from the fact that it will look a lot neater, it is easier for search engines to crawl short and straight-to-the-point URLs. The general rule is that if the URL is not readable by humans because it has all these numbers and symbols that do not make sense, search engines cannot read them either. 
Another thing to take note is to use hyphens in your URLs and not underscores as search engines do not understand those either. URLs are also case sensitive, and it is a best practice to use only small letters in your URLs. 
This article from Moz explains perfectly about the best practices when it comes to structuring your URL. According to them, while shorter URLs are preferable there is also no need to be too obsessive over it. You are in the safe zone if your URL is less than 50-60 characters. But if you are going 100+ then you seriously need to restructure.
These are all simple updates you can do by yourself, but if you do need any form of assistance, you can always ask for help from the experts in SEO in the Philippines who are used to doing these. Do what you can to have optimal results in your search engine optimization strategy.