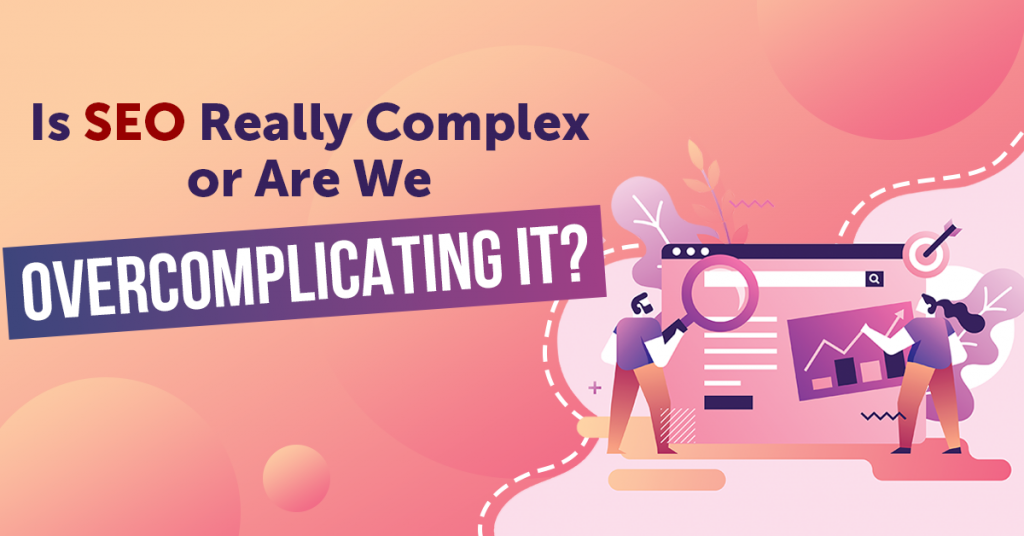 Apr 22, 2019
"SEO is Super Hard!" – Are We Just Overreacting?
Ah, SEO – the root of all white hairs on digital marketing experts. There's no denying how this strategy has become the main reason why many digital marketers get so stressed out.
It's known by many – experts and regular users alike – to be among the most complicated strategies to help pages on your site rank high on search engine results pages (SERPs). However, is it REALLY all that complicated, or are we all overreacting a little bit?
Though you don't get the best results right off the bat with SEO, it might not necessarily mean it's tough. This might mean SEO is a long-term strategy you'd have to keep doing consistently for a while to get results. Those results include getting high website rankings on Google and on other search engines, and gaining improved search volumes on organic search results.
That might not necessarily mean it's as complicated as performing brain surgery (okay, now that's overreacting!).
However, what makes everyone think it's so complicated in the first place?
Why Search Engine Optimization (SEO) is "Complicated"
#1 – It Takes Too Much Time
SEO is an art that needs the time and dedication that it deserves for a business to flourish with this digital marketing strategy. It's pretty much like having a serious relationship with that special lady or gentleman; if it's worth it, you got to work for it.
However, with entrepreneurs who already have so much on their plate, there's just no room for anything more. Additionally, the fact that it takes so long is often what attributes to the "complicated" perspective.
The dreaded Google algorithms can take even seasoned digital marketing experts by surprise. One day you log in to analytics or run your site through a keyword rankings checker and find everything has dropped.
Nobody likes an algorithm that pops out of nowhere as it leaves us all scrambling to bring everything back to normal. However, there's nothing we can do when it happens as, by the time we notice, it's already happened.
The fuss over having to recover from algorithms and always watching your back for another one – it's no question how people who are looking into improving their digital marketing strategies associate SEO as being complicated because of this.
#3 – It Always Changes Marketing Strategies
Similar to how algorithms can always change how Google ranks websites, it only makes sense that strategies would also adjust accordingly. What may be working for the past few months can eventually turn obsolete in the next ones. Similar to how people would make search queries on the most trending product of the season or about the latest mobile devices, then in the next month or so their attention wanes.
For example, way back when SEO was still starting, it was all about link building or getting and connecting as many internal links and backlinks to your blog posts as possible. Back then, it didn't matter where these backlinks came from or if they were quality; it was all about quantity.
These days, there's no way you can easily get away by doing that. Now, your SEO strategy should be all about building links (using anchor texts) that are high quality and with high Domain Authority and relevance to your campaign.
The possibility of having to continually find ways to ramp up your strategy to keep afloat and improve user experience may be too much effort for some, thus deeming this as complicated for such.
How You Can Simplify SEO – Even For Just A Little Bit
#1 – Make Sure to Check Your Campaign Monthly
If you can check your campaign every month, say maybe twice every time, you'll be able to monitor your campaign's progress closely. This helps you detect any problem early on for you to immediately remedy with a few tweaks to your strategy.
Every month, make sure you check for the following:
Organic Traffic

Keyword Rankings and maybe even do additional Keyword Research for new potential keywords

Backlinks Status

Image Search

Traffic/Visitor Behavior
Monitor for any dips or problem areas religiously, that way you avoid any more distressing problems that take more time to solve.
#2 – Stay Updated on News
Several existing sites regularly post SEO-related news. In reality, they're just waiting for you to subscribe to them. If you're more active on social media, then like or follow them on their most active platform and enable your notifications.
That way you'll stay updated on the latest piece of content through the emails you receive from these marketing experts or from the updates on their social media accounts. Though you may not always fully understand or appreciate absolutely everything at first, this is a good practice for you. Eventually, you'll get to a point where it is not at all as complicated as you thought it was.
#3 – Watch What Other People Are Doing
Do a web search on who your top competitors are. However, this doesn't mean just any other person. The people you have to watch should be your competitors. This is true, regardless of whether they're beginners or marketing experts. For instance, look up an international or local business in your industry. People who are related or even in the same business niche as you may be doing something with their strategy that works, and you can do the same to positively impact several ranking factors and make it work for you, too.
Tools like Moz, SEMRush, Spyfu, etc. can help give you a little insight into what they could be doing that you can replicate. That way, you won't have to always start a strategy from scratch. You'll have a basis that works!
Is Search Engine Optimization Still Too Complicated For You?
When it all comes down to it, seeing SEO as something complicated or straightforward boils down to perspective. If, even after trying it out yourself, you still think it's too complicated to handle, then you can always ask for help from digital marketing experts!