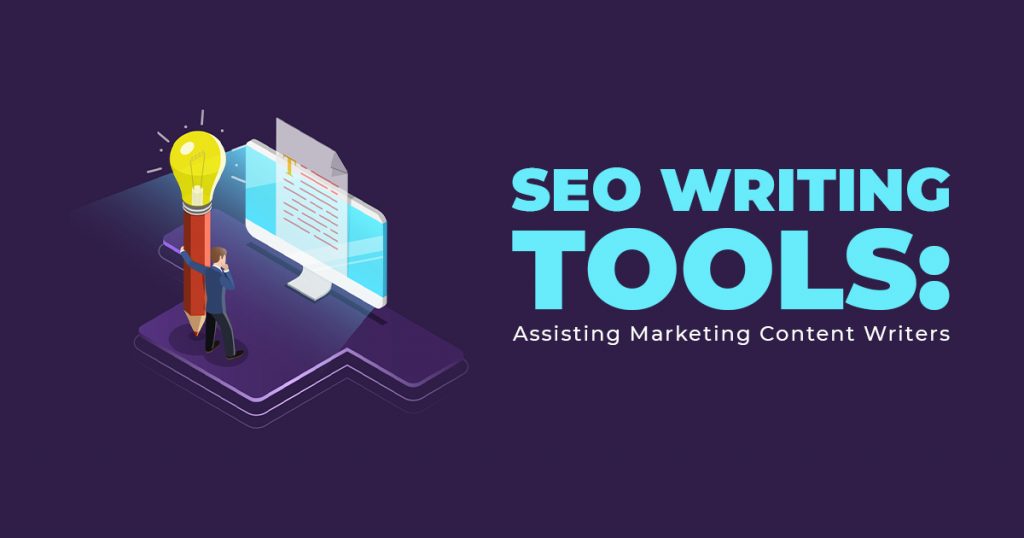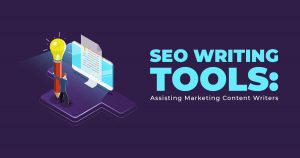 Mar 19, 2022
SEO Writing Tools: Assisting Marketing Content Writers
Searches send organic traffic to websites with informative content. So, Search Engine Optimization drives ten times more traffic to a site than Social Media. It's why Copywriting for SEO is vital for getting noticed! After all, Google supports content that's valuable to its searchers. As a result, writing SEO-Friendly content and articles is the perfect way to get yourself noticed by searchers. Then, Content Marketing Writers must optimize content with an SEO Writing Assistant. We've compiled a list of tools to help you with that.
The value of SEO Copywriting
According to Moz, the most vital On-Page factor for rankings is content. It's one of about 200 ranking factors used to judge the value of a particular article or blog post. For instance, an excellent link profile is another factor for ranking on Google. However, to get an ideal backlink profile, you need Long-form Content.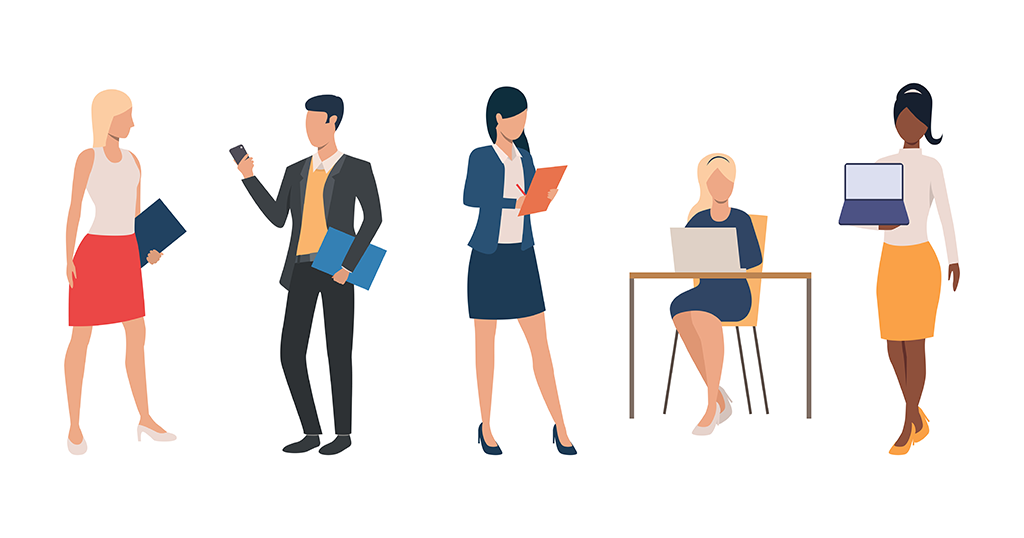 Lately, longer content has become the go-to if you want to get noticed on the Search Engine Results Pages. You can add more information to bring in readers and add more links. However, it's also vital to look ahead. Due to the emphasis on longer content, Content Marketing Writers might want to consider Passage Ranking and Featured Snippets.
So, you need an SEO Writing Assistant to incorporate these factors. As a result, you can prove the usefulness of your articles to search engine crawlers.
A list of SEO Writing Tools to assist in copywriting
Improving your copywriting for SEO can be tricky. It's not just about skill but also various components that add value to your text. So to make SEO-friendly content, you have to consider multiple elements in addition to article writing.
If you're on WordPress, consider using the RankMath Plugin to optimize your Content Writing for SEO.
Google Keyword Planner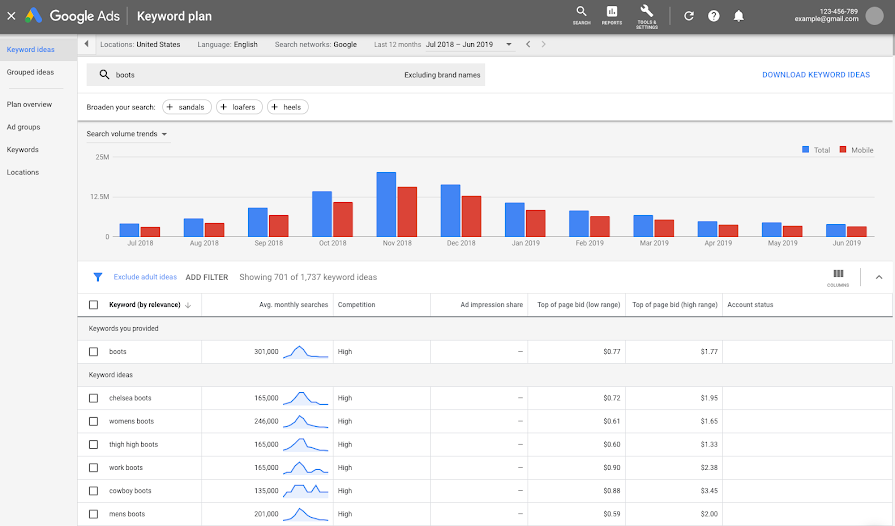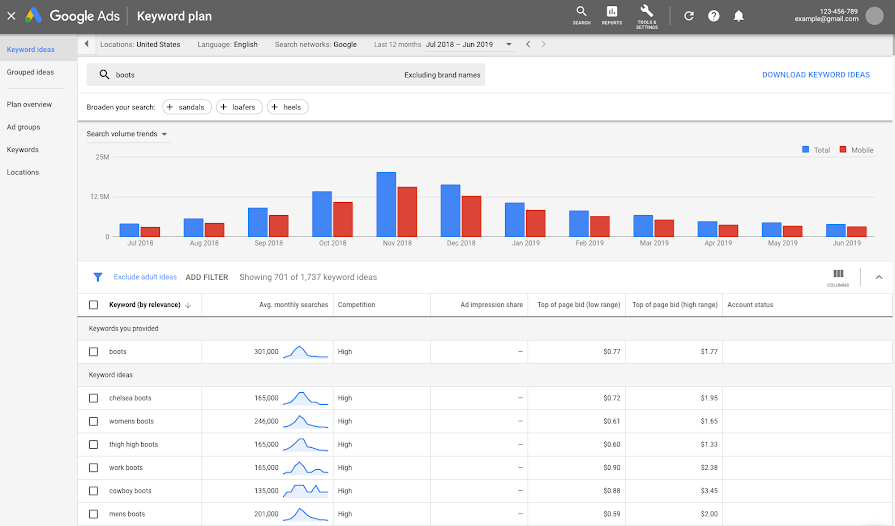 Source: Google Keyword Planner.
A key component in creating SEO-Friendly content is keywords. So Content Marketing Writers need to find keywords that are trending, relevant, and have as little competition as possible. Keyword Search Intent can also help you tap into what people want.
Every SEO Specialist knows that you need to do some Keyword Research before starting SEO Article Writing. So, the Google Keyword Planner is a tool vital to Keyword Research. The Keyword Planner will show its popularity through an illustrative chart.
Also, it displays the keyword's Average Monthly Searches and suggested bids. Plus, you can find related keywords to get your content noticed by the right demographic.
Of course, your keywords have to sum up the topic of your copy. With keywords, your content can reach your target audience. After all, the goal of SEO is to get on the first page of search results. With enough effort, you can even snag the number one spot.
SEMrush Writing Assistant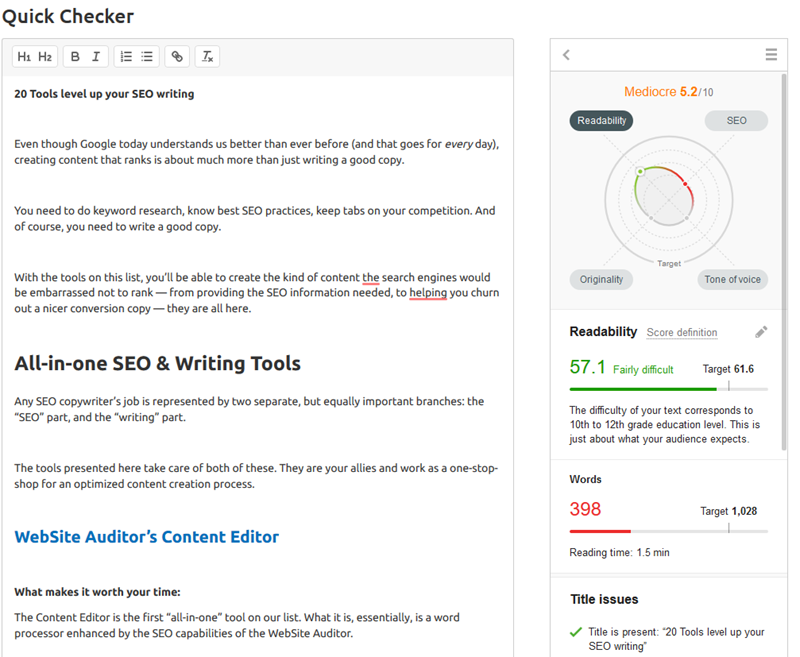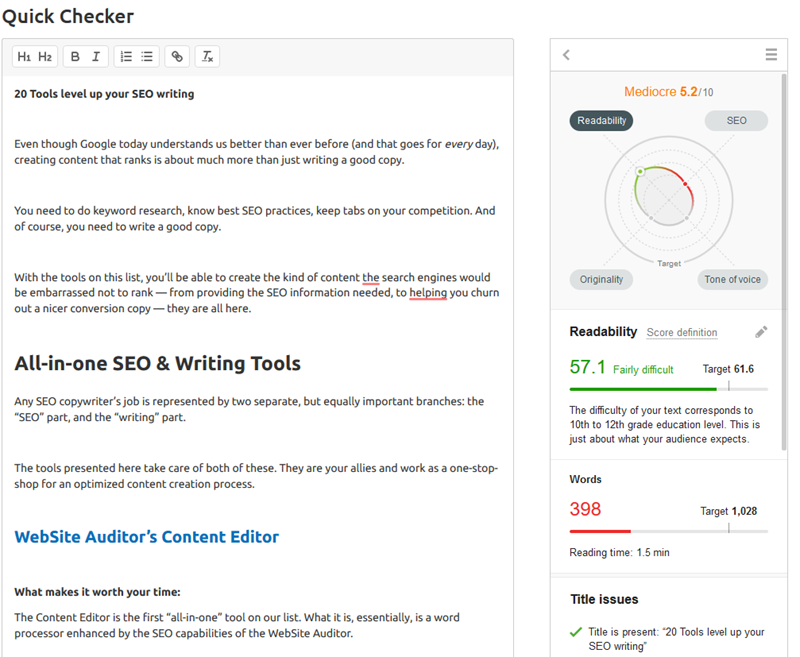 Source: Search Engine Journal.
Getting the perfect keywords is only one step to the top spot on search results pages. Copywriting for SEO means adding those recommended keywords into your content.
Your content has to be attractive to read while avoiding plagiarism. SEMrush's Writing Assistant directs you on how to make your writing attractive to search engines.
The tool shows whether you hit all your target keywords or not. Also, it can provide a helpful list of potential keywords you might want to use. It can also check if your content is original. Google dislikes plagiarism and will penalize you for it if you're not careful!
In addition, SEMrush SEO Writing Assistant will tell you if your writing is too formal or too casual. It also helps you with phrasing to fit the tone of voice your audience is comfortable with. It can even advise you on whether to cut down your paragraphs. This way, readers can easily go through your SEO-Optimized content.
Grammarly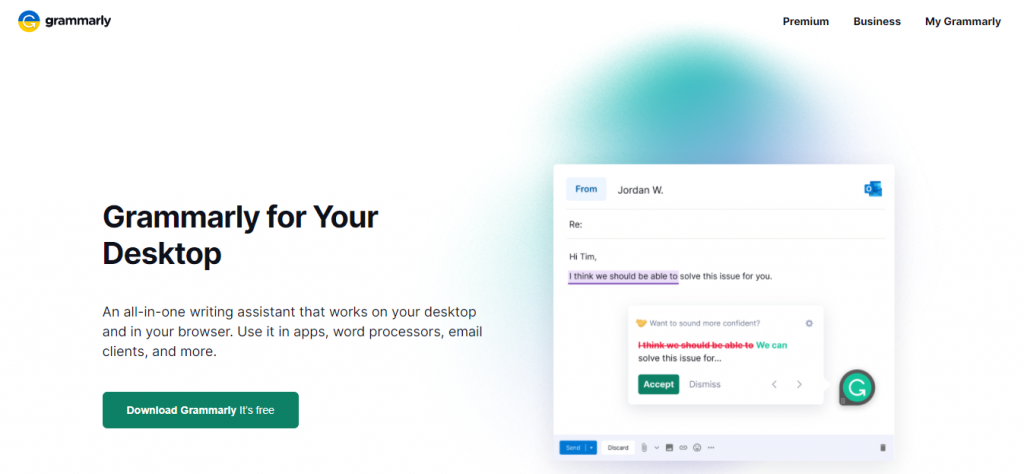 Source: Grammarly.
So you've written the right amount of keywords in your SEO-Optimized content. Now you have to optimize everything for readability. It's not enough to share accurate facts and up-to-date information. Your blog posts must also be free of grammar errors.
Bad grammar can sometimes throw readers off, even if they're engaged in the content. One misspelling can turn away potential loyal readers.
So, it's time to polish your trustworthy content using Grammarly. Its primary goal is to provide grammar and spelling corrections to writers.
Also, Grammarly can investigate and give suggestions about your Tone of Voice! In addition, it can even check for originality, saving you from any plagiarism issues.
Additionally, you may even get advanced Content Writing help. Still, Grammarly is an excellent tool that elevates your content to its best possible version.
Yoast SEO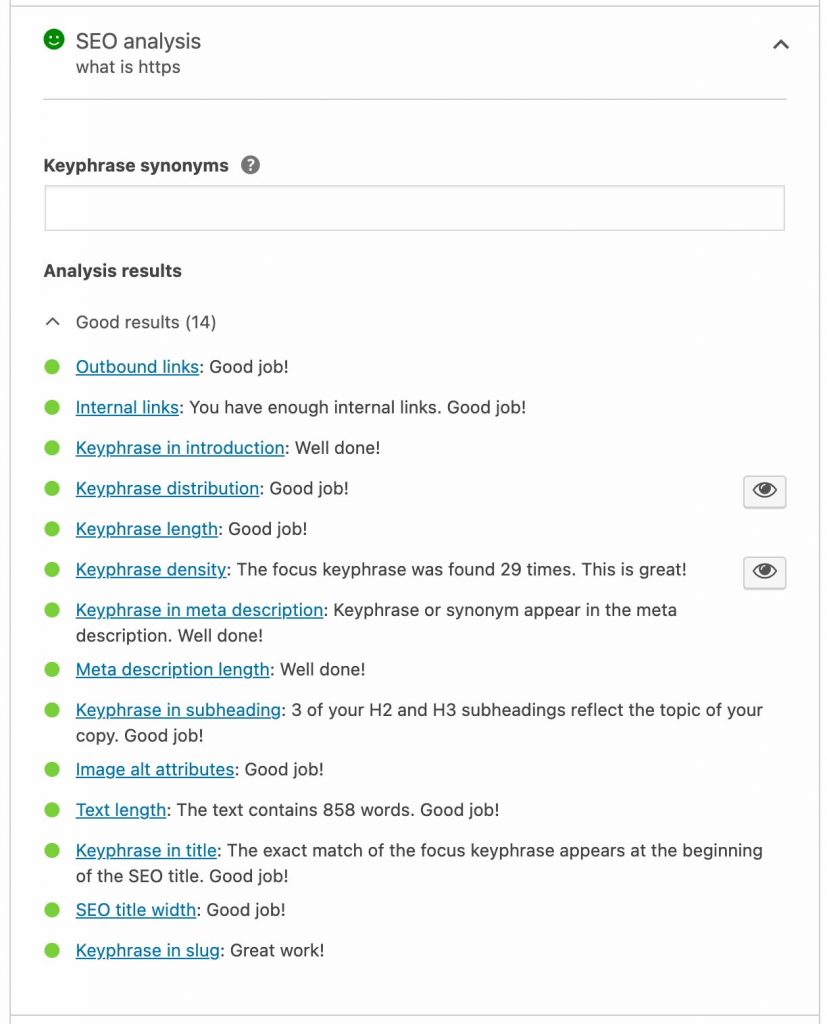 Source: Yoast SEO.
If you're familiar with SEO Copywriting for WordPress, you're familiar with the Yoast SEO plugin. Yoast is exceptional for checking whether or not your content has been optimized for search engines.
SEO-Optimized Content Writing is meant for search engines. So, Yoast can help Content Marketing Writers optimize content to rank well. Just paste your content into the correct fields. Then, it gives optimization suggestions with colored bullet points that indicate if your content is hitting all the right notes.
The tool can assist in content composition. So it tracks the keyword density, internal and external links, meta description, and title tag. Also, you can check its readability and whether or not you're using enough active voice.
Surfer SEO
Source: Surfer SEO.
Surfer SEO can help create the best possible SEO-Friendly content. Of course, much like these other SEO Writing Tools, it can optimize your piece for ranking high.
So this writing tool can investigate high-ranking content according to a specific keyword. Then it provides recommendations on various things. For example, Surfer SEO can suggest additional keywords and optimum content length.
However, Surfer SEO can boost the SEO-Friendliness of non-article content such as videos, links, and images. Therefore, Surfer SEO is beneficial for SEO-based Article Writing. However, it's not as detailed as the other tools on this list.
Surfer SEO can do quick checks on your content. However, you can do more in-depth edits with another tool.
One Look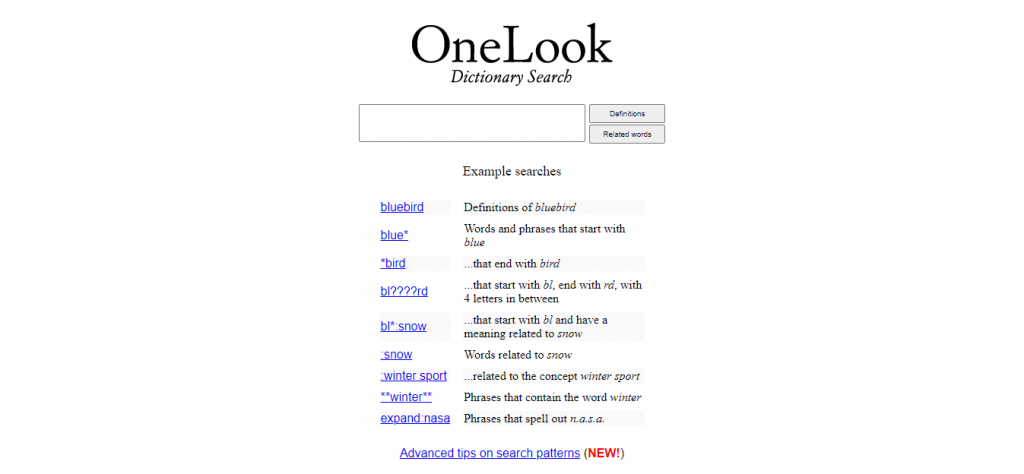 Source: One Look.
Keyword Stuffing will get you on search engines' bad side. However, Content Marketing Writers may be writing content for very similar topics. So if you've been writing for a single subject, you may find that some articles might be too similar. So you need to ensure that they don't suffer from Keyword Cannibalization.
To avoid such a thing, you need to create distinct keywords. Also, you must avoid overusing words or phrases.
After all, keyword stuffing isn't limited to summaries of your content topics. Thus, this SEO Writing Tool allows you to change your phrasing. It even has a specialized "reverse dictionary" for helping you remember a word you're having trouble recalling.
WooRank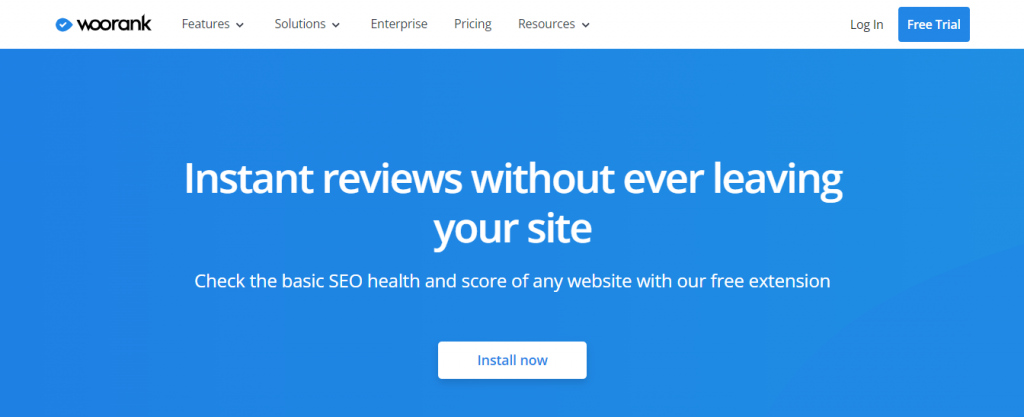 Source: WooRank.
SEO Strategies include drawing up topics and creating Focus Keyphrases to go with them. There's also Link Building, having a consistent schedule, and tracking your progress. If you want your content to get on the first page of SERPs, these elements must work together. So with a clear plan (and time), Google will see the high quality of your SEO-Friendly content.
So WooRank can help you with your SEO Strategies by giving you feedback. First, to refine your plans for reaching the #1 spot on SERPs, it analyzes your strategy. Then, the tool gives you insights for improvement.
Primarily, this SEO Writing Tool can tell if you've added the best keywords in your SEO-Optimized content. Thus, you might consider using WooRank and Google's Keyword Planner to refine your Keyword Research.
In addition, the tool can also refine your Social Media efforts. Plus, it can tell you about your business site's reputation online. WooRank can find both the flaws and excellent parts of your strategies.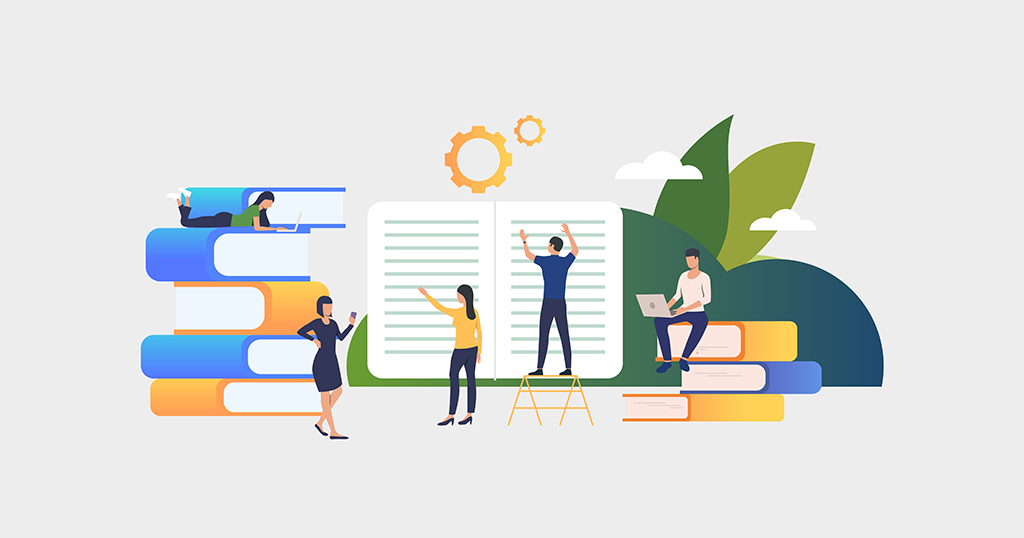 Additional SEO Writing Tools
DemandJump. The tool automates Keyword Research and tells you about the best content to create.
Keyword Density Checker. This tool finds how frequently keywords appear in your copy.
WordCounter. This tool counts how many characters and words are in your article and even helps with grammar and writing style!
Contenteum (WordPress). It gives writers suggestions and feedback for creating excellent content and allows you to publish them.
Readable. Like its name says, the tool can tell you how readable your content is with a score.
Hemingway Editor. This tool can help you polish your SEO-Friendly content further for readability.
Linkody. It manages your backlink profile and can disavow bad or Spammy Links.
Pre Post SEO. This tool is a collection of nearly a hundred tools for creating SEO-friendly copy. It checks plagiarism, paraphrases your article, and more.
Social Animal. This tool researches and discovers content.
Use tools to boost your Copywriting for SEO! 
Writing articles is an excellent way to take your Content Marketing efforts further. Of course, writers can also apply Content Marketing to videos and images. But, articles and blog posts can provide lots of information to interested searchers.
In addition, search Engine Optimization can get your website's content noticed by search engine crawlers. Then, after proving your content's usefulness, you rank on search results pages. As a result, it drives organic traffic to your website.
Optimizing your written articles for SEO is crucial for your brand's reputation. SEO Writing Tools are perfect for refining your writing. Also, Content Writing Services can give you a hand with reaching the #1 spot on your desired results pages.