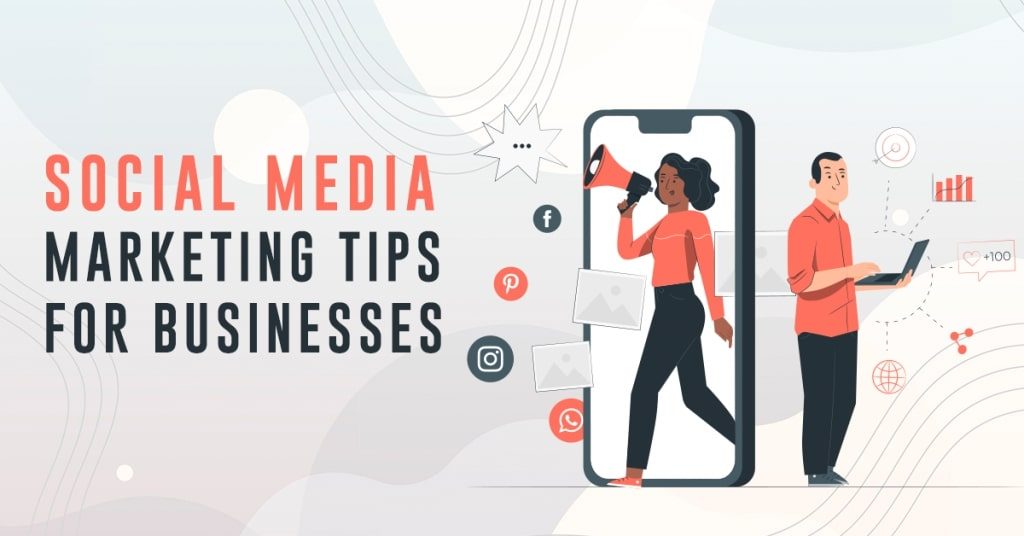 Feb 9, 2021
Social Media Marketing Tips for Businesses
Most businesses today utilize social media as an essential part of their business strategy. It is considered as one of the most efficient ways to engage with existing customers continuously. As a digital marketing strategy, it also helps reach those who could potentially become your clients. Check out these social media marketing tips to boost your business activities.
7 Social Media Marketing Tips for Businesses
Craft a Social Media Plan and Content Calendar
 It would be best if you always started things with a plan. A plan will help you determine the goals or objectives as to why your business has to engage in social media. Setting these parameters will also help you measure or evaluate the results of your marketing campaigns. It is one of the social media marketing tips that will help you hit specific business goals and objectives. As such, you should give time to create a social media plan to start the ball rolling.
First, create social media goals and objectives that are specific, measurable, attainable, relevant, and timely (SMART). Also, look up your competitors on social media and learn from them to know what's working or not. Then, if you are already on social media, find time to assess your previous marketing campaigns. After that, study the businesses from other industries and find inspiration based on what works for them and what their followers expect from them on social media. Lastly, create a social media content calendar to plot and organize the content you will be posting on your social media channels. As a tip, try following the 80-20 rule wherein you use 80% of your content to inform or entertain your audience and the remaining 20% to promote your brand's products or services.
Choose the Right Social Media Channels
Generally, audiences spend their time on social media channels such as Facebook, Instagram, Pinterest, or Twitter. Effectively use social media for your business by researching where your target audience spends their time whenever they are online. To do this, you can look up social media demographic information regarding these major social media channels.
Moreover, keep in mind that these social media channels may work differently for you. You may reach different markets through them, or they may even help you meet various business objectives. For instance, Facebook may help you in getting potential customers and making conversions. Meanwhile, Instagram may help you better in making sales. As such, when posting content on Facebook, you can consider adding a link to your campaign page. On the other hand, when posting content on Instagram, you can direct them to a shopping page where they can purchase your product with just a few clicks of a button.
Understand and then Expand Your Audience
With regards to this social media marketing tip, it is vital that you know and understand your target market. Do this by checking your social media analytics to gather data on your existing customers. As such, you can incorporate Google Analytics in your SEO to find out who is buying from you and who is interacting with you on social media. Do this by including trending and relevant keywords in your posts to attract the right customers. Then, by crafting your content around these keywords, you guarantee that your posts will help you gain more potential customers and make more sales.
After that, once you get to know who your audience is, check out your social media plan again and formulate ways to reach more people. Find ways on how to expand your audience reach on social media. To do this, you can try to create Pinterest ads or use Twitter ads. If you are on Facebook, you should maximize the platform by showcasing your products through Facebook Shops and posting your ads through Facebook Stories. Also, use the Facebook Ads Manager to administer your organic or paid advertisements on Facebook effectively.
Establish Relationships on Trust and Loyalty
People today use social media to look up new brands or products to solve their daily needs. As such, it is vital that you properly introduce and market yourself to your audience so that they know who you are and get an idea about what you are there for. It would help if you made them realize that you are there because you need them. In doing so, you create a community of loyal customers to help grow your business.
Through social media marketing – especially for SMEs – businesses can quickly and directly engage with their customers and followers. Traditionally, businesses would try to make a sale with a customer at their first encounter. Through this social media marketing tip, businesses can slowly build and establish relationships with their audience over time. With trust comes loyalty; therefore, the more your customers trust your brand, the more they will patronize your brand and like and share your posts, which helps you rise in social media algorithms. Continuously engaging with your audience also increases the chance of purchasing your products or availing of your services.
Post Quality and Compelling Content
Even in social media marketing, quality takes precedence over quantity. Thus, you do not need to post an overwhelming amount of social media content on all available platforms. You only need to post quality content on social media channels that work best in attaining your business goals. More importantly, make sure that your content offers value to your audience. Otherwise, they would ignore it. Remember to make sure that the images you share look good; otherwise, no one will stop scrolling to read what you have to say. For starters, try to make use of high-quality stock photos online for your social media posts. You can also use graphic design platforms such as Canva and Piktochart to help design your images. Also, check out this quick guide on how to design social media posts with Adobe.
Moreover, it would help if you crafted a compelling description to go with your image because content marketing is your selling advantage. Perhaps you can tell your customers some insider information about your company in one of your posts. You can share some behind-the-scenes images or footage about how your operations work. Also, you can showcase the people behind your company's success. Besides that, you can also employ video marketing by sharing tutorial videos on using your products or services.
Schedule Content for More Time on Conversations
Social media is all about engagement. As such, this social media marketing tip reminds you to respond to comments, especially queries and concerns, posted on your social media channels. So, based on the social media content calendar you crafted at the start, you can create your posts in advance and schedule them for automatic publishing.
Doing this gives you more time in a day or a week to create more social media content. It also provides you more time to respond to comments and attend to customer queries and concerns on your social media channels. It will also help if you installed the Facebook Messenger chatbot if you have a business website to provide customers with a way to connect with you on Messenger directly.
Monitor and Refine Performance
The final social media marketing tip is all about monitoring your social media marketing performance with the use of social media analytics tools to know if what you have been doing is working or not. Some of the leading social media analytics tools include HubSpot, Sprout Social, Falcon.io, Mailchimp, Databox, and ActiveCampaign. These tools also allow you to schedule and publish messages to all your social media channels, engage with your customers, and keep track of relevant conversations. Based on your analysis, you can make the needed modifications to get better and improved results.
Moreover, you can also improve your strategies by employing A/B testing on your social media postings. You can make small changes to your posts to slowly achieve the best way to do it through this.
Want to Improve Your Social Media Marketing?
Apply these social media marketing tips and boost your business' overall social media performance. If you need assistance with your social media marketing campaigns, you can always employ social media marketing services from the Philippines to help you engage better with your audience, spread awareness of your brand, and connect with potential customers.