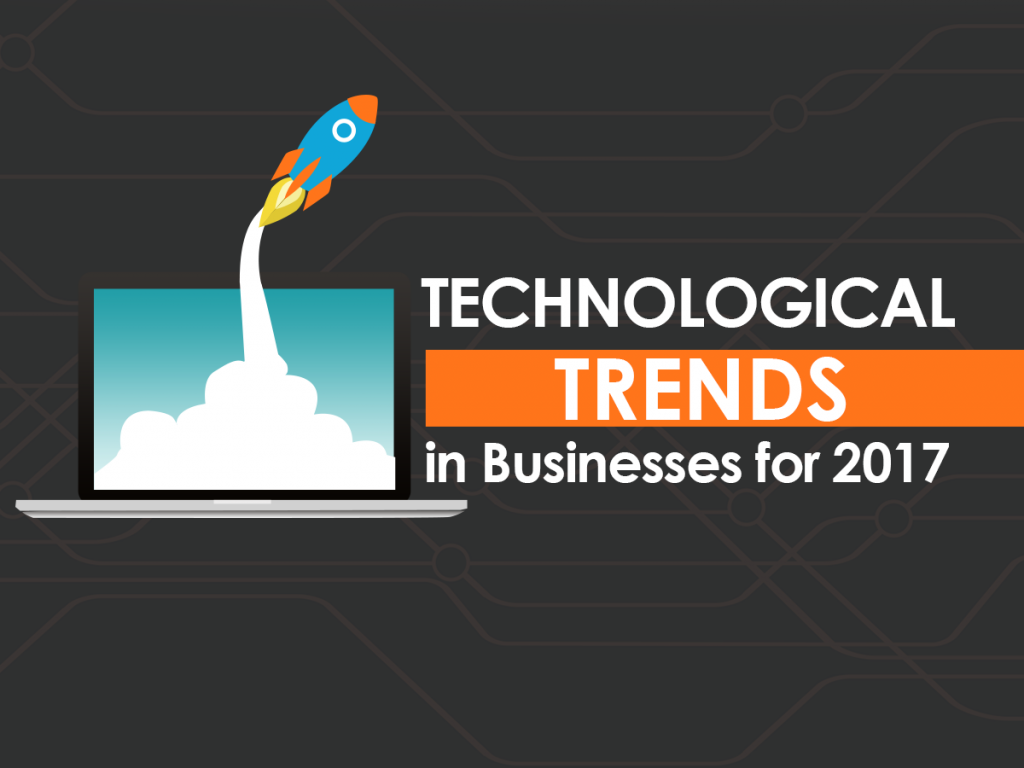 Jan 20, 2017
Technological Trends in Businesses for 2017
2016 has been a great year for the modern world. Many things happened in the short span of time like the great use of virtual reality, augmented reality and even improvement in marketing. Technology has evolved consistently at a high speed, and you need to catch up or you'll lose your edge! Let us review what changed the way we do things now. After all, technology evolves exponentially. In this article, let us find out what trends are applicable for this year in Marketing, Web Development, and Application Development.
The internet, for example, has brought a lot of advantages to businesses – one is the ease of advertising. The internet and marketing go hand in hand in order to make a business grow and to fully serve its clients. Now, let's see what have changed and what are still preferred in the marketing world.
I Am Not Talking to a Human!

Customer service has evolved, and we cannot deny the fact that instant messaging is much more convenient than e-mail as many of us are not fond of checking emails anymore. Chatbots have become a powerful tool in communicating with people while you do things and the bot does the work for you. Instant messaging platforms have become quite famous for their ease of use. At times, these platforms may be informal. But if a client is using it, hey don't pass on a negative judgement! Chatbots are easy to use and are either free or cheap, it's worth the try.

Ad Banners Are Outdated!

Trends for marketing strategies are ever-changing. Before, there was a wide influx of banner ads. But a banner ad becomes annoying because most of it covers a lot of what we want to see. These banner ads have become a liability, and because of the need for people to not see ads, ad blockers have been getting a ton of downloads! On top of this, there is what we call banner blindness. Banner blindness is a phenomenon in web usability where visitors to a website consciously or subconsciously ignore banner-like information.

Source: smartinsights.com

A survey with 2,352 respondents, made by Smart Insights, has shown the most effective digital marketing techniques for 2017. The result is great as it really reflected the best methods used in 2016, such as content marketing and Social Media Marketing which are usable again in 2017.

Your Article and Content Can Gain Marketing Attention!

One of the biggest search engines, Google, has released information on how your website can gain traffic even if you don't post a lot. Just make sure you post relevant articles that talk about what happened. Quality matters and Google is checking out your article's quality making sure what you post is not plagiarized and free of errors that might penalize you. Making content on your own website is important. But to have a wider coverage, it's a great idea to be a guest writer on a different page. You can then plug your page or blog in it. This can help you and the website you wrote to gain traffic, it's a win-win situation for both of you!

The Unexpected Social Media Market

The Social Media market is big and wide. It covers a lot of people, is ever evolving, and is easy to use. Making use of these can help with your marketing strategy! The millennial generation is here and they are the biggest users of social media and the internet. The Millennials are a fast growing customer base and are over 80 millions in the U.S. alone. The expectations of millennials today are quickly spreading to the boomers and other generations.

Source: radcomrad.com

Making use of social media's features, such as Facebook's live, can make you well known in this generation by including them to your events! Taking advantage of social media can be a great help. Once you make a really good marketing strategy, you may become trending overnight! And the best thing about these, they are absolutely free (unless you boost your advertisement)!

As technology evolves, websites should evolve too. Being flexible can give your website an edge. A website is an important part of your business as it gives your customers a view of what they can get. Now, let's try to review what happened and what to expect for this year!

Web Design Adaptability and Mobile Phones

Due to the rise of smartphones, there exists many different screen sizes now. It is important to remain updated with the sizes and make your website compatible with it. A potential customer checking out your website who finds that his mobile phone can't adapt to it would get annoyed and would immediately leave. Try your best to have your website achieve mobile friendliness.

Simple Web Design


Web designs have changed through the years, from a blocky site to a more interactive and visual approach. The new and "in" web design has adapted from overloading the user with too much information to giving the user little information with the support of pictures and catchy lines. Be careful when using images and GIFs as they may become a cause of your web's slow loading speed. But they can also become an asset when done correctly. Give your website an organic feeling of using images with real people or things. If you want an example, try to visit the website of National Geographic.

Source: designbump.com

What You Lack in Numbers Can Be Compensated Online!

You may be in need of employees but training will cost you a lot of money. Today, getting a full time developer can be an asset to your company as many online chat applications can monitor them. Hiring them won't cost you that much since you pay them only by the hour. You are also well assured that they are doing what you require them to do.

Simplicity and compatibility are the keys to developing a successful app and indeed, these apps may help in the primary function of your company's business process. Apps that create a demand in your service can help your business grow; while apps that can aid in a company's background process such as an inventory system support the sales aspect of the company.

Augmented Reality

Due to the rise of a simple mobile game called Pokemon Go, augmented reality has shown a way a way to make an application. A simple usage of existing technology, for example, the maps, can become an asset in your app development. Making use of the current batch of mobile phones' specification can help you gain the competitive edge and gain attention to the technology inclined generation.

Source: thedailybeast.com

Improved User Experience

Your application's usability is a vital point in developing an app. People want to experience having at least a one touch one response function that is easy to use. Create an application that everyone can use and can understand easily making sure that it doesn't need a tutorial. Plainly exploring it should also make it more learn-able.
As mentioned earlier, technology is ever changing and ever evolving, so it is really important to keep yourself updated with the latest trends and adapt to it. Being "in" isn't just for the new generation, but also for you, to be able to understand their preferences.