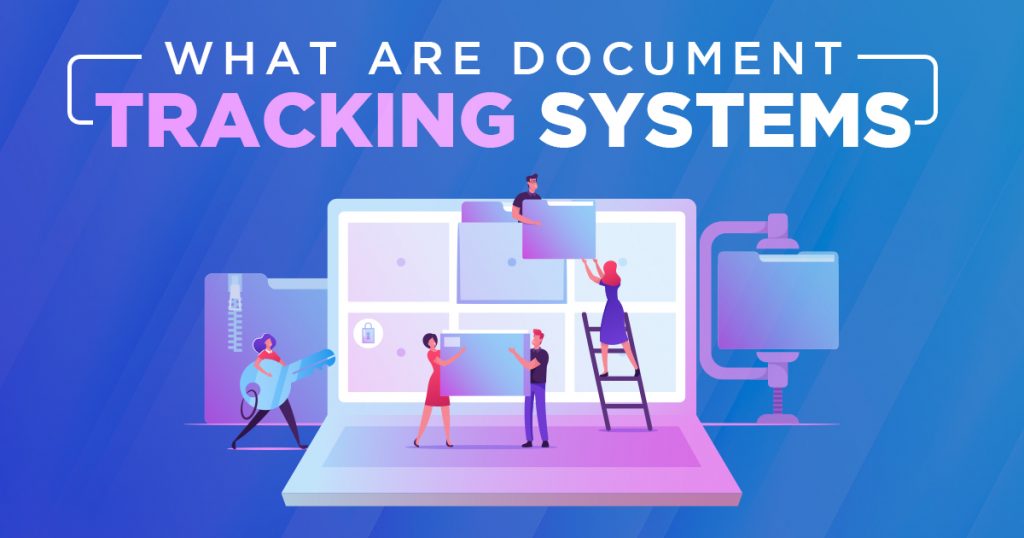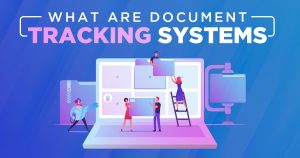 Jun 2, 2021
What are Document Tracking Systems?
With the digital age, software developers have found innovative ways for businesses to utilize documents. Thus, they don't have to go through the hassles of relying on physical files, folders, charts, and filing cabinets. As such, let us discover what a document tracking system is and the many benefits that you can get when using it in your workplace.
Documents and files are integral for any business in any industry. They help companies and their customers make sense of the various processes and transactions in their daily operations and interactions.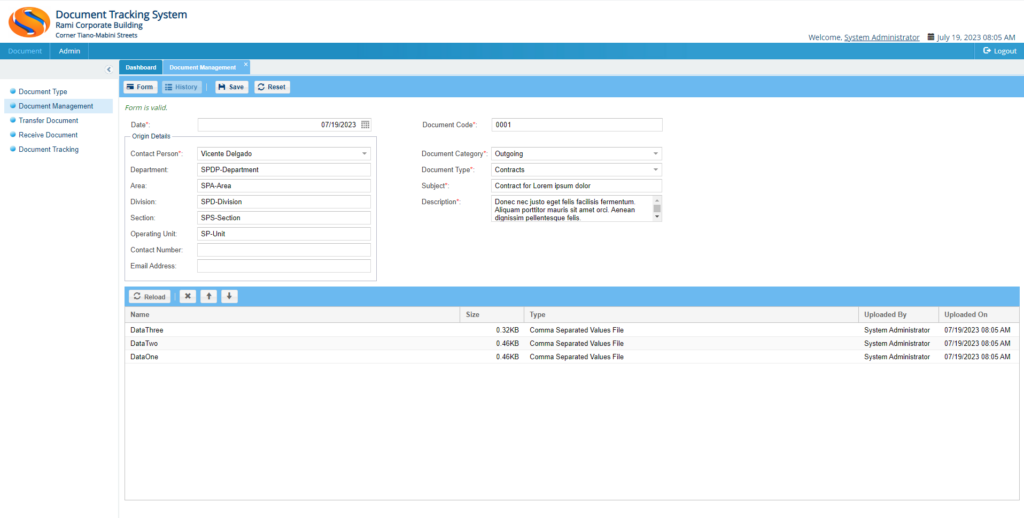 If you've visited an extensive library, you've likely been in one with personal computers where you can search what books are available and what sections they're in. A file or document tracking system works similarly to that. 
The system is unlike Google Drive or Dropbox. Rather than eliminating the need for physical copies, it monitors important documents so users can:
See a file's location;

Know who's using it;

Check if it's being approved, etc.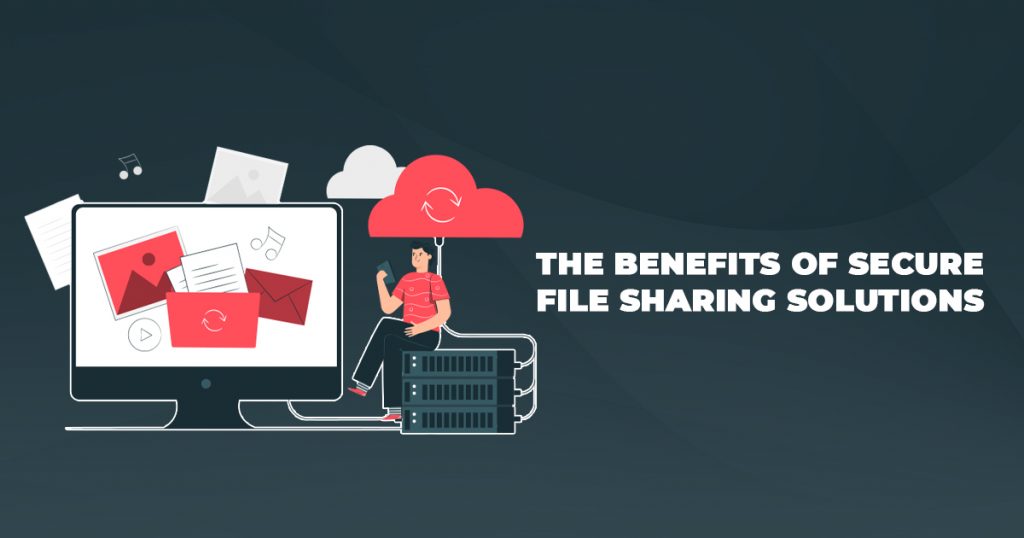 What is a Document Tracking System?
A document tracking system helps you automate accessing, searching, editing, and managing your electronic files. The tracking system lets you see who accessed the file and allows you to limit who can view and modify the content of said files.
Subsequently, it also helps you keep track of the changes or modifications made to the document. Today, most government offices, healthcare, financial, and legal sectors use the best document tracking systems because they mainly deal with confidential information provided by their clients.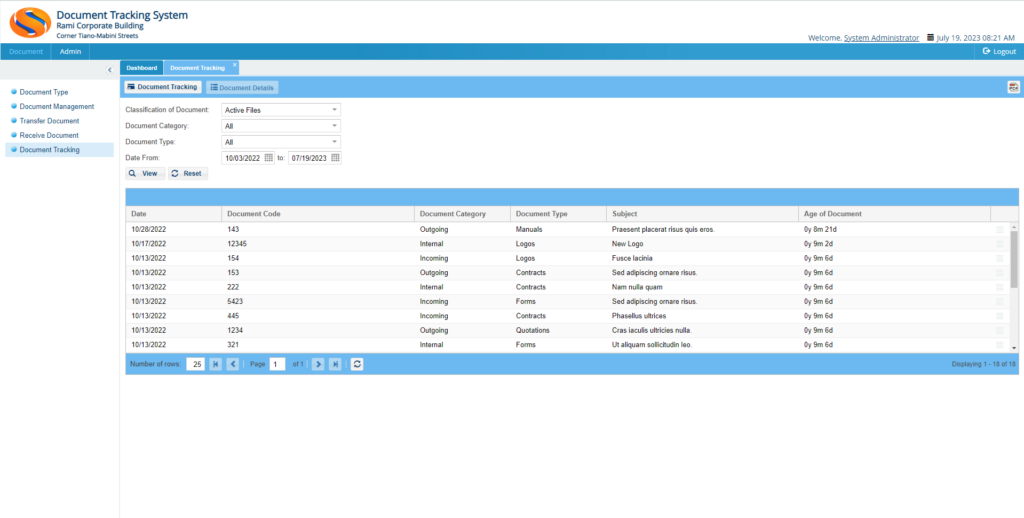 In relation to document management systems, a tracking system mainly focuses on the tracking aspect. As such, a tracking feature is key to any file management system. On the other hand, document management systems deal with a broader set of features, including file sharing, transfer, and even collaboration.
With a tracking system, you are guaranteed that your electronic files are accounted for. Most importantly, they are stored safely within your organization.
The Benefits of a Document Tracking System
With a file tracking system, you can know who viewed a file, when they viewed it, and how often. Apart from these mentioned, here are some other benefits that you can get when you use a tracking system in your work operations:
Accessible and Responsive
As long as you have an internet connection, you can access your documents through a tracking system. More importantly, because most people are on the go, you should know that you can also access your documents through any mobile device, whether it be a smartphone, a tablet, a laptop, or a desktop computer.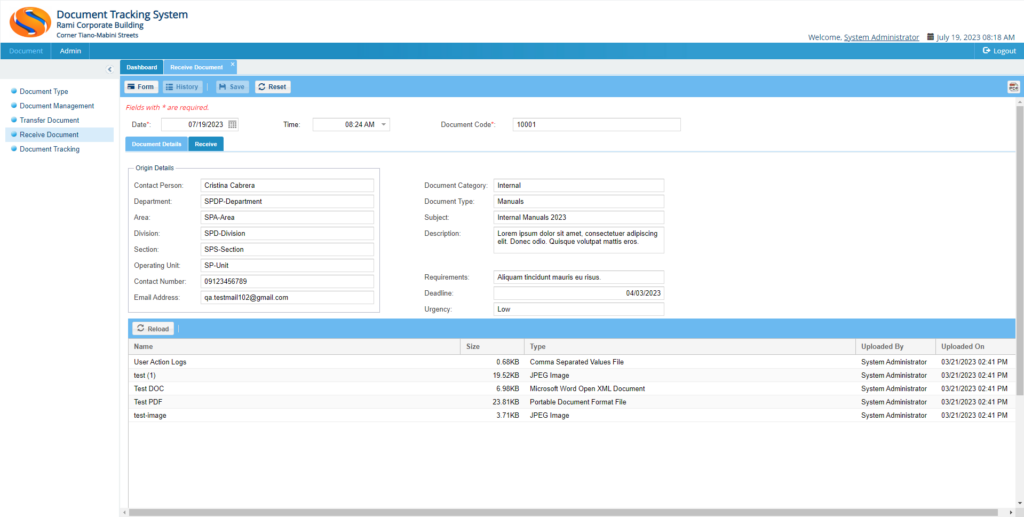 Improved Productivity
When you have a tracking system, your team can specifically see in real-time who is working on which part of the file. You can also keep track of which parts are being modified. Because of this, you improve productivity by removing the probability of two team members working on the same task. 
Thus, you no longer have to wait until one team member finishes editing the file because all of you can do it simultaneously.
Promotes Paperless Transactions
Software developers have designed tracking systems to be cloud-based. Because of this key feature, you no longer need to have physical or printed copies of your documents. With this, you promote paperless transactions. Moreover, you also remove the need to set a place to store filing cabinets.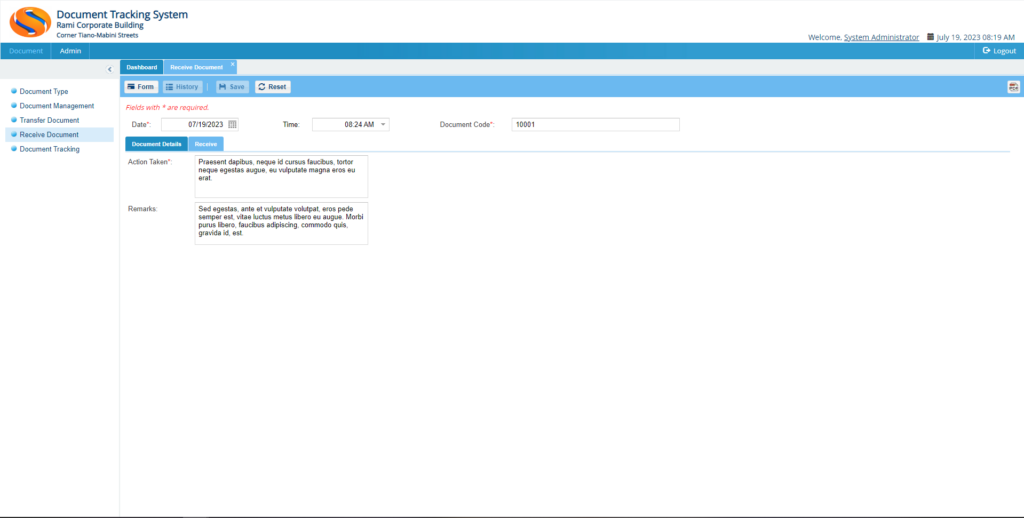 Easier Audit Trails

With a tracking system, your business can efficiently conduct audit trails. The tracking system will tell you all of the changes that a particular file has gone through. This tracking system can also determine who made the said changes or modifications and when they happened.
Updated and Secure
As with any recent product of custom software development, document tracking systems are equipped with security features that guarantee the safety of your documents, including access control. It is also compliant with data privacy rules and regulations, assuring you that no one can easily access your files.
Interested in Web Security Solutions?
Check out our Security Plans here!
System Features to Look Out For
Every business has unique needs. The same would apply to the tracking system that you would need for your business. Thus, if you are currently searching for a tracking system that you can use in your business, make sure that you check if – as much as possible – it is equipped with the following features:
Centralized Storage
See if the document tracking system has one centralized location to store all of your files. With this, you can quickly look for and access your files.
Private and Secure
A tracking system should also comply with data privacy standards. Doing so will ensure that no malicious attacker gets access to your customer's personal information.
We also offer Various Bitdefender Security Solutions for Businesses!
Streamlined and Collaborative
The different members of your team should be able to work simultaneously on a single document without having to wait for one to finish.
Backups and Recovery
To ensure that your files are safe in case something happens to the software, tracking systems have backup and recovery options.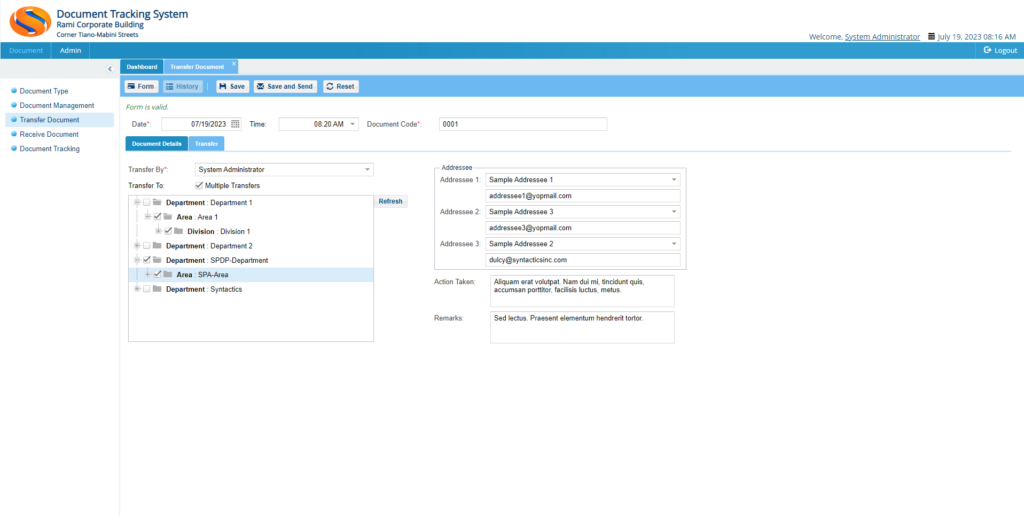 Mobile Access
Find a document tracking system that allows you to access your files using any device, including smartphones, tablets, laptops, etc.
Version Control
Get access to all versions of your documents, including the tracked and saved modifications done on a document and who made such changes.
Advanced Search
With a document tracking system, you can quickly and easily locate a file and who has current access to it.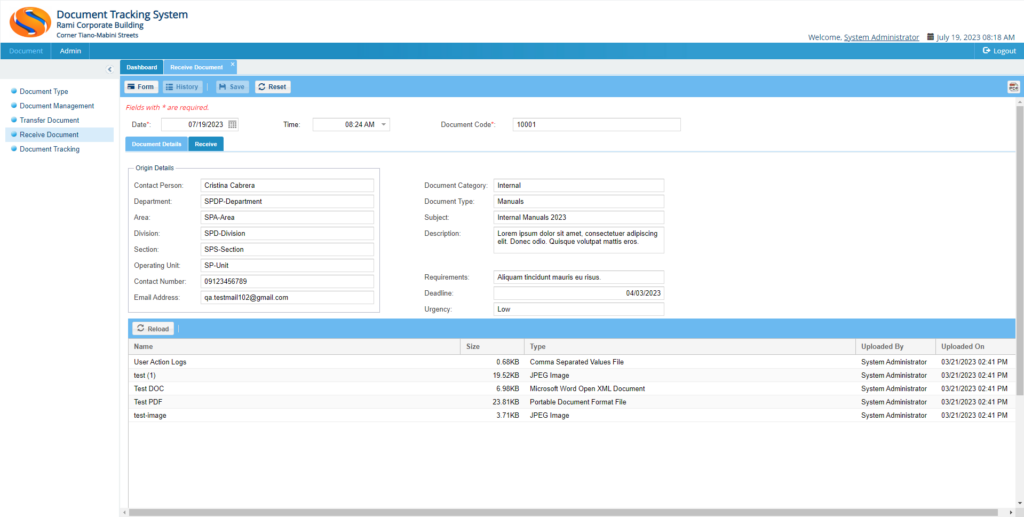 Monitor Your Files with a Document Tracking System
As you can see, file or document tracking systems help businesses keep track of who has access to their files. It also helps ensure that their organization keeps all their documents. So, suppose you are looking for a system that enables you to improve your business operations. In that case, you can check out a Document Tracking System from the Philippines!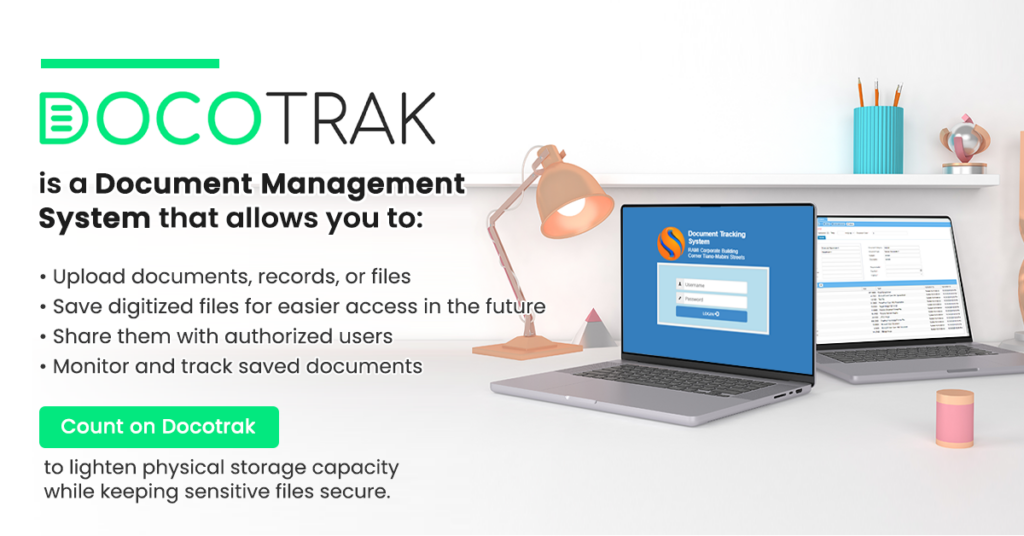 Did we forget to mention anything about tracking systems? Please feel free to share it with us in the comments section below!
ALSO READ:
Frequently Asked Questions
about Document Tracking Systems
What is a document tracking system?
A document tracking system manages and monitors the flow of files within an organization. It provides a real-time view of document progress. Additionally, many systems offer version control and ensure compliance.
How does a document tracking system work?
The system stores and manages documents in a central digital repository for an organization. Firstly, a user can upload one document per group to the system. For instance, you might upload a legal contract to the system in addition to supporting documents.
After successfully uploading the files, the user can select the individuals or groups/departments who will receive the document. As such, this is where document tracking takes place. 
In terms of tracking the transferred document, there's a hierarchy. For instance, with the Docotrak file tracking system, there are Operating Units, and here they are from highest to lowest:
Department — A department can have various areas;

Area — Each area of a department has divisions;

Division — Each division has sections;

Section — Each section has units; and finally

Unit — This is the lowest of the hierarchy divisions.
Lastly, it's not necessary for a user or employee receiving a document to be under a unit. It's also possible for each operating unit to have an assigned employee.
What are the advantages or benefits of using a file or document tracking system?
File tracking systems offer the following benefits:
Centralized document management

Enhanced productivity

Reduced costs

Reduced errors and delays when dealing with files

Greater compliance and security

Document audit trails
What file types can the system track?
A tracking system can handle various types of files depending on its capabilities. In general, a document tracking system may handle the following file types:
Word processing documents

Text files

Spreadsheets

PowerPoint presentations

PDFs

Images

Other media files like audio or video

CSV or Comma-Separated Values files
Can a file tracking system be integrated with existing software or systems?
File tracking systems can be integrated with various software or systems, such as: 
Email clients

Cloud storage platforms

Customer Relationship Management or CRM systems

Workflow automation tools
However, you must consult with your system provider to learn what is and isn't compatible with your system.
Is file tracking system software cloud-based or on-premises?
The file tracking systems can come in either cloud-based or on-premises versions. Cloud-based systems are hosted remotely and are more scalable. Not only that, users can access documents more easily.
However, on-premises solutions offer more or even full control over data and security. Still, this system version may require more IT resources. 
How secure is a file tracking system?
Secure tracking systems prioritize security and use various measures to protect files. Thus, when evaluating a system for your organization, check with providers about the specific security measures they use, such as encryption, regular data backups, and system updates.
Can multiple users access and track documents simultaneously?
Modern document tracking systems allow multiple users to access and track documents simultaneously. Often, file tracking systems offer version control.
Can a file tracking system track versions or revisions?
File or document tracking systems have version control features for better tracking. A file tracking system creates a new version of the file when it's modified while preserving previous versions. So, users can access earlier versions, and the system keeps a history of changes. 
It also maintains an audit trail for compliance and quality control. Additionally, the version control feature prevents confusion due to multiple file versions. 
Does a file tracking system provide audit trails for document history?
Document tracking systems provide audit trails for document history. A comprehensive audit trail is vital for security and compliance, incident investigation, and document integrity.
Audit trail information includes the following:
Usernames

Action timestamps

Actions taken

Locations or IP addresses

Version history.
Can a file tracking system track documents across different locations or departments?
The document tracking system is a centralized repository that can track files across different locations or departments. Also, because the system records user actions in real-time, it improves transparency and visibility.
In addition to allowing users to view updated information, the system improves inter-departmental transparency and visibility.