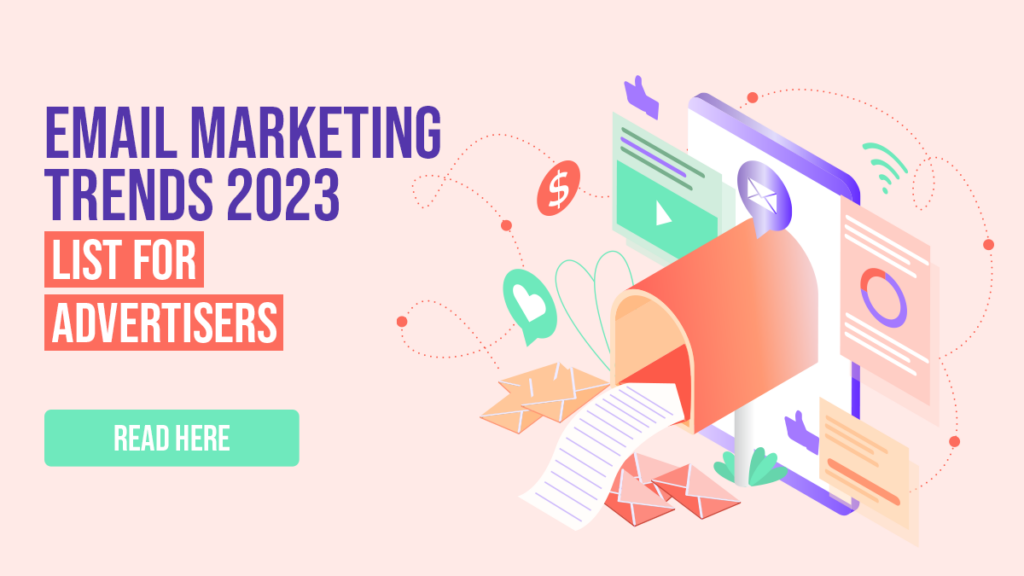 Jan 26, 2023
Email Marketing Trends 2023 List for Advertisers
Email Marketing is one of the best Online Advertising Strategies for businesses. In fact, current projections say that there will be 4.6 billion email users by 2025. Companies should take advantage of such a vast user base by following Email Marketing Trends. Some Email Marketing Trends for 2023 overlap with Digital Marketing Strategies.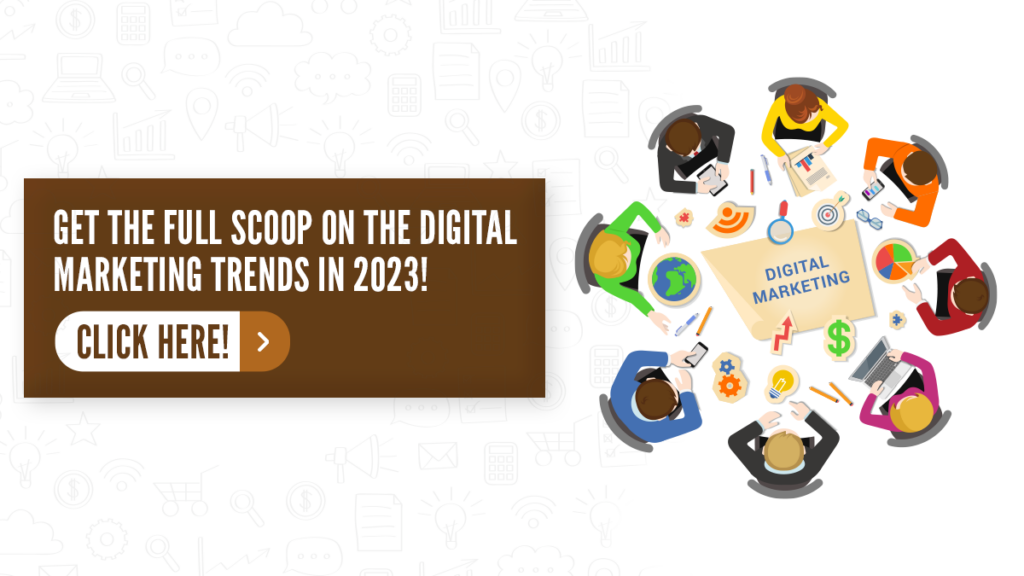 Email is an effective marketing channel for businesses, regardless of size and industry. Marketing Emails can target subscribers with relevant content or messages so they can be personalized for better rapport with a recipient. 
As a result, Email Marketing in 2023 will be a solid investment, just like hiring Email Marketing Experts. Of course, this year's trends may evolve all throughout, but here are some of the key Email Marketing Trend predictions:
A List of the Top Email Marketing Trends of 2023
Respecting Recipients' Privacy
In 2023, Data Privacy will be a critical strategy for building trust with your audience. All businesses must respect customer privacy. So, your Marketing Emails should be transparent about how you'll use their information. 
This year, consumers will continue to be more aware of how businesses use their data. People are sure to appreciate it if you notify them about the following:
the data you aim to collect from customers;

why you're collecting it; and

how you'll use it.
In addition, you must also provide options for unsubscribing or opting out of your email list. Of course, some customers will leave your current list, but this is part of preserving a positive relationship. Adding an 'Unsubscribe' option can help you distinguish your Marketing Emails from spam.
You may also offer ways to change emailing preferences. So, recipients have more control over what content they'll receive from your business and when. Prioritize your customers' privacy, and they'll reward you with increased engagement.
Going Beyond Open Rates as a Metric
Timing your email sending according to audience demographics can significantly increase your Open Rates. However, in 2023, Open Rate will not be a primary Email Marketing KPI or Key Performance Indicator. 
Open Rates are no longer reliable indicators of whether your marketing efforts are doing well. One of the key reasons for this is that Apple added a new feature called Mail Privacy Protection. Also known as MPP, it protects user data from third-party applications. 
The feature will keep email senders from using pixels to collect user information in the Mail app. These include information about:
when emails are opened;

where they're opened;

the device a recipient uses to view the email; and

the device's activity.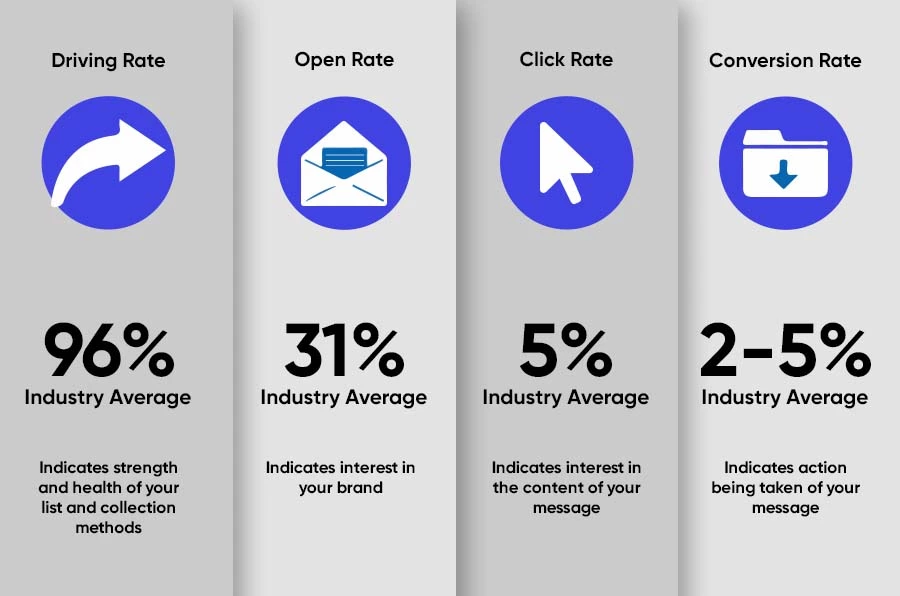 Source: Sloovi.
So one of the essential 2023 Email Marketing Trends includes tracking reliable metrics. Key metrics that can boost hyper-personalization include:
Click-Through Rates;

Bounce Rates;

Conversion Rates; 

the subscription to unsubscription ratio;

Zero-party data or responses to questions you directly ask recipients; and

First-party data or observed data.
Thus, businesses should hire Email Marketing Experts to improve personalization!
Redesign Your Marketing Emails
Modern design principles march on, so if a business must change up branding design elements and templates once in a while! Marketing Emails will benefit from a fresh look, becoming more appealing to recipients. 
Here's how you can make your emails more attractive to your audience:
Firstly, use a responsive design so emails can adjust to your recipient's device.

It's vital to account for dark mode, which many users prefer over the usual light mode.

Additionally, minimalist design is in this year, so focus less on visual flourish and more on your message.

Then, ensure that you create compelling 

email subject lines

 to influence people to click on them.

In addition, marketers must incorporate exciting visuals to draw a person's eye and keep them engaged throughout the message.

Email Specialists must create content that gets to the point. Also, Calls-To-Action buttons or links are visible and visually appealing.

Lastly, include a bit of animation in your Marketing Emails. Dynamic GIF files will help add some motion to your message.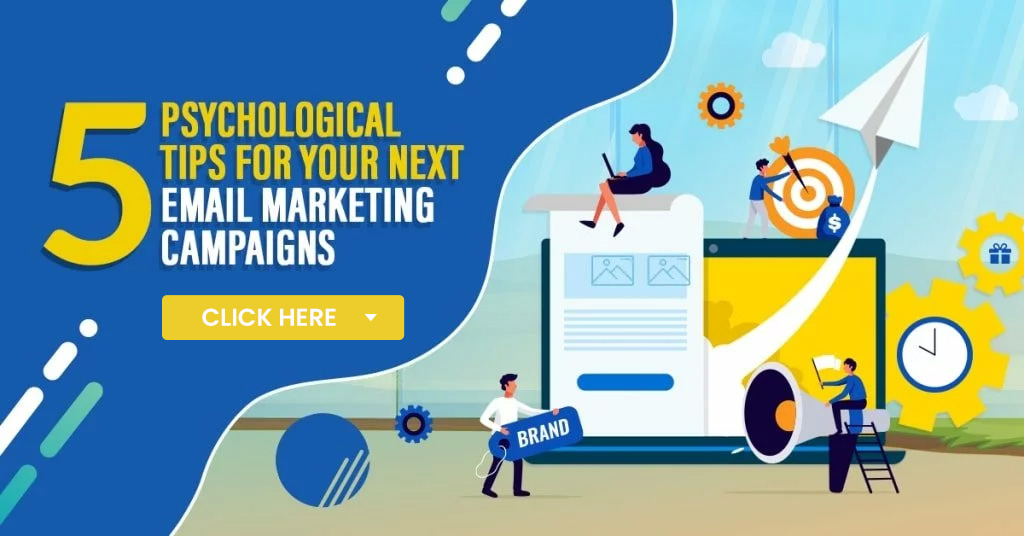 Creating Interactive Marketing Emails
According to 2023 Email Marketing Trends, interactive content in emails can motivate your audience to do specific actions. In addition, Interactive Marketing Emails use game design techniques to "increase your ROI by 300%."
Usually, Marketing Emails contain hyperlinked text that, when clicked, can lead a recipient to particular destinations, such as Landing Pages. So with this trend, you can elevate your usual email messages with quizzes or surveys. 
Interactive emails can use gamification to entice people into doing actions like:
providing information on preferences;

downloading an app;

making a purchase;

visiting a physical location; and

trying a new product or service. 
However, there are more ways to use interactive emails than the possibilities listed here. So, you should hire Email Marketing Experts to apply creative gamification techniques to messages. 
To give recipients a memorable experience, consider using gamification to engage them!
Creating Hyper-Personalized Emails
Hyper-personalization is an excellent way to gain the attention of email subscribers. Tailor your advertising messages to audience segments, and recommend content or products according to a person's interests. However, if you don't personalize your emails, you risk boosting unsubscribe rates and losing valuable customers.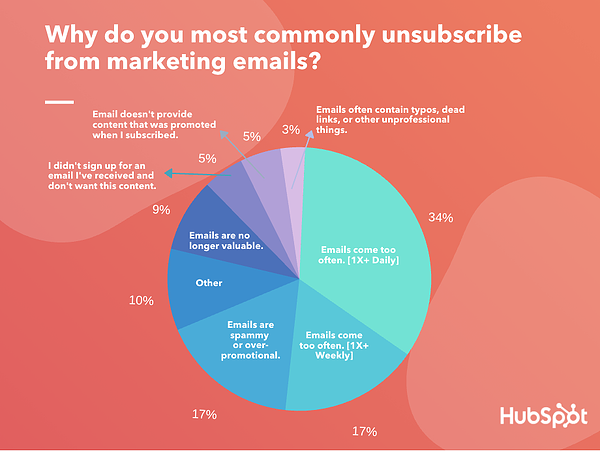 Source: HubSpot.
If you send mistargeted or non-personalized emails, customers might delete your Marketing Emails or categorize them as spam. Some may even unsubscribe from the mailing list or avoid purchasing your products or services. There are other ways to alienate your recipients, such as sending too many emails. 
As a result of these actions, your Email Marketing Campaigns will suffer. So, you must completely tailor the user experience to your email recipient. Give them a valuable, memorable email experience that caters to their needs. Marketers can utilize Mail Merge to send hyper-personalized messages.
Usually, you personalize emails by collecting customer data. Data Privacy Regulations somewhat stifle this, but you can always rely on Zero-party data to hyper-personalize your emails. Companies can also request customer data during the initial subscription process.
Email Marketing Automation
Across all businesses, many routine processes end up becoming tedious over time. So part of the 2023 Email Marketing Trends is leaning more toward Automation Tools. There are many benefits of Marketing Automation Tools, such as creating personalized content and finding qualified leads.
Hire Email Marketing Experts to consistently send messages to your email subscribers through automation!
Additionally, automation can assist marketers with Drip Email Campaigns, which have more success than regular campaigns. As a result, Email Marketers can serve email messages to consumers that add to their experience rather than detract from it.
There are other ways Email Marketing Automation can streamline your advertising campaigns, such as:
building an email with templates;

scrubbing your email lists;

sending transactional email messages; and

lead nurturing.
As a result, automation lessens your workload and keeps your recipients satisfied.
Utilizing Artificial Intelligence
Automation tools can expedite your regular marketing processes, such as email scheduling or sending. Of course, seasoned Email Marketing Specialists will utilize Email Marketing Tools to improve efficiency. However, you might add Artificial Intelligence to your usual toolset. Due to its speedy data processing capabilities, AI Tools can assist with Marketing Email creation. 
AI looks at patterns in customer data and then creates content for your marketing messages, including subject lines. In addition, they can personalize email content and figure out the perfect time to send messages to a recipient. They're also great for building and organizing email lists!
But, before using AI-Generated email content, marketers must be careful to have a human guide the Content Creation process. After all, AI is only a tool and can't quite replicate human-created content perfectly.
So this year, Email Specialists should look into AI Tools that can automate their usual marketing efforts.
Applying User-Generated Content
User-Generated Content is a popular content type that Digital Marketers can use. UGC is any content — text, images, videos, and audio — created by your end-user audience. Not only is this content type excellent for Social Media Marketing, but it's also great for Email Campaigns.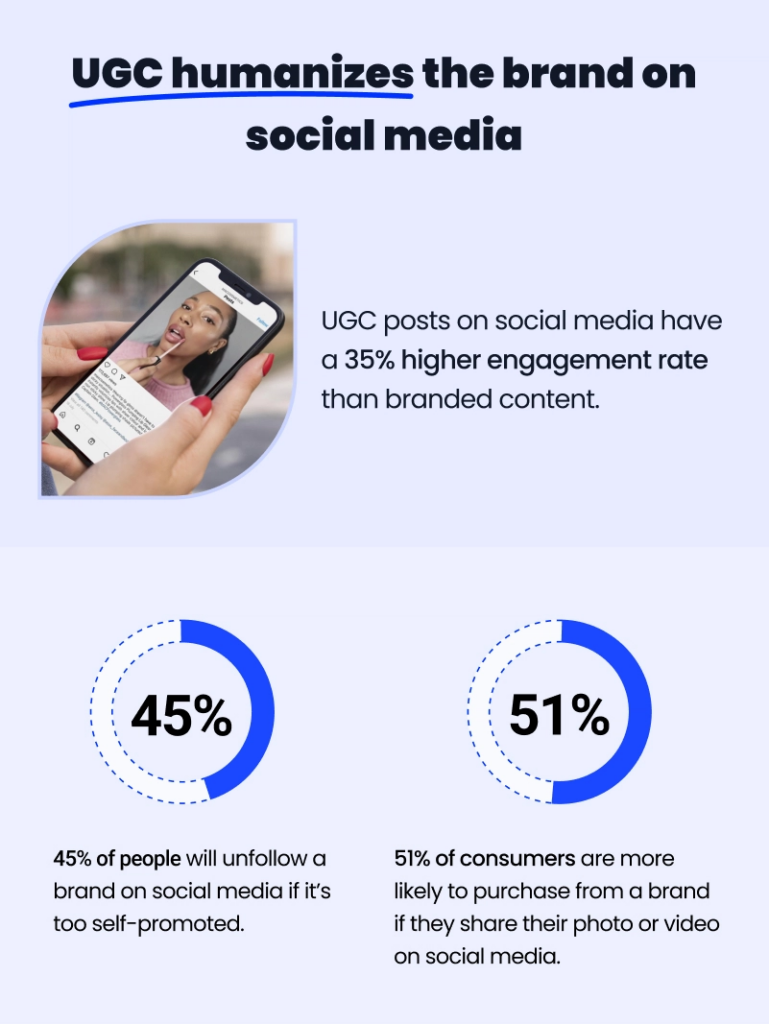 Source: EmbedSocial.
A key example of UGC is customer reviews or testimonials. Thus, User-Generated Content can boost Conversion Rates. User-Generated Content can be a small part of your marketing message or the star of the show. Hire Email Marketing Experts who can use UGC to make your campaigns more effective.
Sending Out Email Newsletters
Emails are perfect for communicating product launches and promotions. But sending newsletters is an excellent method to regularly reach out to leads while providing them with valuable information. As a result, they achieve an average 21.33% Open Rate across all industries. 
Email is primarily used to connect to your audience. So, email newsletters assist companies with educating recipients, thus ensuring a stronger relationship with your brand. Pro Tip: Businesses can use Klaviyo to create their Email Marketing Newsletters.
Still, even the most well-crafted and enjoyable newsletters won't reach your target audience. So, as mentioned earlier, marketers should ensure that their efforts don't cause people to unsubscribe. One way to keep unsubscription rates low is to allow people to edit their email preferences.
Regular Mailing List Cleanup
Inactive and nonexistent email addresses should regularly be omitted from your list. The former is unavoidable, as email users can deactivate or abandon particular addresses for various reasons. 
Thus, businesses should hire Email Marketing Experts who regularly keep lists free of inactive addresses. Automation tools can assist with list cleanup, but it still requires considerable effort on an Email Marketing Specialist's part.
Email Marketing Specialists shouldn't have to worry too much about inactive emails. But, sending emails to nonexistent addresses can cause you to waste time, effort, and resources. Also, some emails can even be spam traps or pose cybersecurity threats. It's why email verification upon signup can help keep threats away from your Mailing List.
Email Security and Verification
Businesses and consumers should know how to protect themselves from cyberattacks. So, they must also utilize cybersecurity measures as an added layer of protection. In addition, companies must protect customer data from malicious individuals via expert Website Security practices. Also, customers should know how to spot fake emails and avoid phishing attacks and other traps.
Additionally, email deliverability is a concern for Email Marketing Specialists. You wouldn't want to put all that work into creating your Marketing Email only for it to bounce back. Thus, marketers should ask for email verification during signup. This way, you can be assured that people are signing up for your marketing messages.
This 2023 Email Marketing Trend will ensure that your Mailing List has addresses from real humans.
Final Thoughts
Email is an effective marketing channel for advertising a brand and its products or services. Fortunately, the Email Marketing Trends of 2023 will drive conversions and ensure your audience finds value in your messages. 
So, experts must apply the following Email Marketing Strategies this year:
Balance your personalization with a healthy dose of customer privacy.

Monitor other email-related metrics, not just Open Rates.

Hyper-personalize emails to better connect with recipients.

Use automation and automation tools in Email Marketing.

Use Artificial Intelligence tools while curating the content.

Adding User-Generated Content to Marketing Emails.

Utilizing gamification best practices in your email messages.

Create and send newsletters to engage with recipients.
As the year progresses, your business must compete with others to get the attention of your ideal customer demographic. Following Marketing Trends can give your brand the boost it needs. Thus, companies must hire Email Marketing Experts who are well-versed in monitoring and following projected and emerging trends.