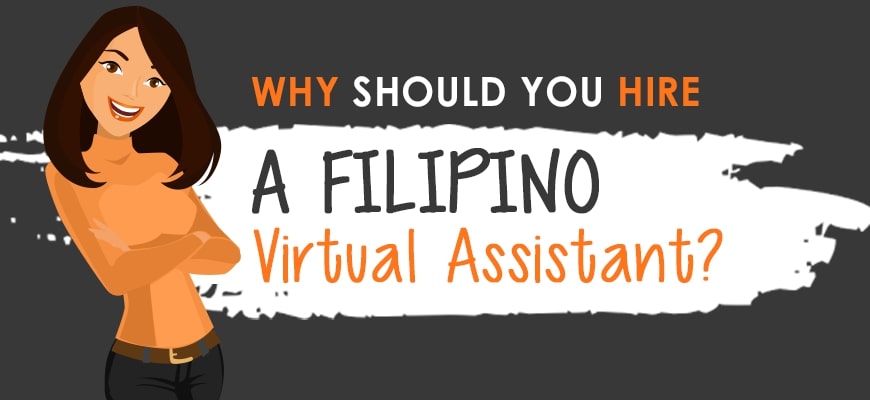 May 5, 2022
Why Hire a Filipino Virtual Assistant in 2022
Businesses that operate online and offline know exactly the benefits they get when hiring virtual assistants. It is an efficient and convenient business solution that has proven to help attain business goals. A virtual assistant or VA can help a business owner "virtually" or online. Filipino virtual assistants or Filipino VAs have traits and skills that make them exceptional. Hence, the Philippines is one of the leading providers of virtual assistants in the outsourcing industry. Check out what virtual assistants from the Philippines have to offer below!
Filipino Traits and Work Ethics
When you hire a dedicated virtual assistant from the Philippines, you will benefit from the following traits and work ethics:
Sincere and Respectful
Filipinos value good relationships, whether personal or professional. Thus, building trust with their peers comes naturally. As a team in the workplace, it makes work easier as everyone can rely on each other. If there is one trait that Filipinos must be very proud of, it would be being respectful. It is first taught at home and then later reinforced in schools. Filipino culture embeds respectfulness. So, virtual assistants from the Philippines show respect to their colleagues, superiors, and clients.
Calm and Enthusiastic
As part of their training at home and in school, Filipino VAs exude calmness in times of pressure. They know how to control their temper. Aside from that, they are enthusiastic about anything that can help them complete their task. Because of this, virtual assistants from the Philippines are dedicated and passionate about their work. As a result, they stay committed to their goals. With these traits, you can expect Filipino VAs to be proactive with their tasks to give you high-quality results.
Cheerful and Hardworking
Filipinos are some of the happiest people in the world. One of their best qualities is always seeing the brighter side of life. Hence, you need not worry about any difficult personalities in your team, as Filipino virtual assistants are optimistic and confident enough to get things done to your advantage. Filipino virtual assistants are also diligent. They don't settle for mediocrity and aim for excellence instead. They always want to be at the top as their work is an expression of themselves. These particular skills make them adaptable to the various demands of their jobs.
Good Listeners and Have Common Sense
Filipino virtual assistants practise being good listeners. It is an essential trait that helps increase productivity because it helps minimize misunderstandings. Apart from this trait, they are also known to have common sense. Filipino VAs are intelligent and learn a little of everything they need to know to accomplish any task excellently. Therefore, you can expect them to meet your expectations with little to no questions asked. They also try their best to deliver with utmost quality every task assigned to them. As such, working with Filipino VAs from virtual assistant companies in the Philippines will significantly benefit your growing business.
Qualifications that Make Filipino Virtual Assistants The Best in the Industry
High English Proficiency
English is the Philippines' official language, apart from Filipino/Tagalog. The language is also used as the medium of instruction in the Philippine education system. As such, it comes as no surprise that the EF English Proficiency Index ranked the Philippines number 18 globally (out of 112 countries) and number 2 in Asia (out of 24 countries). 
So, you see, Filipinos have this edge regarding communication skills.
High Educational Attainment
The Philippine government prioritizes education and makes sure that it is of quality. Even in the remotest areas, there are schools to ensure that every Filipino has access to quality education. Teachers are also well-equipped with the necessary knowledge and skills to be competent in their respective fields. According to UNESCO's Literacy rate statistics (as of 2019), the country's average literacy rate among 15-24 years old is 98.4%. Among 15 years and older, the average literacy rate is 96.3%. Then, for those 65 years and older, the average literacy rate is at 90.5%.
If you observe, the higher a person's academic level is, the better is their knowledge and proficiency in the English language.
So, when you hire a Filipino virtual assistant, having a staff who has excellent communication skills is an assurance! Another bonus is that most virtual assistants from the Philippines know the dynamics of outsourcing. Because of this, they are already familiar with your requirements.
Your Responsibility as a Business Owner
Now, for Filipino VAs from virtual assistant companies in the Philippines to work well with you, here are some things that you need to do:
Make sure to give your Filipino VAs their entire job description as well as your expectations.

Filipino VAs tend to overwork. Therefore, you need to give them a specific schedule or work hours to pace their work well.

They can also be shy at first, so please encourage them to ask questions to ensure that everything is clear with their tasks.

Feel free to give them feedback to know what they have done best and what areas they need to improve.

You can tell them your preferred day or time to communicate so they will feel comfortable talking with you. Setting schedules also help create a good work relationship between you and your Filipino VA, which is necessary to achieve your goals.
Hire a Filipino Virtual Assistant Now!
Now that you already know the benefits of hiring Filipino virtual assistants, you can begin looking for virtual assistant companies in the Philippines that provide extensive VA training. Get a proficient, hardworking, loyal, and optimistic Filipino virtual assistant who can help you accomplish significant tasks to make your work easier and your business more successful.
Begin your search by checking us out at Syntactics, where you can find highly qualified virtual assistants from the Philippines.